Delectable Chocolate Puffs that are filling with pumpkin whipped cream are the perfect fall treat!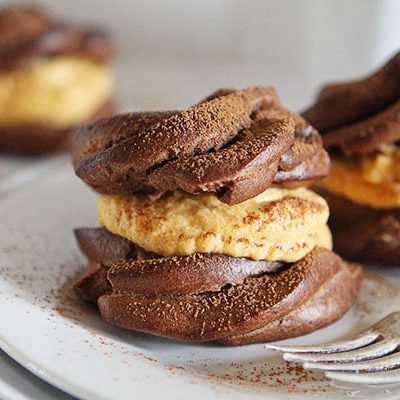 Pumpkin Chocolate Cream Puffs
A delicious chocolate cream puffs with pumpkin filling!
Ingredients
Chocolate Puffs
1/2

cup

water

1/3

cup

vegetable oil

1

tablespoon

sugar

1/4

tablespoon

salt

1/2

cup

+ 1 tablespoon all-purpose flour

3

large eggs

cold

2 1/2

tablespoons

cocoa powder
Pumpkin Whipped Cream
1 1/2

cups

heavy cream

1

cup

confectioners sugar

2

teaspoons

cinnamon

1/4

teaspoon

all-spice

1

cup

pumpkin puree
Instructions
Chocolate Puffs
In a medium saucepan heat water, oil, sugar, and salt over medium heat until simmering. Add in flour and quickly stir with a wooden spoon until the mixture comes together and pulls away from the sides of the pan. Remove pan from heat and allow to cool down, about five minutes. Stir frequently (this helps to release the steam).

Add one egg and stir until completely incorporated. Add in remaining eggs, one at a time, until the mixture is smooth.

Add in cocoa and gently stir until smooth.

Using a pastry bag with a 2D tip, pipe out small clouds of the cocoa dough. You should have enough dough to pipe out 8 on one parchment-lined cookie sheet. (If you prefer you can use two soup spoons and drop 8 equally portioned mounds of the dough onto your prepared pan.)

Bake until completely puffed, 15 to 20 minutes. Reduce heat to 375 and continue to bake until shells are firm, about 15 more minutes.

Remove pan from oven and carefully make a small slit in the side of each puff. Allow puffs to dry out; let them sit out for about an hour. Allow puffs to cool completely before filling.
Pumpkin Whipped Cream
Add cold heavy cream to food processor and turn on high for about one minute, or until the cream has turned fluffy (or very soft peaks). Turn processor off and add in sugar and spices. Pulse until just incorporated. Add in pumpkin puree and mix on high until pumpkin is fully incorporated, about 1 minute.

Scoop pumpkin whipped cream into a pastry bag and set aside.

Using a sharp paring knife, slice off the top third of each puff shell. If necessary, remove excess dough so that the shell is fairly hollow. Do this to all puff shells. Place shell base's on your serving plate.

Cut approximately 2 inches off the tip of your pastry bag filled with pumpkin whipped cream. Pipe a generous amount into each shell. Place the shell top back on top of the whipped topping.

Mix together 1 tablespoon of cocoa and 1/4 teaspoon of cinnamon. Gently dust the cream puffs with the cocoa blend.
Did you make this recipe?
Thank you for making my recipe! You took pictures, right? Well go ahead and post them on Instagram! Be sure to mention me @iambaker and use the hashtag #YouAreBaker.
Chocolate Puffs with Pumpkin Filling
What cream puffs symbolized to me was romantic decadence.  I had always envisioned a beautifully set table of crystal glass and sweetened iced tea hiding precariously amid the willow trees while a warm afternoon breeze gently kicked up napkin edges and guided condensation drips off their coarse.  I imagined lounging ladies with their elbows propped on the table and head resting on smooth lavender-scented lotioned hands.  They are gazing upon a perfectly puffed and whipped topping filled pastry that seductively beckoned them in spite of their desire to eat daintily.
Having created this perfect creamed puff fantasy in my mind, it never occurred to me that I could make them in my own home and experience the amazingness while sitting in my kitchen.  But I am thrilled that I did; because these puffs can truly transport you to a happy place.  A place filled with the woodsy scents of fall, with the trees covered in multi-colored leaves and the warmth of a crackling fire on a cool autumn day.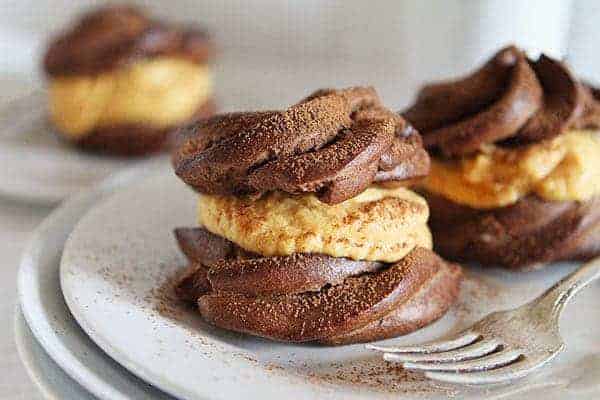 These chocolate cream puffs are paired with the most light and fluffy pumpkin whipped topping I have ever made, and all thanks to my KitchenAid Food Processor. The food processor produces a light yet long-lasting cream with a perfectly velvety and smooth texture.  You simply must try!