I was catching up on blogs the other day and visited an old favorite, Noe Place Like Home. Melanie is gifted with the camera, in the kitchen, with crafts, in parenting, and well, you name it. She does it well.
When I saw that she had made these amazing looking Chocolate Chip Cookie Dough Brownies I was sorta entranced by them. I kid you not, they sat on my computer for three days before I finally "made" them.
Can you sense the foreshadowing?
When I read the recipe Melanie posted I could NOT figure it out. Is the cookie dough raw? I cant make those. But I must! Am I dense? (dont answer that) Why cant I figure this out?
Well. I decided to change things up a bit.
I made cookie dough.
I decided to get crazy and add caramel. I mean, caramel is always a good addition right?
Then added my brownie mixture and baked away.
Well.
I had big hopes I tell you. Big.
Try googling 'cookie dough brownies' sometime and you will see my tragic mistake.
Or I can just tell you.
Every single time someone posts a recipe for this combination, the brownie is on the bottom. Every. Single. Time.
Me, in my genius, had decided to venture out on my own.
I dont recommend that. Ok, I DO recommend that. But for You. Not for me.
I did not like how they turned out so I threw them in the freezer and went about my business.
The next day I took them out of the freezer (let them defrost for a bit) and tried one.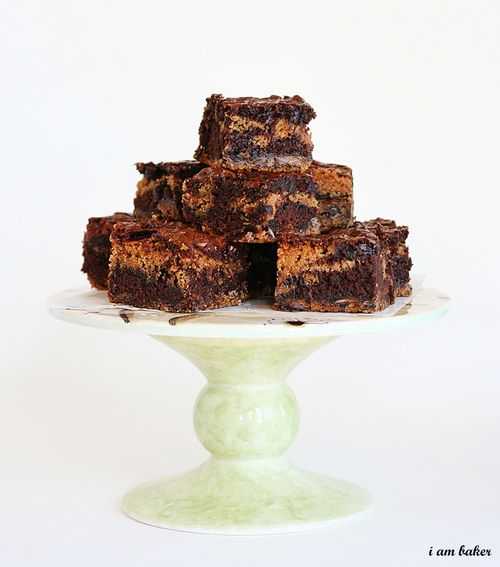 It was… good!
The caramel suddenly made sense and I liked the marbling that seemed to have occurred when baked in my horribly backward method.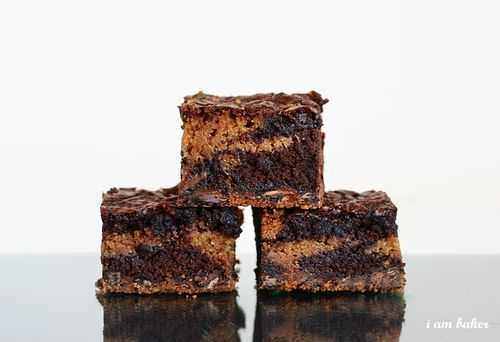 And when frozen/partly thawed they cut so nicely.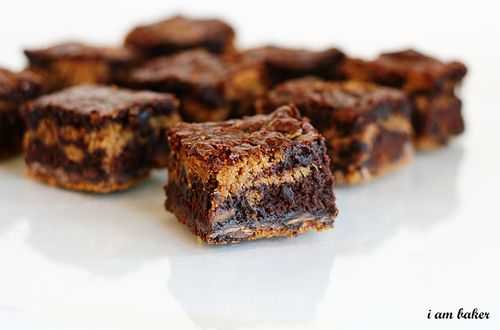 But then I got bored. And knew I had just purchased some all natural white chocolate chips. I am such a sucker for anything that says all natural. Even though 90% of the time there is NOTHING natural about it.
Just sayin.
Here is Melanie's original recipe. I highly recommend making these her way first!!
I boxed some up and pretended I was going to be generous and give them away.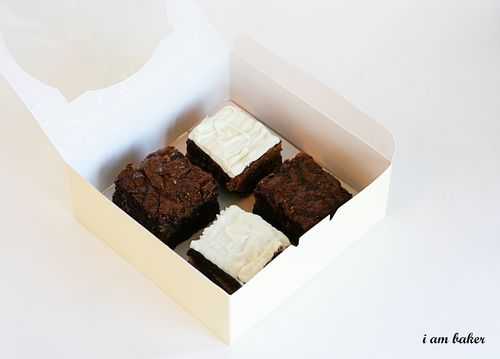 I am still working on the actual giving them away part.
What about you… do you have a great cookie dough and brownie recipes that I should try? And when I say *try* you know I am going to massacre the recipe.  It's what I do. #badbaker
Just in case you like free stuff and money.
I care about you like that. 🙂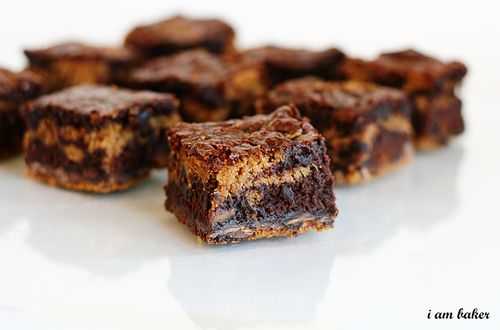 Cookie Dough Brownies
Cookie Dough Brownies are fudgy brownies topped with a layer of chocolate chip cookie dough and topped with melted chocolate.
Ingredients
Chocolate Chip Cookie Dough Brownies
2

cups

Butter

Divided

¾

cups

Unsweetened Cocoa Powder

2 ¾

cups

Granulated Sugar

Divided

1

cup

Packed Light Brown Sugar

3 ¼

cups

All-purpose Flour

Divided

3

large

eggs

½

teaspoon

kosher salt

½

teaspoons

Baking Powder

4

tablespoons

Milk

3

teaspoons

Vanilla Extract

Divided

2 ½

cups

Mini Semi-sweet Chocolate Chips

Divided

1

tablespoon

Shortening,

Such As Crisco
Brownies
1

cup

butter

¾

cup

unsweetened cocoa powder

2 ¼

cup

granulated sugar

½

teaspoon

kosher salt

3

large

eggs

1

teaspoon

vanilla extract

1 ¼

cups

all-purpose flour

½

teaspoon

baking powder

½

cup

mini semi-sweet chocolate chips
Cookie Dough Filling
1

cup

butter

softened

1

cup

packed light brown sugar

½

cup

granulated sugar

4

tablespoons

milk

2

teaspoons

vanilla extract

2

cups

all-purpose flour

1

cup

mini semi-sweet chocolate chips
Chocolate Glaze
1

cup

semi-sweet chocolate chips

1

tablespoon

Crisco shortening
Instructions
Prepare 13X13 baking pan by laying a piece of foil in the bottom and up the sides. Spray with cooking spray or butter the foil.
Chocolate Chip Cookie Dough Brownie
Melt 2 sticks of butter in a medium saucepan; add cocoa, stirring until smooth. Remove from heat and cool slightly. Add sugar, salt, eggs, and vanilla; beat with a spoon until combined. Add flour and baking powder; mix well. Stir in chocolate chips. Spread batter into pan. Bake at 350 degrees for 25 minutes. (I always remove my brownies from the oven when a toothpick inserted 1 inch from the side of the pan comes out clean or almost clean.) Allow brownies to cool completely before moving on to the next step.
Cookie Dough Filling
Combine first 5 ingredients in a mixing bowl and cream together. Add flour and stir until combined. Stir in chocolate chips. Spread in an even layer on top of cooled brownies. Chill before adding chocolate glaze.
Chocolate Glaze
Melt chocolate with shortening and stir until smooth. Spread over chilled cookie dough layer.
Did you make this recipe?
Thank you for making my recipe! You took pictures, right? Well go ahead and post them on Instagram! Be sure to mention me @iambaker and use the hashtag #YouAreBaker.