This cornbread recipe is a cornmeal tasting cake, with a fluffy crumb and sweet flavor that is a lot like Famous Dave's popular cornmeal muffins! Serve it with my Taco Chili for a meal that will warm you up on these chilly fall days.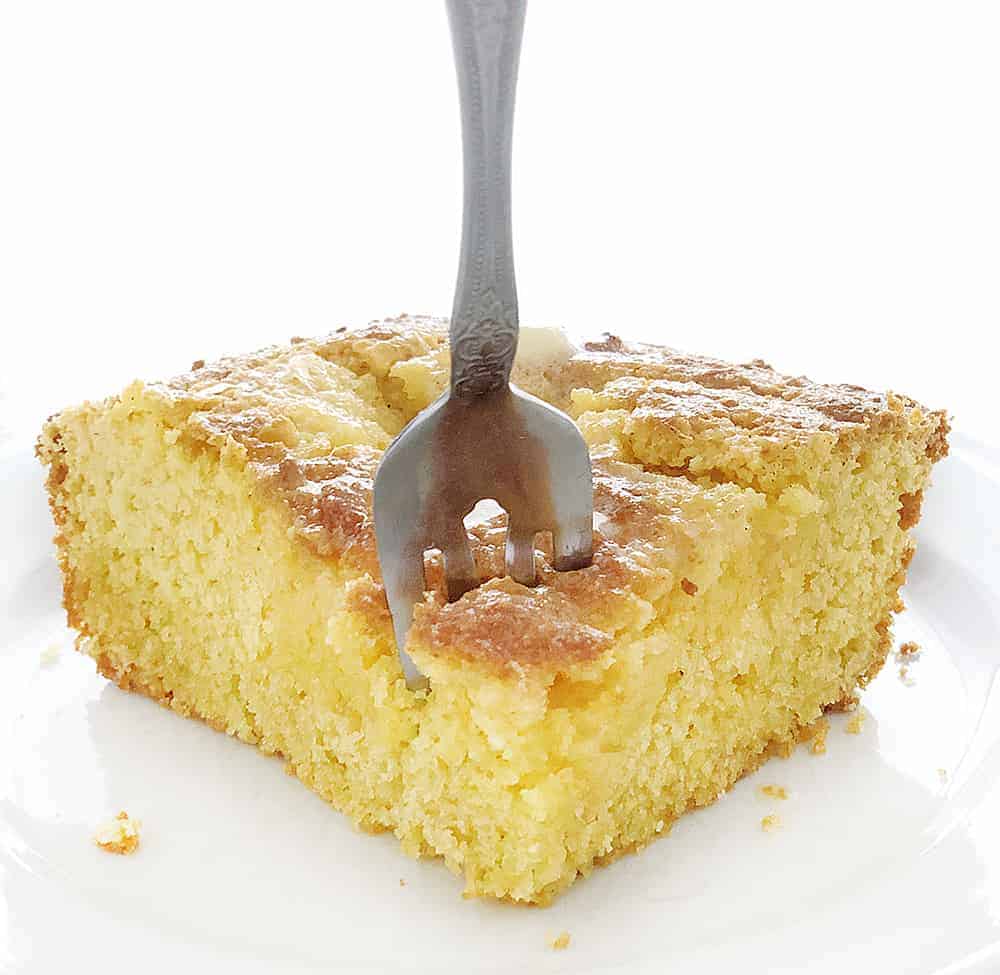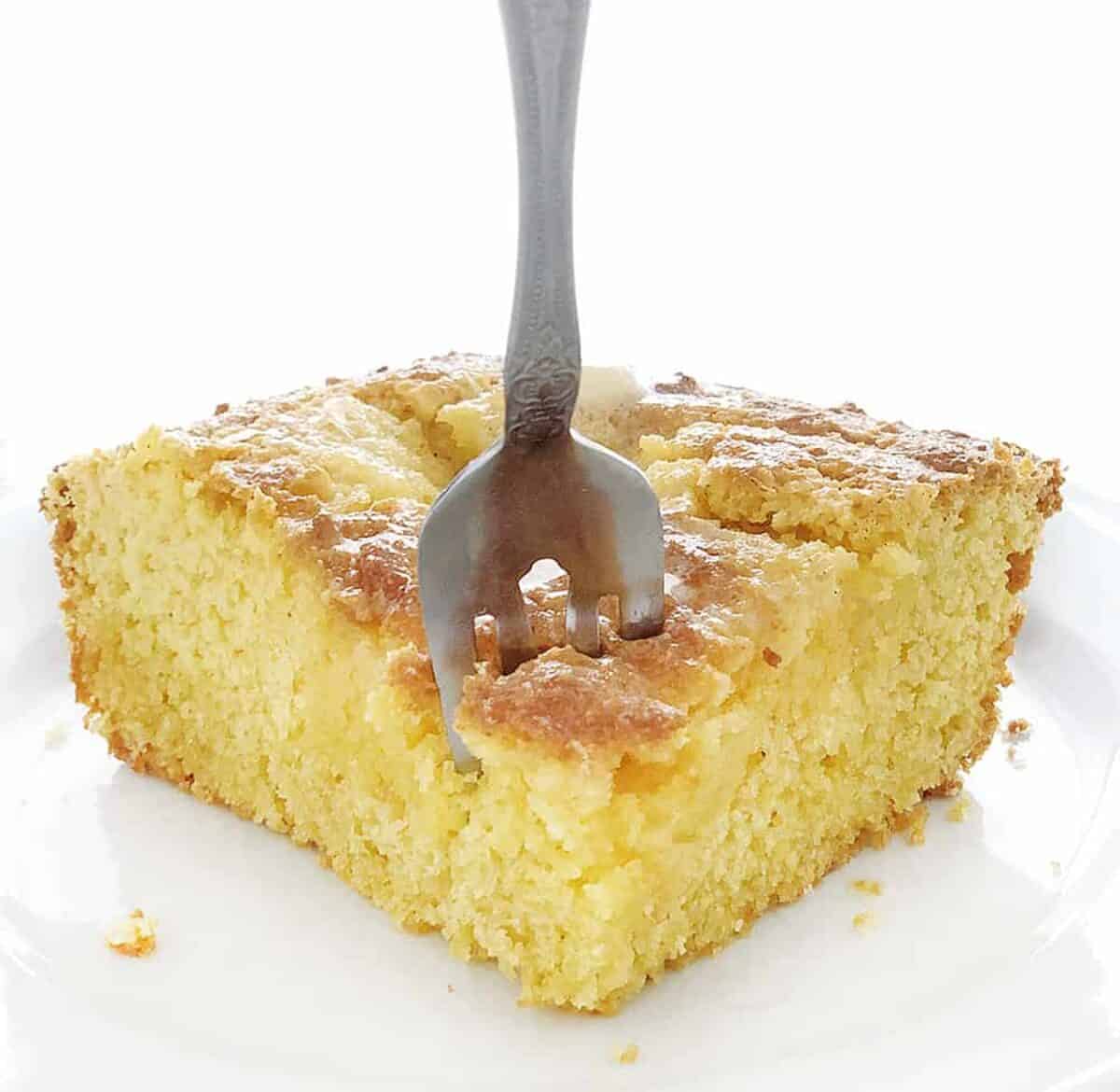 Cornbread Recipe
Cornbread has been a popular bread in the United States for centuries since corn was and is such a plentiful crop. With all the variations out there, this Cornbread Recipe is more of a cake than the dense bread the South would refer to as cornbread. In the 19th century, the north began adding molasses to the bread to get a sweeter cornmeal cake, and now, many cornbread recipes are on the sweeter side.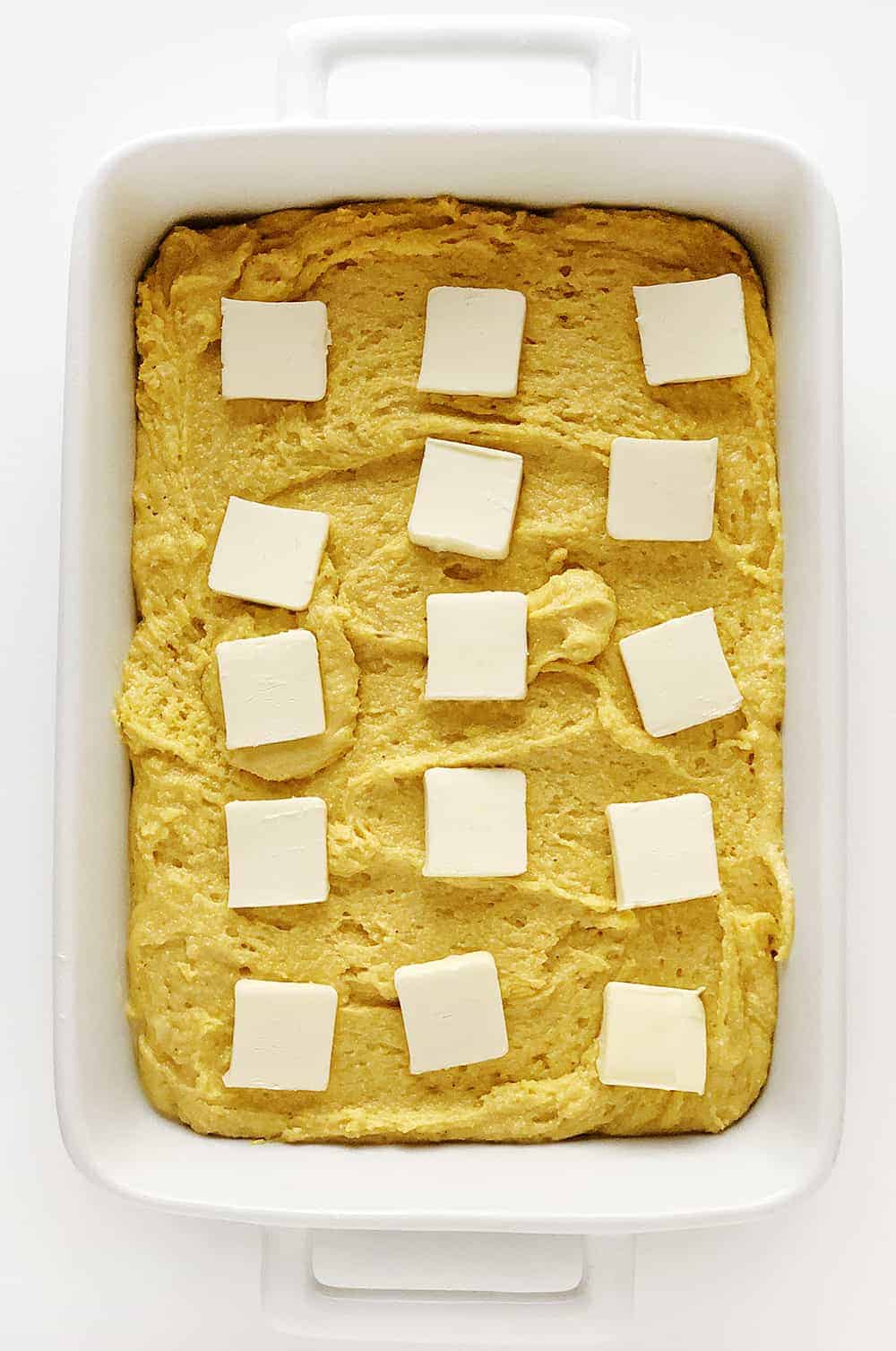 Cornbread Recipe Ingredients
Living in the midwest, I am a huge fan of Famous Dave's Restaurant. It originated in Wisconsin and Minnesota, expanding to 33 states! Anyway,  I LOVE their chicken wings, but they are definitely known for their cornbread muffins. Unfortunately, many of the local locations are closing. Lucky for me, and for you, too, I think, this Cornbread Recipe 'takes the cake' for a delicious 'Famous Daves-like' cornbread muffin.  It is made with cake mix, and again, it is on the sweeter side, so this is a northern recipe, for sure.
Ingredients
Cornmeal
Cake mix–Yellow cake mix
Baking powder
Salt
Buttermilk–Make your own buttermilk with this homemade buttermilk recipe!
Vegetable oil
Eggs–Room temperature
Brown sugar–Light brown sugar
Honey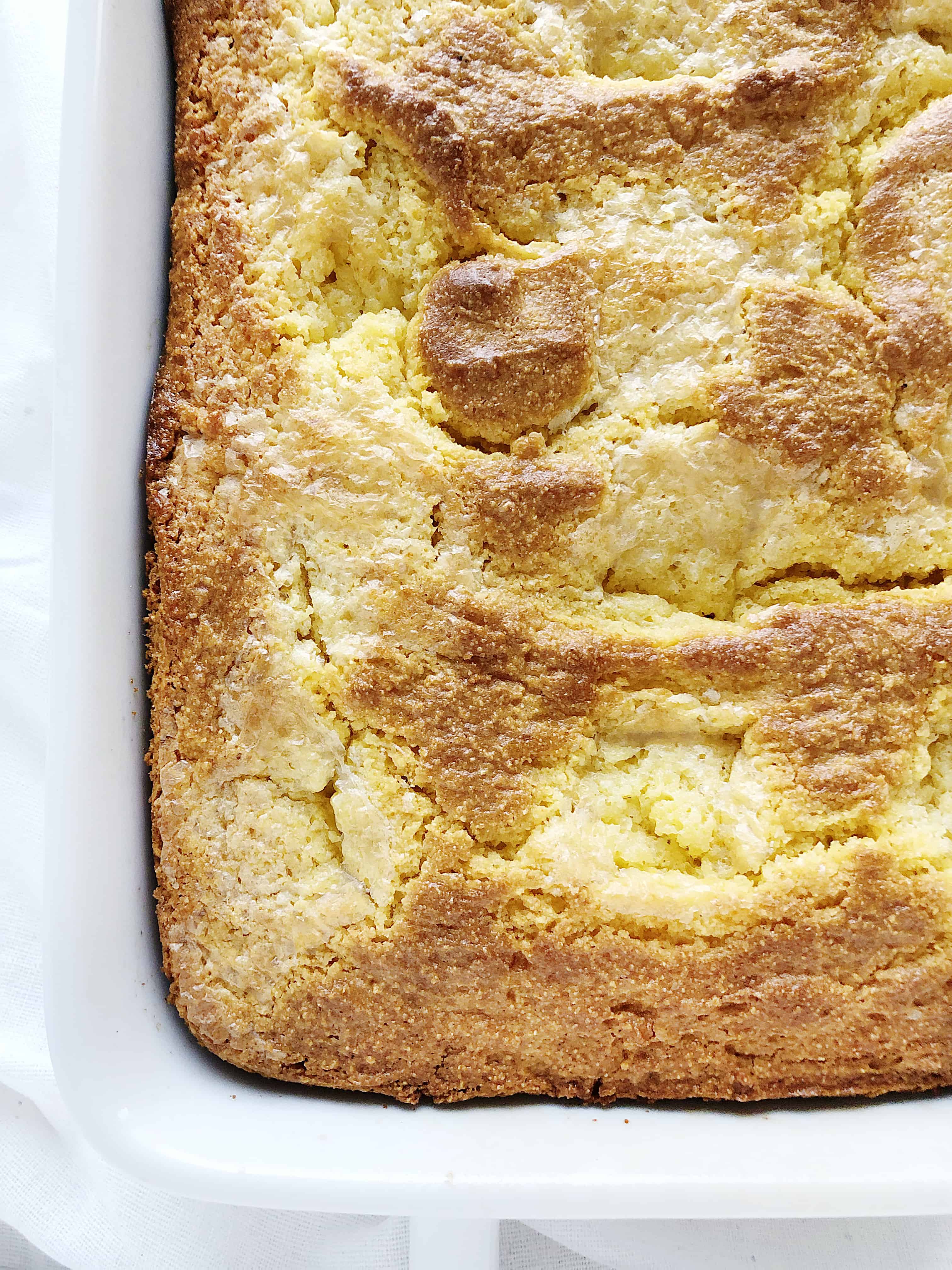 How to Make Cornbread
In less than 45 minutes, you can have a panful of this sweet cornbread. Cornbread is really underrated, and it is delicious with a bit of butter and honey, or even a bit sweeter topped with molasses. Pair it with spicy chili, like my Spicy Steak Chili and a vegetable for a complete meal! To make this Cornbread Recipe, preheat the oven to 350°F. Then, in a large bowl, sift together the cornmeal, cake mix, baking powder, and salt. In a separate bowl, combine the buttermilk, vegetable oil, eggs, brown sugar, and honey. Add this to the cornmeal mixture and combine gently. Make sure everything is incorporated, but don't overmix. Pour the batter in a prepared baking dish and bake for 25-30 minutes. Keep an eye on the cornbread to make sure you don't overbake it. Check for doneness with a toothpick test.
Toothpick test:  Just like making a normal cake, you can do the toothpick test to ensure the cornbread is done baking.  Simply stick a dry toothpick into the center of the baking dish.  If the toothpick comes out clean, it is ready to come out of the oven, if the toothpick comes out wet, the cornbread needs to continue baking.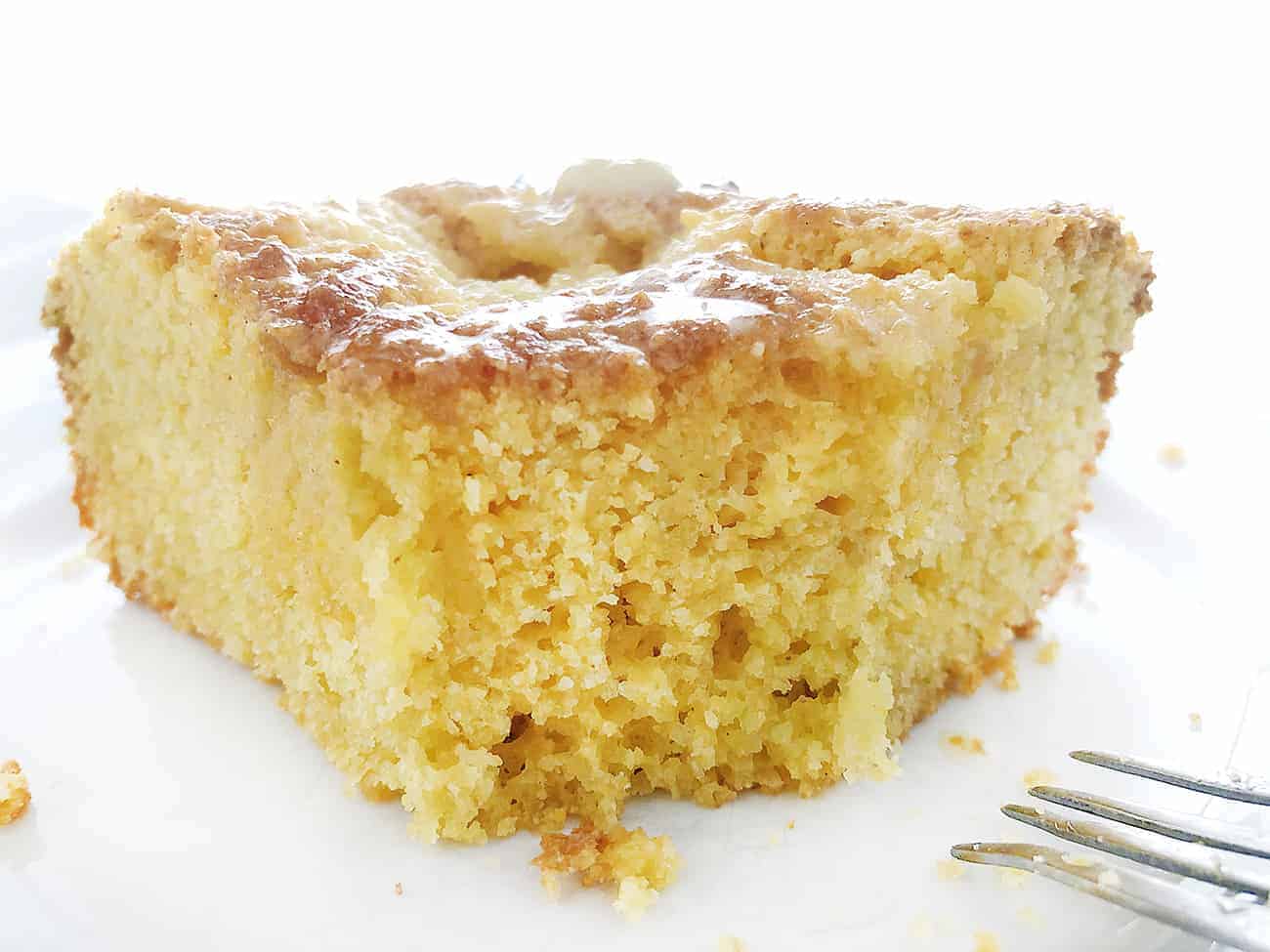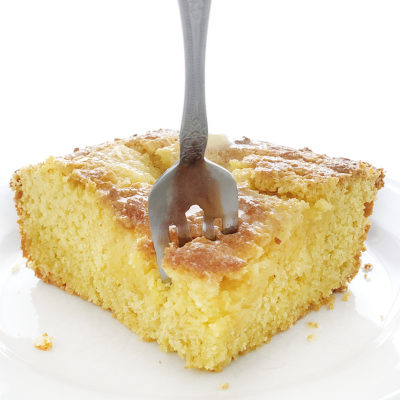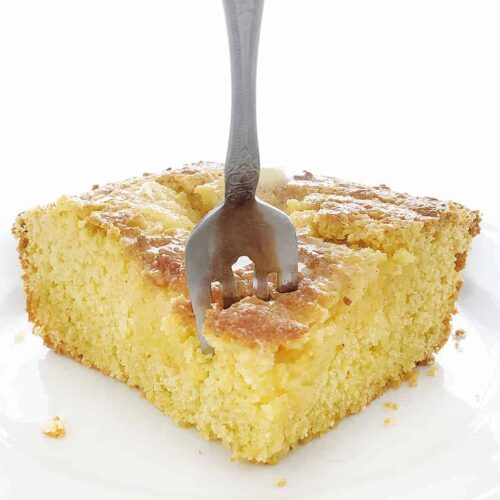 Cornbread
This is basically an extremely delicious corn-meal-tasting cake!
Ingredients
2

cups

(250g) yellow cornmeal

1

package

(15.25 ounces) yellow cake mix

1

teaspoon

baking powder

1

teaspoon

salt

1

cup

buttermilk

1/4

cup

(55g) vegetable oil

3

eggs

2

tablespoons

light brown sugar

2

tablespoons

honey
Instructions
Preheat oven to 350°F and prepare a 9x13 pan with non-stick spray.

Sift together cornmeal, cake mix, baking powder, and salt in a large bowl.

Combine buttermilk, oil, eggs, brown sugar, and honey in a bowl and mix well. Add to the cornmeal mixture and mix gently. You will want all ingredients fully incorporated, but do not want to over mix.

Pour batter into 9x13 baking dish. Bake for 25-30 minutes and then check to see if the top is browning. If it is already very golden brown, you may want to cover with foil for the next 5-10 minutes. Keep a close eye on cornbread though, you do not want it to get overdone and dry. You may not need the addition baking minutes depending on your oven.
Did you make this recipe?
Thank you for making my recipe! You took pictures, right? Well go ahead and post them on Instagram! Be sure to mention me @iambaker and use the hashtag #YouAreBaker.
Looking for More Bread Recipes?
Old Fashioned Buttermilk Sweet Bread