Do you like to craft?  Or shop?  Or have experts share how to monetize your blog and get a bigger following?  Or shop?  Or attend cooking classes?  Or shop?  Then you have got to come to the Creative Connection conference in Minneapolis this year!
Its Septermber 15th through the 17th and is jam packed full of wonderful speakers and activities and… did I mention shopping?
And I am so excited to share this with you… I will be speaking!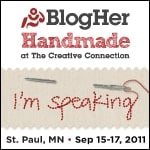 But here is the exciting part… YOU can win tickets and your hotel stay!!  Click HERE to enter.
You and a friend can attend the conference at no charge as well as have your hotel covered.  That is worth well over $1,000.00!!!
The contest runs until next Thursday, so stop by the Creative Connection website and see how easy it is to enter!
I would really love to meet you… please come up and introduce yourself!  Heck, I feel like I know you already. 🙂
comments closed