This decadent breakfast cake made from classic coffee cake recipe and donut balls is a indulgent and beautiful way to start any day!
Not really sure why I did this, but I can't say I am ashamed. I mean, I know it's wrong. Here it is January and everyone is making green smoothies and eating salmon (love both by the way) and I am making cakes with donuts on them covered in layers of sugary glaze.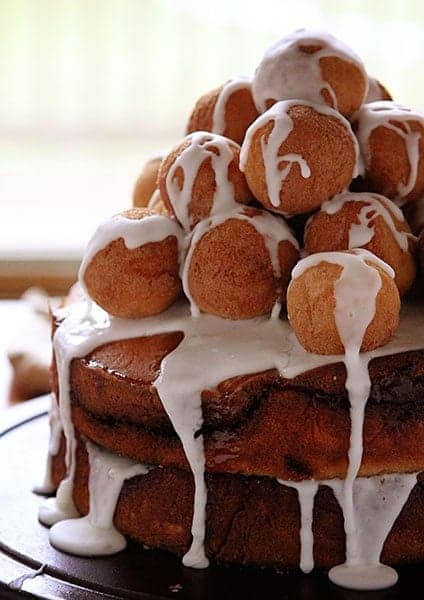 It just seemed to make sense in my sugar-fueled brain.
Let me explain why I think it would be ok for you too…
One slice of this breakfast cake is the equivalent of a white glaze covered long john with vanilla custard filling. And most people can tolerate one donut in the morning, so having one slice of a breakfast cake shouldn't be as obnoxious as it probably seems.
See? See? I am just trying to keep the universe in balance here.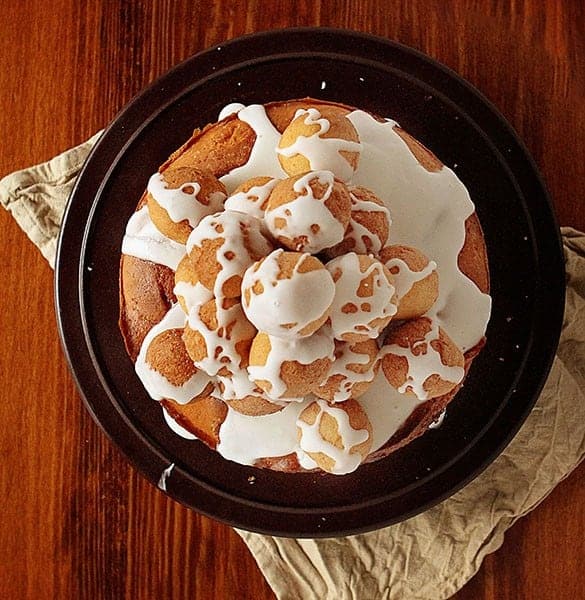 And truth be told… I am kinda in love with the idea.  It seems so indulgent and so fabulous… I just felt devilishly decadent having a slice for breakfast.
Why not start your day with a carefree and rebellious attitude?  A sugar coated carefree attitude that is.
I used a recipe that I adapted from King Arthur Flour.  They have such delicious quality recipes, don't they?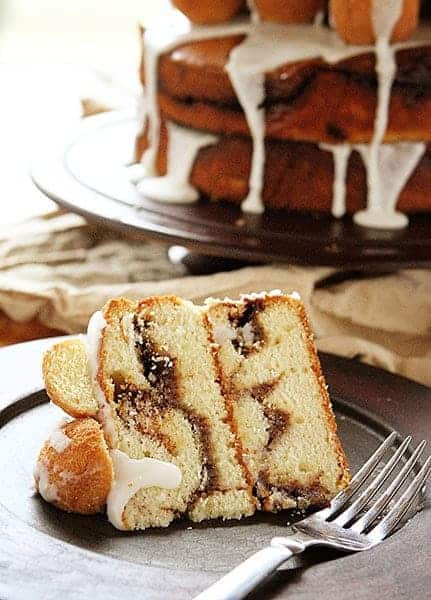 Hint for Success:
Having a perfect glaze consistency can save you lots of drama. If it is thick enough to still drip but not runny, you are gold.  We want it to act as a glue to hold the donut balls in place.
It is easiest to cut into this cake while it is cold, but it is best served warm.  You can certainly make it and eat immediately, just be prepared for a donut ball avalanche. (which doesn't sound half bad…)
I prepared the cake in 8-inch round cake pans and this produces a thick cake.  Other options are a 9-inch round, 9×13, and even a bundt.  If you choose a 9×13 you may need more donut balls.
If you want to save some preparation from your morning routine, consider making the batter the night before.  (from King Arthur's site) They recommend preparing the batter, wrapping with plastic wrap and refrigerating.  In the morning bake as directed.  Keep a close eye as you may need to add a couple minutes to the bake time.
This would be a fun cake to customize!  Add powered sugar donut balls or a lemony glaze.  Just remember just how fun and entertaining this cake is!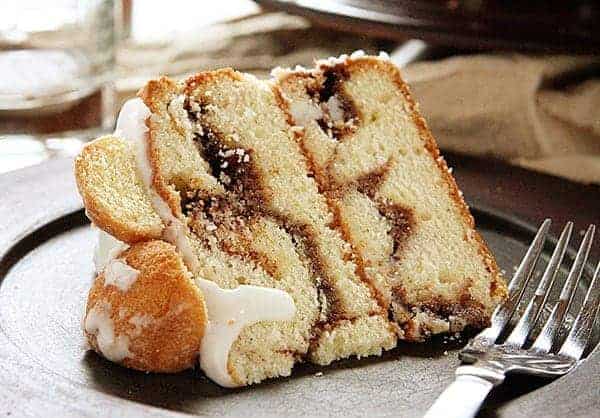 So there you have it… the most decadent and ridiculous and fun and fabulous cake you will ever seen served for breakfast!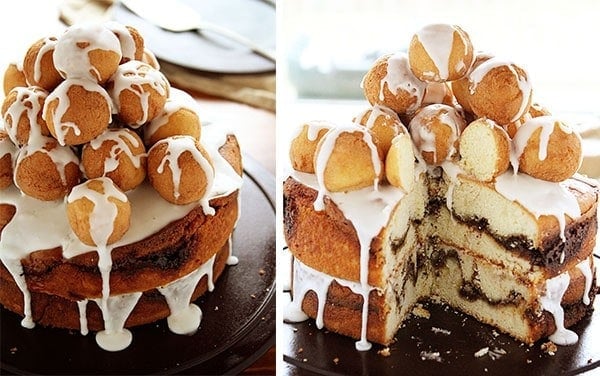 It tastes pretty amazing with afternoon coffee too.  #justsayin