These homemade Chocolate Chip Cookie Ice Cream Cones are a seriously fun way to kick summer up a notch!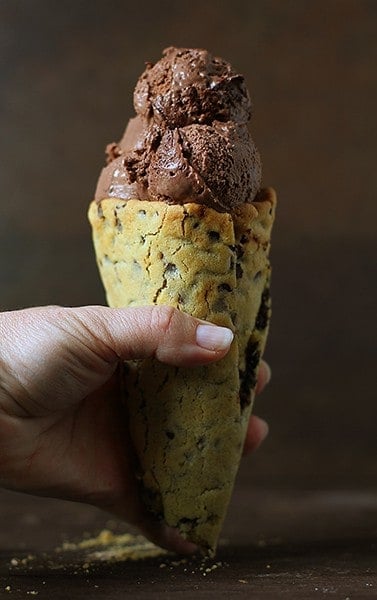 Homemade Ice Cream Cones
Let me just say this straight out, I did not invent this! I saw this on Dude Foods and was completely intrigued. But while they do give a brief description of how to do it, there were a lot of details missing.
So I just winged it.
A few times. It was definitely a trial and error process… I tried. I errored. But that fabulous part about trial-ing and error-ing with chocolate chip cookie is that it's a really delicious screw-up!
And then, when you finally get it right, the heavens seem to shine down and the angels sing.
That happens to everyone, right?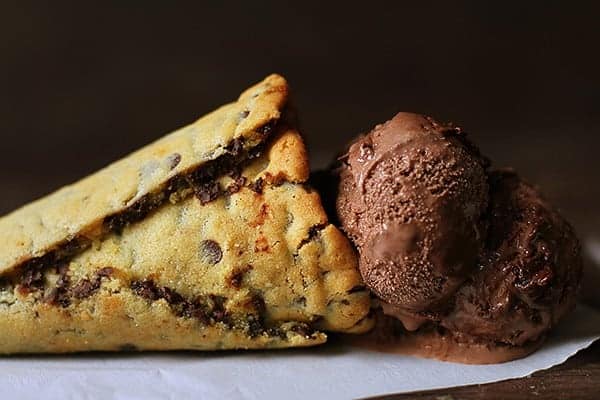 Tips & Tricks:
While I did find a delicious recipe that is just about the right size to make 2 cones, you can certainly use store-bought cookie dough or your own favorite recipe. However, I do recommend either finely chopped chocolate or the mini chips. The flatter that you can roll the cookie dough, the better. I think rolling it to 1/2-inch thickness was just about perfect.
You want the cookie to be done, not ooey gooey in the center. If the cookie is too gooey it will not roll and will fall apart.
Working quickly out of the oven is key.
Removing the Cone: If you allow the Chocolate Chip Cookie Cone to cool on the kitchen counter (say that three times fast) you can remove the sugar cone once the Cookie Cone is firm. If you cool the cone in the freezer it is harder to remove (it ends up sticking to the cookie) and you may need to leave it in the Chocolate Chip Cookie Cone. (We tried it both ways and my kids liked it better when the cone was still inside.)
Drip-Proof Cone: If you remove the sugar cone and still want your Cookie Cone to be drip-proof, you can dip the bottom of the cone in melted chocolate and allow to cool. Or you can fill the inside with melted chocolate then set upside down to drain out and cool.
You can successfully double the cookie recipe if you want to make 4 chocolate chip cookie cones, but I would still make it 2-at-a-time. These can be prepared in advance, just store in an air-tight container until ready to use. They will be good for up to a week.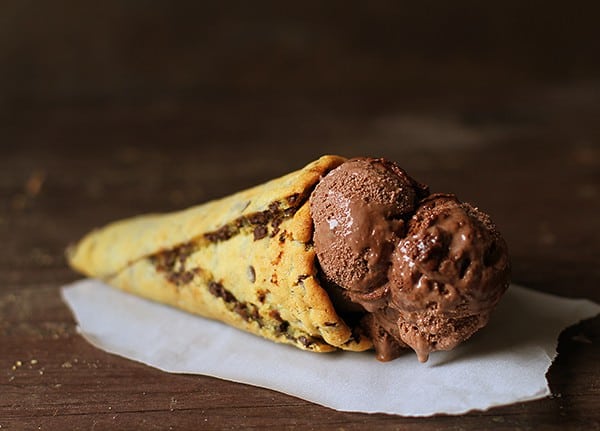 I have chocolate ice cream pictured, but I think this would be amazing with vanilla or cookie dough ice cream! Or strawberry. Or Phish Food. Ok, so there is basically no ice cream that wouldn't taste amazing in this homemade cookie cone!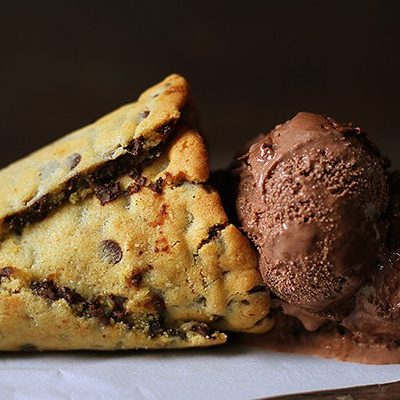 Homemade Ice Cream Cone
These homemade Chocolate Chip Cookie Ice Cream Cones are a seriously fun way to kick summer up a notch!
Ingredients
1/2

cup

(57g) butter

softened

1/3

cup

(67g) granulated sugar

1/3

cup

(73g) packed brown sugar

1

tsp.

McCormick® vanilla extract

1

egg

1

cup

(128g) all-purpose flour

1/2

tsp.

salt

1/2

tsp.

baking soda

1

cup

(175g) mini semisweet chocolate chips

sugar cone

to mold cookie cone
Instructions
In the bowl of a stand mixer beat butter, granulated sugar, brown sugar, and vanilla until light and fluffy.

Add egg and beat well.

Gradually add flour, salt, and baking soda, mixing until just blended.

Remove bowl from mixer and stir in chocolate chips by hand.

Spread on a prepared 14-inch round pizza pan.

Bake at 350°F (325 in a convection oven) for 9-13 minutes, or until center no longer appears wet and edges are just slightly browned.

Immediately from the oven place two piece of parchment paper over cookie with the papers touching in the center. Using another cool cookie sheet, carefully flip giant cookie over.

Using a pizza cutter, cut down the center of the cookie right where the parchment paper meets.

Place a sugar cone along edge of cookie and start to roll it up using the parchment paper to help lift hot cookie. Roll until cone is completely covered and stop. Cut off the excess cookie.

Repeat with other side.

Cool chocolate chip cookie cone for at least 1 hour at room temperature or 15 minutes in the freezer.
Video
Did you make this recipe?
Thank you for making my recipe! You took pictures, right? Well go ahead and post them on Instagram! Be sure to mention me @iambaker and use the hashtag #YouAreBaker.