Let me just say this straight out, I did not invent this! I saw this on Dude Foods and was completely intrigued. But while they do give a brief description of how to do it, there were a lot of details missing.
So I just winged it.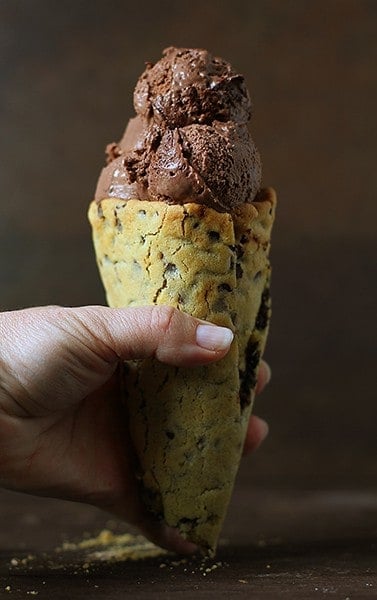 A few times. It was definitely a trial and error process… I tried. I errored. But that fabulous part about trial-ing and error-ing with chocolate chip cookie is that it's a really delicious screw-up!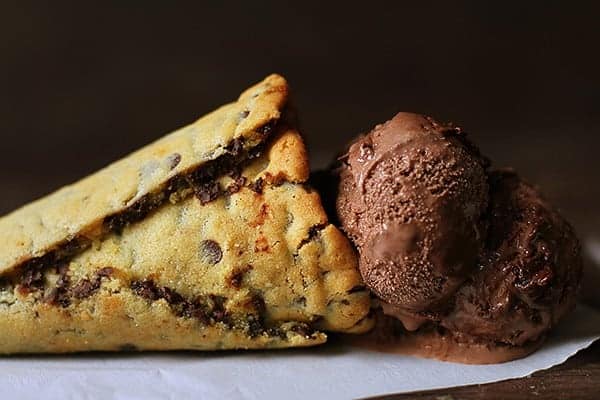 And then, when you finally get it right, the heavens seem to shine down and the angels sing.
That happens to everyone, right?
Here is a little video on how I put this together:

And here is the recipe!
Tips & Tricks:
While I did find a delicious recipe that is just about the right size to make 2 cones, you can certainly use store-bought cookie dough or your own favorite recipe. However, I do recommend either finely chopped chocolate or the mini chips. The flatter that you can roll the cookie dough, the better. I think rolling it to 1/2-inch thickness was just about perfect.
You want the cookie to be done, not ooey gooey in the center. If the cookie is too gooey it will not roll and will fall apart.
Working quickly out of the oven is key.
If you allow the Chocolate Chip Cookie Cone to cool on the kitchen counter (say that three times fast) you can remove the sugar cone once the Cookie Cone is firm. If you cool the cone in the freezer it is harder to remove (it ends up sticking to the cookie) and you may need to leave it in the Chocolate Chip Cookie Cone. (We tried it both ways and my kids liked it better when the cone was still inside.)
If you remove the sugar cone and still want your Cookie Cone to be drip-proof, you can dip the bottom of the cone in melted chocolate and allow to cool. Or you can fill the inside with melted chocolate then set upside down to drain out and cool.
You can successfully double the cookie recipe if you want to make 4 chocolate chip cookie cones, but I would still make it 2-at-a-time. These can be prepared in advance, just store in an air-tight container until ready to use. They will be good for up to a week.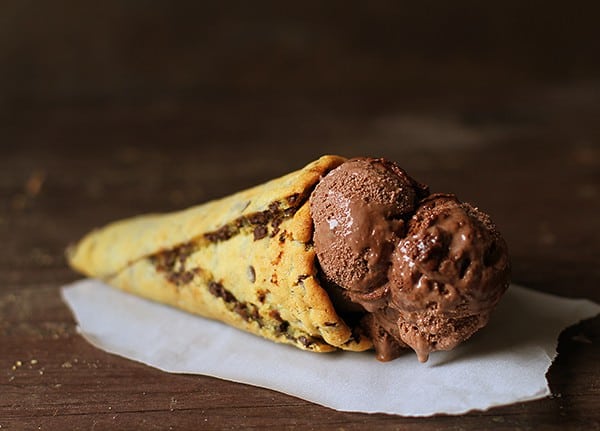 I have chocolate ice cream pictured, but I think this would be amazing with vanilla or cookie dough ice cream! Or strawberry. Or Phish Food. Ok, so there is basically no ice cream that wouldn't taste amazing in this homemade cookie cone!
Obviously this entire recipe would be great to play around with!