Up until this past year, I had been doing wrong.  All wrong.  I would:
1. Buy a bag.
2. Carefully attempt to open the top, inevitably tear the bag too much, see the fated shower of sugar graduals flying through the air as I spill sugar all over my kitchen.
3. Take out the amount I need.
4. Roll top of bag down as far as I could and pretend it will stay closed.
5. Set bag in a cupboard or pantry.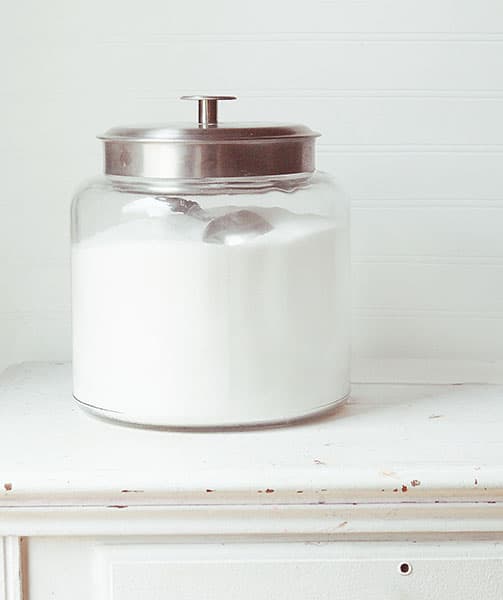 Now, since I baked so often and used so much sugar, I didn't experience too many clumps or moisture issues.  But I did occasionally, and it all could have been avoided if I had done just a few easy things!
First, I bought this lovely glass canister from The Container Store. (not an affiliate link)  They have a silicone seal inside which makes it air tight.
I got two, one for sugar and one for flour, and they sit on the shelf in my pantry.  (It is recommended that granulated sugar be stored in a cool, dry and odorless place. Make sure your onions and garlic are somewhere else!)
PRO TIP: Set the container in the sink and open the bag next to it. Any sugar that may spill out with be contained in the sink and you have one less thing to clean up!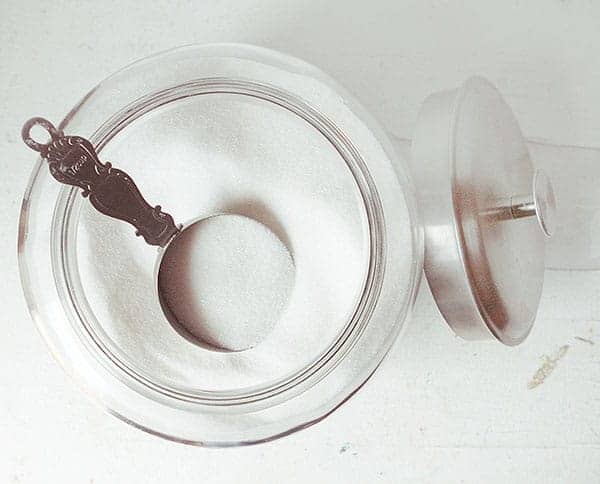 It works like a charm!  Now when I need sugar I either bring my ingredient bowl to the pantry or bring the canister to my counter.  Either way, so much easier.
But then I took in one step further.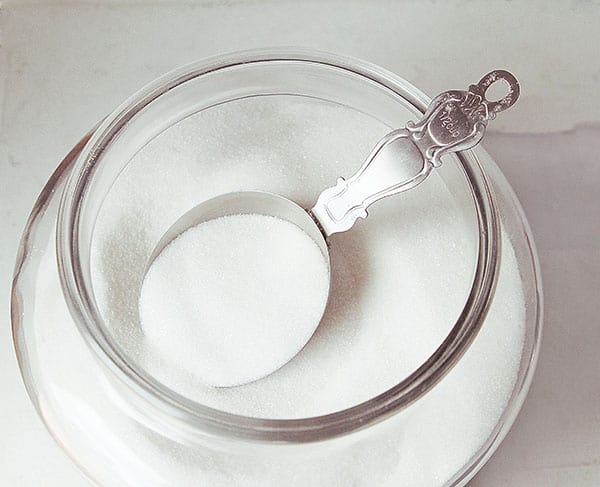 PRO TIP:
(doing this one little thing can make the difference in a baking recipe working beautifully or failing!)
I put a 1/2 cup measuring cup into the sugar and I leave it there.  I do this for one main reason:
Consistency in baking.  Using the same measuring cup to measure my sugar means that I always have the same amount.  As you may already know, measuring cups can vary greatly in size/volume.  If I use the same cup every time, I know my measurement of 1/2 cup is true.
Being a recipe creator, or someone who shares recipes publicly, I need to make sure they are as accurate as possible.  This is just one small way I can ensure I am doing everything possible to share a quality recipe.
For the sugar canister I use the 1/2 cup size, and the 1 cup size in my flour canister.  A typical American recipe has flour is measured in 1 cup increments (that is a total generalization, I know flour amounts greatly vary), while sugar can differ a bit more.  Using the 1/2 cup in the sugar gives me a bit more wiggle room.
Bonus:  One less measuring cup to clean!
Moral of the story?  Get one of these pretty glass canisters, use it to store your sugars and flours, and keep a measuring cup in the canister.  Voila!  Happy bakers everywhere.