Japanese Milk Bread Rolls are soft and super fluffy dinner rolls that will melt in your mouth and stay fresh longer than average dinner rolls. Try my Hawaiian rolls for another amazing more soft homemade roll experience. And yes, I even have the Garlic Butter Milk Bread Roll version of this fantastic creation!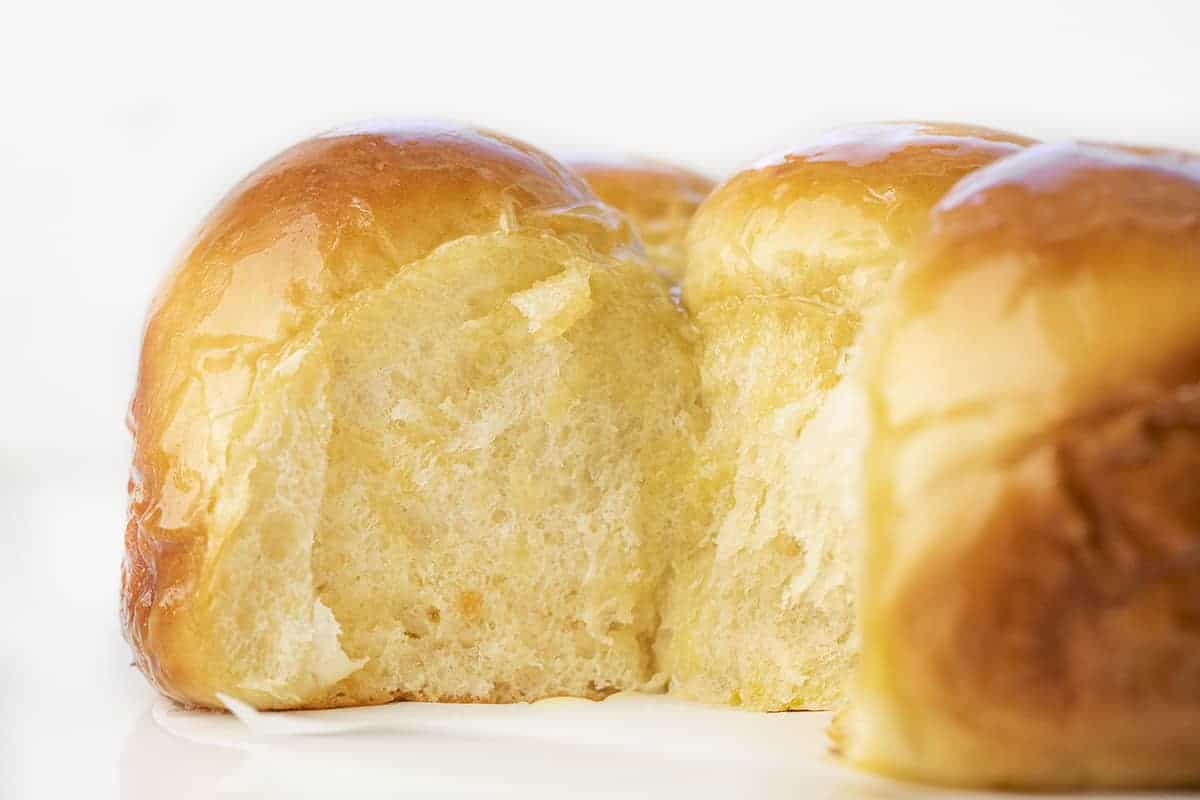 Japanese Milk Bread Rolls
Well, there are dinner rolls and then there are these Japanese Milk Bread Rolls. These are a step above regular rolls because of the pillow-like softness that is the result of the tangzhong mixture, which I will explain in more detail later. All you need to know at this point is that these rolls are super moist, soft, and delicious and are a must-add to your list of bread recipes.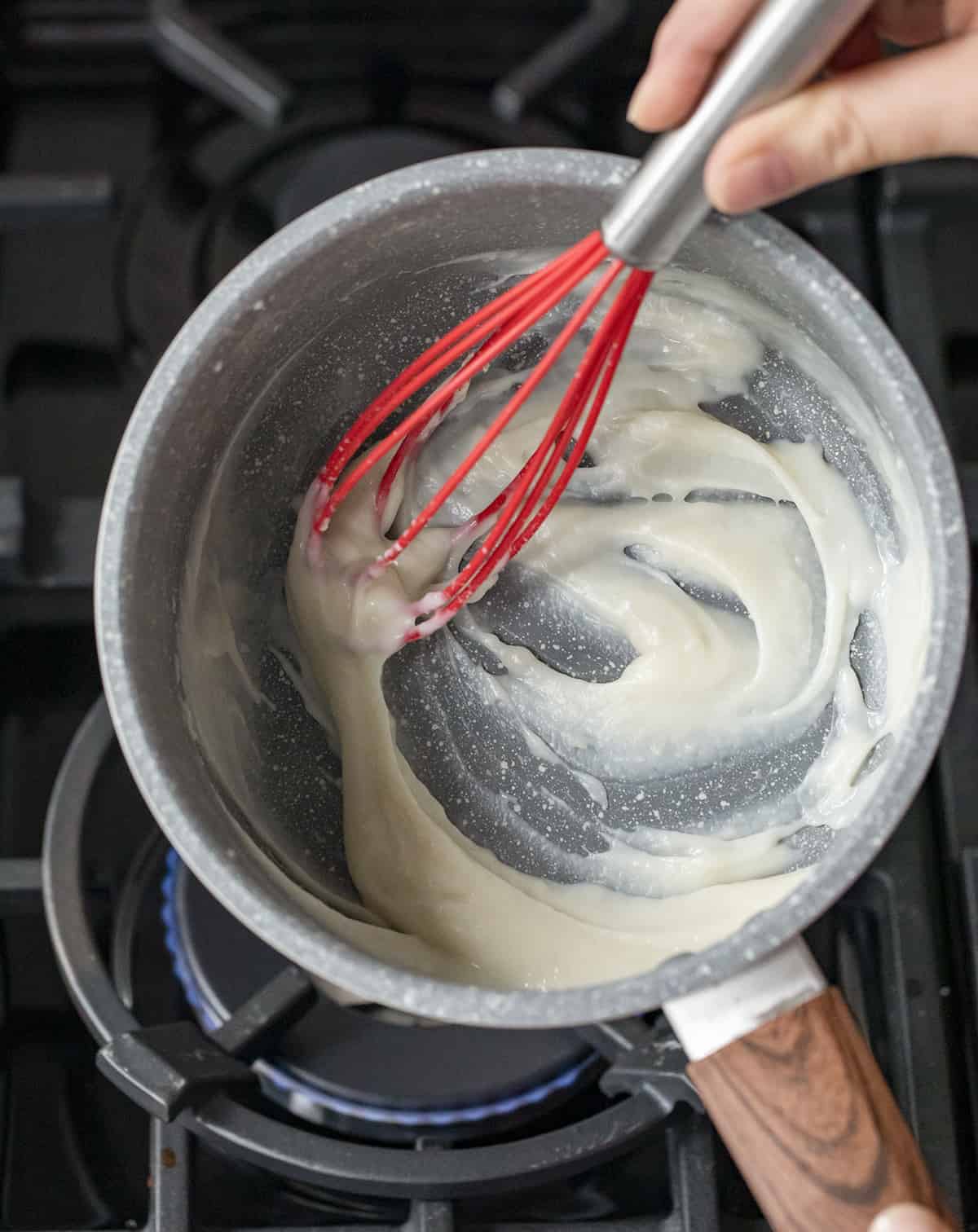 Rolls Ingredients
There are three parts to this recipe–the yeast mixture, tangzhong mixture (the secret to the super-soft rolls), and the dough.
Yeast: Use active dry yeast with warm water that is about 110°F. Water that is too hot will kill the yeast; on the other hand, water that is too cold will not activate the yeast.
Tangzhong Mixture: This is a mixture made with milk, water, and flour (like a roux) that is added to the rest of the ingredients in the recipe.
Dough: Make sure the ingredients, specifically the milk, eggs, and butter, are at room temperature for best results.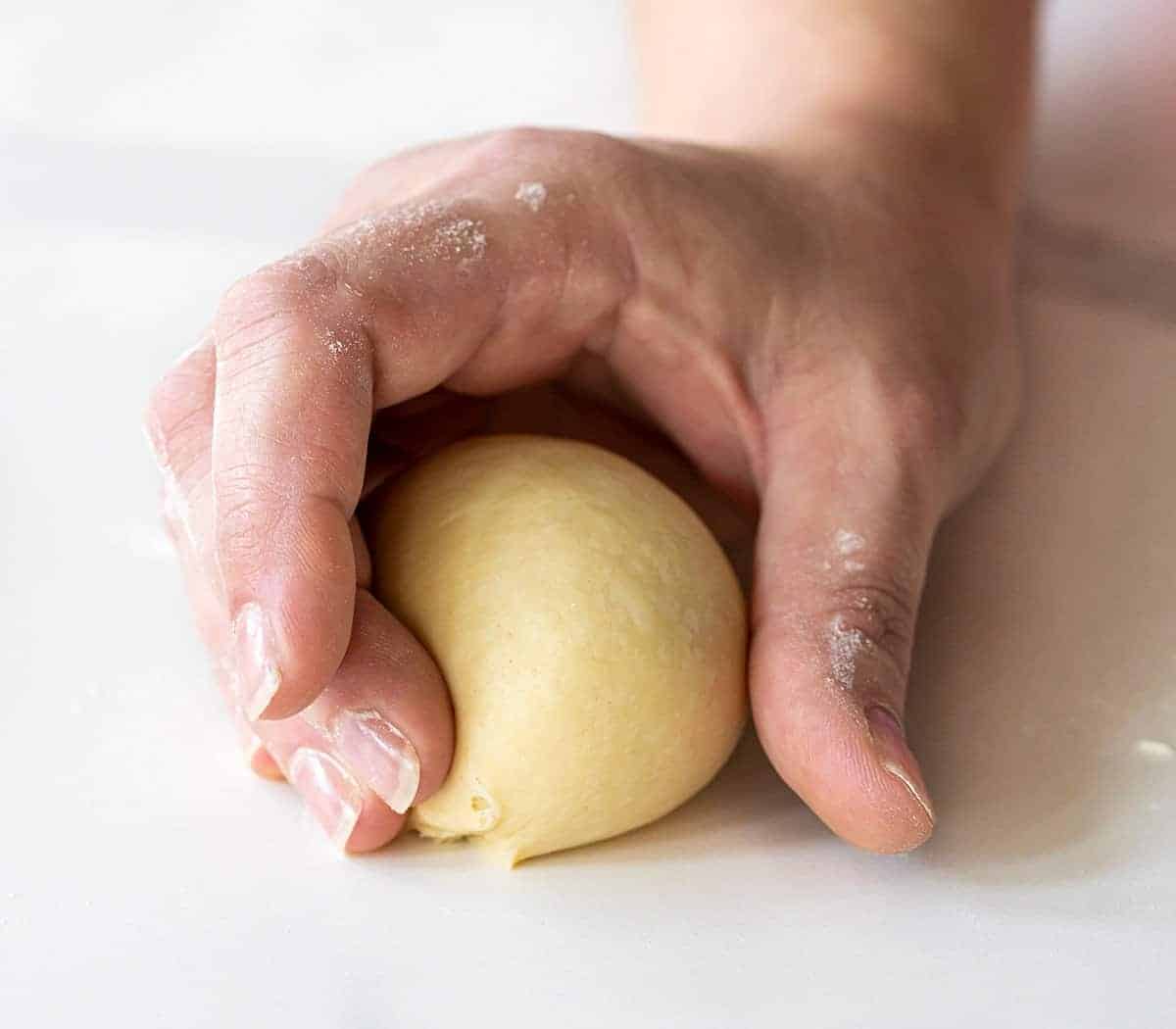 What is Tangzhong?
Tangzhong is an Asian technique to help bread get super soft and last longer (plus stay soft) when added to yeast dough. Milk, water, and a little bit of flour are cooked to create a thick slurry that will be added to the dough.
When the mixture is heated, the starch gelatinizes, which means it can absorb, or trap, more water. And, since the starch is heated with water, it will retain the liquid through the kneading, baking, and cooling processes. This results in rolls that will spring back as you touch them and stay soft longer.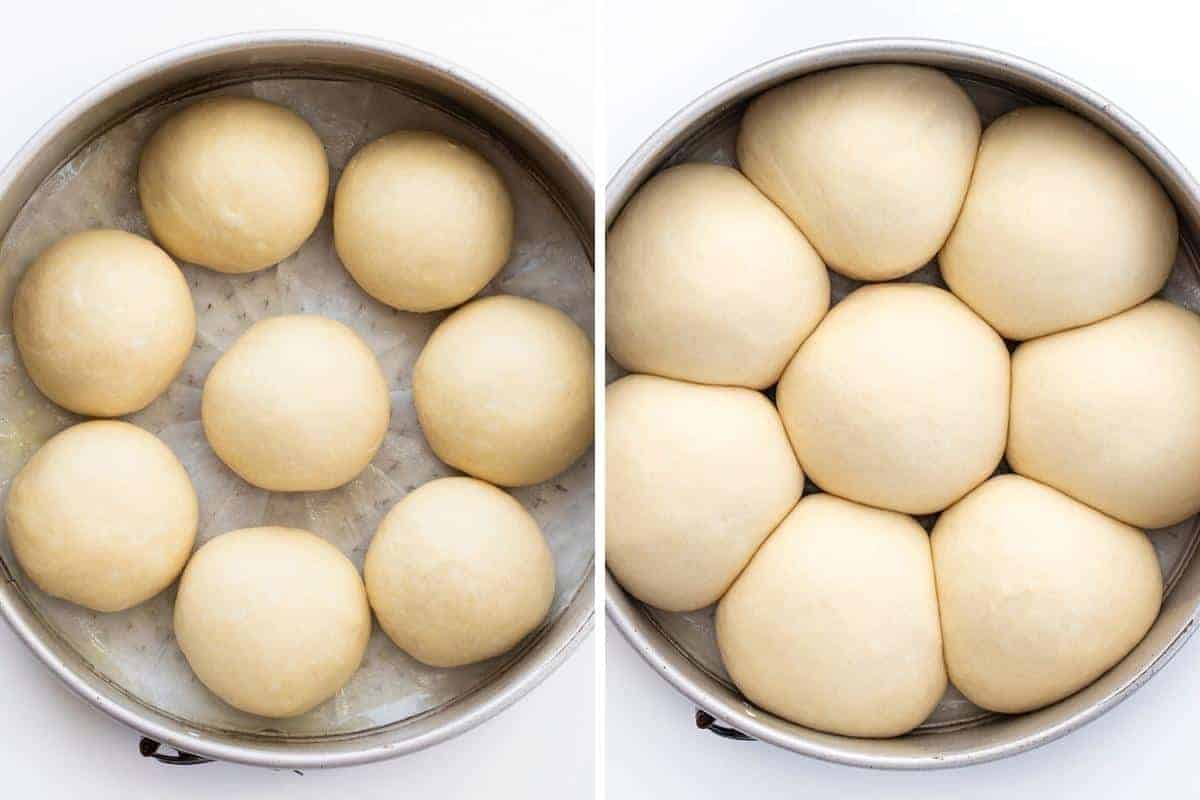 Do I Need a Springform Pan?
Although I used a 9-inch springform pan for this recipe, you could also use a different pan of a similar size. A loaf pan would work since it has higher sides. If you use a baking dish, make sure it's a high-profile dish (with higher sides). The tangzhong not only makes the rolls super soft and springy but will also make the rolls rise a little higher than regular rolls.
Can I Make these Rolls in a Bread Machine?
Yes! You can use a bread machine to knead the dough with the tangzhong mixture added to the dough.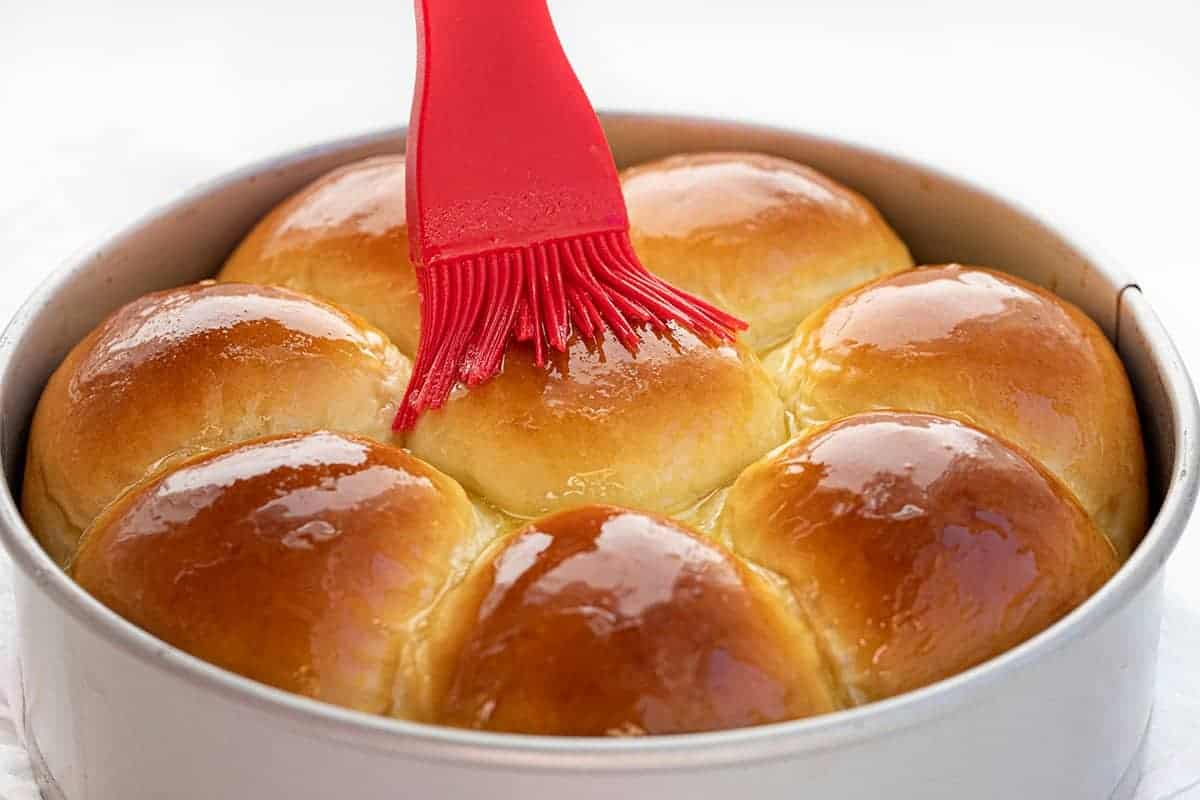 Can I Make the Dough Ahead of Time?
Yes! You can definitely get part of the recipe made ahead of time and freeze the dough until you are ready to bake the rolls. Follow the instructions up to the second rise. Before they rise the second time, add them to a freezer-safe container. When you are ready to bake the rolls, let them come to room temperature and follow the baking instructions.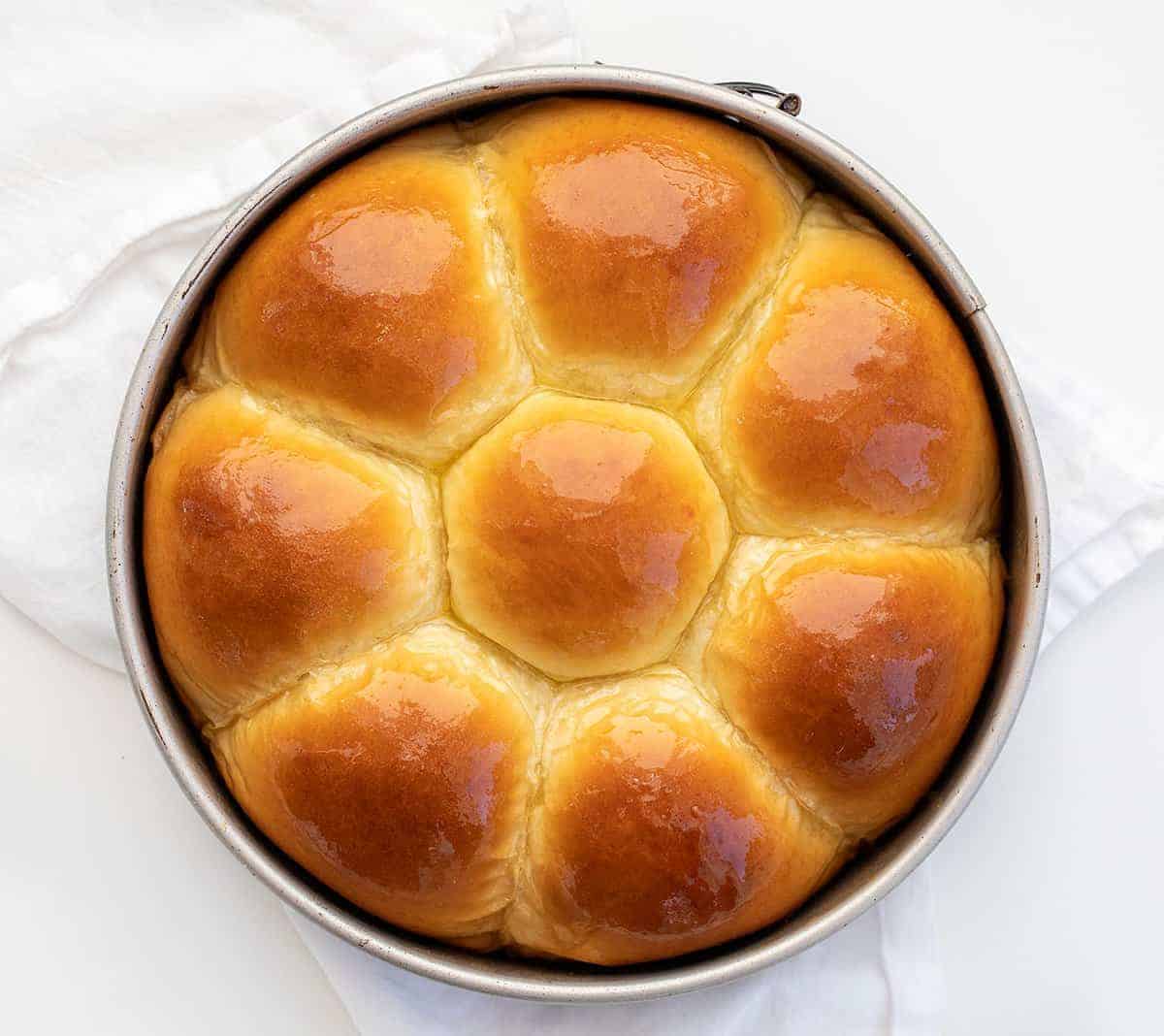 How to Store Japanese Milk Bread Rolls
Because of the retained moisture from the tangzhong, these rolls will stay soft and fresh for up to 4 days at room temperature. If you want to freeze the rolls, let them cool completely after they have been baked. Then, store the rolls in a freezer-safe container for up to 3 months. When ready to enjoy, let them thaw in the refrigerator. Pop them in the microwave to warm them up before serving.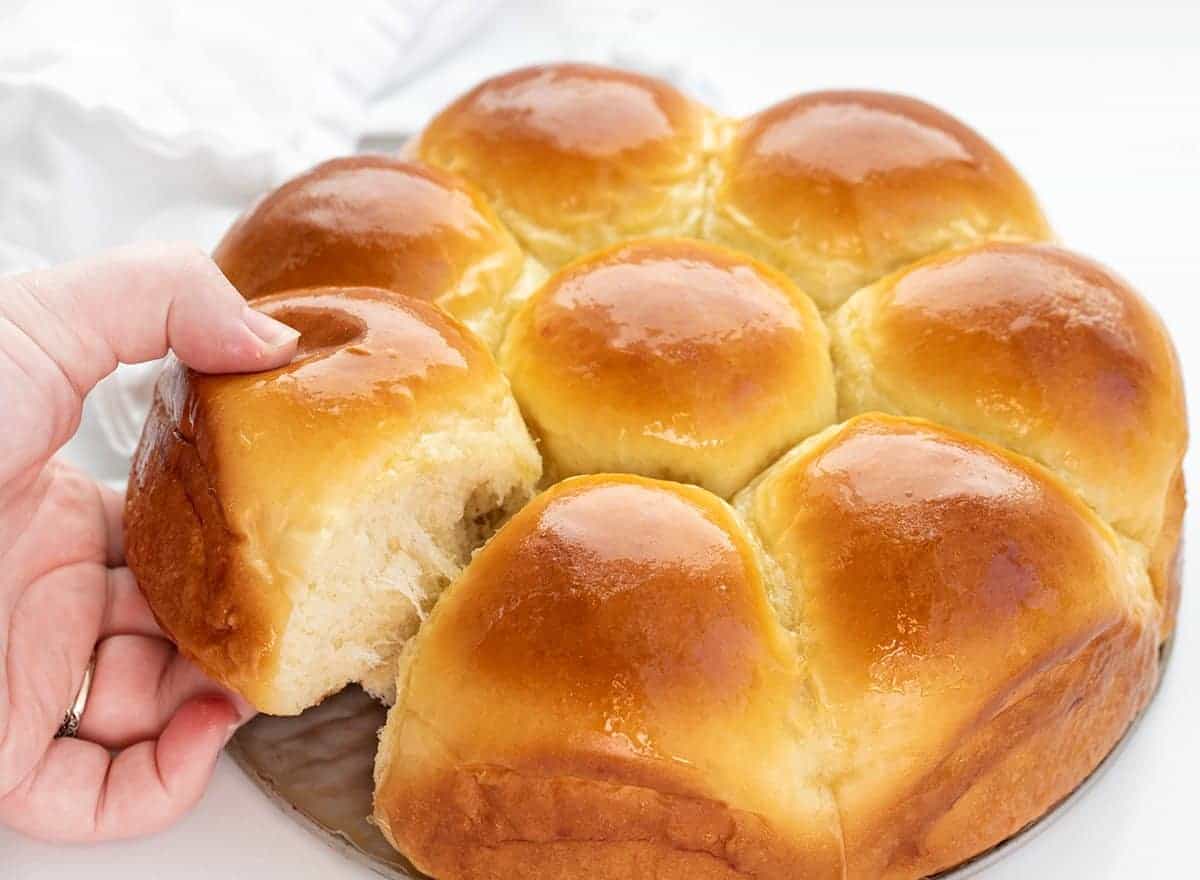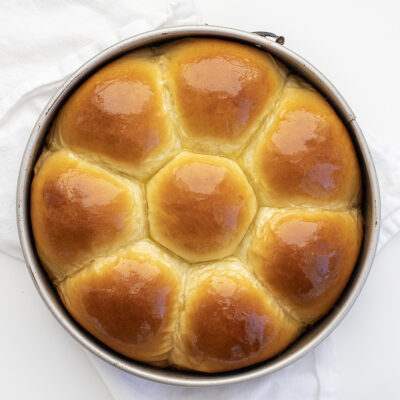 Japanese Milk Bread Rolls
Japanese Milk Bread Rolls are soft and super fluffy dinner rolls that will melt in your mouth and stay fresh longer than average dinner rolls.
Ingredients
Yeast Mixture
1

tablespoon

active dry yeast

¼

cup

water,

warmed, about 105-110°F
Tangzhong Mixture
4

tablespoons

whole milk

2

tablespoons

water

2

tablespoons

all-purpose flour
Dough
2 ½

cups

(312.5 g) all-purpose flour

½

cup

(122.5 g) whole milk,

room temperature

¼

cup

(50 g) granulated sugar

1

teaspoon

kosher salt

2

large

eggs,

room temperature (divided)

3

tablespoons

unsalted butter,

softened

1

tablespoon

water
Instructions
Yeast Mixture
In the bowl of a stand mixer with a dough hook attachment, combine yeast and water. Set aside to bloom while you prepare the remaining ingredients.
Tangzhong Mixture
In a medium saucepan over medium-low heat, add milk, water, and flour. Whisk together well, stirring constantly (but not vigorously). Once it starts to thicken, remove from heat and continue to stir until a thick paste forms. The mixture can take a while to thicken, but when it does, it happens quickly (about 2 minutes). Pour the mixture into a small bowl and set it aside to cool slightly.
Dough
To the yeast mixture, add flour, milk, sugar, salt, 1 egg, and the tangzhong mixture. Mix on low speed until the dough starts to come together (about 5 minutes). If the dough is too wet, add flour (1 tablespoon at a time). If it is too dry, add a little extra milk.

With the mixer still on low, add a tablespoon of butter. Mix until fully incorporated. Repeat with the remaining butter (1 tablespoon at a time).

Form the dough into a ball and place in a greased bowl. Cover with plastic wrap and allow to rise in a warm location for 1 hour (or until doubled).

Spray a 9-inch springform pan with nonstick cooking spray.

When you are ready, punch the dough, turn it out onto a floured surface, and divide the dough into 8 equal-sized pieces (about 3 ounces each).

Working one at a time, push down slightly (but firmly and evenly) on the dough sections and roll the ball under your palm in a circular motion. Use the cupped sides of your hands to keep the dough centered in your palm. You may have to work the dough for a while, but eventually, it will come together and most of the lines and folds should have incorporated into the dough, forming a smooth dough ball.

Add the rolls to the prepared pan, spaced apart.

Cover and allow to rise again until doubled (about 30-45 minutes).

Preheat oven to 350°F

In a small bowl, add remaining egg and water and whisk vigorously until combined and smooth.

Use a pastry brush to brush the tops of the rolls with the egg wash.

Bake 20-25 minutes, or until the tops are golden brown. (The internal temperature of the baked rolls should be 190°F.) Enjoy!
Did you make this recipe?
Thank you for making my recipe! You took pictures, right? Well go ahead and post them on Instagram! Be sure to mention me @iambaker and use the hashtag #YouAreBaker.