These Mini Butterscotch Apples are a seriously fun treat!! Crisp apples paired with buttery candy coating.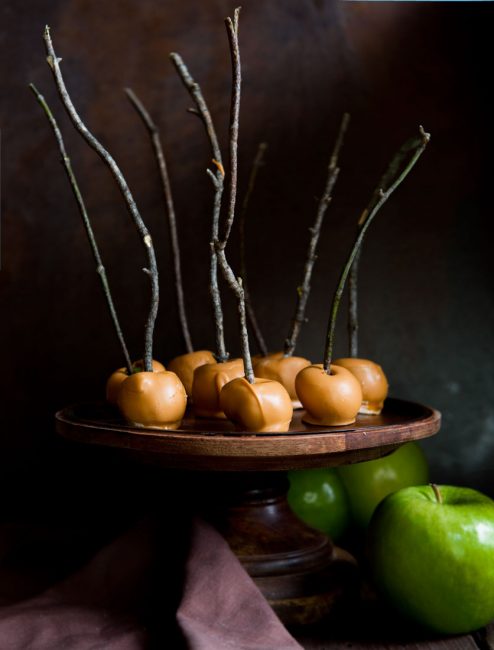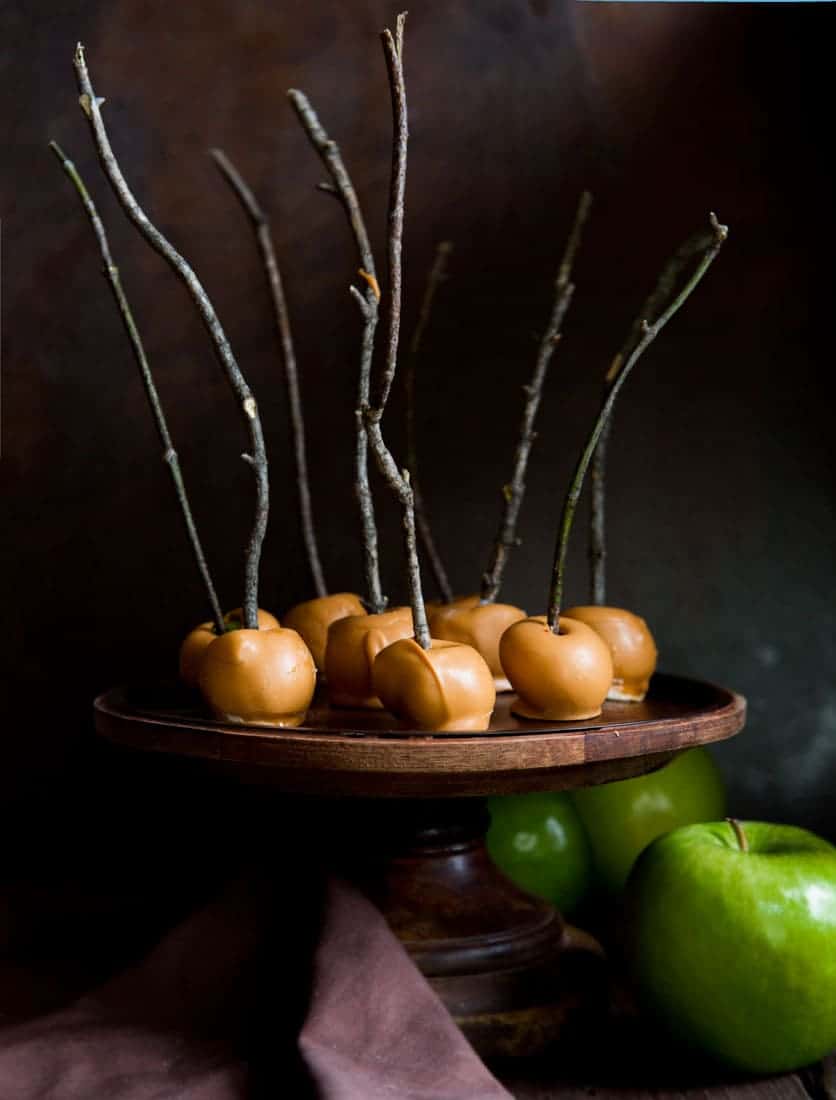 I made these Butterscotch Mini Apples as a last resort. I was working on a project for Food Network and was making mini caramel apples for a cake. I could NOT get it to work! They caramel would fall off, the apples got brown… it was just a mess. So I had the idea… why not dip the mini apple in chocolate or candy melts? The chocolate would harden enough that it would stick to the apple. It ended up being the PERFECT solution!
To make these Mini Butterscotch Apples you will need:
Granny smith apples: 1 apple = about 6 mini apples
2 cups butterscotch morsels
1 tablespoon shortening (can also use oil)
1/2 cup chopped peanuts (If using on all mini apples you may need more)
paper towel
cleaned and cut wooden sticks (can also use cake pop sticks or small wooden dowels)
parchment lined cookie sheet
lemon juice (optional)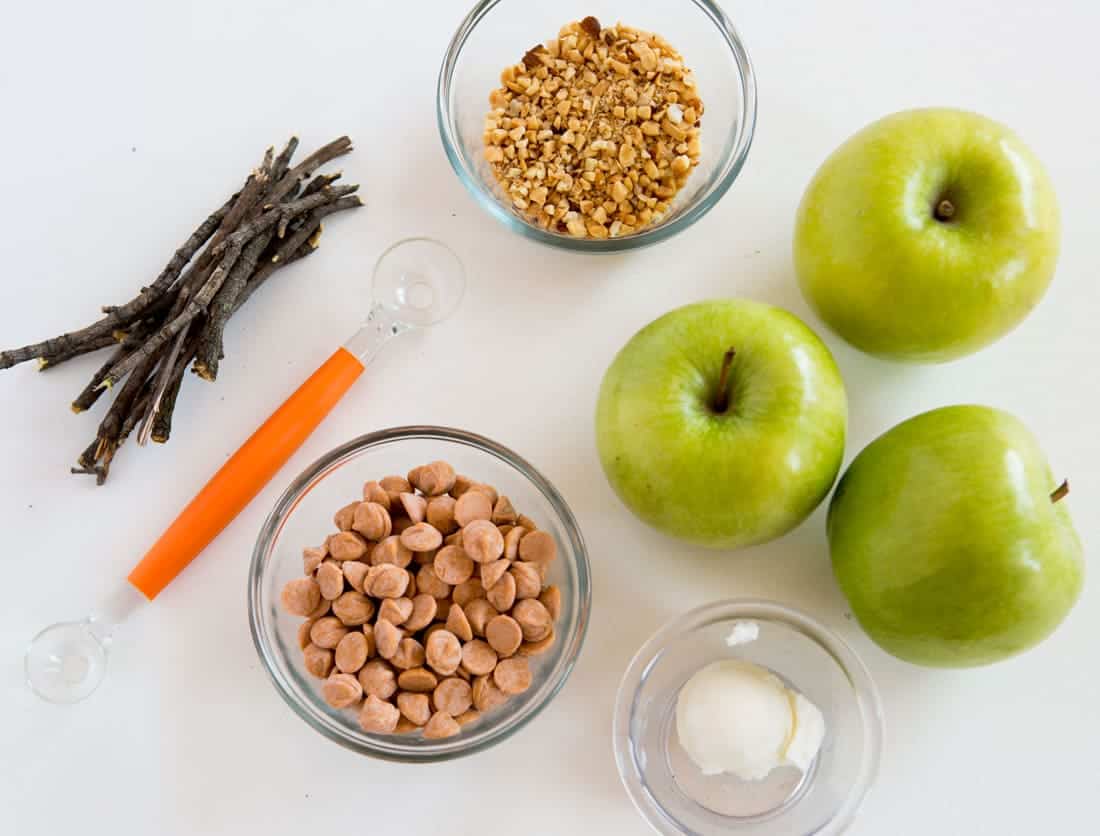 Being by using the melon baller to scoop out sections of the apple. One apple usually yields about six mini apples. Work quickly as you do not want the mini apples to brown.
PRO TIP: If you have some lemon juice on hand, sprinkle it over the mini apples to keep them fresh!
Melt butterscotch and shortening in the microwave. Heat for 1 minute, then in 10-second increments until fully melted. Once fully melted you can transfer it to a tall kitchen glass.
Insert the stick into the mini apple being sure to not go all the way through.
This is important: DRY the mini apple off with a paper towel.
Dip the mini apple into the melted butterscotch until it is mostly covered. Lift up and let the excess drain off. Set butterscotch covered mini apple on a parchment lined cookie sheet.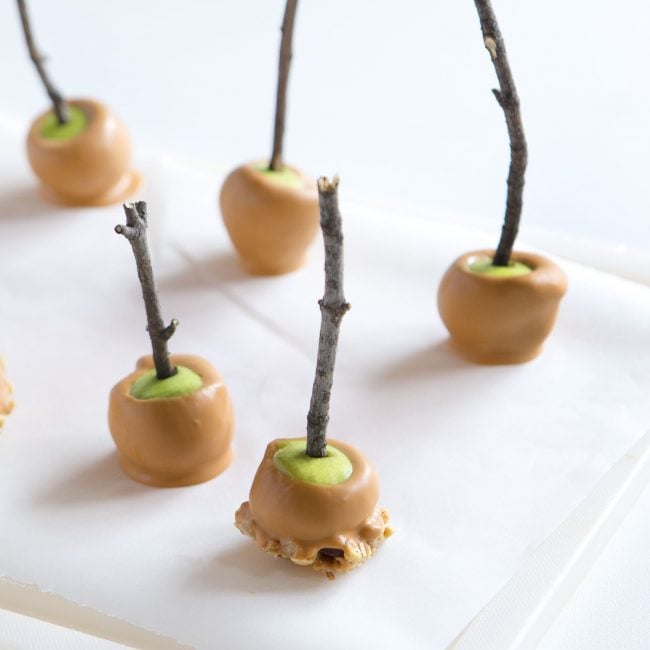 If you are dipping the mini apples into the chopped peanuts, now is the time. Place your peanuts in a bowl and then gently press the butterscotch covered mini apple into the nuts. Set on cookie sheet.
I have dipped the bottoms, but you can certainly cover the entire mini apple with chopped nuts. You may need to prop up the mini apples if they tip over.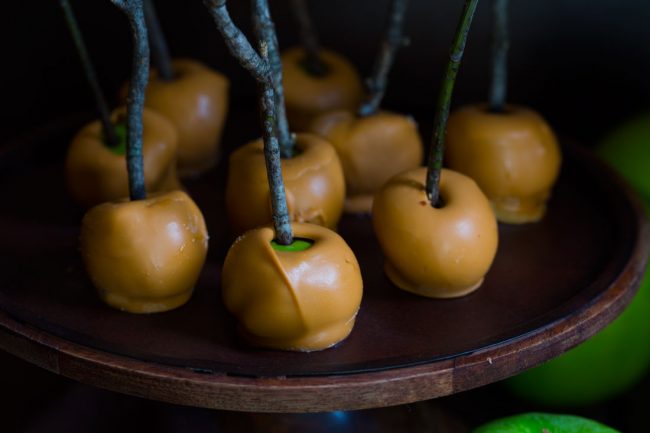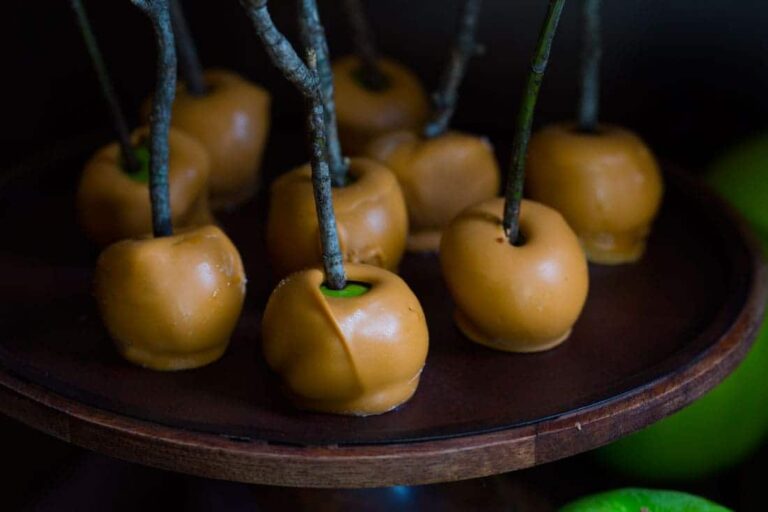 You can also drizzle with caramel, chocolate, or even double-dip then into a beautiful color of candy melts. Orange or black would be fun for Halloween!