I am out at the Minnesota State Fair today.  Did you know that:
"It is the largest state fair in the US by average daily attendance. It is also the 2nd largest state fair in the US by total attendance, trailing only the State Fair of Texas, which generally runs twice as long as the Minnesota State Fair." –Wikipedia
One more fun fact.  I have lived in MN for over 10 years… yet have NEVER been to the fair! Twin Cities Live to the rescue! Today I will be a guest on the the show, and for the first time ever, my husband and kids will be there to see!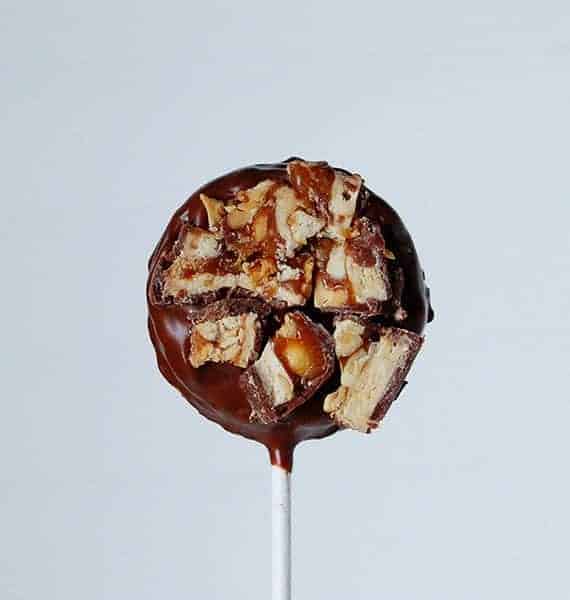 So, in the spirit of the fair, I am making something pretty darn insane.  I mean, not insane by fair standards, but definitely insane by normal-everyday-food standards.
Three years ago my friend Amanda made these Ultimate Chocolate Chip Cookie n' Oreo Fudge Brownie Bars, which some folks know as "slutty brownies". (I dislike that term immensely, but that is what people usually know them by.)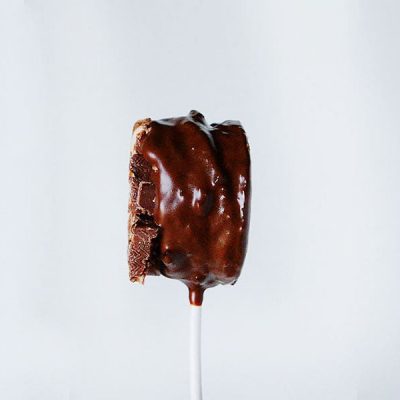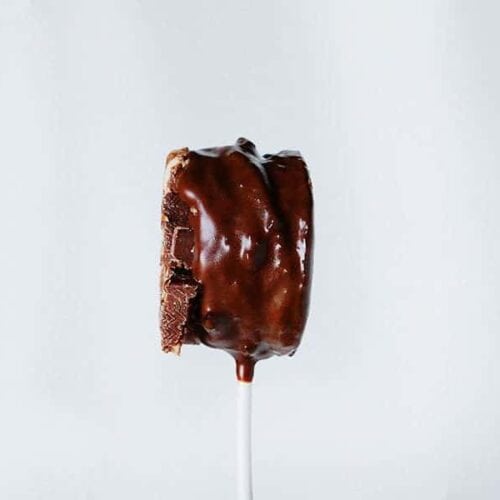 Oreo Chocolate Chip Cookie Brownies on a Stick
These are obviously pretty amazing. I mean, with all that sweet goodness, how could it not be?
Ingredients
1 17-

ounce

package of chocolate chip cookie dough

1

box brownies

I prefer the 9x9 pan size, it often comes in a bag

9

Oreos

6

ounces

milk chocolate

1

tablespoons

canola oil

1

bag Snickers kept chilled

you will want about 2 cups of chopped pieces total
Instructions
Prepare a 9x9 inch baking dish by lining it with parchment then spraying sides with baking spray.

Press cookie dough into bottom of pan.

Place one layer of Oreo's on top of cookie dough. You will most likely only have room for 9 cookies, but can cut cookies in half and squeeze into edges if you want full coverage.

Prepare brownies according to directions on package and pour over Oreo's and cookie dough.

Bake at 350 degrees F for 35-45 minutes, or until an inserted toothpick is removed mostly clean. (A couple crumbs are ok)

Allow brownies to cool to room temperature, then using a 2-inch round cookie cutter, punch out nine sections.

Place those section in the fridge for at least 30 minutes.

Prepare chocolate coating by melted the chocolate and oil in the microwave for 1 minute. Remove and stir well, then place back in microwave in 30 second increments until chocolate is completely melted.

Grab the stick and dip it into the chocolate (just an inch or so) then gently insert stick into cut edge of the brownie. Do this to all brownies then place back in the fridge for at least 15 minutes.

Chop all snickers into very small pieces. This works best when snickers are chilled. Place in a flat layer (pieces not touching if possible) until ready to assemble.

Prepare a baking sheet with a piece of parchment paper. Set aside.

When ready to coat the brownies, pick one up by the stick and hold over the chocolate. Drizzle the chocolate over the brownie and coat completely. Shake off excess.

Take about a tablespoon of snickers pieces and gently press into the top of the brownie. Place the brownie bite SNICKERS SIDE DOWN onto the baking sheet covered with parchment. Coat all 9 brownies, then place in refrigerator to allow chocolate to set. Can be served at room temperature.
Did you make this recipe?
Thank you for making my recipe! You took pictures, right? Well go ahead and post them on Instagram! Be sure to mention me @iambaker and use the hashtag #YouAreBaker.
I decided to make a pan of Amanda's creation. Then using a 2-inch round cookie cutter, I cut out nine sweet brownie bites.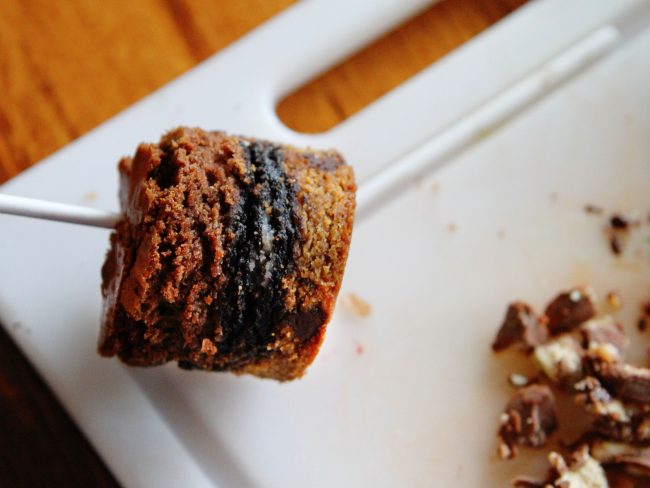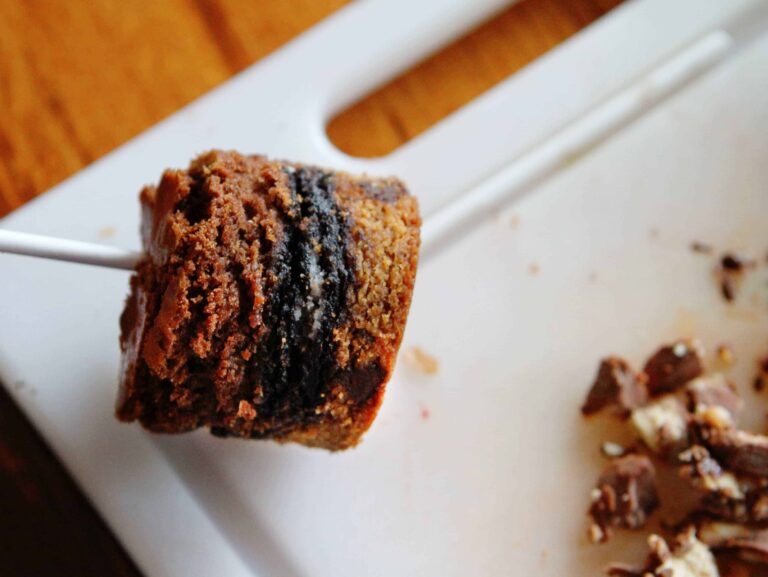 Loving that beautiful brownie Oreo cookie bliss!! (I made this simply to show the layers and drizzle, my final product has the stick inserted into the sides of the layers, not directly into the top of the brownie)
Next I covered them in milk chocolate. My original plan was to use semi-sweet, but my taste testing crew unanimously approved of the milk chocolate.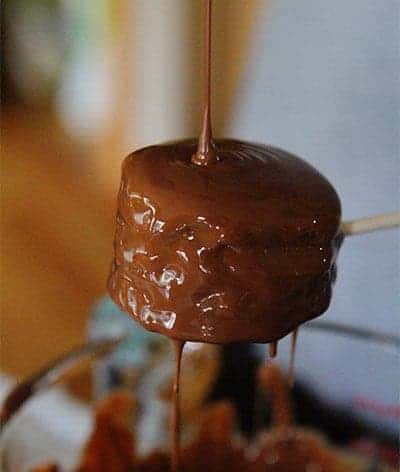 Lastly, we added on a layer of chopped Snickers bars and called it a day.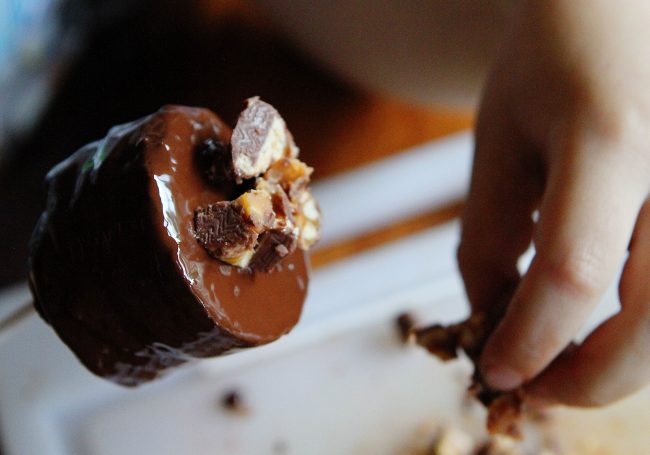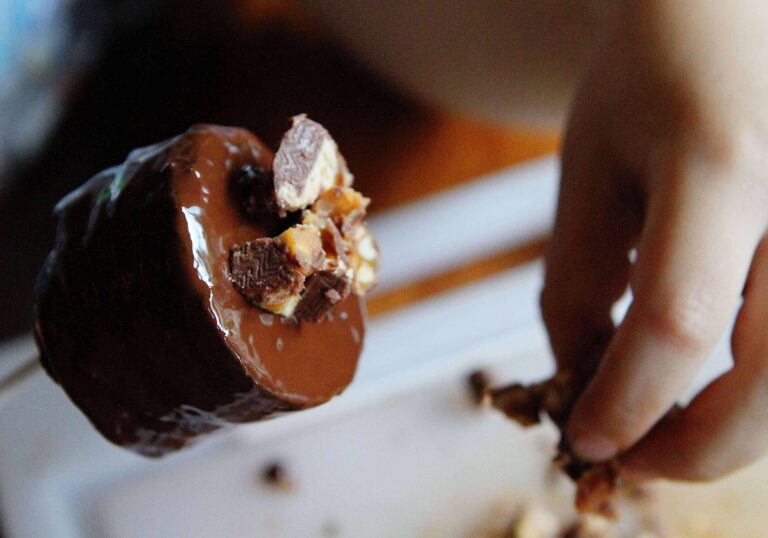 I had to call it a day, I was exhausted! I mean, really. Brownies, Oreo's, Chocolate Chip Cookies, Milk Chocolate coating, and Snickers Bars? Can we say over-the-top?
But in a really, really good way.
Extra Supplies Needed: parchment paper, sticks for brownie bites, container for melted chocolate that is wide enough to drizzle chocolate over bites, 2-inch round cookie cutter


These are obviously pretty amazing. I mean, with all that sweet goodness, how could it not be?
So excited to share these at the fair! I just hope it lives up to the awesome reputation that fair food has. I mean, there is some stiff competition!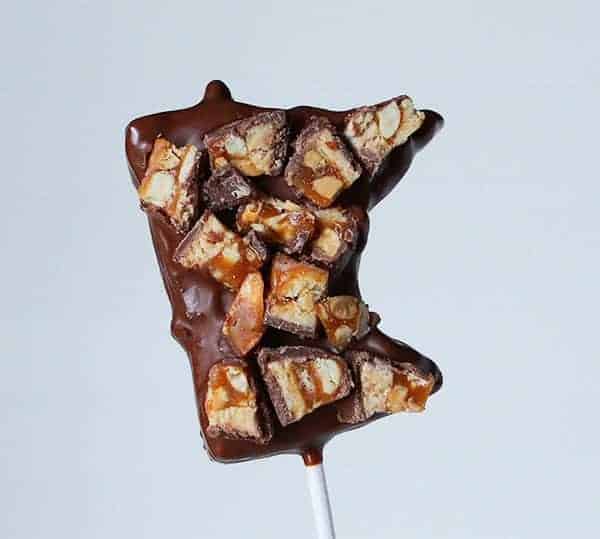 But just in case, I made one in the shape of the state of MN. Who can resist a good ole' hometown treat? 🙂