These crazy easy Peanut Butter Banana Muffins are the perfect back-to-school snack! Healthy enough for a quick morning breakfast or you can add the glaze and make it a fun after school treat!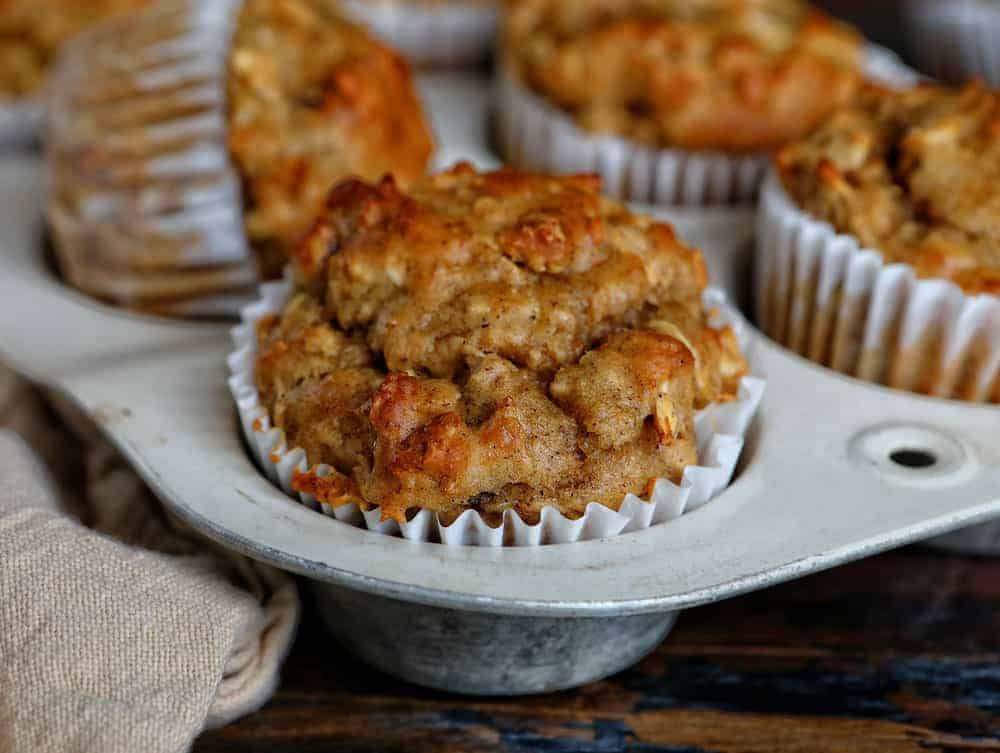 Peanut Butter Banana Muffins
This recipe has a few basic ingredients so it is important to make sure you are using excellent quality! I found organic peanut butter, bananas, and old fashioned oats at the store and knew I could make something amazing. And these muffins do not disappoint! The best part about these muffins is that there is a ton of flavor but NO added sugar!! So perfect for breakfast. If you happen to want to add a bit of decadence, I added an almond milk glaze to the muffin and it definitely adds an extra sweet kick!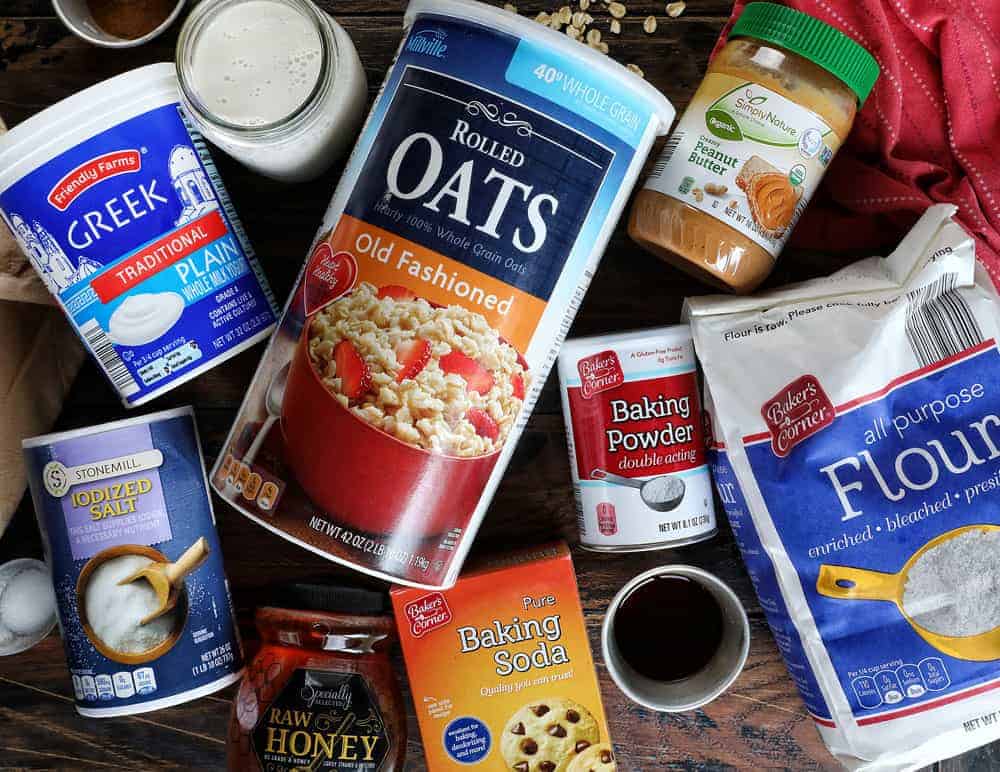 I have to tell you, one of my favorite things is being inspired by my weekly ALDI shopping trip. Not only do they have great pantry staples I can also count on, but now they have even more new
and updated products to offer that really get my creative juices flowing! This trip I found the new FriendlyFarms Organic Vanilla Unsweetened Almond Milk. When I saw it I just knew that it would make the PERFECT glaze for these muffins and that I could still feel really good about feeding it to my kids! I am a sucker for anything organic and the almond milk did not disappoint! (I may have finished the container in 2 days! Who knew it would be so delicious with everything?!?)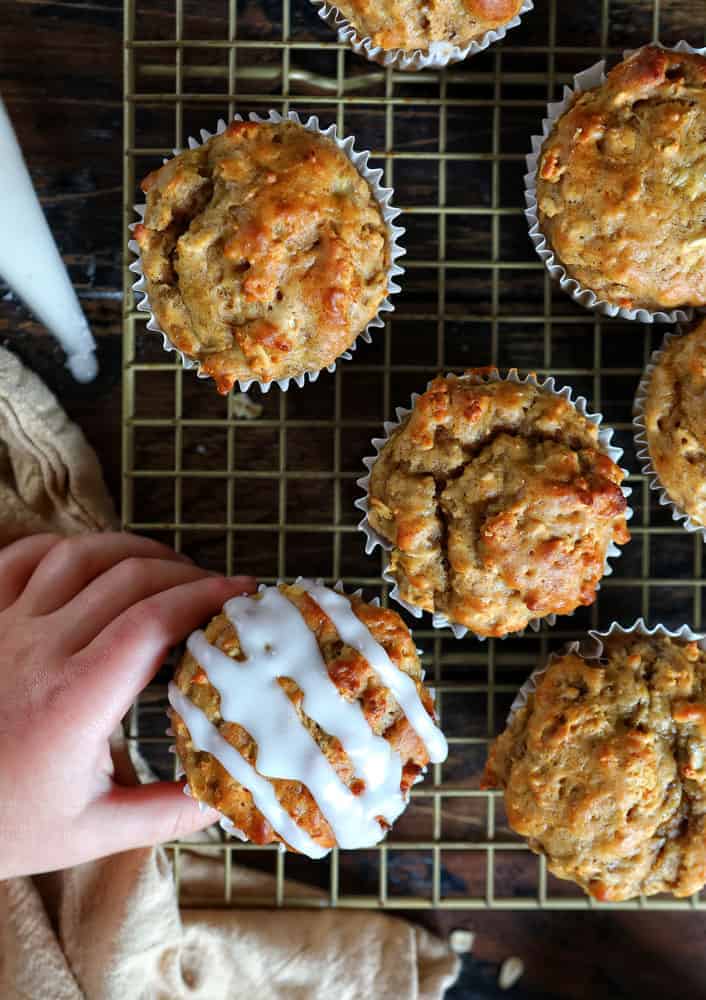 Not many things make me feel better than baking delicious snacks for my kids that they love and that are better for them! Olivia (my baby!) loved these muffins and asked for them every morning. That makes a mama's heart happy! <3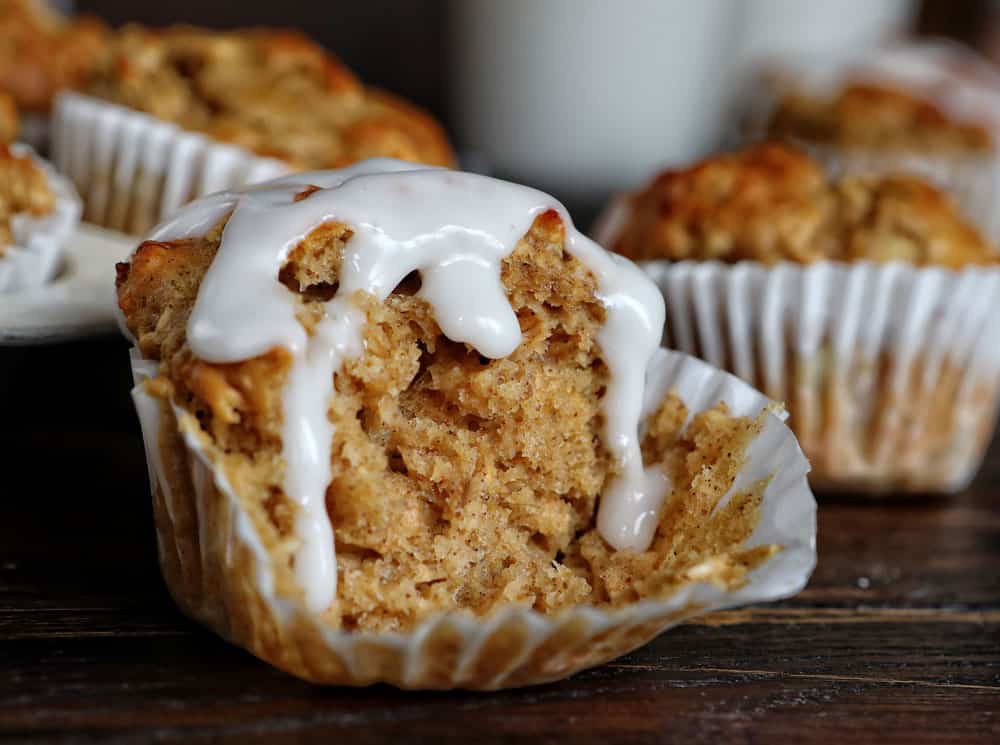 How to Store Muffins
There are a few ways to properly store muffins.
Room Temperature: Because they are best enjoyed at room temperature, this is usually the recommended way to storing. I use a larger sealable plastic bag or an airtight container to store the muffins in a single layer. Some folks recommend adding a piece of paper towel to the bottom so that it will soak up any condensation. If your muffins are properly cooled before storing, this may not be necessary. However, if I am using an airtight container, I will often add a piece of bread to the container, torn in half, and fit in between the muffins. The bread will soak up moisture as well. Best enjoyed within 2-3 days.
Refrigerator: (Refrigeration, in general, dries out baked goods faster so a typical muffin recipe shouldn't be refrigerated.) Place in a sealable plastic bag or airtight container and then place into the refrigerator. They should keep for up to 5 days. To reheat, remove from refrigerator pop into the microwave for 10 seconds or just allow muffin to come to room temperature naturally, about 15 minutes.
Freezer: Place cooled muffins into a freezer-safe sealable plastic bag or a freezer-safe airtight container and pack as closely as possible without crushing. Remove as much air as possible. Label with date and recipe name.
How to Reheat Frozen Muffins
Remove muffin from the freezer and allow to come to room temperature overnight in the refrigerator or on the counter for a couple of hours.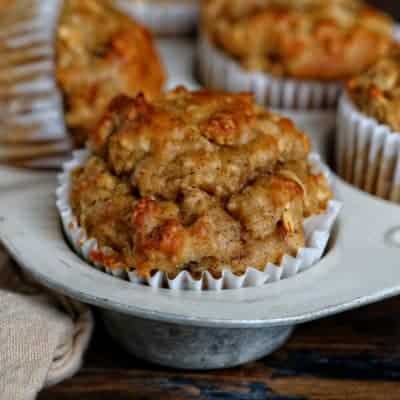 Peanut Butter Banana Muffins
These crazy easy Peanut Butter Banana Muffins are the perfect back-to-school snack!

Ingredients
Peanut Butter Banana Muffin
1

cup

(125 g) all-purpose flour

1

cup

(80 g) rolled oats

1

teaspoon

baking powder

1

teaspoon

baking soda

1

teaspoon

cinnamon

1

pinch

kosher salt,

to taste

2

medium

bananas

½

cup

(120 g) organic peanut butter

¼

cup

(85 g) honey

½

cup

(140 g) plain Greek yogurt

¼

cup

organic vanilla unsweetened almond milk

1

large

egg

1

teaspoon

vanilla extract
Glaze
1

cup

(125 g) confectioners' sugar

1-3

tablespoons

organic vanilla unsweetened almond milk
Instructions
Peanut Butter Banana Muffin
Preheat oven to 375°F (190°C). Line a 12-cup muffin tin with liners.

In a medium bowl, mix together flour, oats, baking powder, baking soda, cinnamon, and salt.

In another bowl, mash bananas then add peanut butter, honey, Greek yogurt, almond milk, egg, and vanilla extract.

Add wet ingredients to dry ingredients and mix until well combined.

Evenly pour the mixture into the prepared muffin liners.

Bake for 14-18 minutes. If you gently touch the top of the muffin it should spring back when done.
Glaze
Combine the confectioner's sugar and almond milk in a small bowl. Whisk until smooth and creamy.

When muffins are cool, top muffins with almond milk glaze.
Video
Did you make this recipe?
Thank you for making my recipe! You took pictures, right? Well go ahead and post them on Instagram! Be sure to mention me @iambaker and use the hashtag #YouAreBaker.
Thank you so much for supporting the brands that support me here at iambaker. I could not have made these delicious Peanut Butter Muffins without inspiration from their amazing products! You can find them here: ALDI, Facebook, Pinterest, Instagram.