My original Rainbow Pancakes have been quite controversial, but hopefully that is all done.  I am sharing a slightly less technicolor version of them today, AND sharing tips on how you can great the Perfect Rainbow Pancake, just in time for Easter!
Here are a few tips!
Have lots of bowl on hand.  By far the most time consuming part of rainbow pancakes is creating six batters in six different bowls.  I suggest enlisting the little ones in the entire process, and then allow them to help with clean up afterwards.  I have found that this helps them understand that this is a "special" event and not something we do everyday.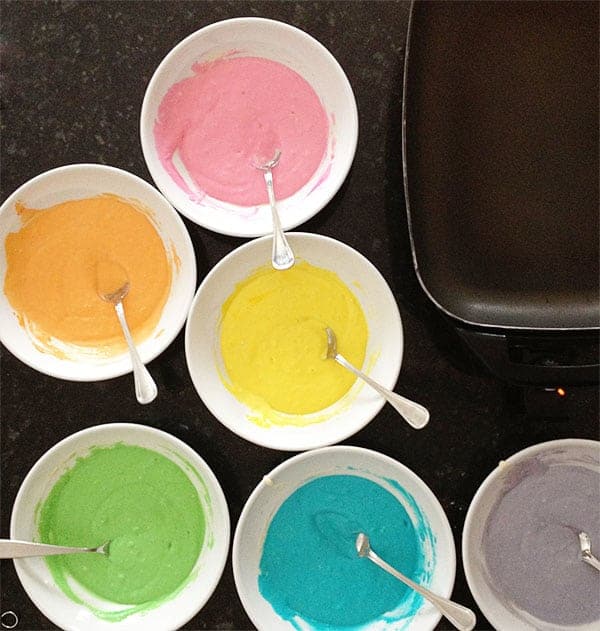 Cook low and slow. I often cook my rainbow pancakes at 250 degrees F on the griddle.
Do not use butter to grease pan.  I do not use anything to prepare the pan, I simply use a a griddle that is non-stick.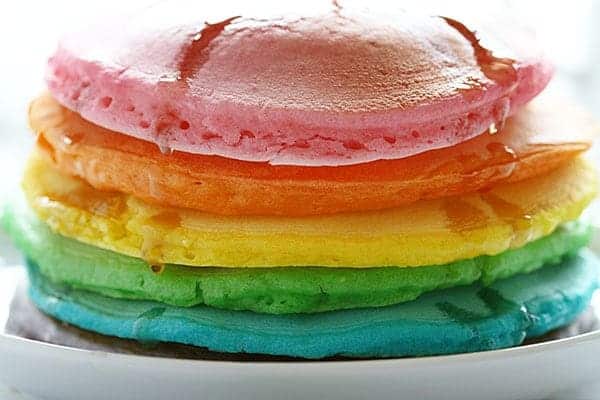 Make all of one color at once.  I prepare all of the pink, then the orange, then so on.  I place finished pancakes on a warming plate in the oven, and that way I can serve all of the pancakes hot and in rainbow color order!
If you want to make shape you can place batter into a pastry bag and cut off a tiny bit of the corner.  Make an outline and then quickly fill the shape in.   This can be esepceially fun with you have so many different colors!
I do not recommend using cookie cutter to get the designed shape you want.  The average person (like me!) does not have 5 of one shape cookie cutter, so this means you are making one pancake at a time.  You also need to spray the cookie cutter before each use and be careful because it gets very hot!  I have yet to find a way to make this method  be efficient.
Use a "good" recipe.  I put good in quotations because what I really mean is use a recipe that is ideal for creating beautiful looking pancakes.  The following recipe is one that tastes delicious, but is slightly runnier.  When you are making colorful pancakes you do not want them to get too brown, so having a pancake that will cook faster (and therefor allow you to flip sooner) is ideal.  This recipe uses a lot of baking powder so it still fluffs up nicely.
If you want to make sure your pancake is done, let them cook on one side a bit longer.  It is just fine if one side is more brown, just serve that side down.
I slightly adapted this recipe from Allrecipes.com, but any basica recipe will do.  Simply add more liquid to achieve better results.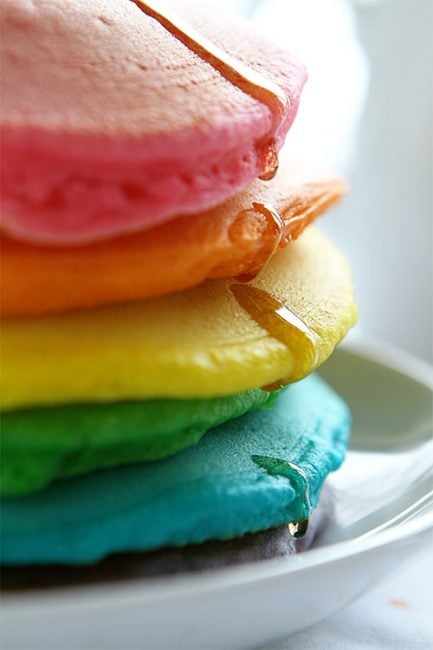 Use a good food coloring.  With this recipe specifically you can use liquid food coloring with great success!  It's also a great time to get your teacher hat on with the kids, and help them to figure out what colors you need to combine to achieve orange and purple and green.
Enjoy the process.  Most of all, enjoy this time in the kitchen with your little ones.  They grow up so fast!