Nothing compares to fresh baked bread and the joy of baking it with family.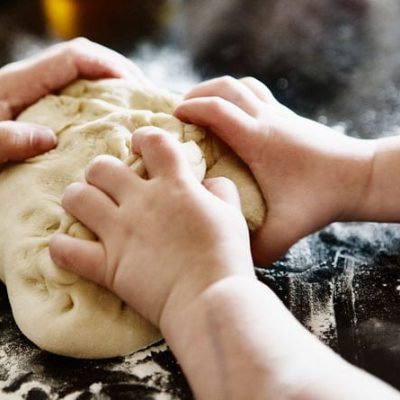 Hearth Bread Recipe with Rainbow Sprinkles
Nothing compares to fresh baked bread and the joy of baking it with family.
Ingredients
2 1/4

teaspoons

instant yeast

or 1 packet active dry yeast

2

cups

lukewarm water

not over 110°F

1

tablespoon

sugar

1

tablespoon

salt

6

cups

all purpose flour

2

tablespoons

rainbow sprinkles for top
Instructions
In a large bowl, dissolve yeast in water that is between 105 and 115 degrees.

Add the sugar, salt, and 3 cups flour. Beat by hand until smooth. Stir in enough remaining flour, 1/2 cup at a time, to form a soft dough.

Turn onto a floured surface; knead until smooth and elastic, about 8-10 minutes. Place in a greased bowl, turning once to grease the top. (You can also do this in a stand mixer with dough attachment)

Cover and let rise in a warm place until doubled, about 1-1/2 hours.

Punch dough down. Turn onto a lightly floured surface; divide dough in half. Shape each into a loaf.

Place in two greased 9x5-in. loaf pans. Brush top with warm water and sprinkle rainbow sprinkles over top.

Place bowl in a warm dry place (uncovered) and let rise until doubled, about 30-45 minutes.

Bake loaves at 375° for 30-35 minutes or until golden brown and bread sounds hollow when tapped.

Remove from pans to wire racks to cool.
Did you make this recipe?
Thank you for making my recipe! You took pictures, right? Well go ahead and post them on Instagram! Be sure to mention me @iambaker and use the hashtag #YouAreBaker.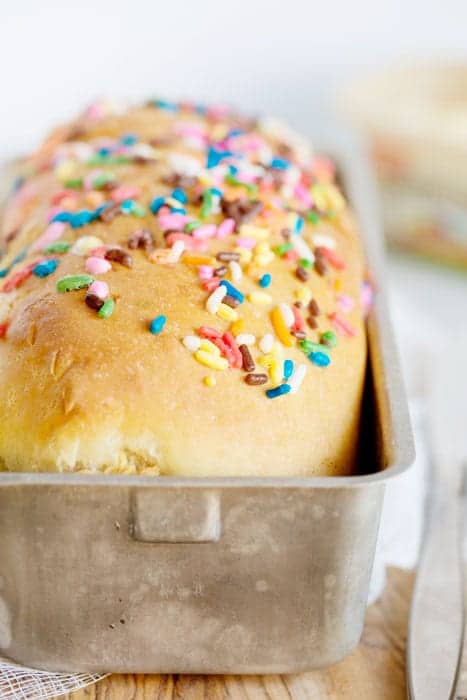 My mother-in-law started baking bread with the kids as soon as they were old enough to stand by her side. They loved it… getting their hands into the dough and being a part of creating something so delicious.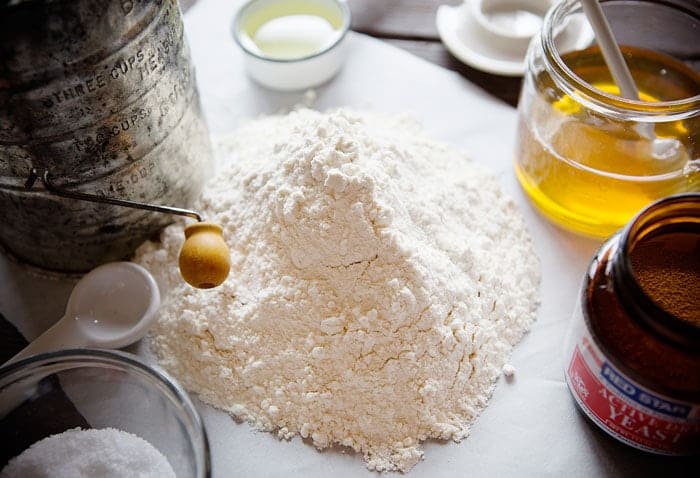 I love that she brought that tradition to the family.
As a family of seven, we go through 1-2 loaves a day, and I want desperately to be that mom that creates bread from scratch, with love, and with wholesome ingredients. For years now I have been saying how I want to bake fresh bread daily.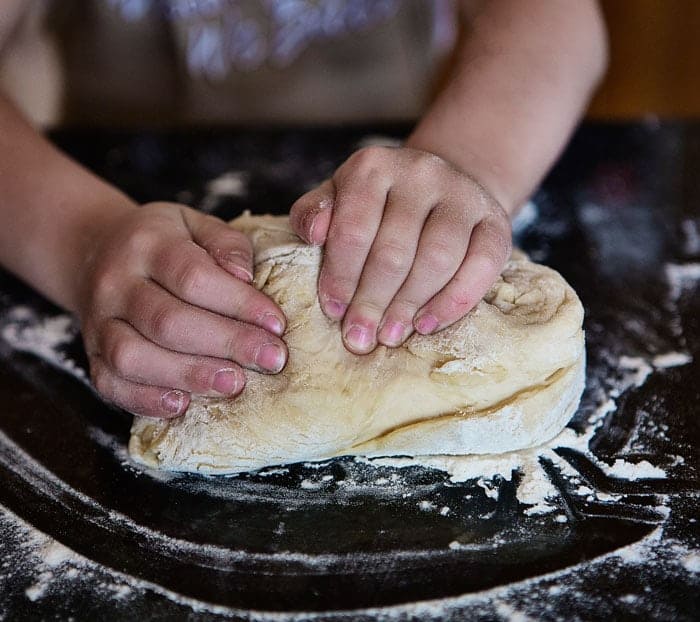 I want to almost see their brains comprehending what happens when we take flour, yeast, water and stir it together.
I want my kids to wake up to the fresh baked smell and for it to be a sense of comfort that will linger in their hearts well into their adulthood.
To relish in taking the time to carve slices for them, and collectively smile as the warm air finally escapes as we cut into it. I can just see their eyes light up as butter is generously smeared over each slice.
I can't help but hope they will turn to dough as a form of therapy. They will punch and knead out frustrations and angst.
They will appreciate the time and effort it takes to create a beautiful loaf of bread and never settle.
In grains or in life.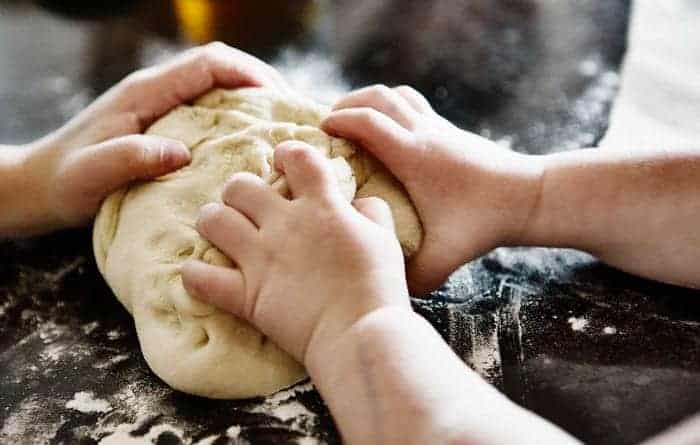 But life gets in the way. I have deadlines and duties and so many other things going on and sometimes it is just easier to pick up pre-cut bread at the store and let them fend for themselves.
'Life getting in the way' is an excuse that just will not fly today.
I gathered up those babies and we baked.
And laughed. And decided that the only thing better than fresh baked bread was fresh baked bread with sprinkles.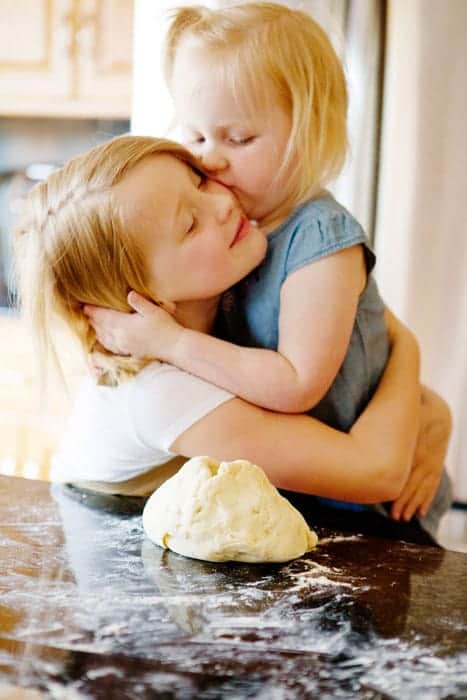 Recipe adapted from King Arthur Flour.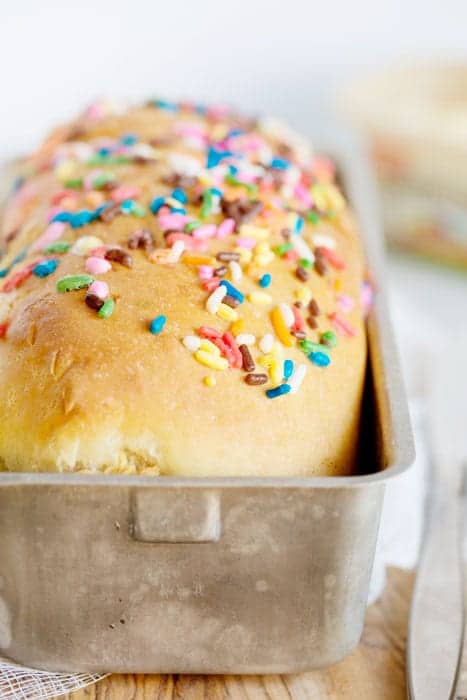 This bread was just perfect. Perfectly baked and perfectly delicious.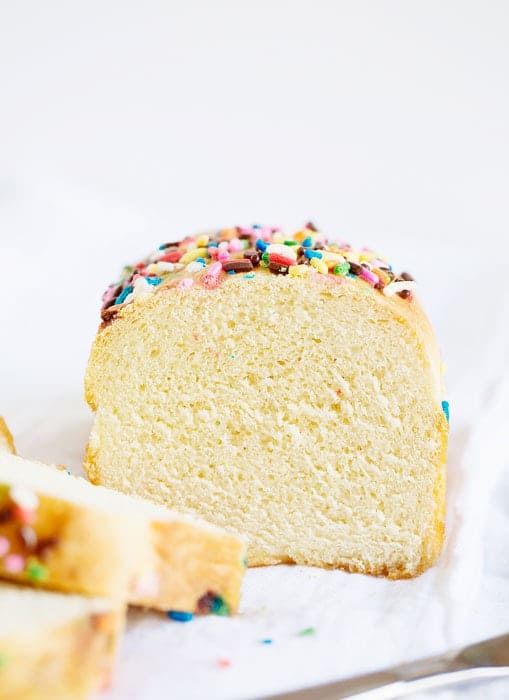 We, of course, loved it with butter and honey, but it is so delicious it really can be eaten on its own.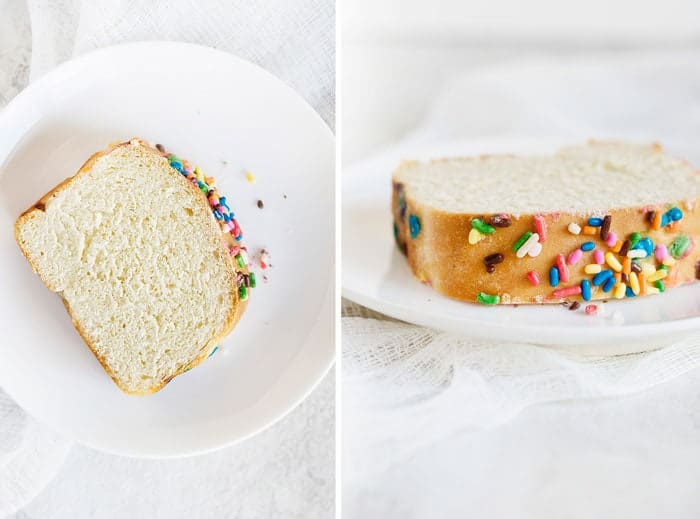 I am going to be very intentional and carve out at least 1 day a week for us to bake bread together. It won't always have sprinkles, but it will always bring us closer and remind me what this life is all about.
Living. Laughter. Love.