Making a patriotic red, white, and blue cake for the Holidays just got a lot easier!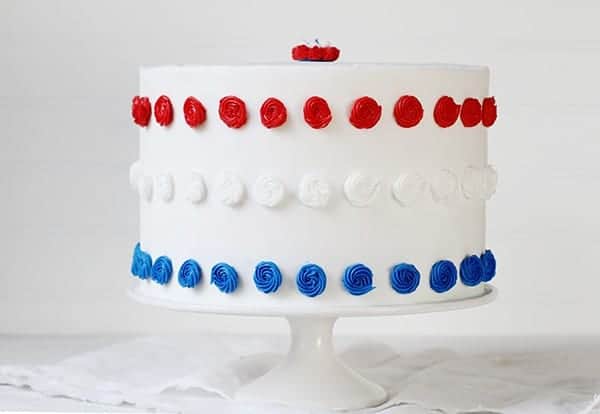 I just love the simpleness of this patriotic cake. It is not only simple in design but easy to execute!
All that is needed is a #18 tip, a cake, and red, white, and blue frosting!
Here is a little video I did:
Tips & Tricks:
I made two white cake recipes so that I would have four total layers of cake. I baked them in an 8-inch round cake pan.
I used this recipe for the buttercream. After applying the crumb coat (white) I tinted 1/3 of the remaining frosting red and 1/3 blue using McCormick Food Coloring. The last third will remain white. To achieve bold color, simply use a lot of the food coloring. You may need to use less liquid (milk, heavy cream, water, etc.) in the recipe when you are using so much food coloring.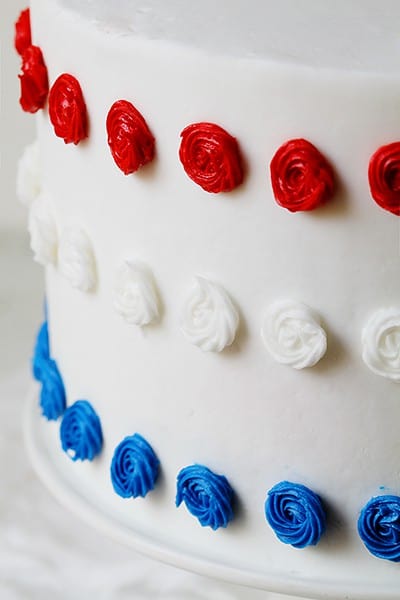 Using a #18 tip, I made small rosettes around the base of the cake in blue. I did not measure anything, just eyeballed where to place them. I then moved up and did a row of white. Then a row of red.
As you will see in the video, I also made a little "flower" for the top. This was also done with the #18 tip! I just piped out a center base in blue, the applied a small row of white, then a bigger row of red about the blue base. After piping, place "flower" in the freezer for at least 15 minutes. When it is chilled and firm it can easily be placed on the cake!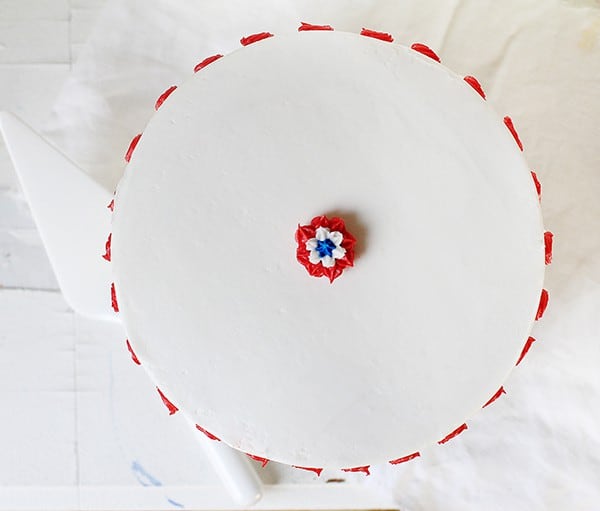 I also did red, white, and blue on the inside of the cake.
When building the layer cake, start with blue buttercream, then white, then red. Then cover in crumb coat. Because the colors were showing on my crumb coat, I did a final "beauty" coat of frosting before piping the mini rosettes. (See: How to Build a Layer Cake)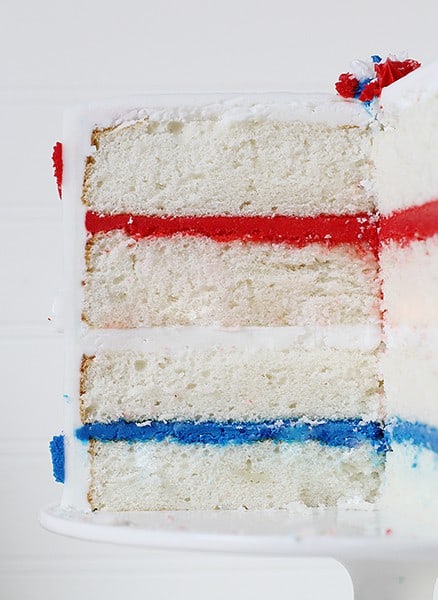 It was an absolute delight to create this Red, White, & Blue Patriotic Cake with McCormick. Thank you so, so much for supporting the brands that support this blog. I only work with the best, and am thankful that McCormick is willing to partner with me! <3