This ooey gooey Slime Cake is as delicious as it is fun!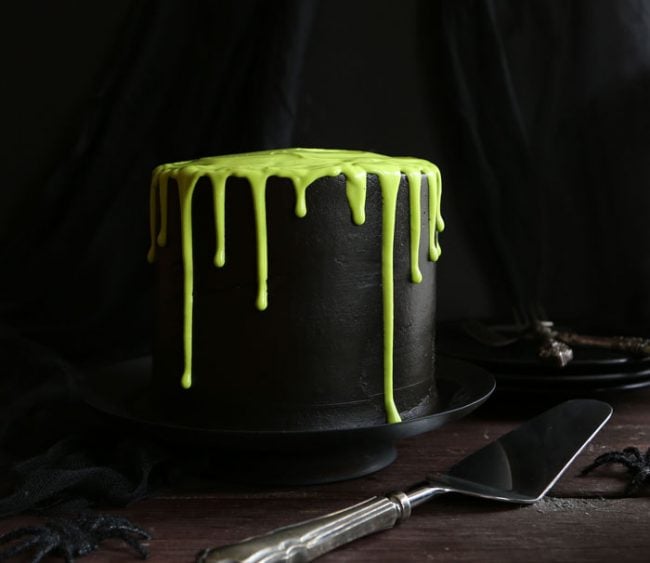 I used some McCormick Pure Lime extract and McCormick Neon food color to create the coolest "slime" you have ever seen! (Don't worry, I will show you how easy it is to make… and how delicious it is to eat!)
To make this cake you will need:
1 box dark cake mix
McCormick black food color
6-inch round cake pans (3)
chocolate buttercream recipe (below) using Special Dark Cocoa
1 package vanilla instant pudding
McCormick neon food color
McCormick pure lime extract
small offset spatula
pastry bags
rotating cake stand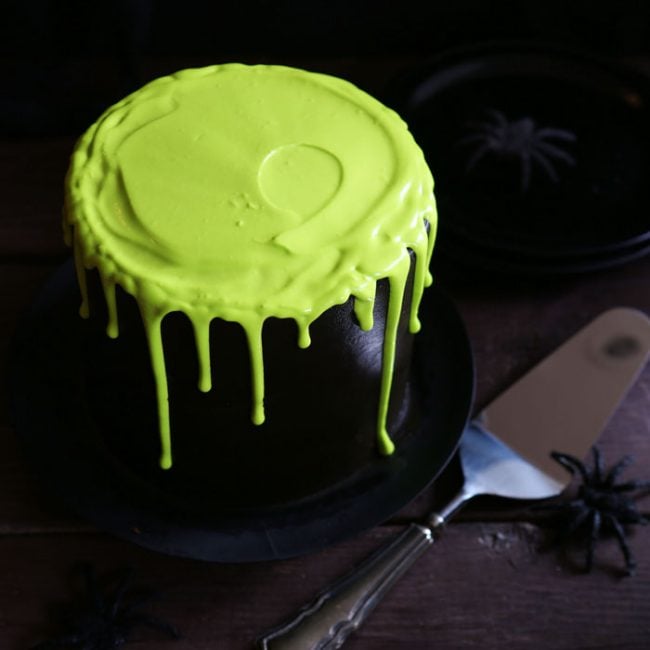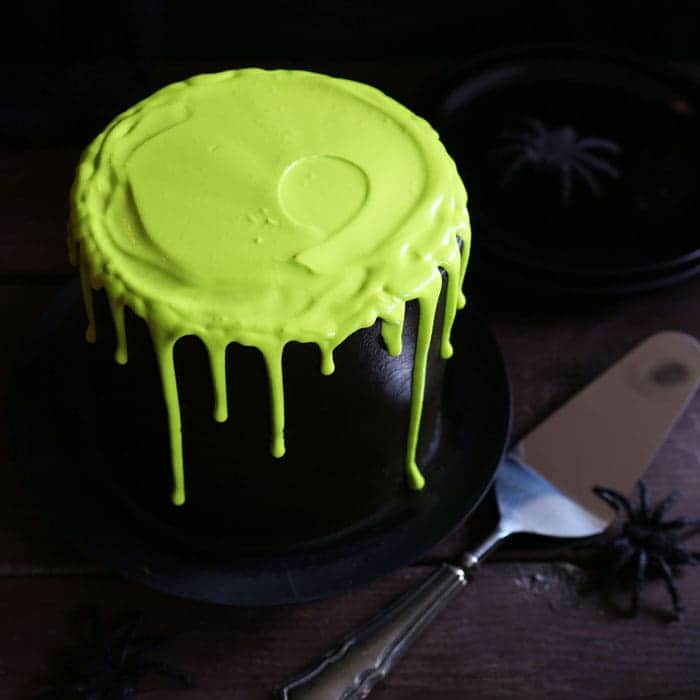 Being by preparing your chocolate cake. (You can definitely use a homemade chocolate cake if you prefer!) Add 1 teaspoon of black food color to the batter and mix to combine.
Equally divide cake batter between three 6-inch round cake pans. Bake according to directions.
Allow cakes to cool to room temperature and then level them so that they are all the same height.
Prepare buttercream.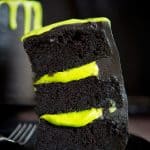 Black Magic Buttercream
This ooey gooey Slime Cake is as delicious as it is fun!
Keyword:
Black Magic Buttercream, Slime Cake
Ingredients
1 1/2

c

340g butter, at room temperature

4

c

500g powdered sugar

3/4

c

94g DARK cocoa powder

4

tbsp.

60ml heavy whipping cream

2

tsp.

10ml McCormick Pure Vanilla Extract

pinch

table salt

1

teaspoons

5-10ml McCormick Black Food Color
Instructions
In the bowl of an electric stand mixer fitted with whisk attachment, whisk butter and sugar on medium high speed until very pale and fluffy or about five minutes.

Be sure to stop at least once and scrape the bowl.

With the mixer off, add in dark cocoa powder, vanilla and salt.

Turn mixer on low and blend for about 30 seconds.

One tablespoon at a time add in heavy cream.

Once all cream has been added and mixture is mostly combined, turn off the mixer and scrape down the sides of the bowl.

Add in 1 teaspoon of black food color.

Now turn the mixer onto medium-high to high and whisk for 3-5 minutes or until mixture is lighter and fluffier. (Keep an eye on the buttercream. You may want to add another teaspoon of black food color to reach the desired depth of color.)

The frosting will be shiny and seem to have many large air bubbles throughout and this is exactly what we are going for. (You can smooth those out on the cake if so desired.)
Now prepare your "slime". This has got to be the most fun part!! When I first had the idea to create this cake I could not image how to make an edible slime. My kids actually thought of using pudding! It's the perfect texture and consistency!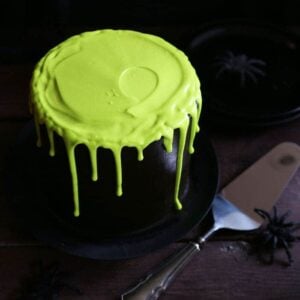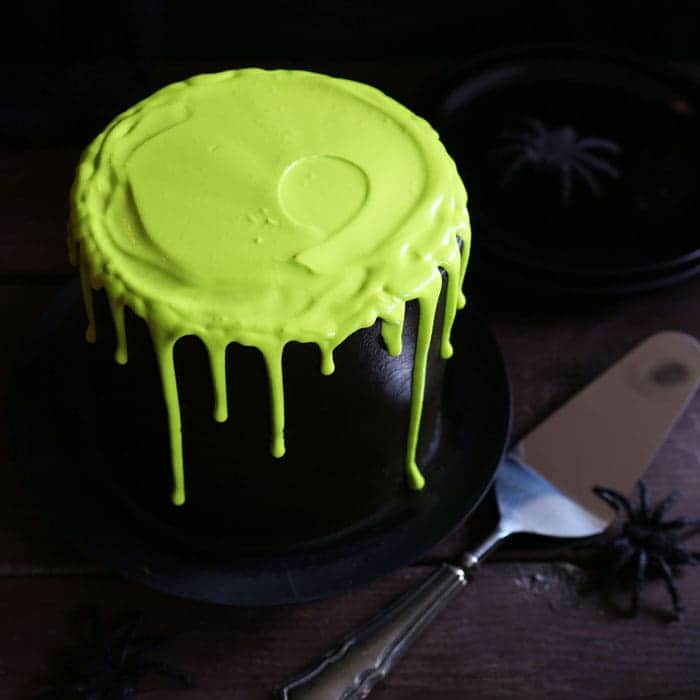 Green Slime Pudding
Keyword:
Green Slime Pudding
Ingredients
1

pkg vanilla instant pudding

prepare according to package instructions

1/2

tsp.

McCormick Pure Lime Extract

4

drops McCormick Neon Food Color
Instructions
Follow the instructions on the pudding box, adding the lime extract and food color to the mixture as you blend ingredients. Cover the mixture and place it in the refrigerator for at least an hour, or until you are ready to use it.
Place some of your buttercream into a pastry bag.
Set one layer of cake on cake stand or serving platter, then place that on top of your rotating cake stand.
Pipe buttercream around the edge of the cake. This is essentially creating a "wall" or a "dam" to hold in the slime pudding.
Add about 1/2 cup of slime pudding to the center and smooth out.
Place another layer of cake on top and then pipe out another ring of buttercream around the edge of the cake. Fill will approximately 1/2 cup of slime pudding.
Place final layer of cake on top. Use remaining buttercream to evenly cover the tops and sides of the cake. (You may have some frosting left over, just store in an airtight container in the refrigerator for up to 3 weeks.)
Pour any remaining slime pudding over the top of the cake then chill until ready to serve. Best served within 24 hours of assembly and served chilled.
PRO TIP: For an extra awesome "drip" down the sides of the cake, add your slime pudding to a pastry bag and cut off a small portion of the tip. Then just drizzle the pudding down the side in a controlled drip. Easy peasy!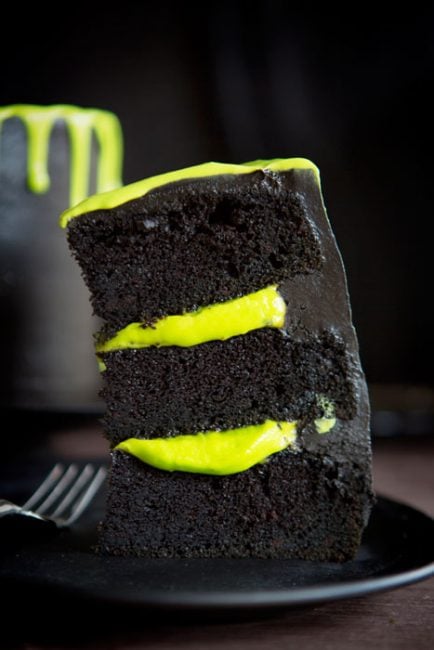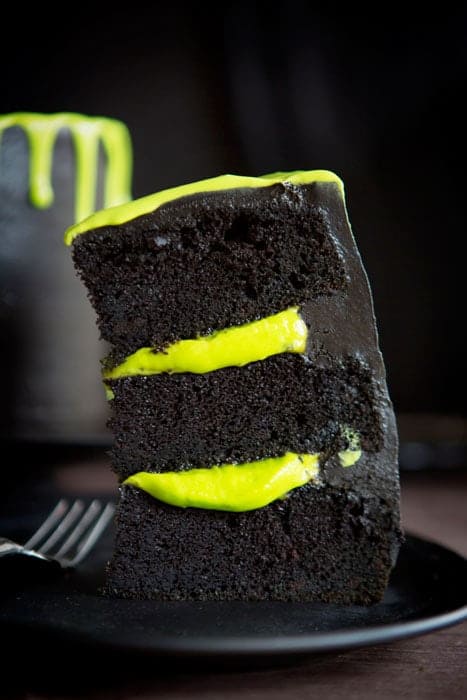 Isn't that fun! This Slime Cake is definitely going to impress everyone who sees it!
Check out this video of my super Easy & Fun Slime Cake!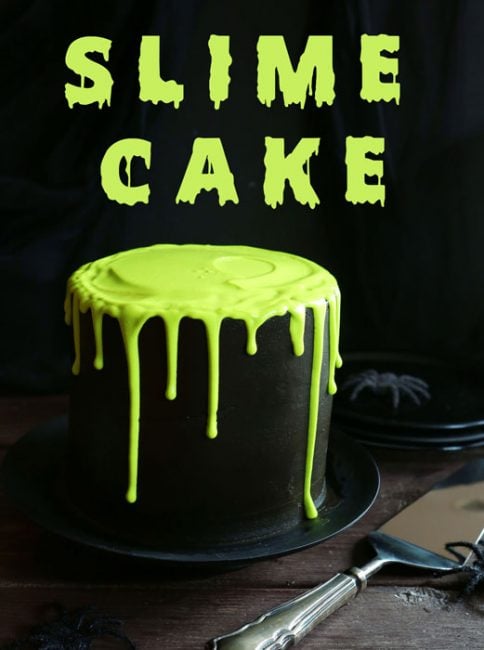 I only work with brands that I love! A big thank you to McCormick for partnering with me and allowing me to create cakes and delicious treats with there wonderful products. And thank YOU for supporting the brands that support iambaker!