This Chocolate Chip Cookie in a Skillet is kicked up a notch when cayenne pepper is added!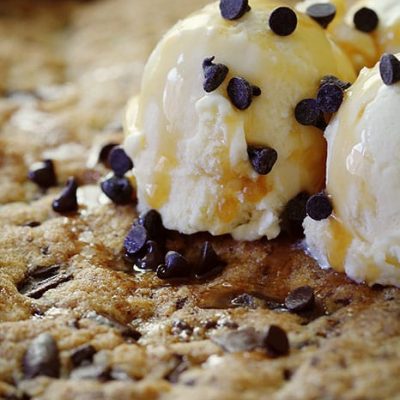 Spicy Chocolate Chip Skillet Cookie
This Chocolate Chip Cookie in a Skillet is kicked up a notch when cayenne pepper is added!
Ingredients
1 3/4

cups

199g butter, room temperature

1 1/2

cups

300g raw sugar

1/2

teaspoon

3g salt

1/2

teaspoon

2g cayenne pepper

3 1/2

cups

437g all-purpose flour

2

large eggs

room temperature

1 1/2

cups

about 9 ounces chopped chocolate pieces
Instructions
Preheat oven to 400 degrees.

In mixer fitter with paddle attachment, add in the butter, sugar, salt and cayenne pepper. Mix on high for about 2 minutes, or until creamy.

With mixer on lowest setting, add in flour one cup at a time.

Add in eggs, one at a time.

Mix until just combined then turn off mixer and remove bowl.

Add in chocolate chunks and mix by hand until incorporated.

Grease 12 inch cast iron skillet and press cookie dough into pan until flat and even.

Bake for 28-33 minutes, or until edges are golden brown.

Can be served immediately, but be careful!
Did you make this recipe?
Thank you for making my recipe! You took pictures, right? Well go ahead and post them on Instagram! Be sure to mention me @iambaker and use the hashtag #YouAreBaker.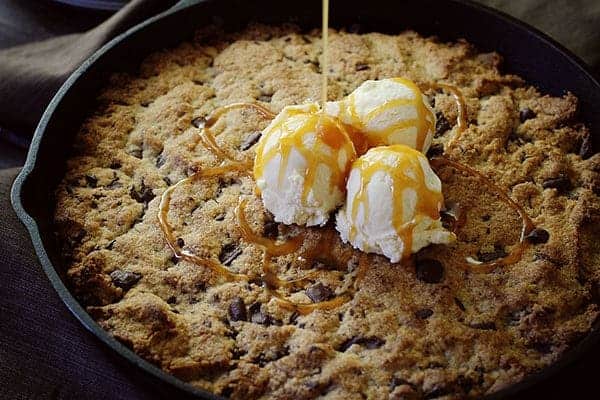 I am a sucker for anything in a skillet. It's one of my weaknesses on Pinterest… I will type "skillet" into the search bar and scroll for days. And pin of course. And tell myself that I am going to make every single thing I pin.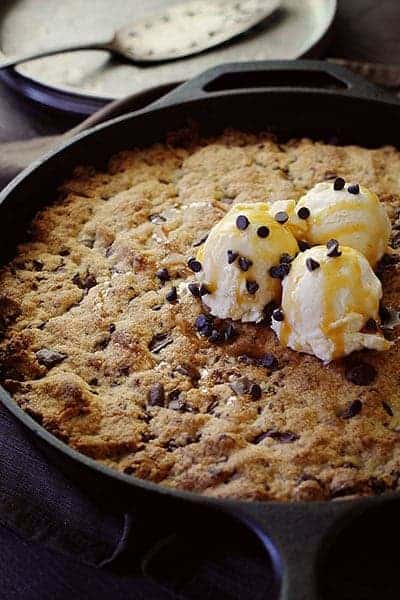 But I don't.
Which is a crying shame.
So the other day I was reading one of my favorite books, Modern Pioneering by Georgia Pellegrini. And there, tucked away in the back was this beautiful little recipe for a spicy skillet cookie.
And by little I mean huge. It has 3 1/2 sticks of butter in it. But that did not scare me! Ok, it did a little.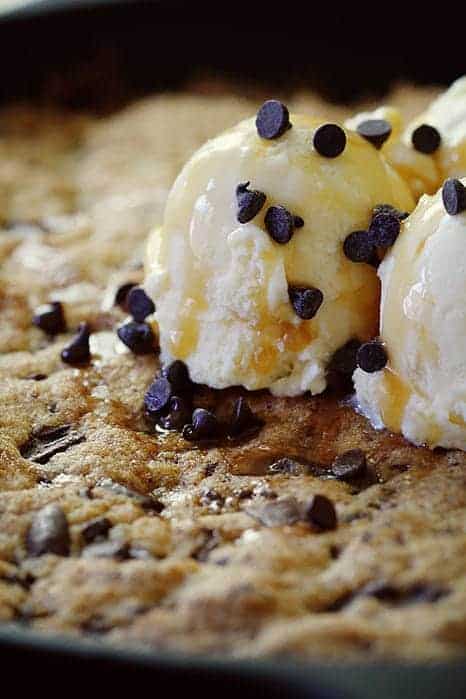 Just make sure you are not binge eating with this sucker. My best advice would be to make it for an occasion that there will be numerous people around who like chocolate.
Then give them all a fork. And tell them to dive in.
I am not kidding, it is the best way to eat a skillet cookie.
Recipe from Modern Pioneering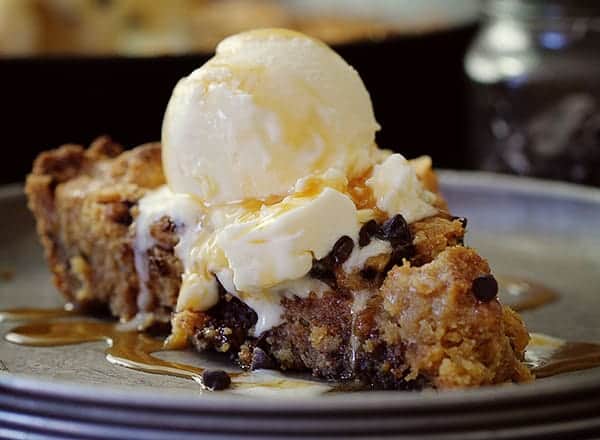 Tips for Success:
Having the eggs and butter at room temperature is important. Be sure to set them out at least an hour before preparing the recipe.
The sugar plays a big role in these cookies… in that it is raw sugar. Because raw sugar crystals are bigger and do not break down as easily, this recipe has a bit more texture. You will also notice that the sugar to flour ratio is very different from your traditional cookie. Because there is so much less sugar in this skillet cookie, you will be able to pick up on the other flavors easier!
Make sure your skillet is big enough! This is a large recipe.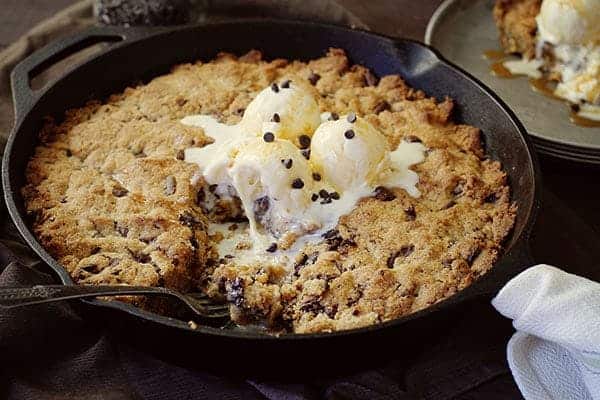 Although I didn't list it as in ingredient, ICE CREAM is a must. This recipe is literally the best when served right out of the oven, covered in copious amounts of ice cream and all the toppings of your choice.
Just hand everyone a fork and tell them to dig in! Not only will you have a great cookie treat, but you will be creating some pretty darn good memories too. Trust me!