Strawberry Marshmallows are super fluffy homemade marshmallows marbled with strawberry jam made with fresh strawberries. They are light and airy with a fruity sweetness in every bite! And they really are as lovely to look at as they are to eat! For another gourmet marshmallow, as I like to call them, try my Blueberry Marshmallows, too!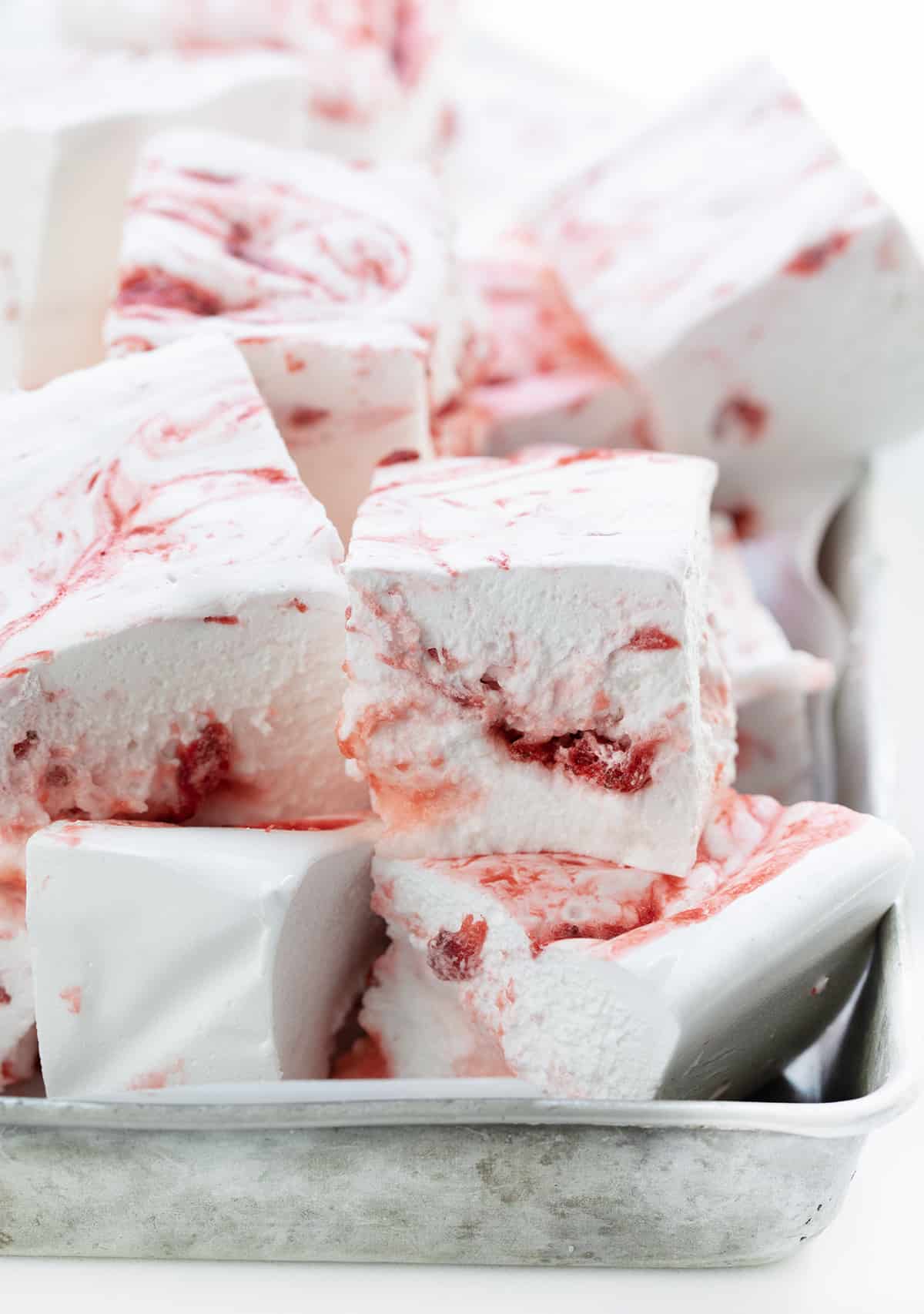 Ingredients & Substitutions
Strawberry Jam: It is worth it to make homemade strawberry jam. It really shines through in taste when it comes to these marshmallows. I prefer using fresh strawberries, but you could also use frozen strawberries.
Gelatin: Gelatin is a must when making homemade marshmallows. I have heard that arrowroot and Xanthan Gum can be substituted, but if you are looking for a vegan recipe I would highly recommend googling that specifically. When working with gelatin, it's important to allow it to sit in cold water for a few minutes, ensuring complete hydration. This step is crucial in creating marshmallows with a smooth, lump-free texture.
Corn Syrup: Corn syrup is an important ingredient when making marshmallows because it helps to prevent the sugar from crystallizing, which can lead to a grainy and unpleasant texture in the final product. If you would prefer to not use corn syrup in the recipe, I do have homemade marshmallows made with maple syrup.
Confectioners' Sugar & Cornstarch: This mixture is optional, but it does come in handy to prevent the marshmallows from sticking.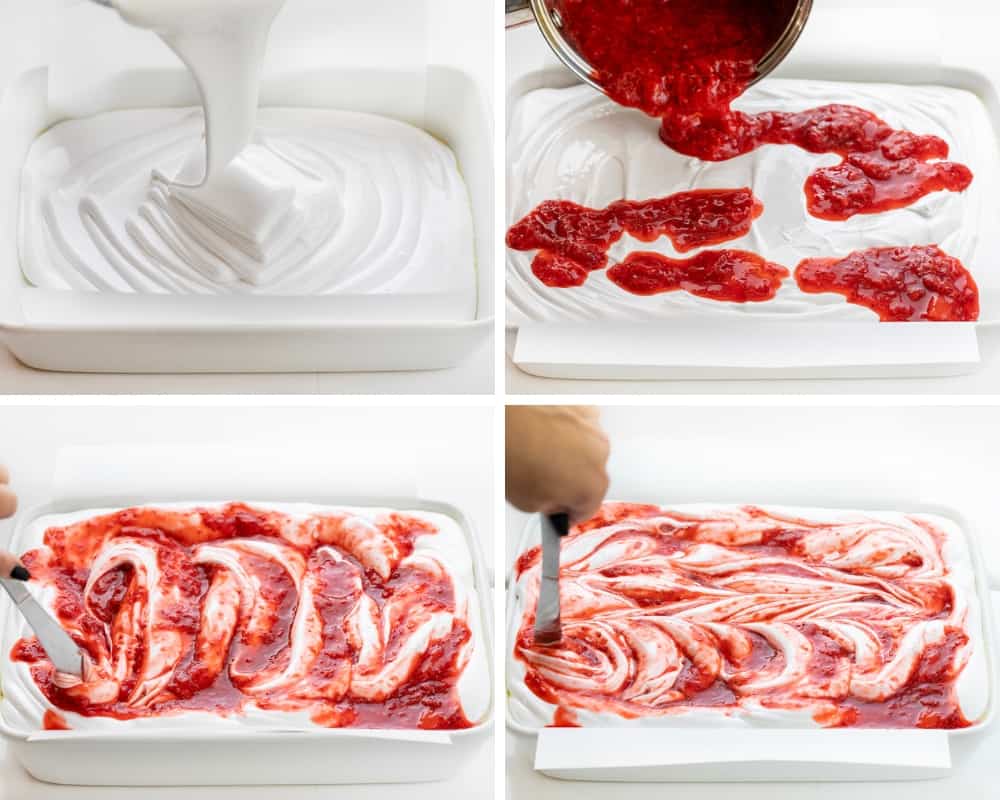 Can I Use Store-bought Jam?
Sure! You can use a jar of strawberry jam instead of making homemade jam. However, the flavor profile will change a bit. You could also try the marshmallows with your favorite kind of jam. That would be a fun and tasty experiment!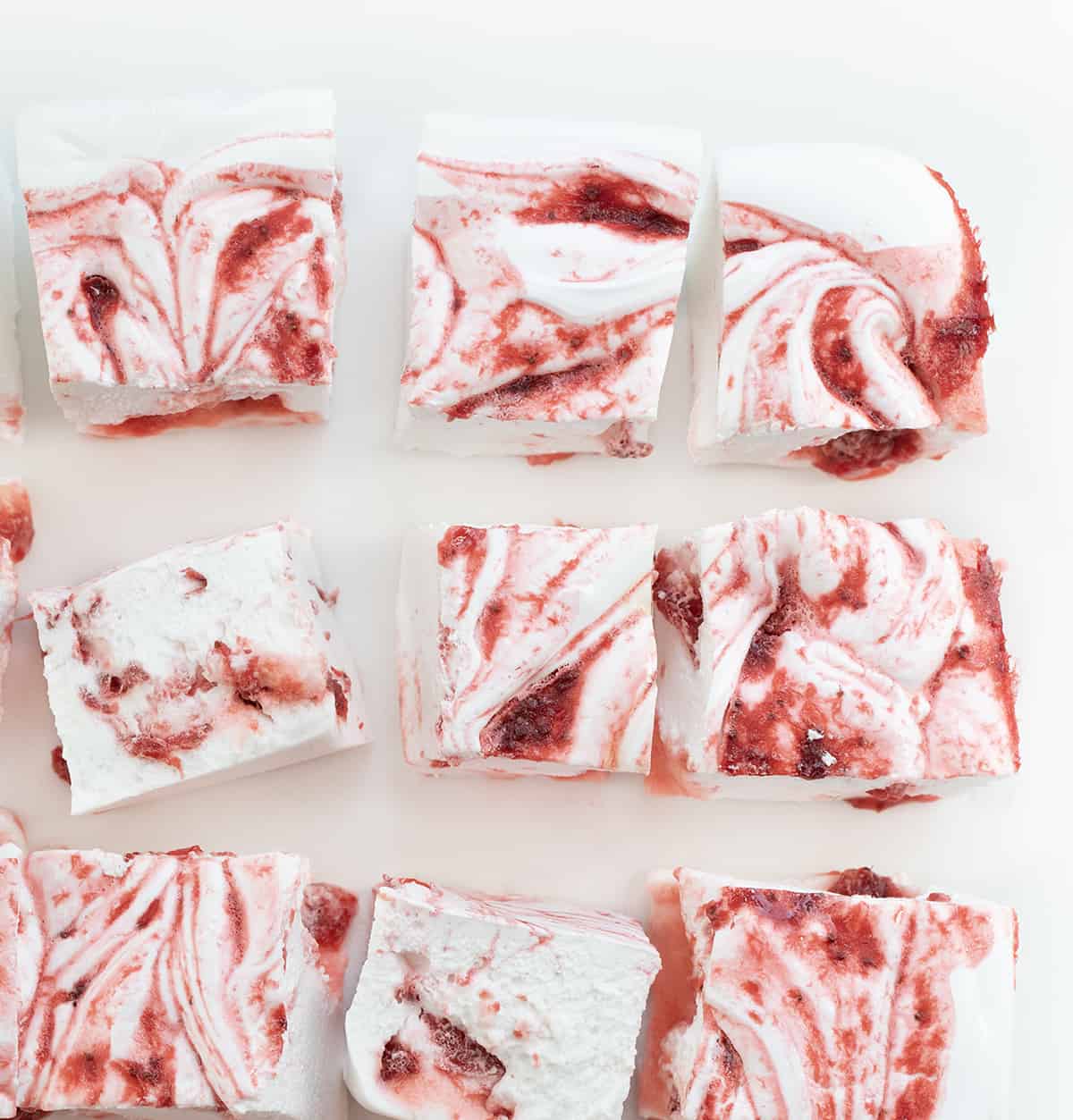 Why Does the Syrup Need to Cool to 212°F?
In the recipe, once the syrup mixture has been heated to 252°F (the 'hardball stage'), it needs to be removed from the heat to cool to 212°F (the boiling point of water). Cooling the syrup is important when making marshmallows for a couple of reasons. If the syrup is too hot, it can break down the gelatin, resulting in flat and runny marshmallows. On the other hand, if it is too cool, it won't mix with the gelatin, causing a lumpy texture.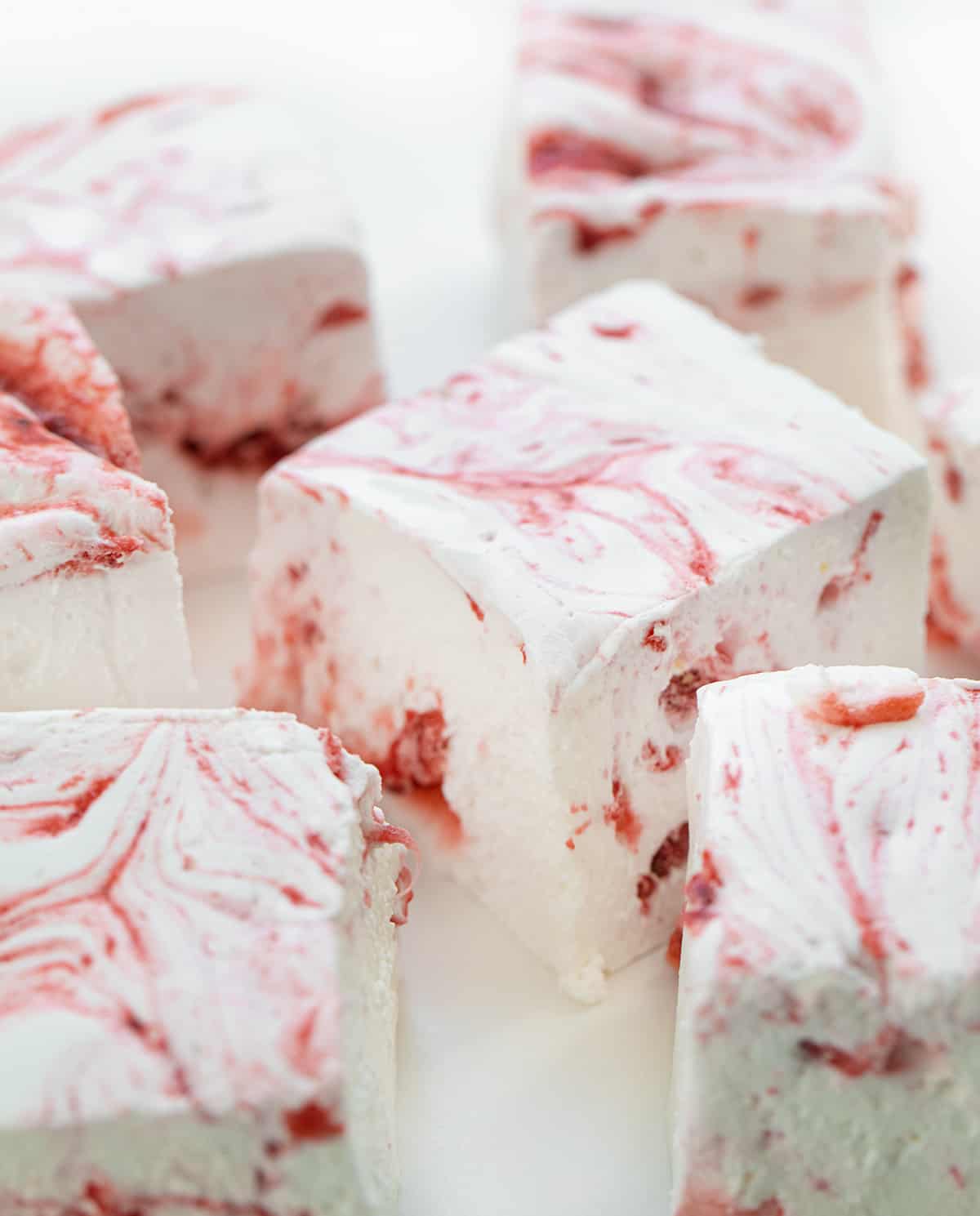 Tips & Tricks For Perfect Homemade Marshmallows
Here are some helpful tips to achieve perfectly fluffy marshmallows every time:
Use a candy thermometer to ensure that the sugar syrup reaches the right temperatures. This is important for creating a stable, fluffy marshmallow mixture.
Be sure you whip the marshmallow mixture for the appropriate duration. Over-whipping can lead to tough and challenging-to-handle marshmallows, while under-whipping may result in a runny mixture that fails to set correctly.
Dust the marshmallow surface (specifically the cut sides) with a mixture of cornstarch and confectioners' sugar to prevent sticking.
Allow the marshmallows to set for at least 4 hours, or overnight if possible. This will help them achieve the perfect texture and prevent them from becoming too sticky or soft.
Use a sharp knife or cookie cutter to cut the marshmallows into your desired shapes. Be sure to dust the knife or cutters with the cornstarch and confectioners' sugar mixture to prevent sticking.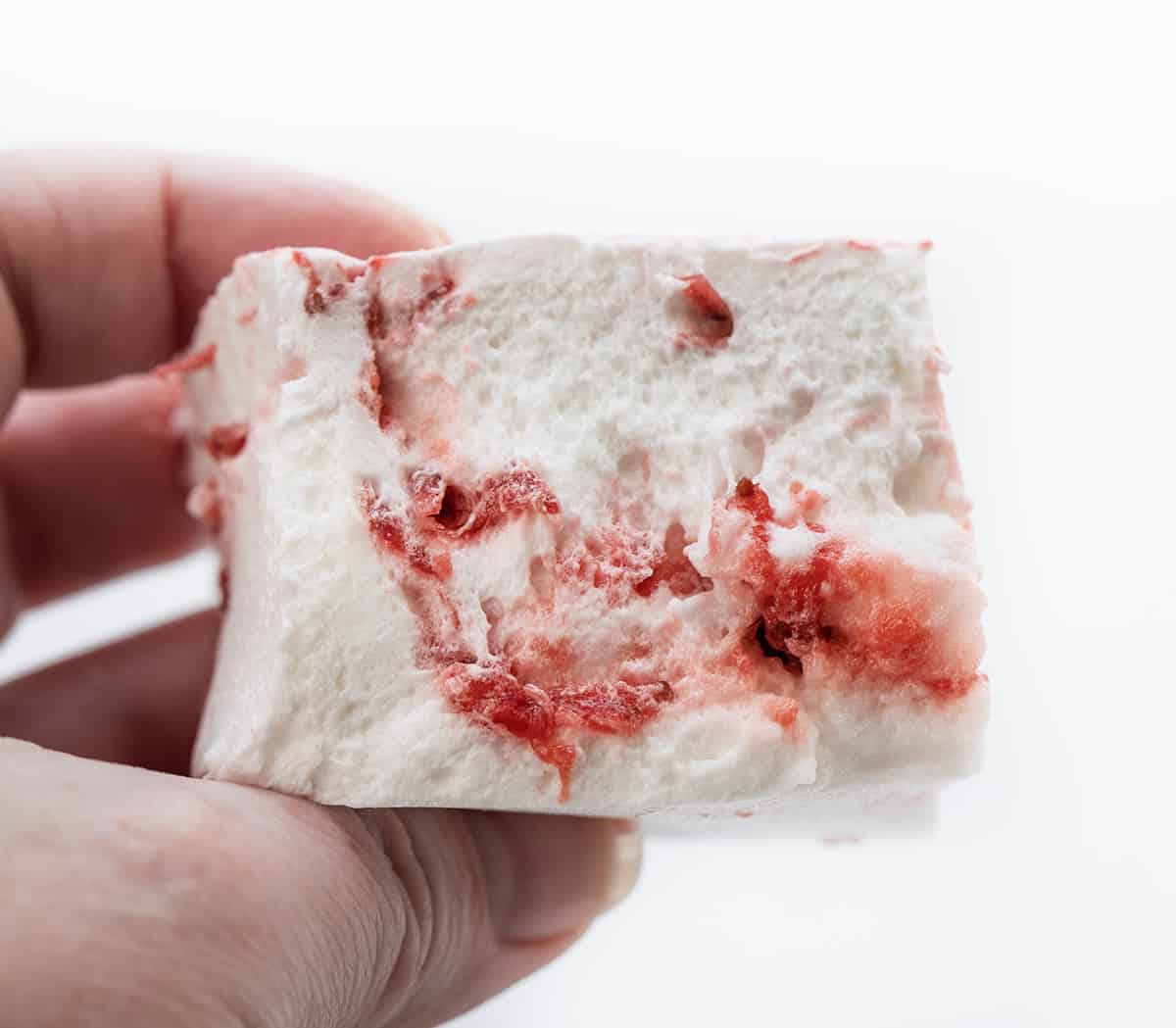 How To Store Strawberry Marshmallows
Homemade strawberry marshmallows should be stored in an airtight container at room temperature or in the refrigerator. They will last up to 3-5 days.
Homemade Marshmallows are better than any you can buy at the store, and they can be made as big or as small, or in any shape, you want! Try my Homemade Marshmallows Dipped in Chocolate for another treat that is as fun to make as to eat! Homemade Marshmallows Not only do homemade marshmallows taste…
Blueberry Marshmallows are super fluffy homemade marshmallows marbled with blueberry syrup and topped with crushed graham crackers. I was going for a "Blueberry Cheesecake Marshmallow" and I think the addition of the graham crackers really works! The unique combination of flavors and textures elevates them (literally) to the level of gourmet marshmallows, making them a must-try for anyone who loves a sweet treat. I will show you step-by-step how easy it is!
Strawberry Marshmallows are super fluffy homemade marshmallows marbled with strawberry jam made with fresh strawberries. They are light and airy with a fruity sweetness in every bite! And they really are as lovely to look at as they are to eat!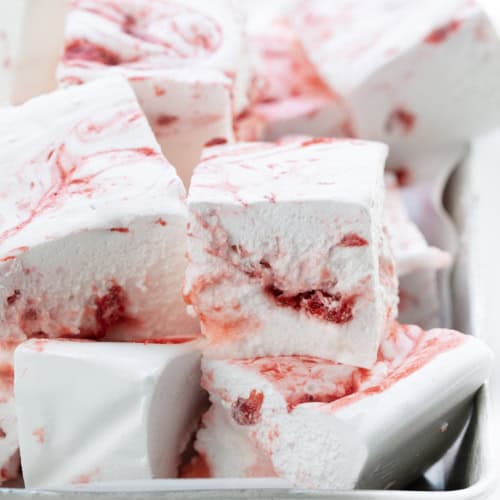 Strawberry Marshmallows
Strawberry Marshmallows are super fluffy homemade marshmallows marbled with strawberry jam made with fresh strawberries. They are light and airy with a fruity sweetness in every bite!
Ingredients
Strawberry Jam
1

pound

fresh strawberries,

washed, quartered

2

tablespoons

granulated sugar

1

tablespoon

lemon juice
Marshmallows
1 ¾

cups

water,

ice cold, divided

5

packages

(about ¼ ounces each) gelatin,

unflavored

3 ½

cups

(700 g) granulated sugar

1 ⅔

cups

light corn syrup

1

teaspoon

vanilla extract
Dusting (Optional)
¼

cup

(31 g) confectioners' sugar

¼

cup

(32 g) cornstarch
Instructions
Strawberry Jam
In a small saucepan over medium-low heat, mix together the strawberries, sugar, and lemon juice. Heat over a low boil until the sugar is dissolved and the strawberries are broken down (about 15-20 minutes). You may need to break down the strawberries a little more with a fork. This will make about 1 ½ cups of jam. Set aside to cool while you prepare the marshmallows.
Marshmallows
Line a 9×13-inch baking dish with parchment paper and spray with nonstick cooking spray.

To the bowl of a stand mixer, add 1 cup of cold water. Place the bowl on the mixer with the whisk attachment. Pour the gelatin into the water and whisk together. Let it rest for a few minutes to allow the gelatin to hydrate and bloom.

Meanwhile, in a large, heavy bottom pot over high heat, pour in the remaining cold water, sugar, and corn syrup. Cook, stirring constantly until all of the sugar has dissolved. Once the sugar has dissolved, stop stirring and cook until the mixture reaches a temperature of 252°F on a candy thermometer.

Remove the pot from the heat. Let the mixture cool to 212°F.

Once cooled to 212°F, carefully pour the sugar mixture into the gelatin mixture, whisking on low speed for about 30 seconds, or until combined. When combined, increase the speed to high. Continue to whisk on high for 11-13 minutes, or until the mixture is very thick (doubled in size).

Mix in the vanilla.

Spray your tools with nonstick spray. Then, pour the marshmallow mixture into the prepared dish, spreading it out evenly.

Pour the strawberry jam over the top. Using a knife, marble the jam into the marshmallows. Pass the knife through the marshmallows and strawberries going in both directions, making sure they are very well incorporated.

Let the marshmallows sit out for at least 4 hours, up to overnight, until set and firm.

When the marshmallows are ready, mix the confectioners' sugar with the cornstarch in a small bowl (optional). Dust a pizza cutter with the mixture and cut the marshmallows into your preferred sizes.

Once cut, dredge each cut side of the marshmallows in the confectioners' sugar mixture.

Store in an airtight container at room temperature for up to 3-5 days
Did you make this recipe?
Thank you for making my recipe! You took pictures, right? Well go ahead and post them on Instagram! Be sure to mention me @iambaker and use the hashtag #YouAreBaker.
What the Test Kitchen had to say about this recipe: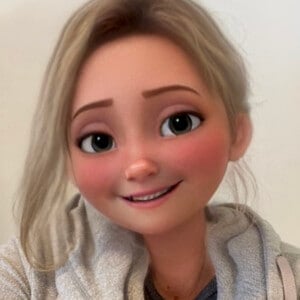 Autumn
I never knew there was a world outside of those ordinary bagged marshmallows until we started testing gourmet marshmallows. Let me tell you, my mind has been blown! These strawberry marshmallows are so soft and fluffy, it's like biting into a sweet, strawberry-infused cloud. The natural strawberry flavor bursts in every bite, taking marshmallow indulgence to a whole new level.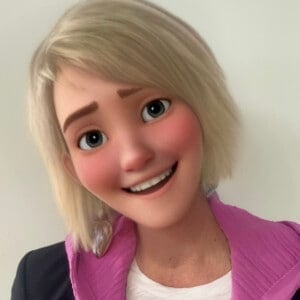 Elizabeth
These are one of my favorite treats! I can't believe how fluffy and pillowy the marshmallows are. And then, with the added strawberry jam swirled in the marshmallows, I was hooked!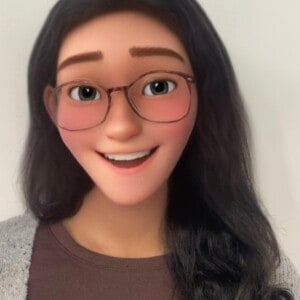 Bella
Once you try these marshmallows, you aren't going to want it any other way! The strawberry flavor is so fresh. The marshmallows are light-as-air, squishy, and not overwhelmingly hard to chew!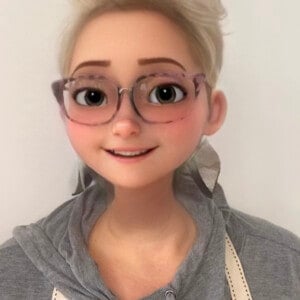 Selena
I absolutely love the fresh swirl of homemade strawberry jam in the midst of the fluffy, squishy marshmallow. Homemade marshmallows can't be beaten!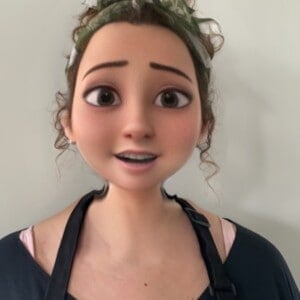 Rachael
These were delicious! Fluffy marshmallows with a fresh strawberry jam puts it over the top! Absolutely must try!