I was browsing TikTok the other day and came across this recipe for TikTok Cinnamon Roll in a Mug that has 1,500,000 million views. I was intrigued of course and had to try it! I mean, who wouldn't love a quick and easy Cinnamon Roll made in a mug in the microwave???
Cinnamon Roll in a Mug
When done properly, this is actually a pretty good craving buster. If you just have to have Cinnamon Rolls, it will certainly do in a pinch!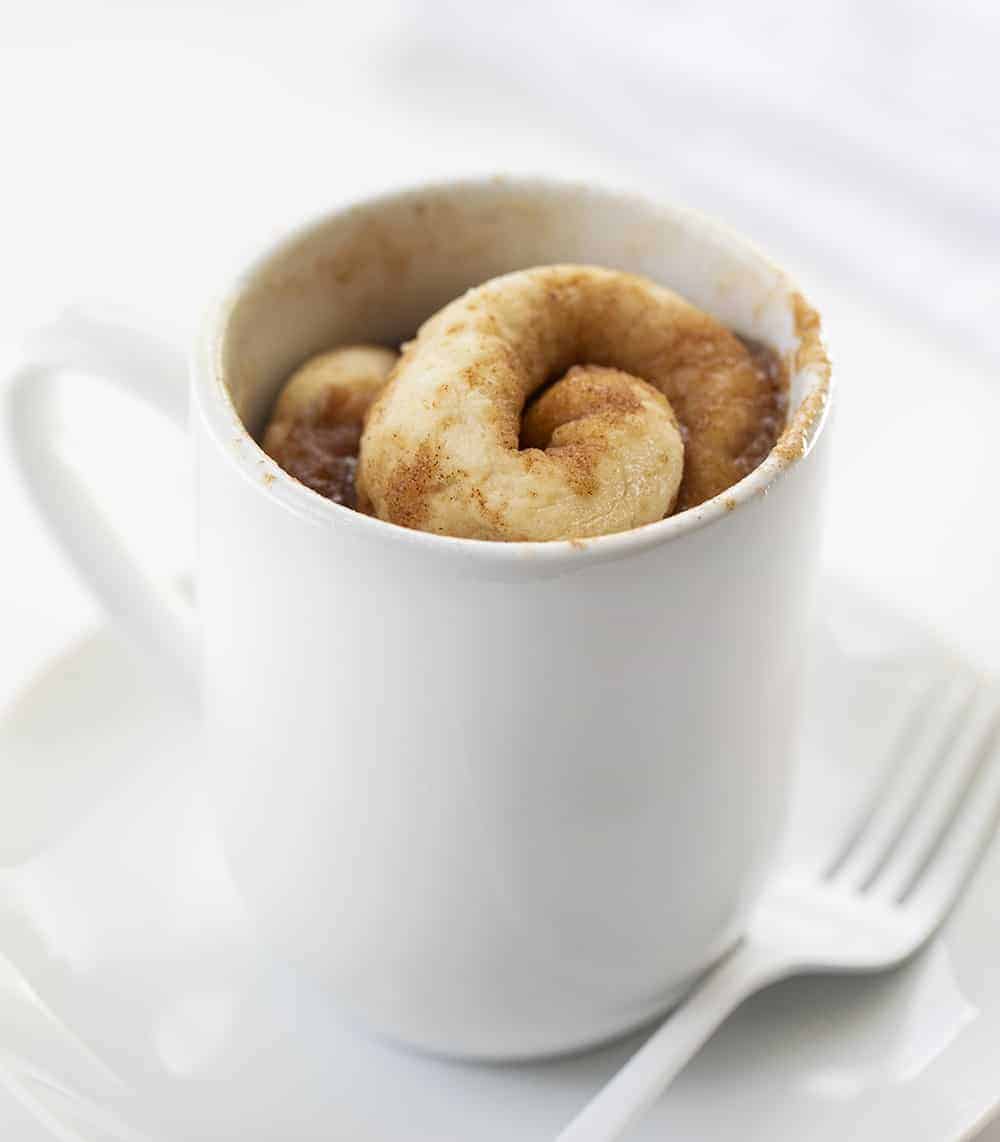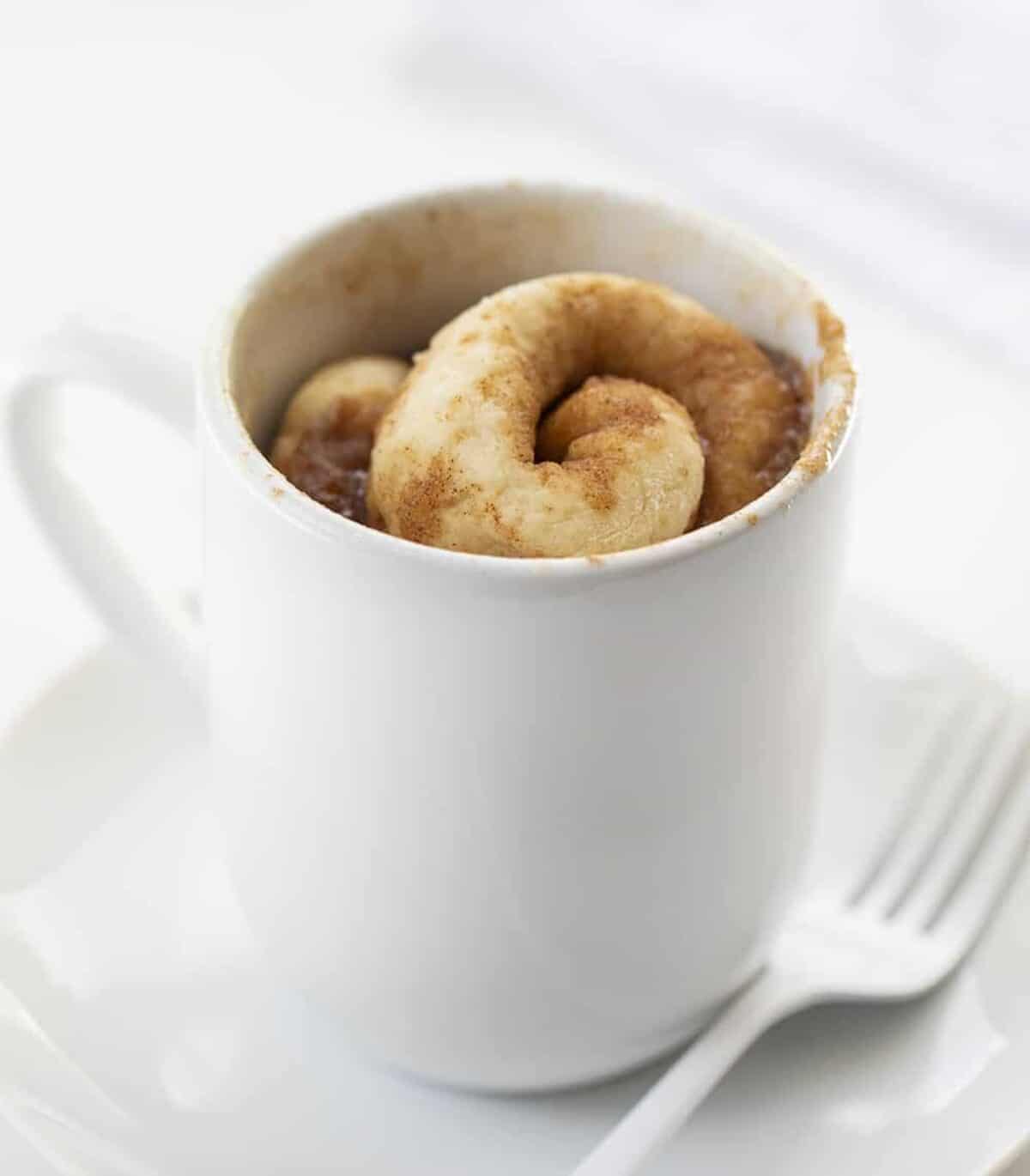 TikTok Cinnamon Roll in a Mug
Tips for Success
Use a smaller, or standard size mug. A large mug will produce a flat cinnamon roll that will be gooey on the inside and hard on the outside. Not fun.
Be sure to spray your mug with non-stick spray or coat with butter and dusted with flour. Having the cinnamon roll stick to the sides makes it harder to eat and might even make the edges really tough as opposed to soft.
Get out all your ingredients before starting. There are a few different steps with a couple of different bowls and while the recipe as touted as "easy" there are just as many steps involved as when you make regular Cinnamon Rolls.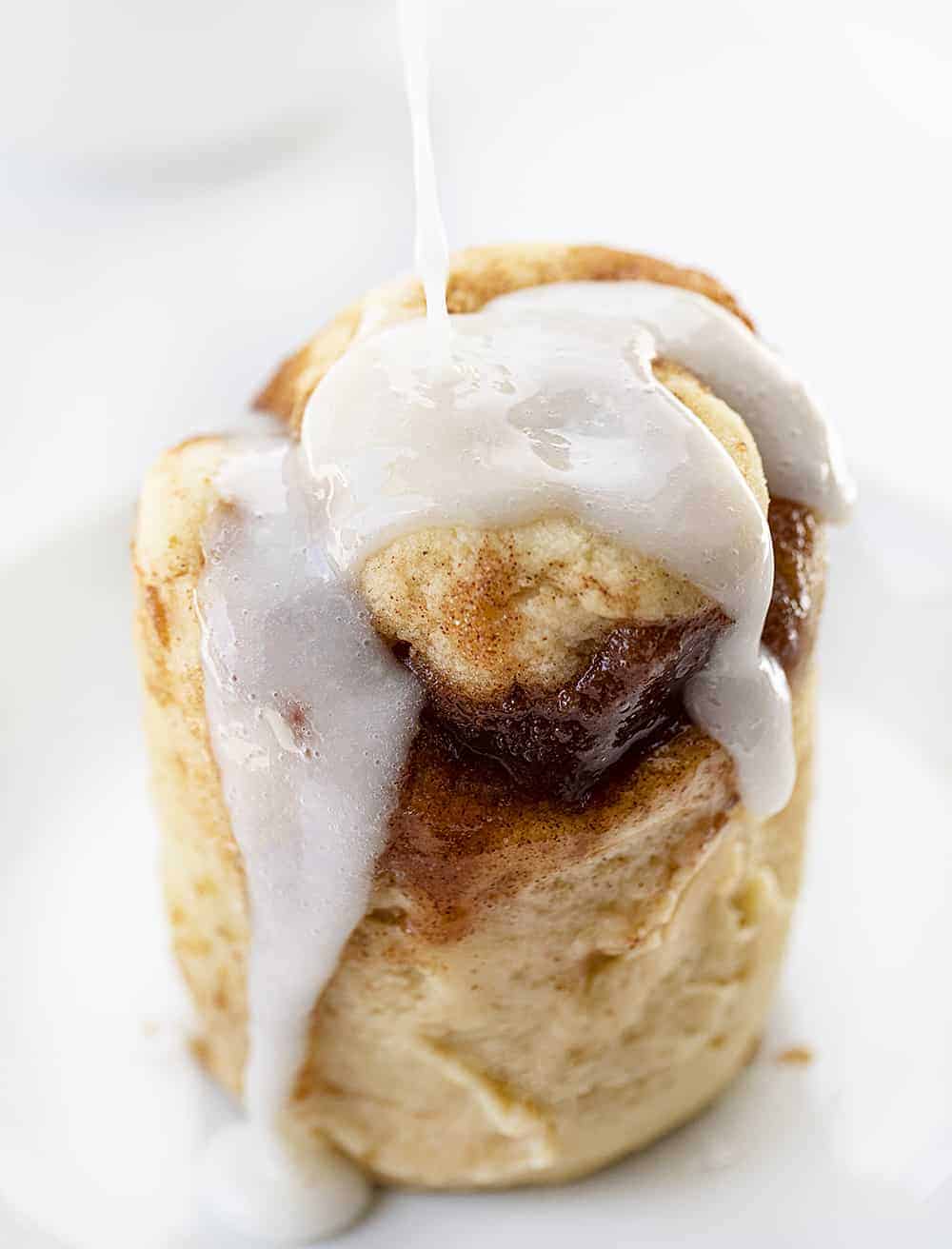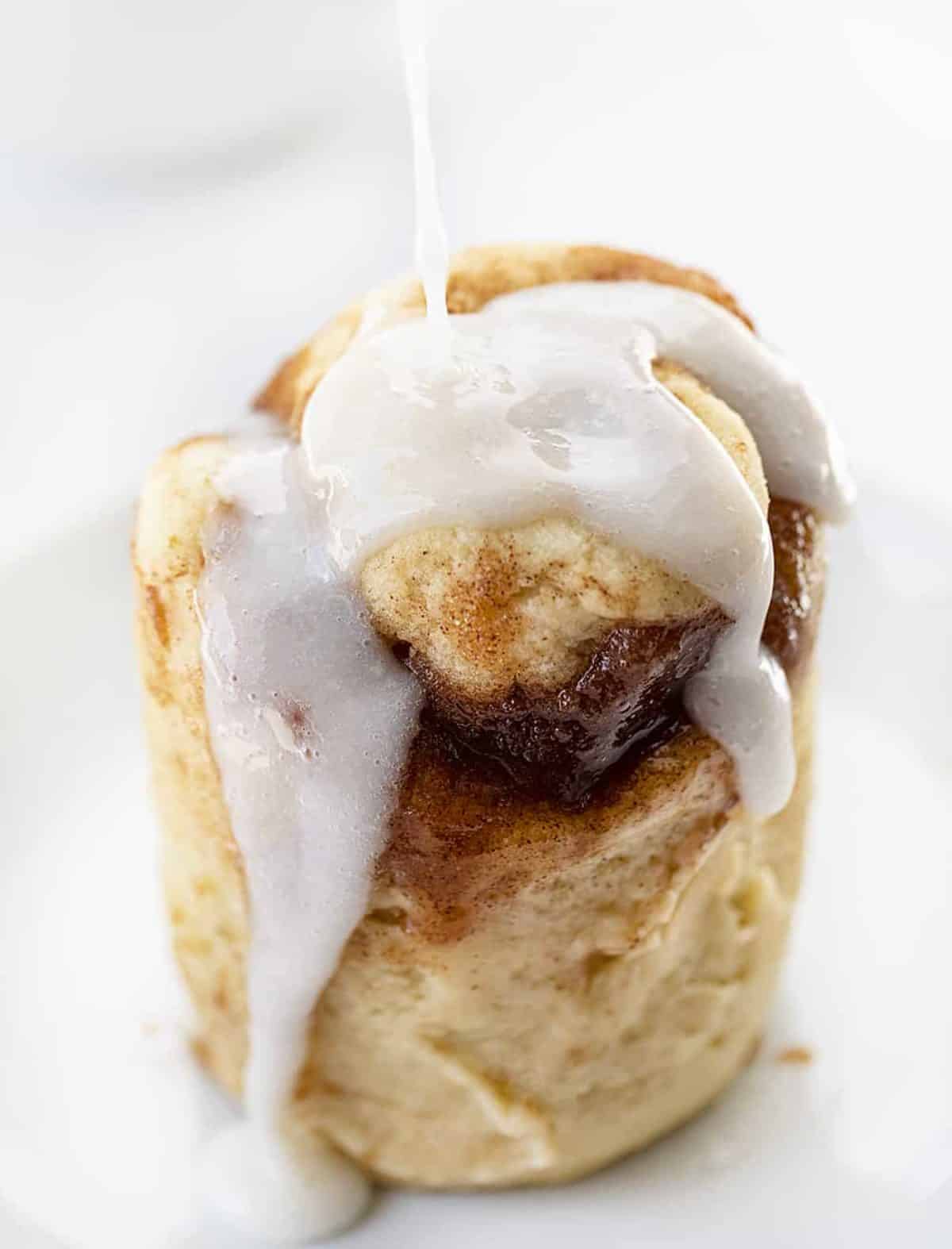 How to Make a Cinnamon Roll in a Mug
Begin by melting 1 1/2 tablespoons butter in your microwave. In a small bowl add flour, baking powder, granulated sugar, milk, and vanilla. Mix together well until you have a fairly loose dough. It is not solid like a traditional cinnamon roll dough, but you can "firm" it up enough to use but having a dusting of flour on your clean counter.
Scoop the dough onto the counter and then sprinkle more flour over top and on your fingers. Gently flatten the dough (checking to make sure it isn't sticking) into a long rectangle. Mine was about 10 inches long, but it just needs to be a minimum of 6 inches and about 1/2 inch thick.
Melt the butter, brown sugar, and cinnamon together for 60 seconds and stir well. It will technically be melted together in about 40 seconds, but the brown sugar will not break down much more when microwaving the cinnamon roll so I like to microwave for 60 seconds. (Cover your bowl with paper towel to avoid making a mess.)
Lift up the dough to make sure it's not sticking to your counter, then flatten again. Pour the butter and brown sugar mixture over top and smooth out.
Roll the dough into a cinnamon roll and place it into your greased mug.
Microwave for 90 seconds. If after 90 seconds the dough appears wet on top, put it back in the microwave for 10 seconds and continue to do that until it no longer appears wet. Everyone's microwave is different so I recommend making 1 cinnamon roll in a mug, seeing how it works, then you will know how much time it needs in the future.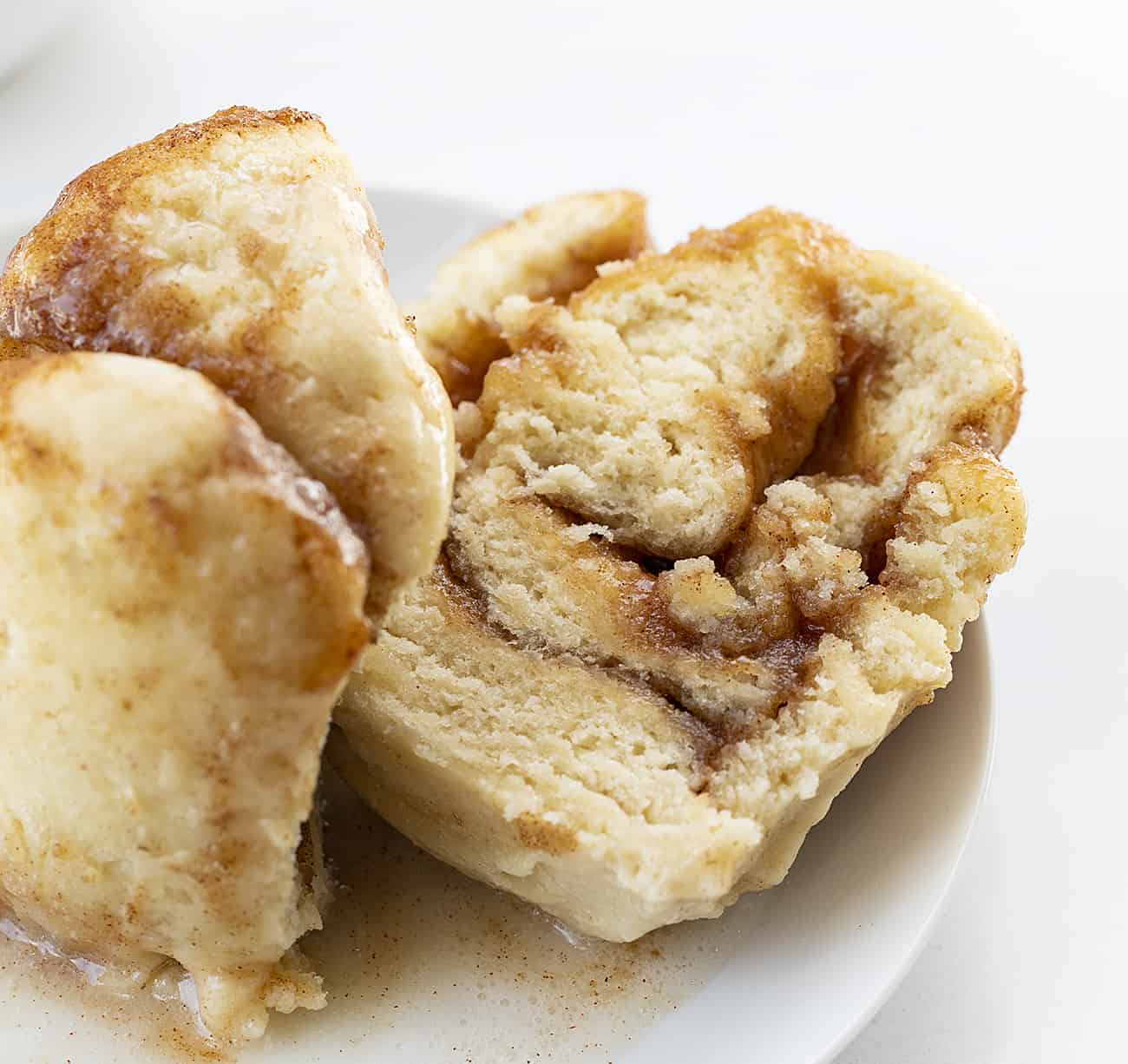 While the cinnamon roll is in the microwave, grab another bowl and stir together the confectioner's sugar and milk. This will be your glaze. You can make it as thick or as thin as you would like!
When the cinnamon roll is done, carefully remove it from the microwave. You can either pour some of the glaze over the top while it is in the mug or remove the cinnamon roll to a plate. If you leave it in the mug it will stay hotter longer, which also means it will need to be eaten slower. 😉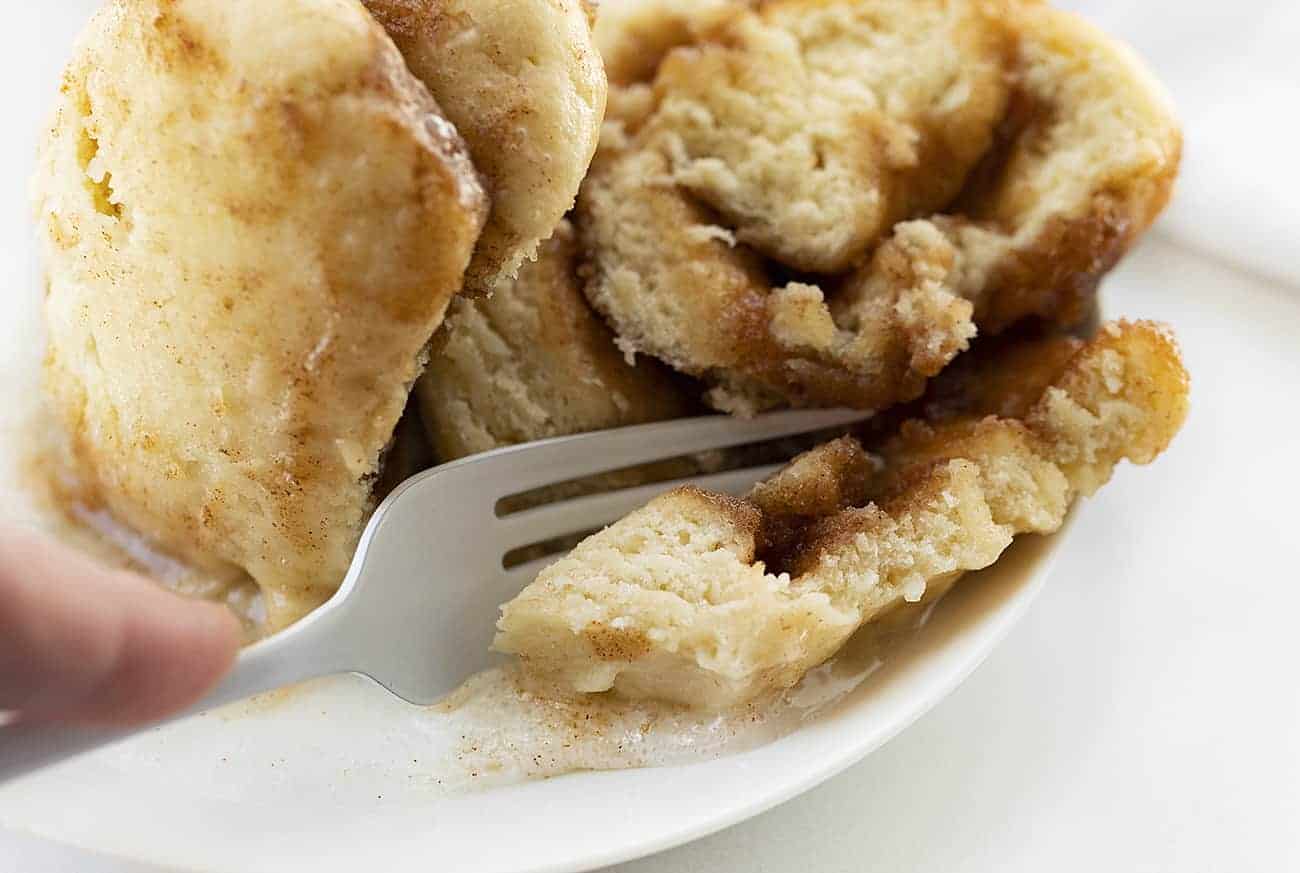 How Does TikTok Cinnamon Roll in a Mug Taste?
Well, if you use her recipe, you might be disappointed. If you use the recipe below, I think you will be pleased! I have made enough of these now to know it can work, and when using a solid recipe, it can actually even taste good. 🙂
Looking for More Great Breakfast Recipes?
Lemon Cream Cheese Coffee Cake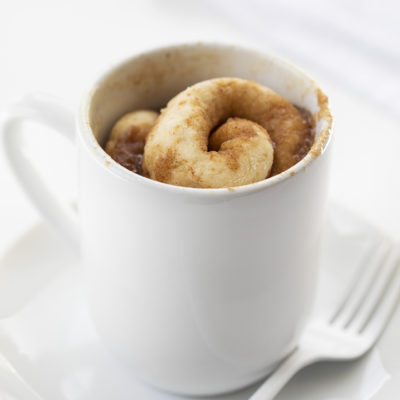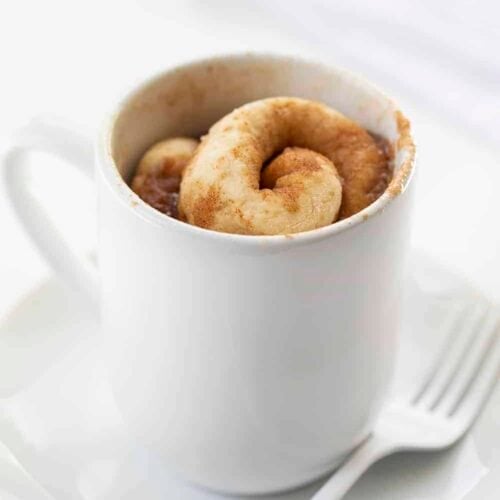 Cinnamon Roll in a Mug
Ingredients
Dough
1½

tablespoons

salted butter,

melted (set aside)

½

cup

all-purpose flour

½

teaspoon

baking powder

2

tablespoons

granulated sugar

3

tablespoons

milk,

I prefer whole milk

½

teaspoon

vanilla
Filling
1

tablespoon

butter

2

tablespoons

brown sugar

½

teaspoon

cinnamon
Glaze
⅓

cup

confectioners' sugar

1

tablespoon

milk,

(can also use heavy cream)
Instructions
Dough
Add the flour, baking powder, granulated sugar, milk, vanilla, and melted butter to a small bowl and stir until combined.

One the dough is solid, drop onto a clean and slightly floured surface.

Use your hands to flatten dough into a rectangle .
Filling
In a small bowl, melt the butter, brown sugar, and cinnamon for about 1 minute. (Depending on how cold your butter is.) Stir well.
Assembly
Pour filling over dough rectangle and then roll up into a cinnamon roll shape.

Place roll into mug (I prefer to use a standard size mug, nothing too wide). Make sure your mug is sprayed with non-stick spray or greased.

Heat roll in microwave for 90 seconds. If the dough appears WET on top, it may need to heat for a few more seconds. (10 second increments.) If the dough appears dry the cinnamon roll is done. You can also test with a toothpick.
Glaze
Stir confectioners sugar and milk together in a bowl until smooth.

Pour over warm cinnamon roll in the mug or invert the roll onto a plate and pour glaze over top.
Did you make this recipe?
Thank you for making my recipe! You took pictures, right? Well go ahead and post them on Instagram! Be sure to mention me @iambaker and use the hashtag #YouAreBaker.