Making homemade ice cream has never been easier! This recipe is only 2 ingredients AND does not require an ice cream machine!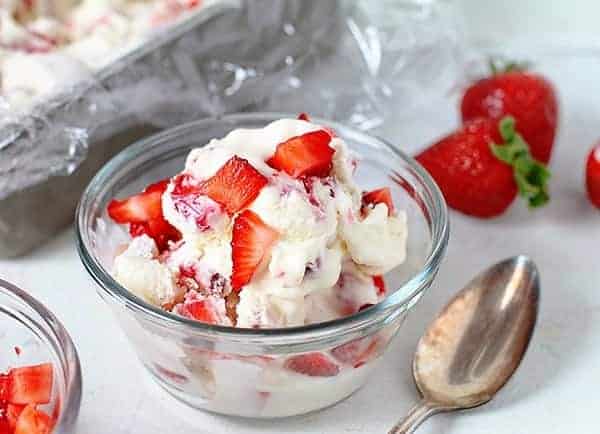 This is one of those great lifehacks that you see everywhere on pinterest but just end up adding it to a list of things you want to make.
Well, I needed a gluten free dessert SUPER fast and this recipe came to mind. Heavy whipping cream + Sweetened Condensed Milk = Vanilla Ice Cream. Seriously easy, seriously yummy. The best part? Customizing the recipe to make your favorite flavor is EASY!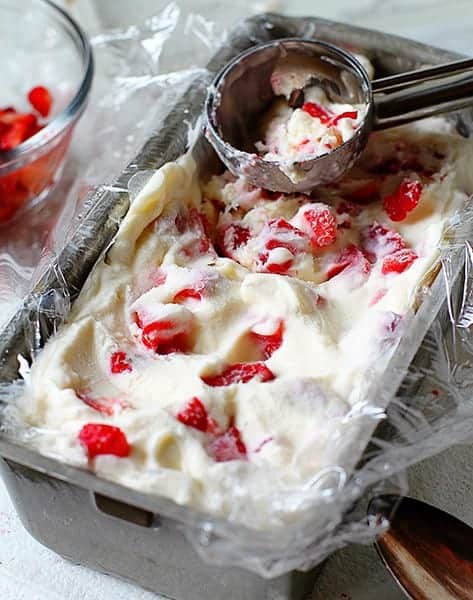 I added strawberries to mine, but that was not enough. Have you ever bought big beautiful bright red strawberries from the grocery store and then tried one… and it's basically flavorless? That is what happened to me. So I added some raspberry extract to help enhance the flavor a bit. It worked great and the end result was a thick, creamy and luscious Strawberry (kinda) Ice Cream!
Here is a little video on how I did that:

And here is the recipe for Two Ingredient Ice Cream!
Recipe from instructables.com
To make Strawberry Ice Cream:
Follow the recipe above and add 1 cup of finely diced fresh strawberries before freezing. If you need extra flavor you can add 1 teaspoon of McCormick Raspberry Extract. You can also add 1 teaspoon of vanilla or the seeds from 1 vanilla bean.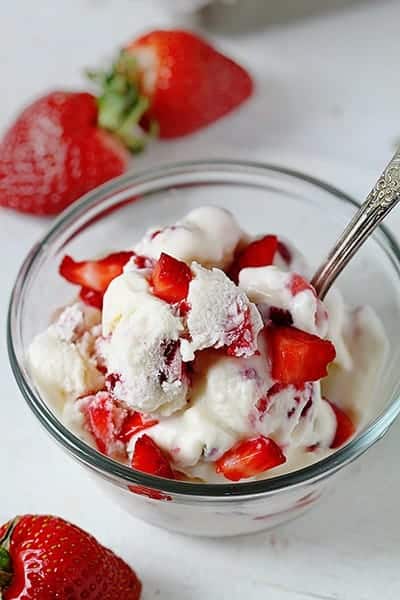 Tips for Success:
I prefer using my stand mixer for this because I can set a timer and walk away, but you can use a hand-held mixer as well.
Be sure to whisk the sweetened condensed milk and whipped cream for at least 4 minutes.
If you are making this strawberry version, be sure to finely dice the berries. They will freeze solid so you want to make sure they are small enough to bite into.
I recommend making a batch of vanilla first, then start playing around. Or even make up a batch and divide it in half and make one vanilla, one the flavor of your choice. Here are a bunch of ideas for different flavors!
I just love how creamy and smooth this ice cream is, as well as how easy it is to personalize. Not chocolate for hubby, lots of oreo's for me, and ALL FRUIT for the kiddos! 😉