This White Cake with White Wine Buttercream and White Chocolate Covered Strawberries is commonly referred to as "the" cake in my house.
The cake that will make people take their phones out and share it on social media, tagging you with #AmazingCake #BestBaker #CakeGoals.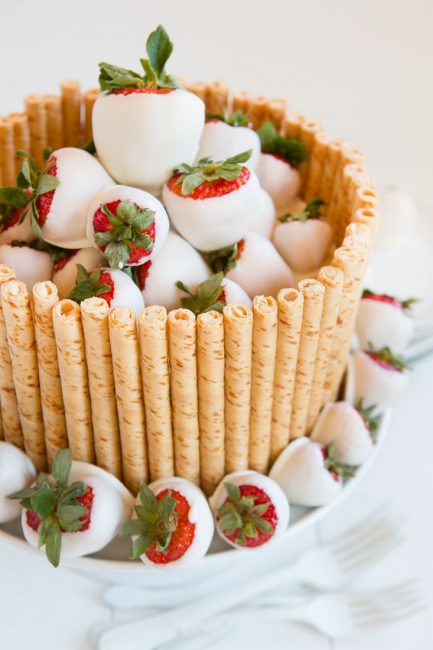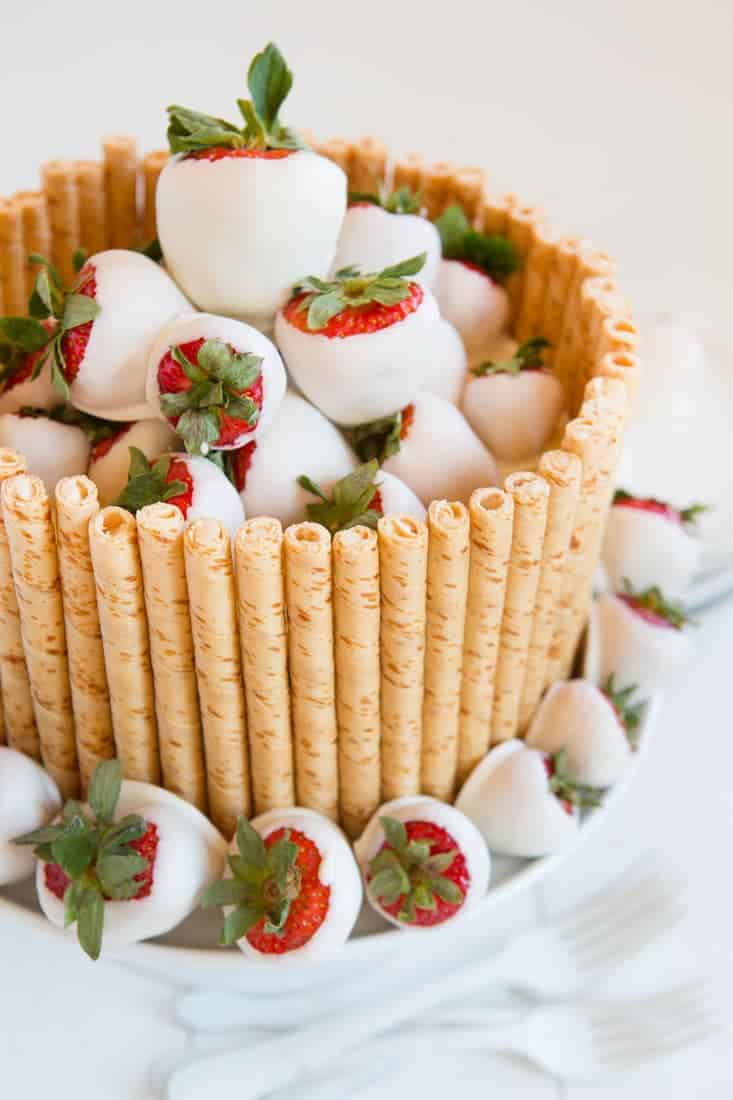 The cake no one will let you cut into until they have the perfect picture for Instagram. (Helpful hint: The Hefe filter is amazing for this cake!) This is the cake that will boost you to "legendary" status among friends and family. This is the cake that people will love to look at but love to eat even more. This is the cake that will make you the most popular baker in the neighborhood. This is the cake that everyone will talk about — all the time. It's just that good!
To make this cake you will need:
white cake recipe (below)
white wine buttercream recipe (below)
cake stand that is bigger than 8-inches at its base. (The stand I used is 12-inches)
2 containers (13.5-ounce) of Benton's Creme filled wafer rolls
2 pints strawberries
white almond bark or white chocolate
cookie sheet
parchment paper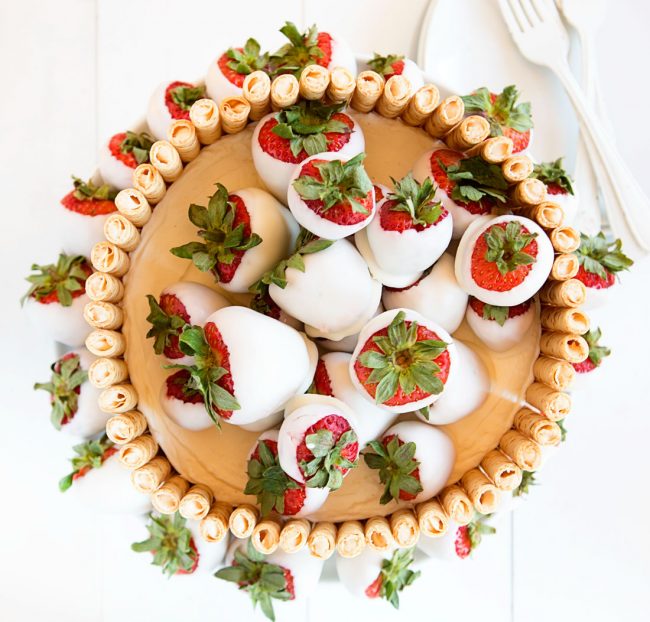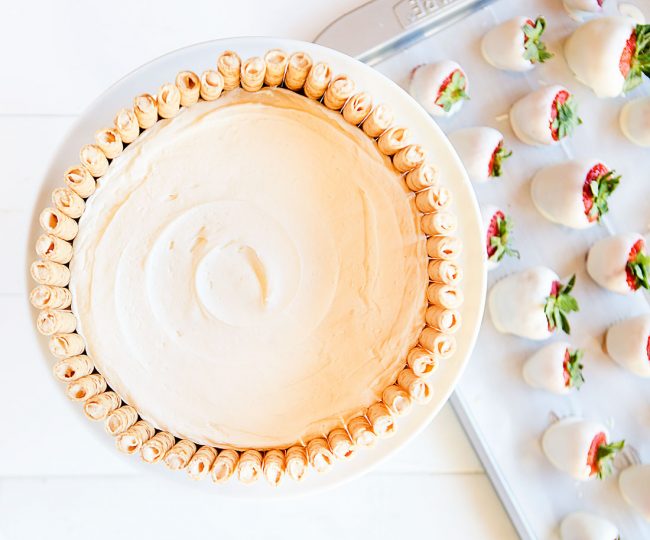 Make white chocolate covered strawberries.
Melt the almond bark/white chocolate in a microwave at half power, for 1 minute, stir and then heat for another minute or until melted.
Holding a strawberry by the stem end, dip in the melted chocolate, letting the excess chocolate drip off.
Transfer the dipped strawberries onto a baking sheet lined with wax paper. As you set each berry down, slide it ½ inch forward to prevent the formation of a chocolate "foot."Repeat with the remaining berries.
Refrigerate the strawberries until the chocolate is firm, at least 30 minutes. They will keep for up to 3 days, covered, in the refrigerator.
To assemble this cake:
Prepare cakes and allow them to cool completely. Prepare buttercream.
Place one layer of white cake on cake stand. Cover in about 1/2 cup buttercream. Place the other layer of white cake on top. Cover entire cake with buttercream and then smooth out the top and sides. (See how I do a crumb coat here.)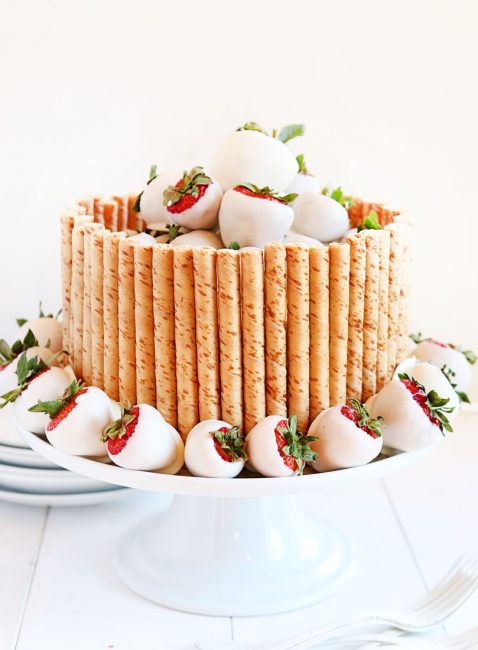 Place the wafer rolls around the edge of the cake. Make sure that they are straight up and down and then press it slightly into the buttercream. Repeat around entire cake.
Set chocolate covered strawberries in the center of the cake in a small pile. You want the strawberries to be stacked up taller than the wafer rolls. Set some around the base of the cake as well.
Refrigerate cake until ready to serve.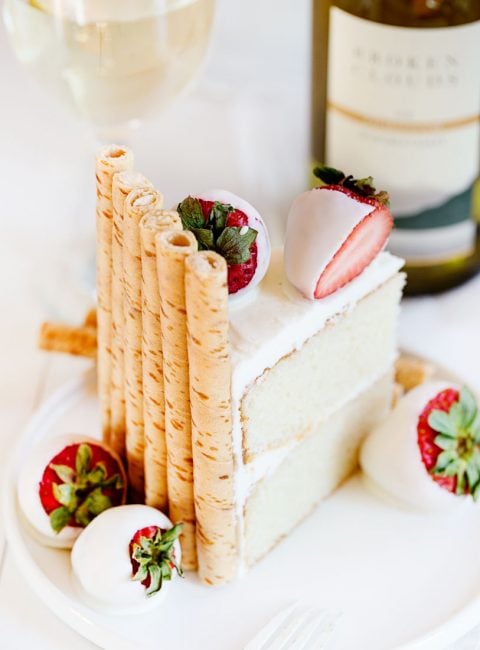 When you cut into this White Cake with White Wine Buttercream, just use the wafer rolls as a guideline. You will end up with perfect pieces!
This has to be one of the BEST cakes I have ever tasted! The wafer rolls and chocolate covered strawberries are the perfect complements to the White Wine Buttercream. It's definitely a show stopper!