This Zucchini Banana Oat Bread is one of our favorite recipes. Bakes up perfectly every time!
Let me just tell you about my day.
It all started about 5:00am when I heard my baby crying and got up to feed her. I walked to her room in a zombie like stupor, hushing her whimpers and gently picking her up and then nursed her back to sleep. Just as I got done feeding her return her my alarm went off. Why would I set the alarm for so early? Because I wanted to get up and work out before my husband went to work and while I could do it without kids trying to jump all over me. I am gonna ROCK this day!
Right after I got my running shoes on I heard Olivia again. She had not gone back to sleep and was now up for the day. As I sat and rocked her and watched the sky turn from dark grey to light grey, the dream (nightmare) from last night started to come back to me. It was not good. I was shaking and upset and an emotional mess. (Yes, I know it was a dream, but it almost seemed like a bad memory! I heard that the brain cannot distinguish the difference between a dream and reality so it FELT REAL)
Husband gets up and leaves for work and it occurs to me… its FREEZING in here. Turns out that the furnace broke and we had no heat. In Minnesota. It was 28 degrees last night. So I decide to bake some bread for breakfast in the hopes that the hot oven would help warm up the house. And me.
Around 7:00am and I start making this bread. As it bakes the kids slowly rise and make their way to the kitchen. Eddie is immediately grumpy because he didn't get cereal in a blue bowl as he demands EVERY SINGLE MORNING but the delicious warm bread eventually quiets him.
We start homeschooling and immediately the kids are whining. Complaining. Fighting me every. step. of. the. way. I am freezing and keep trying to get the kids to put more layers on, but they don't seem to be phased by the chill. I offer up hot cocoa for snack time and the marshmallows are hard as a rock and somewhat stale. I add them anyway hoping no one notices. No one does because they spend the whole time complaining that it's too hot.
Olivia is awake and just fusses. And fusses. And fusses. (totally not her norm. I am completely throw off by this new behavior of hers, as she is normally so happy and content and loves to nap!) Colton refuses to do his math and sits and the table and literally sobs at how much he doesn't want to work today. I am rocking back and forth in the corner in the fetal position. Guess I did end up ROCKIN today.
It's about 11 and someone is coming over to fix the furnace. He calls and says he will be there in 30 minutes so I quickly try to feed Olivia. I nurse her and she actually starts to nod off (praise Jesus!) which is Eddie's cue to storm into my room and scream "Mommy, where are you?!?!" as he looks me in the eye. Olivia is awake.
I get word from a company (that I really wanted to impress) that a recipe I submitted has got a WRETCHED error in it and that someone complained. I reply back to my contact with deepest of sincerest apologies and they are not impressed. The twitch in my eye intensifies.
I have a big project in November that requires extensive research and preparation and involves large expensive video devices to be pointed at me filming my every move. (inner voice is a constant downer lately and I am convinced that my ex-boyfriend from high school that I usually never think about and don't even know where he lives will see it and laugh laugh laugh at HOW FAT I AM and I am mortified) I am given the wardrobe requirements for the shoot and they say, "No red, white or black." No black? SURELY YOU JEST! You might as well tell me I can only wear an itsy bitsy bikini.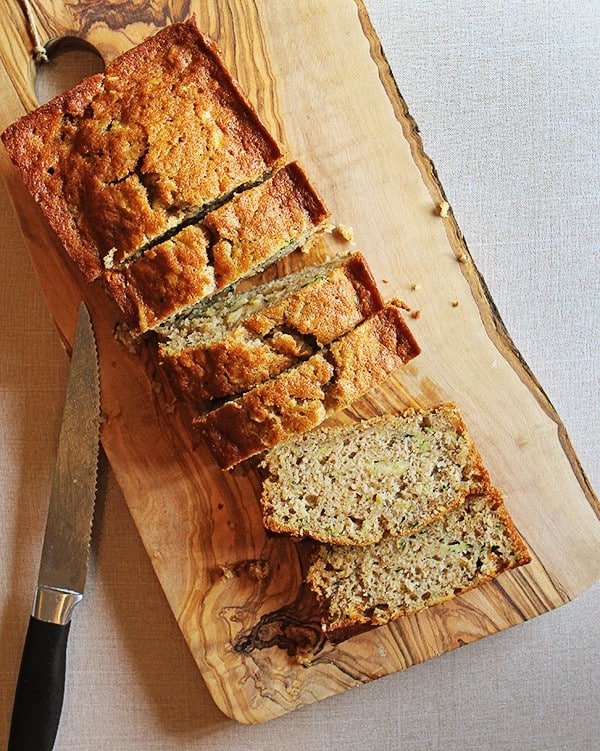 Try to quick feed Olivia again and realize the guy-who-shall-restore-heat is here. She is awake and fussy. I am twitching. Guy-who-has-restored-heat determines that its just a faulty control panel and gets heat roaring. Hurray! Guy-who-restored-heat tells me that in spite of how my children behave he still wants to have kids someday.
I try to prepare for dinner and defrost some beef in the microwave. It dies. My microwave is dead. My brand new state of the art microwave is dead. I wish I could crawl into it. Olivia is still awake.
Get an email that I have an assignment due tomorrow that I forgot about.
I can hear kids screaming at each other and banging doors and walls. They are playing "store" and selling each other stuff that they already own and it sounds like Colton just shorted Audrey some of her change. I think she threatened to cut him. I blame Spongebob.
Important Tip! Do not fully drain your zucchini. I place all the zucchini on a double layer of paper towel and gently squeeze out excess. If your paper towel breaks you are pressing too hard! You want the zucchini to release some of it's liquid while baking… this is what makes this bread so amazingly moist!
See that there is yet another BIG FABULOUS ALL EXPENSE PAID WITH UNREAL SWAG BLOGGER EVENT that I was not invited too. Its ok, its cool. These things happen right? I am sure they know that I have a baby and that I homeschool and were just being considerate of my circumstances. That, or EVERYONE JUST HATES ME AND OBVIOUSLY I NEED TO QUIT BLOGGING FOREVER AND EAT MASSIVE AMOUNTS OF COOKIE DOUGH RAW EVEN THOUGH THAT IS NOT RECOMMENDED.
Text husband that he has to bring home dinner. He gets home and gets it ready and the family eats. I cant eat anymore because apparently I ate an entire pan of this bread today. So I go walk/run sporadically while Biggest Loser is on trying to see what workout they are doing and copy them. This is effective as they literally show one move for 4 seconds then move on which is about how long I wanted to work out anyway.
Can hear Olivia screaming. Its time. She needs to sleep now or I think I may develop a permanent twitch in my eye.
She is out within seconds. Exhausted. Now peaceful. Her little body relaxes and she cuddles closer to me. I am jealous of a baby.
Moral of story. On craptastic days make sure you make yummy cake-like bread that has a vegetable in it so you can pretend you actually ate healthy and that there isn't dishes piled sky high and laundry mounds in corners of every room.
The end.
p.s. I hope this post made you giggle at least once.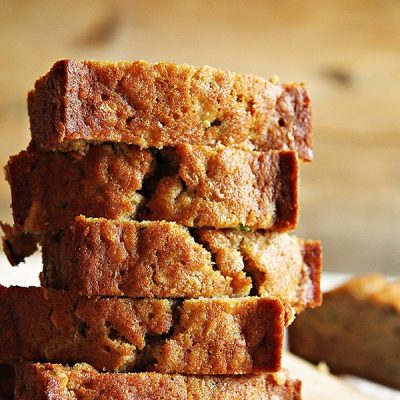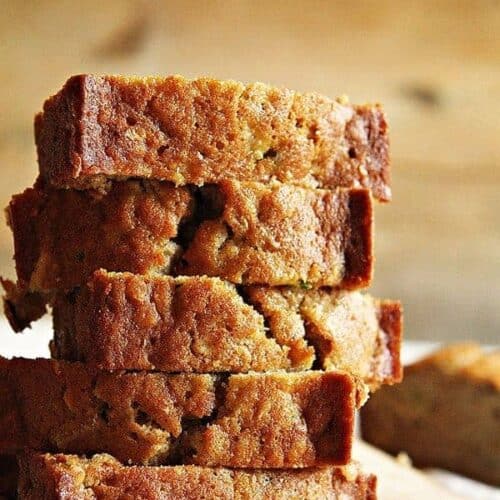 zucchini banana oat bread
Seriously beyond delicious!
Ingredients
1½

cups

all-purpose flour

1

teaspoon

baking soda

1

teaspoon

baking powder

½

teaspoon

salt

2

teaspoons

ground cinnamon

1

cup

oats

1

cup

granulated sugar

2

large

eggs

1

cup

canola oil

2

teaspoons

vanilla

2

ripe

bananas,

mashed

3

cups

shredded zucchini
Instructions
Heat oven to 350°F and prepare loaf pans. (I used three small loaf pans.)

In large bowl add flour, baking soda, baking powder, salt, cinnamon, and oats. Stir together.

In a smaller bowl combine sugar, eggs, oil, vanilla, and mashed banana. Pour sugar mixture into the flour mixture and stir by hand. Add in zucchini and mix until well incorporated.

Bake for 35-45 minutes or until bread pulls away from sides of pan and an inserted toothpick is removed clean.
Did you make this recipe?
Thank you for making my recipe! You took pictures, right? Well go ahead and post them on Instagram! Be sure to mention me @iambaker and use the hashtag #YouAreBaker.