Making decadent chocolate zucchini brownies that cover double stuff Oreo's that are nestled over a layer of zucchini chocolate chip cookies is my new favorite thing to do.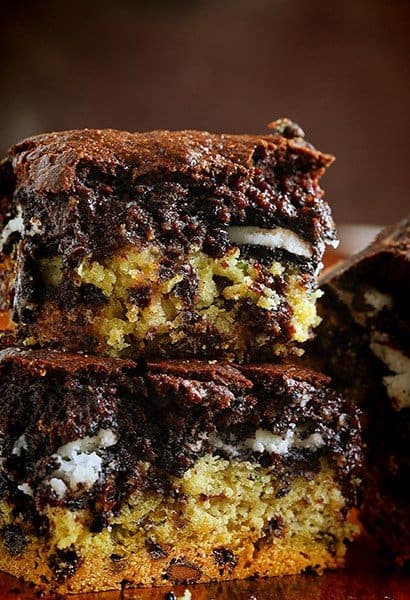 Telling people what they are called is not.
I first saw these, just like so many millions of people in the world, was completely fascinated. First by the name (which totally made me wince), then by the recipe. They have been around for 5 years now and I have to admit, the idea of this recipe has really grown on me.
I mean, really. Chocolate brownie. Oreo. Chocolate chip cookie. It's kinda the most perfectest thing ever!
But! I happen to have 37,456 zucchini, so I decided to make it a ZUCCHINI dessert.
Trust me. It's still amazing. Seriously amazing. And because it has those fabulous little green specks in there I am somehow tricked into thinking that they aren't as bad for me.
Here is a little video on how I made it:
Tips & Tricks:
Chilling the zucchini chocolate chip dough for at least 15 minutes is a fun way to boost flavor.
I like a fine grate on my zucchini with the green skin on. If you do not want anyone to know there is zucchini in this recipe, simply peel zucchini prior to grating.
Baking times can vary greatly, so be sure to keep an eye on your zucchini slutty brownies! I started checking at 30 minutes. The goal is to make sure the center is not wobbly and that an inserted toothpick (or knife) is removed mostly clean. You don't want a lot of raw batter sticking to the toothpick, but a little ooey-gooey is GREAT.
Brownie recipe adapted from allrecipes.com and cookie recipe adapted from food.com.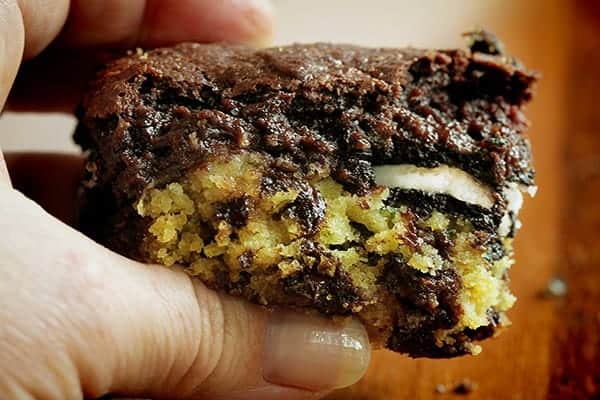 The zucchini brownie recipe and the zucchini chocolate chip cookie recipe are also fabulous on their own. 🙂