I love, love, love Blueberry Cheesecake. I love the cinnamon in the crust. I love the flavor.
Whenever I make this recipe, the consistency is smooth and creamy and there are no cracks to speak of. Plus its stinking delicious!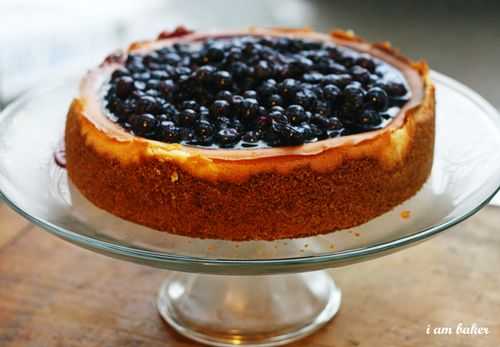 I made this to bring to my hubby's' family's Thanksgiving celebration this Sunday, and actually snapped these pictures when we were there. Please forgive the poor quality!
Ultimate New York Cheesecake
Ingredients
15 graham crackers, crushed
2 tablespoons butter, melted
4 (8 ounce) packages cream cheese, room temperature
1 1/2 cups white sugar
3/4 cup whole milk, room temperature
4 eggs, room temperature
1 cup sour cream, room temperature
1 tablespoon vanilla extract
1/4 cup all-purpose flour
Instructions
Preheat oven to 350 degrees. Grease a 9-inch springform pan.
In a medium bowl, mix graham cracker crumbs with melted butter. Press onto bottom of springform pan.
In a bowl of a stand mixer, mix cream cheese with sugar on medium-high speed until smooth. (about 3 minutes)
With mixer on low, blend in milk and then mix in the eggs one at a time, mixing just enough to incorporate.
Add in sour cream, vanilla and flour until smooth. Pour filling into prepared crust.
Bake in preheated oven for 1 hour. Turn the oven off, and let cake cool in oven with the door closed for 5 to 6 hours; this prevents cracking.
Chill in refrigerator until serving.
(See blog post for how to make Blueberry Filling and the Perfect Crust!)
http://iambaker.net/ultimate-blueberry-cheesecake/
http://iambaker.net
Lemon Blueberry Filling
2 pints fresh blueberries
2 tablespoons lemon juice
4 tablespoons sugar
In a small sauce pan, add all the ingredients and simmer over medium heat for 5 minutes or so until the fruit begins to break down slightly. Leave to cool before spreading on cheesecake.
Crust
2 cups finely ground graham crackers
1/2 teaspoon ground cinnamon
1 stick unsalted butter
(his directions exactly)
In a mixing bowl, combine the ingredients with a fork until evenly moistened. Lightly coat the bottom and sides of an 8-inch spring form pan with non-stick cooking spray.
Pour the crumbs into the pan and, using the bottom of a measuring cup or the smooth bottom of a glass, press the crumbs down into the base and 1-inch up the sides. Refrigerate for 5 minutes.
Truly, this is the most wonderful cheesecake.
It can stand all alone or lends itself beautifully to a sweet berry topping.
I hope you will try it!