These Almond Joy Bars are a coconut lovers dream come true! Rich gooey coconut filling over a chocolate cookie crust and topped with a decadent ganache. It's perfection!
We are baking up a storm here in the iambaker kitchen… I have made Cut Out Sugar Cookies and my favorite Apple Crisp! (Both get rave reviews!)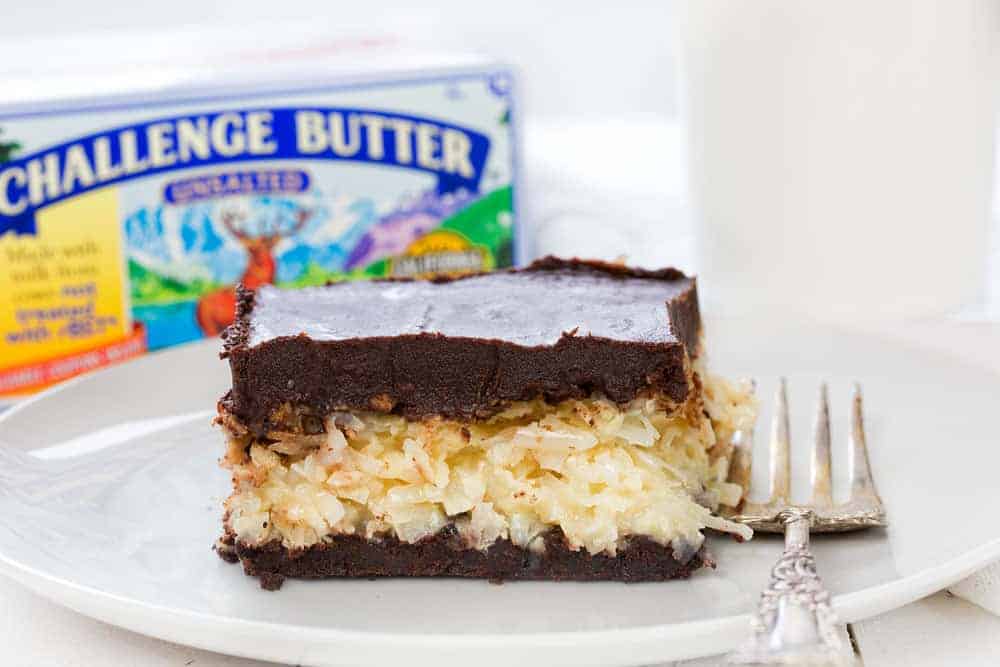 Almond Joy Bars
This recipe is a loose interpretation of an Almond Joy candy bar. It is a chocolate cookie layer with a gooey rich coconut cream layer and then dark chocolate ganache on top. It is a chocolate lovers dream come true. Even if you are not a huge coconut fan, you are going to enjoy these bars!
Now, because "i am baker" and because I love keeping my dessert recipes fabulous, I made sure all of my ingredients were the best quality. One of those super important ingredients is butter. I used my favorite; Challenge Butter. I used Challenge in both the crust and the ganache. Just in case that blew your mind a little… the answer is yes. I used butter in my ganache. Yes, it is fabulous. And yes, it should only be done if you use the best butter you buy, which just so happens to be Challenge. 🙂
The second most important ingredient is chocolate. There is a LOT of chocolate in this recipe and not only is there a lot, but it is also dark chocolate. I found that dark chocolate crust and the dark chocolate ganache were perfectly complemented by the intensely sweet coconut filling.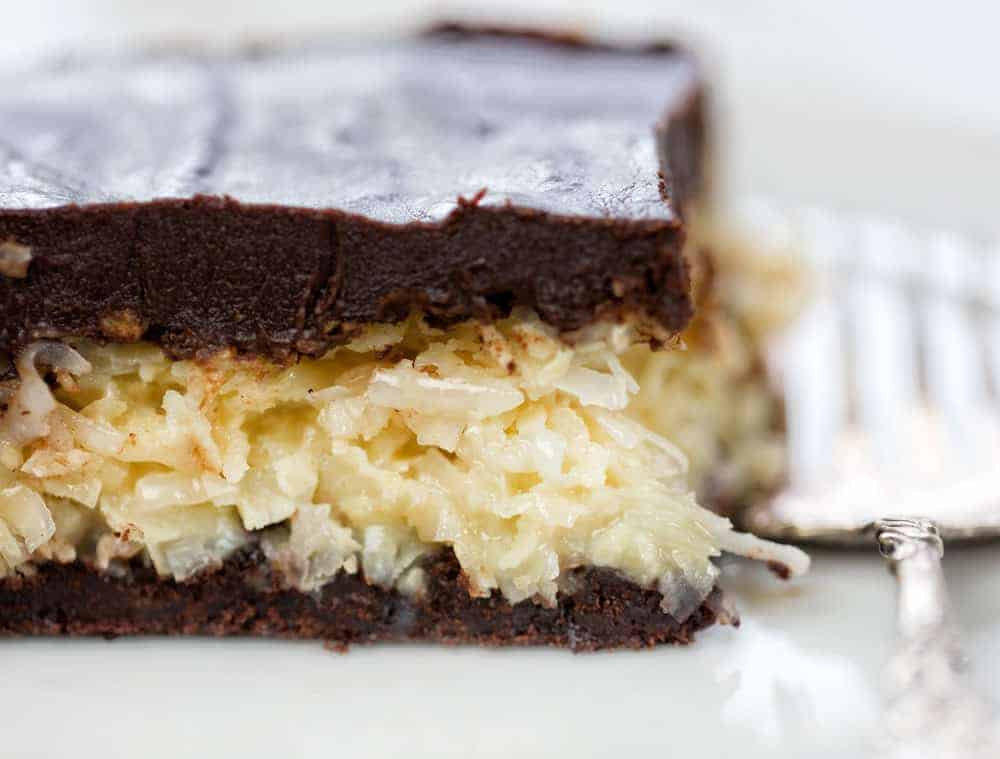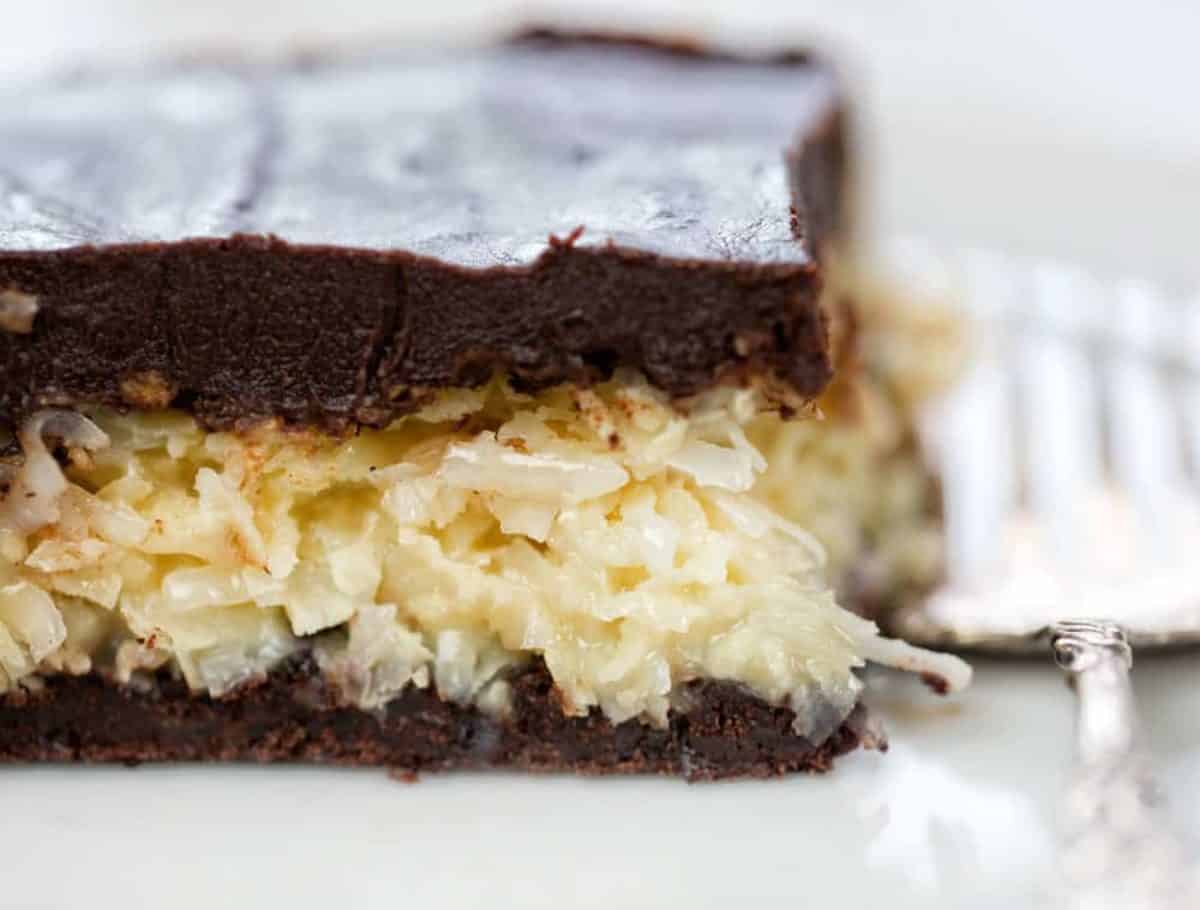 How to Make Butter Ganache
After a lot of testing, I settled on a recipe that uses butter and whole milk. As a general rule, the more simple a recipe is, the more important it is that you use the best quality ingredients. I do recommend using the best quality butter you can find (like Challenge!) and a good quality chocolate.
My butter + milk recipe is essentially trying to mimic traditional ganache that uses equal parts heavy cream and chocolate. The recipe I am sharing is more of a thick ganache, one that you can pour initially, but that hardens enough to hold its shape. Also, be advised that this recipe is specific to a dark or bittersweet chocolate as a milk chocolate or white chocolate will not behave the same.
If you would like, you can also halve the recipe I have listed below. This will create a thinner layer of the chocolate and allow the almonds to pop up a bit, giving away the 'almond joy' surprise. (My husband preferred the thinner layer, the kids all loved the thicker layer!)
If you follow these tips, you are sure to create a perfect ganache!
Try to not use chocolate chips as they can have a coating on them. I used dark chocolate chunks in my video, but you can also buy a good quality chocolate bar. Just be sure to finely chop it and get your pieces uniform.
When melted the butter, try to avoid boiling it. The butter and milk should simmer and be very warm, but not boiling. If your butter mixture does boil, be sure to let it sit for a few minutes before pouring over the chocolate.
After pouring the butter mixture over the chocolate, allow the butter and chocolate to sit for a couple minutes. Because I wanted my ganache to be thicker I used a whisk to "whip" the chocolate. Adding in the air while whisking also helps it to thicken. If you were to use a spatula, the consistency doesn't change dramatically, but it may not be as thick.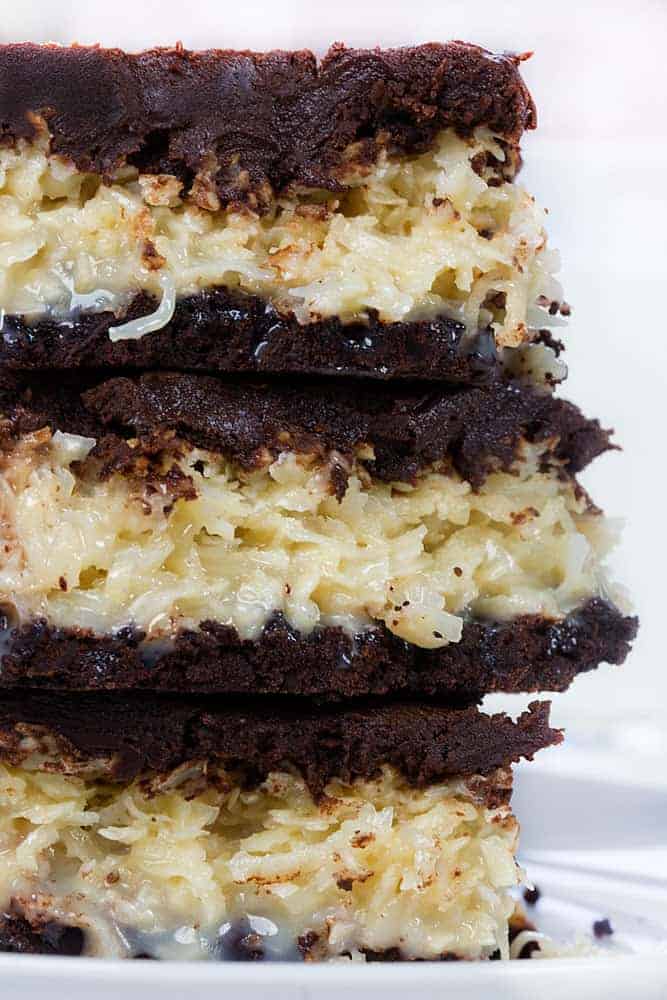 Chocolate Cookie Crust
I would be silly not to mention that amazing bottom crust layer. I am not kidding you, it tastes just like an oreo cookie! You get all of the benefits of the delicious flavor and are using real, whole ingredients. Feel free to use the chocolate cookie recipe in place of every recipe that calls for an oreo cookie crust!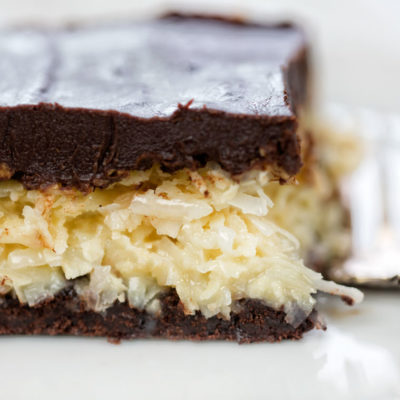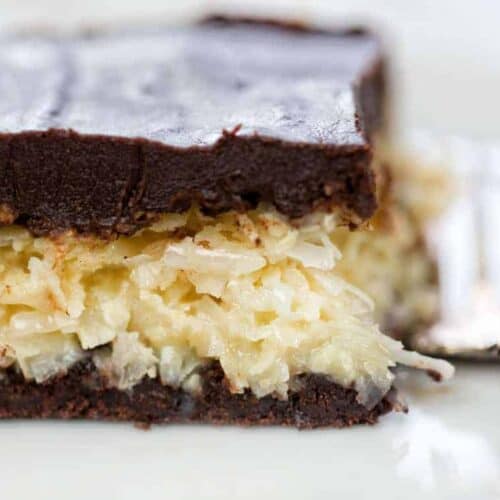 Almond Joy Bars
These bars are seriously decadent! People often beg me for the recipe!
Ingredients
Crust
1

cup

(128g) confectioner's sugar

2/3

(85g) all purpose flour

3/4

cup

(96g) dark cocoa

1/2

cup

(1 stick or 113g) Challenge Unsalted Butter
Filling
28

ounces

sweetened condensed milk

28

ounces

sweetened coconut flakes

1

teaspoon

coconut extract
Ganache Topping
24

ounces

dark chocolate

1 1/2

cups

(340g) Challenge Unsalted Butter

1 1/2

cups

(367g) whole milk

handful of almonds to place on top
Instructions
Crust
Preheat oven to 350°F.

Whisk confectioner's sugar, flour, and cocoa powder together in a bowl until combined. Pour melted butter into the mixture. With a spatula, stir to combine all the ingredients until fully incorporated. (Mixture will be dry)

Pour chocolate crumbs into a greased 9×13 baking dish and press into an even layer.

Set aside.
Filling
In a large bowl combine the condensed milk, coconut flakes, and coconut extract. Stir until ingredients are fully incorporated. If the mixture seems too dry, let it sit for a couple minutes and it will appear to have more moisture.

Spread the coconut mixture over the chocolate crust and smooth into an even layer.

Bake for 20-22 minutes or until it starts to brown. A few random flakes might turn dark brown, but the overall crust should not burn.

After the coconut bar has cooled a bit, add almonds on top. You can place them all over or 1 or each individual bar.
Ganache
Pour chocolate into a medium to large bowl. Set aside.

Place butter and milk in a medium saucepan over medium heat. Cook about 5 minutes, stirring occasionally. Do not allow milk to burn.

Pour hot milk over the chocolate and allow it to sit for a couple minutes. Using a whisk, stir the chocolate mixture until it comes together and starts to thicken; about 5 minutes. (Chocolate should be shiny)

Pour chocolate over warm coconut and then place in the refrigerator for at least 1 hour, or until chocolate has set.

Best served at room temperature.
Did you make this recipe?
Thank you for making my recipe! You took pictures, right? Well go ahead and post them on Instagram! Be sure to mention me @iambaker and use the hashtag #YouAreBaker.
Thank you for supporting the brands that support use here at iambaker! It has been a dream of mine to partner with Challenge Butter and I am just thrilled to be able to share a product that I love and use!