Cut-out Sugar Cookies are THE cookie of winter! This Sugar Cookie Recipe is not only award-winning, but it is also the EASIEST you will ever use. Who doesn't love baking and decorating these fabulous cookies with friends and family? No doubt, this is my favorite Christmas sugar cookie recipe of all time. It's just plain delicious. If you love sugar cookies, I also have sugar cookie fudge you will love! (Want more Christmas Cookies? I've got you covered!)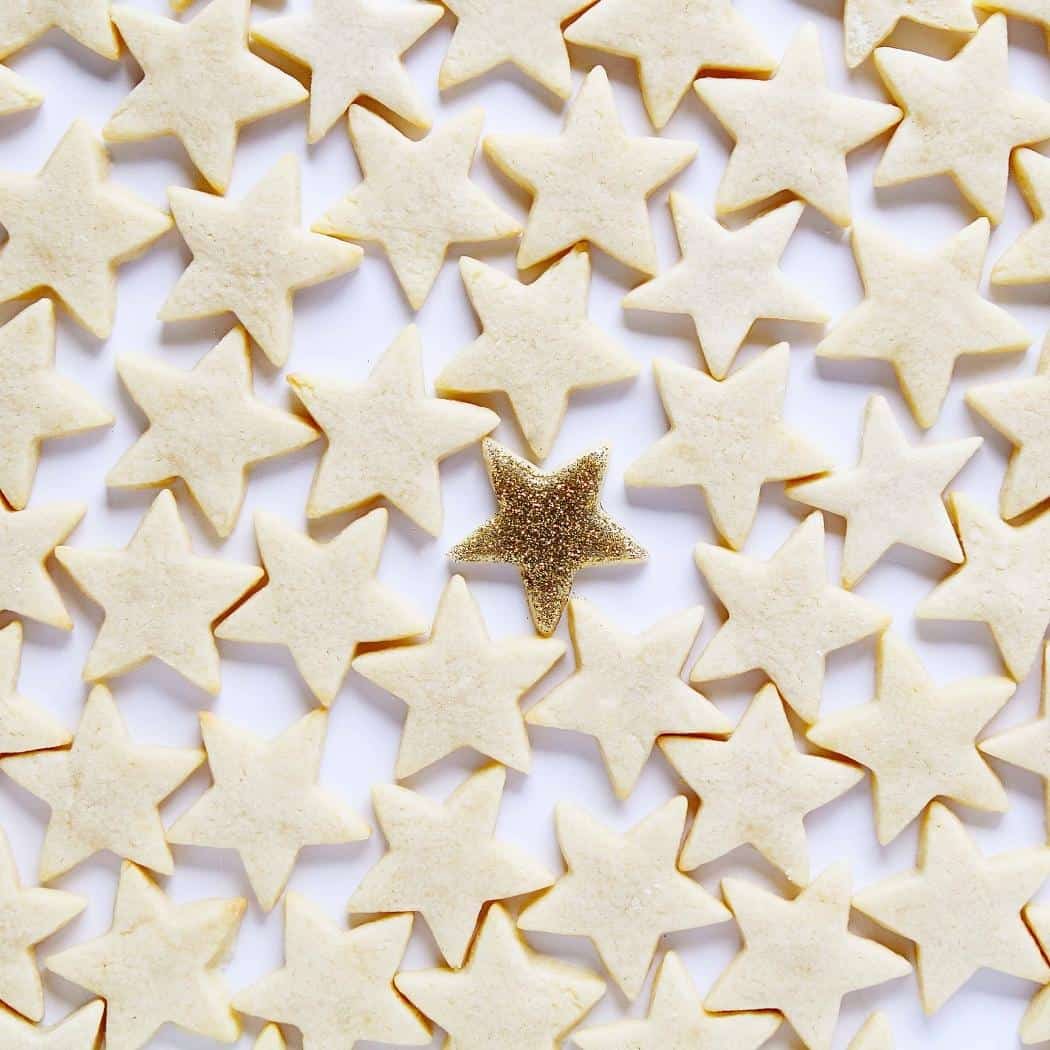 Sugar Cookie Recipe
When you pick a sugar cookie recipe for your decorating, it's important to find a recipe that not only holds up well when baked but that tastes great. My spritz cookies and butter cookies are also wonderful options when it comes to decorating cookies.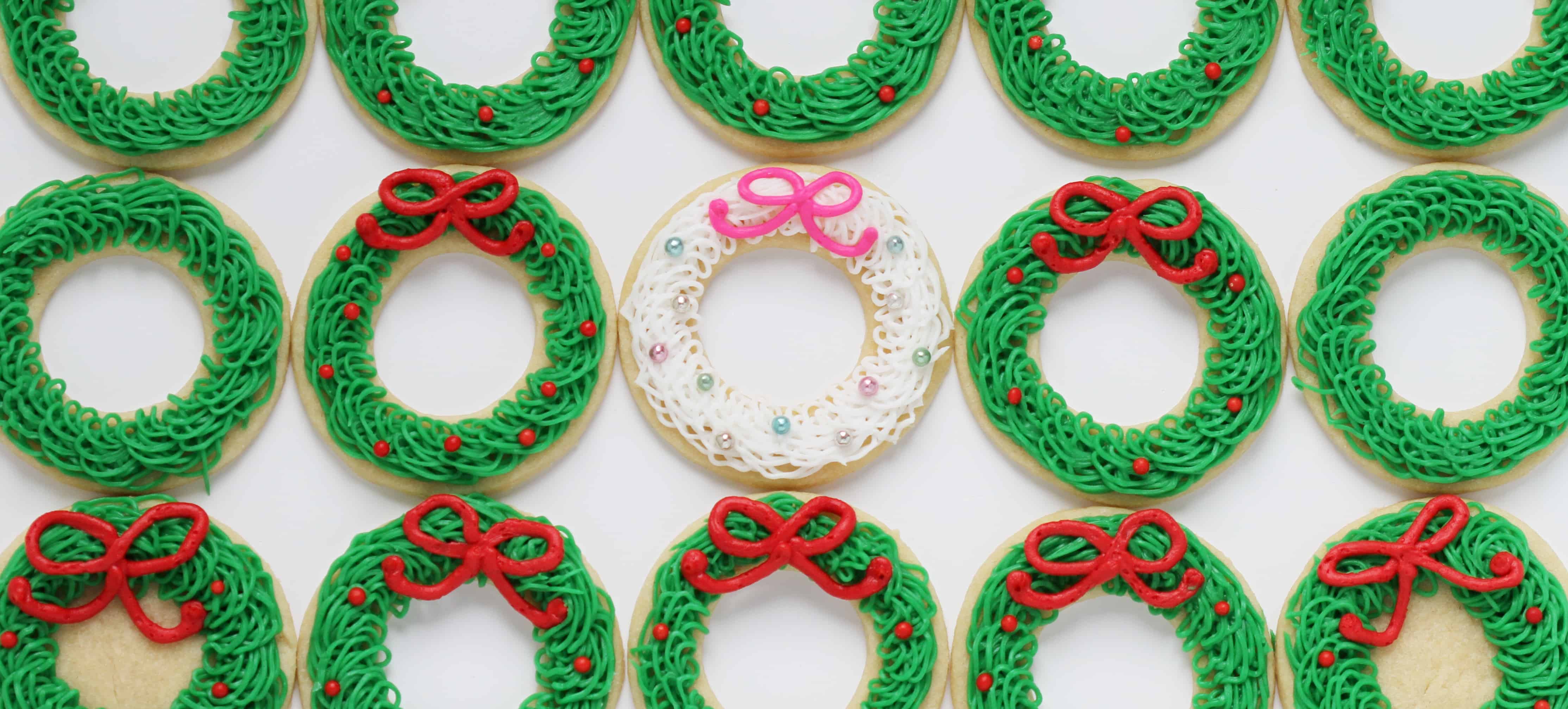 Sugar Cookie Christmas Wreath Recipe
This Sugar Cookie Recipe:
Does not need to be refrigerated.
Can re-roll dough with no issues.
Creates sharp cut-outs that hold their shape.
It is practically a magic sugar cookie!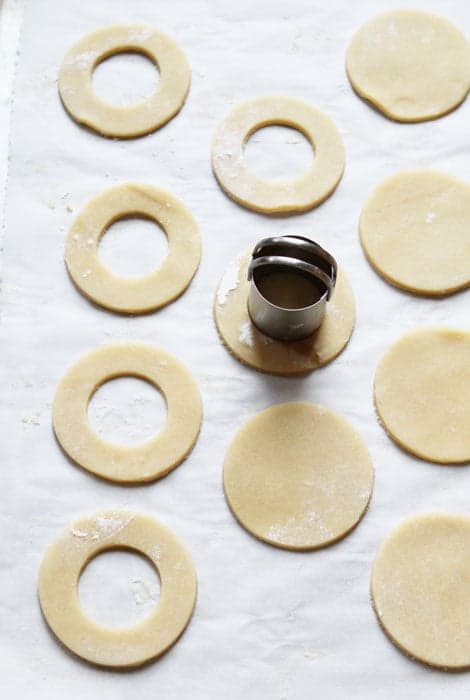 Cut-Out Sugar Cookie Icing
And not to be ignored, the best glaze icing recipe you will ever find paired with a sugar cookie. This recipe works the same as royal icing but tastes better (IMO) and pipes so beautifully, even for intricate design. When I started my baking blog back in 2009, this was the only recipe I used.
Why I love Glaze Icing for Sugar Cookies
It pipes beautifully.
It tastes amazing.
It hardens, but not as hard as royal icing. It gets just firm enough to stack the cookies but you won't break a tooth!
SUGAR COOKIE GLAZE RECIPE HERE.

Ugly Sweater Christmas Cookies (the ORIGINAL!)
Buttercream for Frosting Sugar Cookies
This is my favorite buttercream recipe for sugar cookie decorating. It pipes beautifully, accepts food color wonderfully, and crusts ever so slightly after a couple of hours. Love that it holds its' shape so well! (You can make it as stiff or as creamy as you want depending on how much liquid you add.)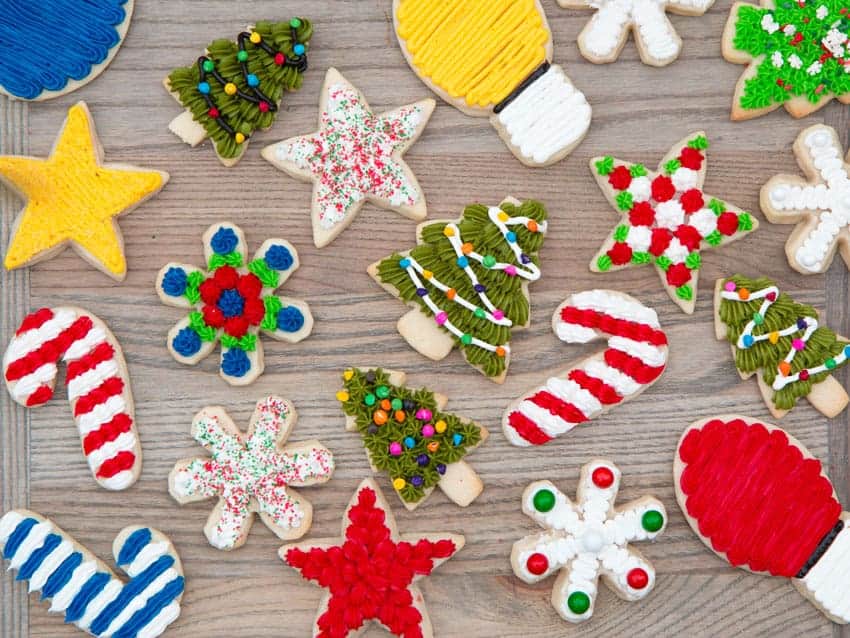 Sugar Cookie Recipe Troubleshooting
Here are a few tricks that I hope will help ensure you have PERFECT Sugar Cookies, every time!
Use a strong, balanced recipe. I happen to know that the recipe below is perfect every time!
Chill your dough. (If needed. The below recipe doesn't.) If you run into your cookies spreading you can try this method: Roll out the dough, cut out shapes, then place them on a cookie sheet. Then place in the freezer for 10-15 minutes. If you are doing lots of cookies it's easy to just have them in a rotation.
Calibrate your oven. I bought an oven thermometer at Target for under $5 and it has been fantastic. Sometimes cookies can spread if your oven temperature is too low.
Bake on cookie sheets lined with parchment paper. Some people swear by silpat but I have found parchment works very well and is fairly inexpensive. Not having to grease your cookie sheet also means less potential spreading. Make sure your pans are LIGHT in color, not dark. The dark the pan the more heat is absorbed and the faster your cookies will brown on the bottom and sides.
Use FRESH and a good quality baking powder and baking soda. Both are inexpensive even when you buy the best quality. If your baking soda is expired it can affect how your cookies rise or spread. I prefer double-acting baking powder, which is what is sold in most grocery stores.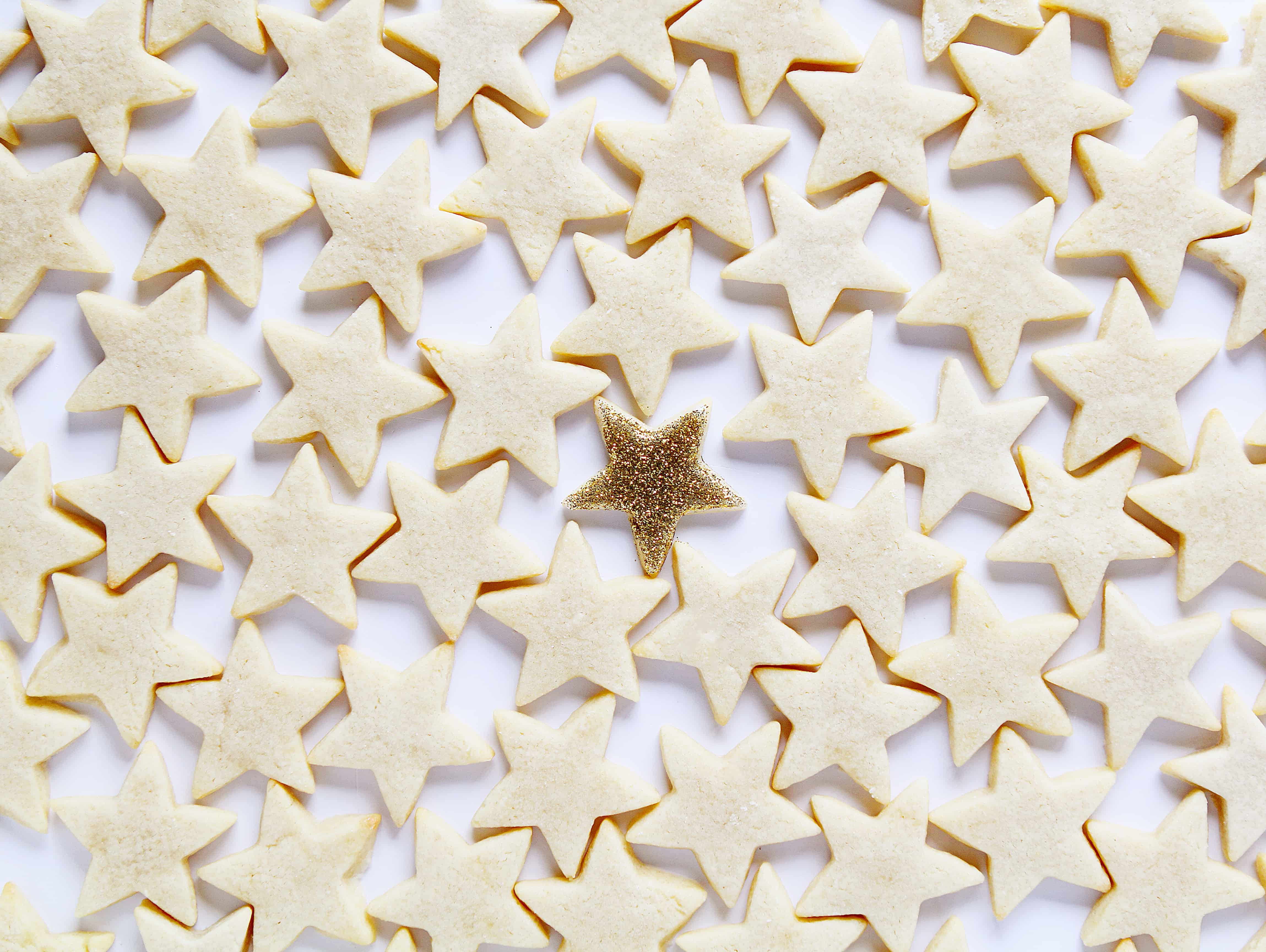 Tips for Cut-Out Sugar Cookies
Just a few reminders for best practices when making sugar cookies. 🙂
Sift Dry Ingredients – Sift dry ingredients like flour, baking powder, and baking soda, and even cocoa powder to combine and aerate them helps make for fluffier cookies. To sift, simply combine your dry ingredients and pour them into a fine-mesh strainer. Tap or shake the strainer until everything's in your bowl. (Feel free to throw away big or hard pieces.) You can also use a whisk in the dry ingredients for 30 seconds to fully combine.
Cream Butter and Sugar – Unlike stirring or mixing, creaming isn't about combining ingredients, it's about aerating them. Creaming creates air pockets that expand in the oven, making the dough tender. When you add sugar, that process is more effective. Sugar crystals are formed and the air is efficiently added to the butter and sugar mixture. Butter beats up fluffiest at room temperature, or when slightly softened.
Eggs – Eggs should be added at room temperature. They add moisture to the air pockets and flavor to the dough. To quickly warm eggs, place them in a bowl of warm water for a few minutes. After the eggs have been added you should also add the vanilla extract or sometimes milk (also room temperature) if the recipe calls for it.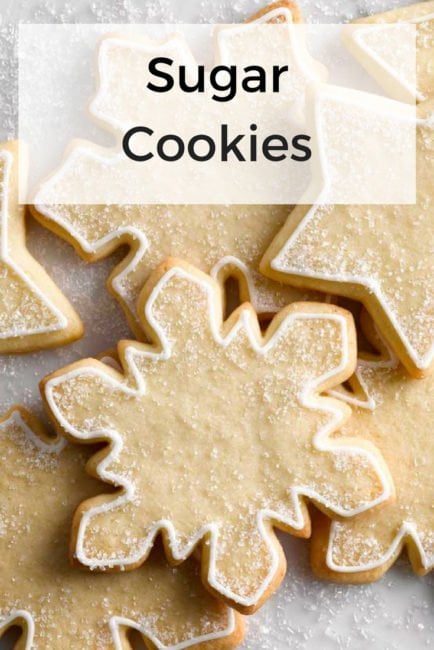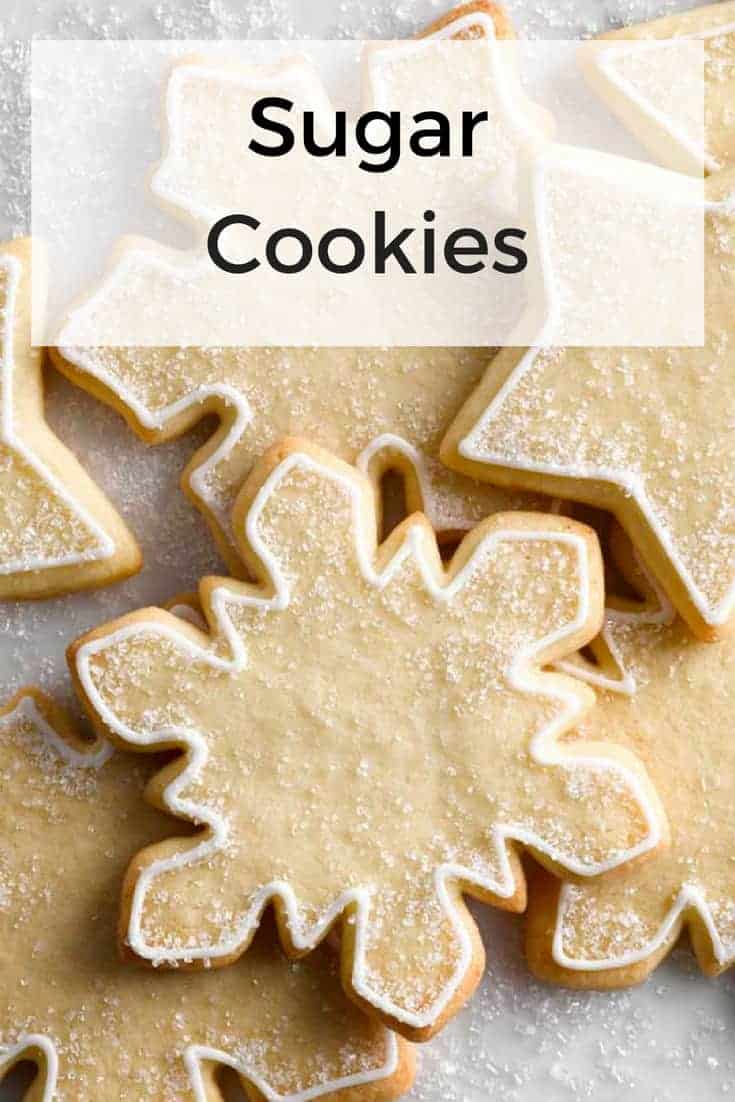 How to Store Sugar Cookies
When stored in an airtight container or sealable plastic bag, sugar cookies can last over a week. (Some readers have suggested 2 weeks!) If I am making a big batch, I will often store the decorated cookies in multiple smaller containers and the cookie layers separated by wax or parchment paper. Because air is what dries out cookies, you can ensure cookies will stay fresher longer if you aren't opening up the same container multiple times. Check out my Guide to Freezing, Baking, and Storing Cookies for more helpful tips.
How to Freeze Sugar Cookies
You can freeze the decorated cookies if you are decorating with the glaze icing. (They can be stacked.) You want cookie icing to be completely dry (about 24 hours) before stacking.
To freeze, place cookies into an airtight container or freezer-safe sealable plastic storage bag in a single layer. Using a piece of wax or parchment paper between each layer, stack as many layers as your container will allow. Label and date. They will stay fresh for about 6 months in the freezer.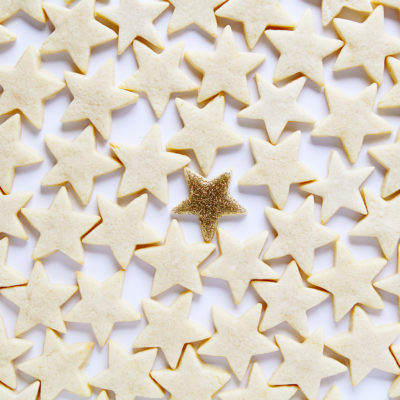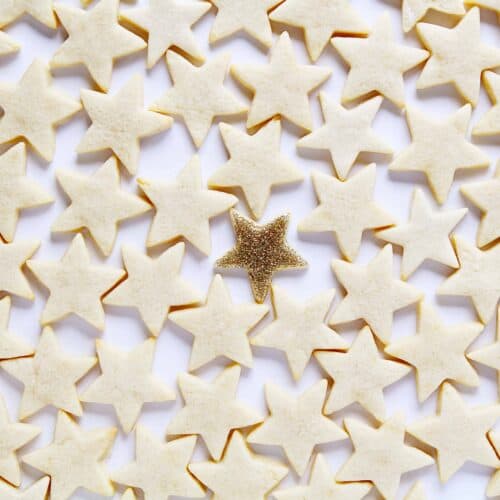 Sugar Cookie Recipe
Easy and delicious! These cookies do not require any chilling!
Ingredients
1

cup

(2 sticks / 227 g) unsalted butter,

room temperature

1

cup

(200 g) granulated sugar

1

large egg,

room temperature

1

teaspoon

vanilla extract

½

teaspoon

almond extract

2

teaspoon

baking powder

3

cups

(375 g) all-purpose flour
Instructions
Preheat oven to 350° F. Line a baking sheet with parchment paper.

To the bowl of a stand mixer, add butter and sugar. Cream on medium-high speed for 1-2 minutes, or until smooth.

With the mixer on low, add the egg, vanilla, and almond extract. Stop to scrape the sides of the bowl as needed.

Add in the baking powder. Then, add the flour, ½ cup at a time, until fully incorporated.

Remove bowl from mixer and drop dough onto a floured countertop. Roll out into a flat disc, about ⅛-¼ inch thick.

Cut the cookies out in the desired shape and place onto the lined baking sheet. Bake for 6-8 minutes. (Keep an eye on them! You don't want burnt edges and every oven is different.)

Let cool on the cookie sheet until firm enough to transfer to a cooling rack.
Notes
Helpful Hint: Place your cookie sheet in the freezer between uses.  
GLAZE ICING RECIPE (clickable)
Did you make this recipe?
Thank you for making my recipe! You took pictures, right? Well go ahead and post them on Instagram! Be sure to mention me @iambaker and use the hashtag #YouAreBaker.