Apple Pie Egg Rolls are spiced apples rolled up in an egg roll wrapper with cream cheese, baked, and coated in cinnamon and sugar. It's like a grab-and-go apple pie! For another delicious way to use up your apples, try my Apple Hand Pies.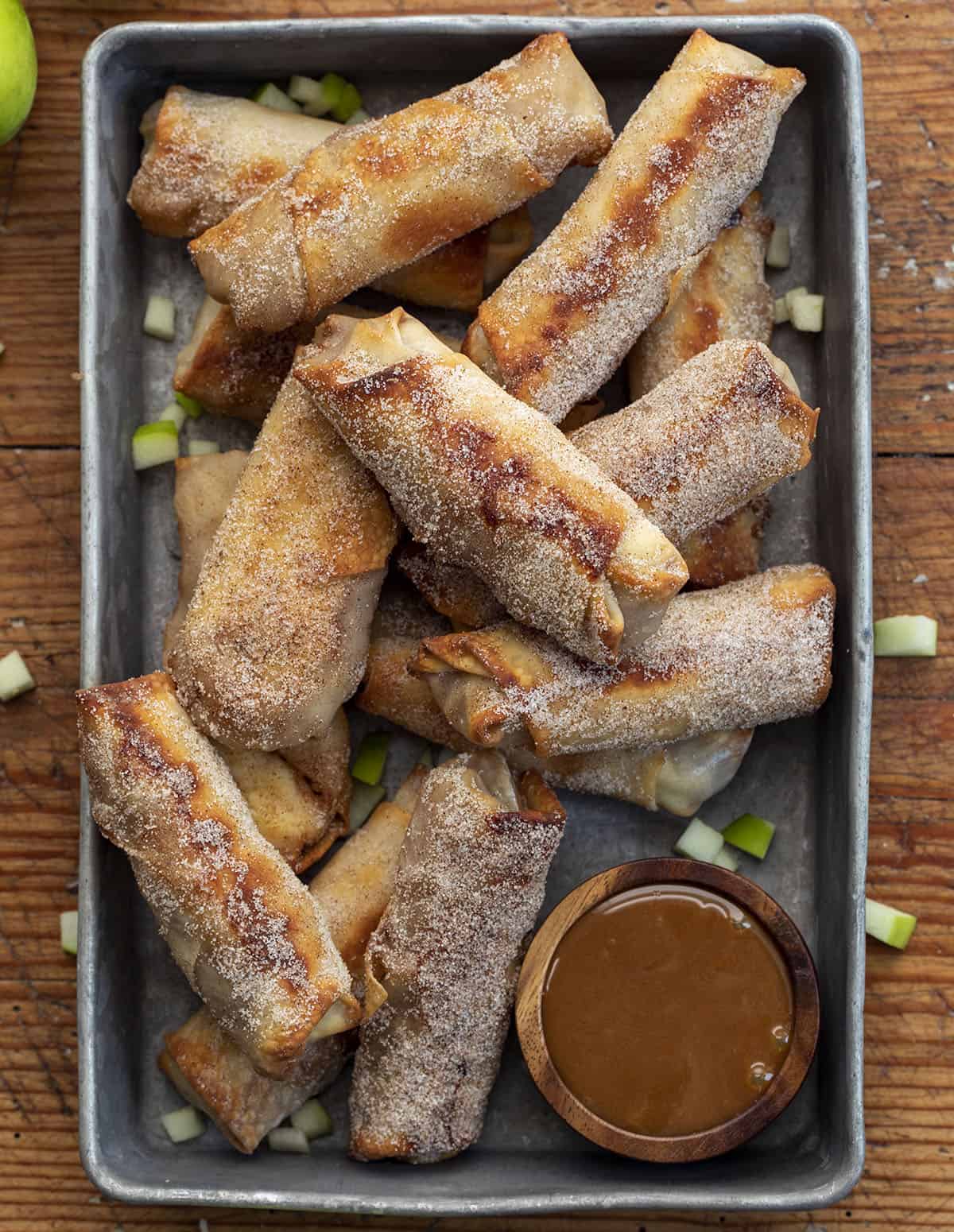 Apple Pie Egg Rolls
Now is the best time to make everything apple (before everything turns to pumpkin). The fall season is the best time for apples, so stock up to make your favorite treats like these apple pie egg rolls. There is no need to mess with a pie crust (but I do have a wonderful apple pie you may want to make); this dessert is rolled up in egg roll wrappers and baked to a golden brown. These can also be made in an air fryer or deep-fried in oil.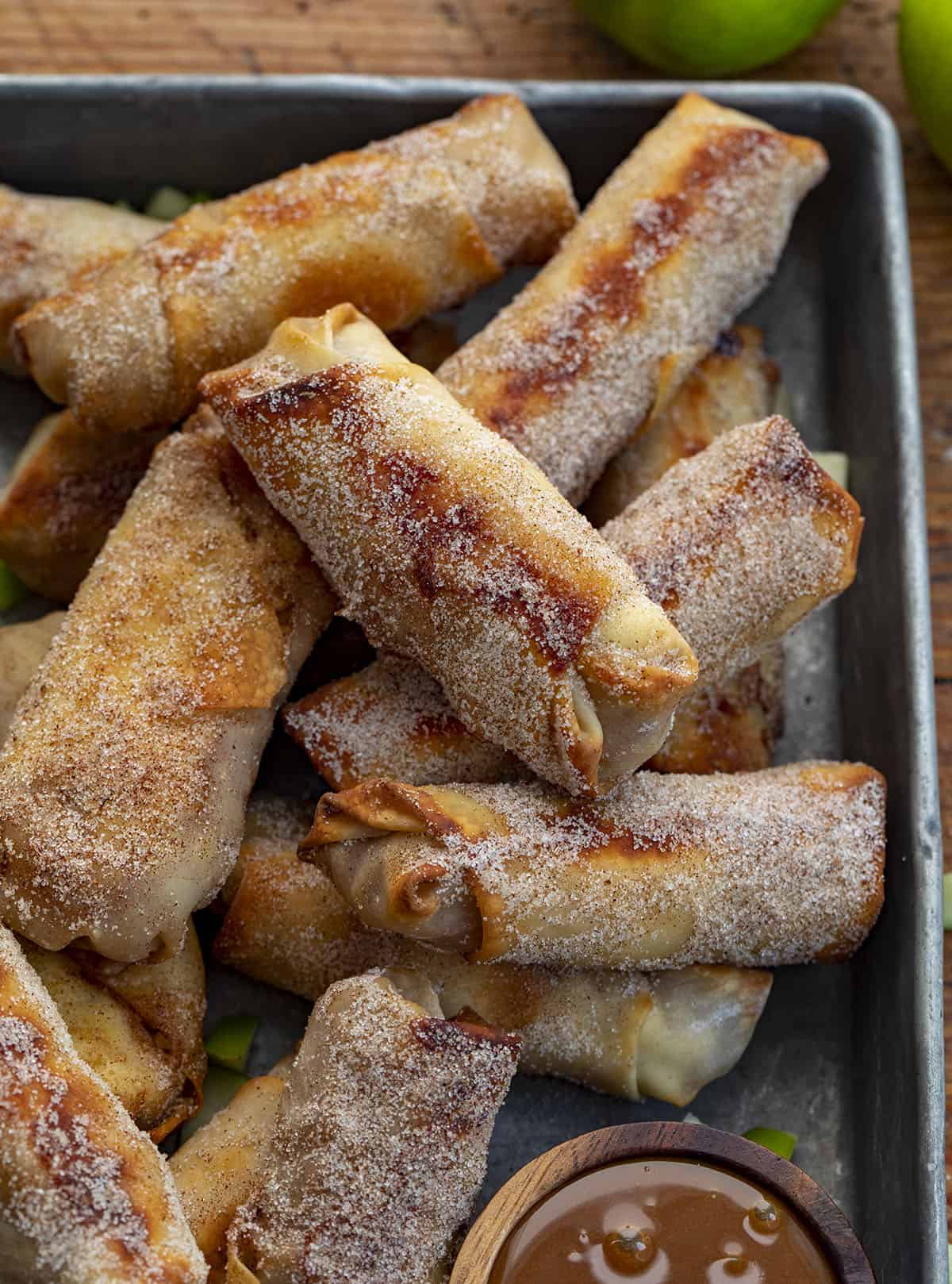 Ingredients & Substitutions
Apples: I like using Granny Smith apples when baking apple desserts; they hold their shape well, and the tartness complements the sweetness of these egg rolls. If you don't have Granny Smith apples on hand, try Braeburn or Honeycrisp apples.
Egg Roll Wrappers: I have a recipe for wonton wrappers that you could easily use for this recipe; just make them a little larger in size. Or, buy a pack at the store. They are usually in the refrigerator section.
Cream Cheese: In this recipe, it's best to keep the cream cheese cold. It's easier to cut the cream cheese. You will need about 2 teaspoons of cream cheese per egg roll.
Topping: Roll the baked egg rolls into a cinnamon and sugar mixture. I also added some caramel sauce for dipping in or drizzling over the egg rolls. You could just add the caramel if you don't want to add cinnamon and sugar.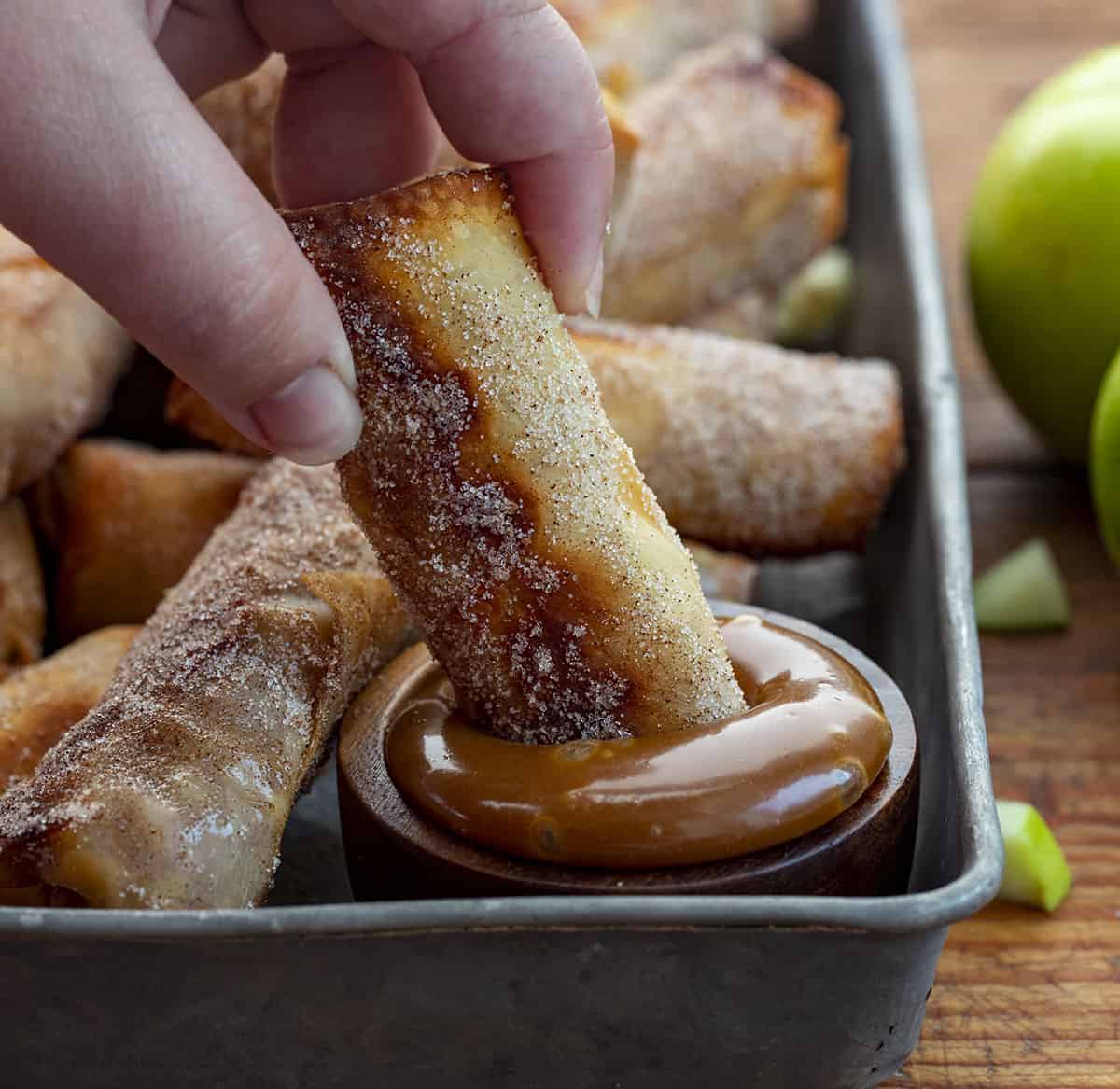 Can I Make these Egg Rolls with Apple Pie Filling?
Sure! Instead of using apples, you could get away with using apple pie filling. However, the taste testers did not think the egg rolls tasted quite as good (but it does save time).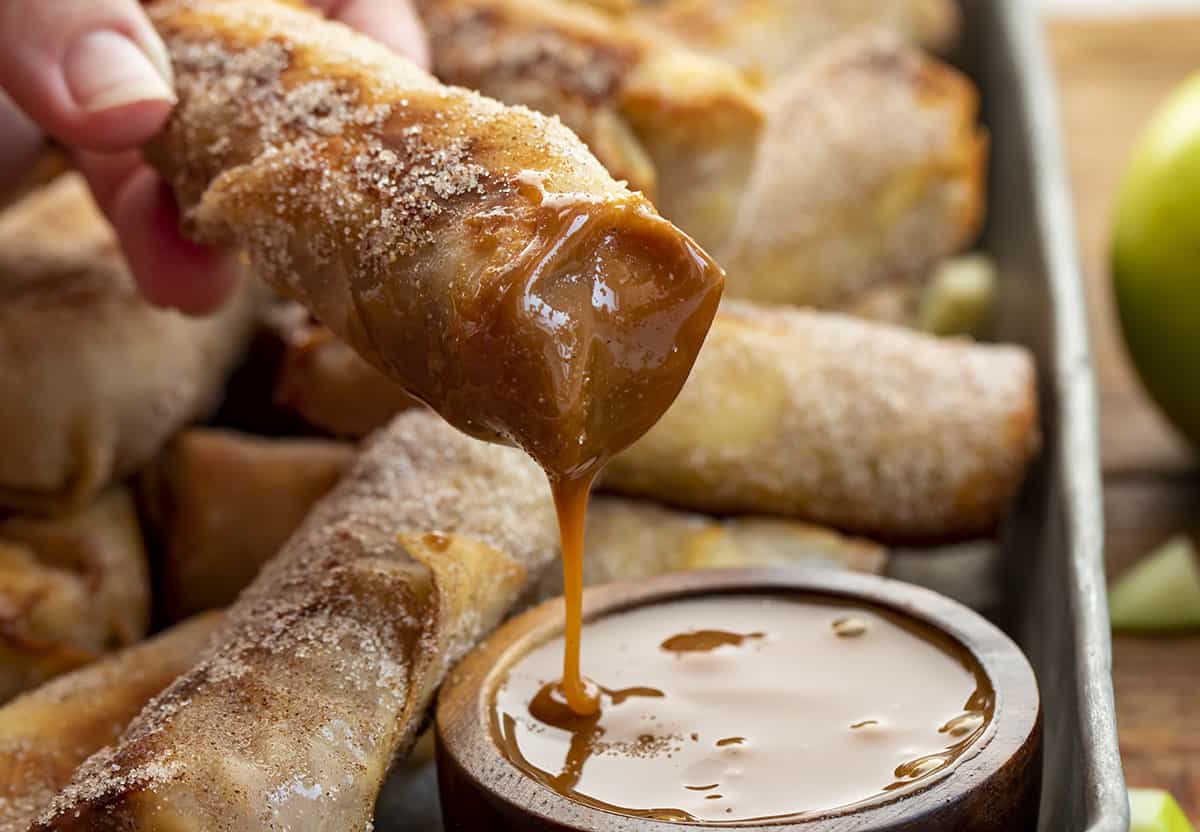 Air Fryer Egg Rolls
To make these dessert egg rolls in the air fryer, assemble them as instructed. Then, place them in the basket of your air fryer. (You will probably have to work in batches, depending on the size of your air fryer.) Air fry for 5-7 minutes at 400°F, flipping them over halfway through cooking. Don't forget to coat them in cinnamon and sugar and dip them in caramel!
Deep-Fried Apple Pie Egg Rolls
For extra crispiness, you can always make these in hot oil. Again, assemble the egg rolls as instructed. Then, in a pot, heat up 1-2 inches of oil until it reaches 375°F. Once the oil is hot enough, add the egg rolls, 2-3 at a time so you don't overcrowd the pot. Cook 2-4 minutes per side, or until golden brown. Carefully place the fried egg rolls on a paper towel-lined paper plate to cool.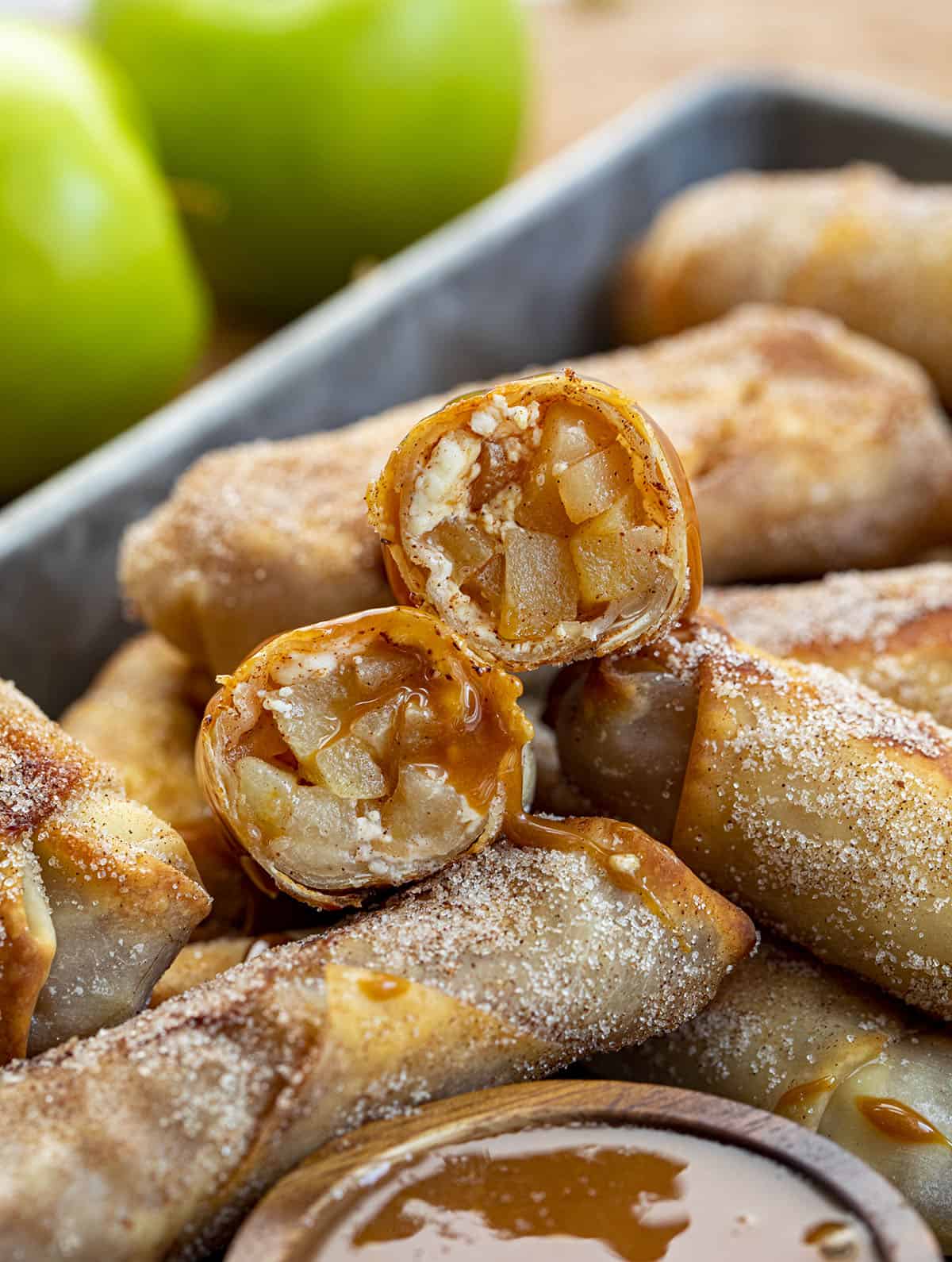 How to Store Dessert Egg Rolls
After you have made these apple pie egg rolls (no matter how you made them), you can store them in a sealed container in the refrigerator. They will last for about 3 days. When you are ready to enjoy them, they are delicious cold or warmed up.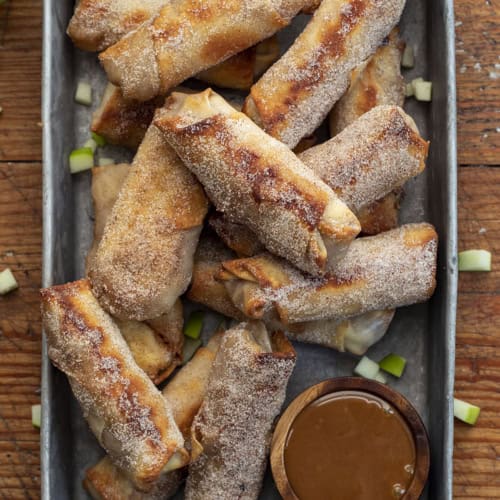 Apple Pie Egg Rolls
Apple Pie Egg Rolls are spiced apples rolled up in an egg roll wrapper with cream cheese, baked, and coated in cinnamon and sugar.
Ingredients
5

medium

Granny Smith apples,

peeled, cored, and finely diced (about 3½ cups)

¼

cup

(50 g) light brown sugar,

packed

1

teaspoon

ground cinnamon

½

teaspoon

cornstarch

22-24

egg roll

wrappers

8

ounces

cream cheese,

room temperature, about 2 teaspoons per egg roll

cooking oil or cooking spray
Topping
2

tablespoons

granulated sugar

1

teaspoon

ground cinnamon

½

cup

caramel topping,

warmed, for dipping
Instructions
Preheat the oven to 425°F. Line a baking sheet with parchment paper. Set aside.

In a medium bowl add apples, brown sugar, cinnamon, and cornstarch. Mix well and set aside. (You will have about 3½ cups of the apple mixture.)

On a clean work surface, set out the egg roll wrappers. Working one at a time, spread 2 teaspoons of cream cheese onto the center of each wrapper. Top with about 2 tablespoons of the apple mixture.
Rolling the Egg Rolls
Use water to wet the edges of the egg roll wrapper.

To roll, first, fold up the bottom corner to just over the apple and cream cheese mixture. Roll once to fold in the mixture.

Second, fold in the right and left corners of the wrapper to the center, lightly pressing to seal. (You may need to add more water to the edges and corners to help the wrapper stay folded.) It should now look like an open envelope.

Continue rolling until the filling is fully wrapped inside of the egg roll. Press to seal the edges.
Baking
Place the rolled egg rolls onto the lined baking sheet and brush (or spray) each with cooking oil.

Bake for 15-17 minutes, or until browned, flipping the egg rolls over halfway through baking. As the egg rolls are baking, mix the cinnamon and sugar topping.
Topping
In a shallow plate or dish, combine sugar and cinnamon. After the egg rolls are done baking, immediately roll them in the mixture until fully coated.

Serve the egg rolls with a side of caramel sauce for dipping (or drizzling).
Did you make this recipe?
Thank you for making my recipe! You took pictures, right? Well go ahead and post them on Instagram! Be sure to mention me @iambaker and use the hashtag #YouAreBaker.