Peanut Butter Baked Oatmeal transforms ordinary oatmeal into something special! I have also heard this called Amish breakfast casserole… which makes me love it more. If you love a good, hearty breakfast, don't miss my Breakfast Casserole or Homemade Cake Donuts!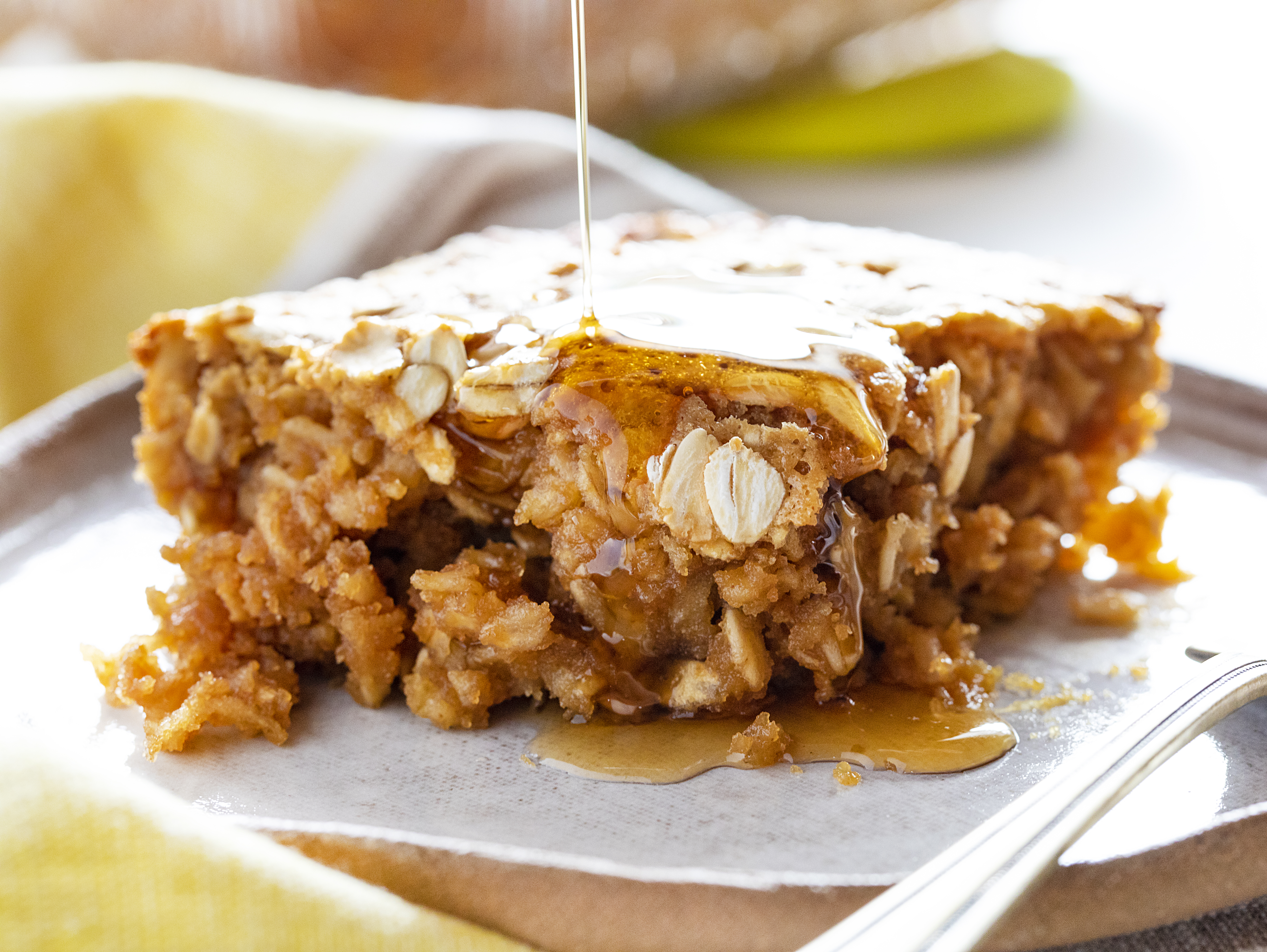 Peanut Butter Baked Oatmeal
On top of being fabulous comfort food, this is beyond easy to assemble. This recipe is a kicked up version because I add peanut butter to it. But most variations are the oatmeal, basic spices, and fresh or frozen fruit. We love all versions of baked oatmeal and love how satisfying it is!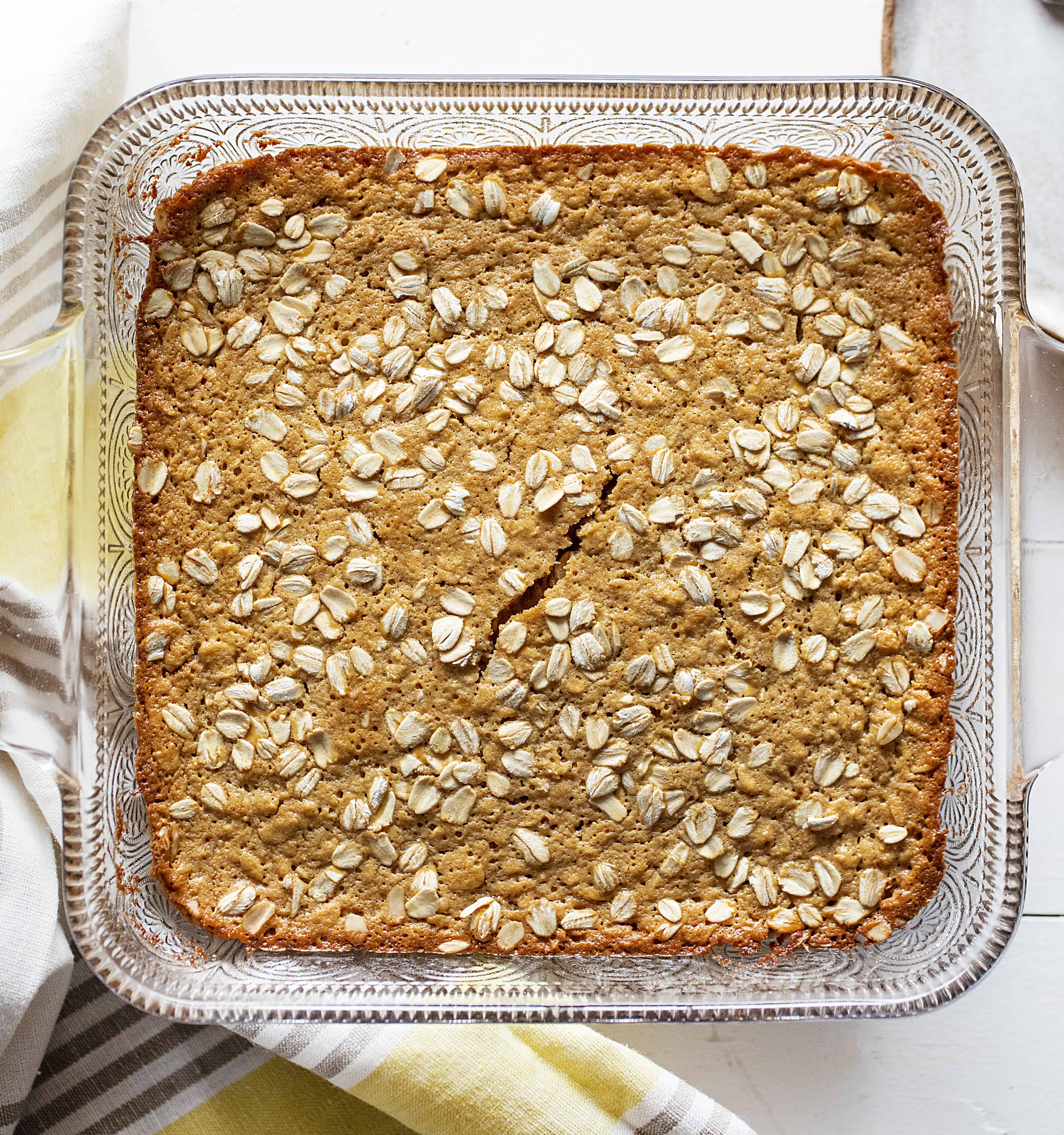 How to Make Peanut Butter Baked Oatmeal
The ingredients are simple and this is actually a one-bowl breakfast, which I couldn't love more.
Oats – Quick Cook or Old Fashioned both work here
Brown Sugar
Granulated Sugar
Milk
Butter
Peanut Butter
Vanilla
Egg
Baking Powder
Salt
Add all the ingredients to a bowl and mix to combine. It should be on the runnier side. Pour into a baking dish (I prefer to use glass for this recipe!) and bake for about 25 minutes, or until the edges turn golden brown. I like to sprinkle a few extra oats on top just for presentation. If you are doing that, be sure they are quick cook oats.
If you want, you can OMIT the peanut butter (no need to substitute with another ingredient) or substitute with almond butter if you have an allergy. If you are leaving out the peanut butter, feel free to add some dried cranberries or raisins. This would be more like a traditional Maple Brown Sugar Baked Oatmeal.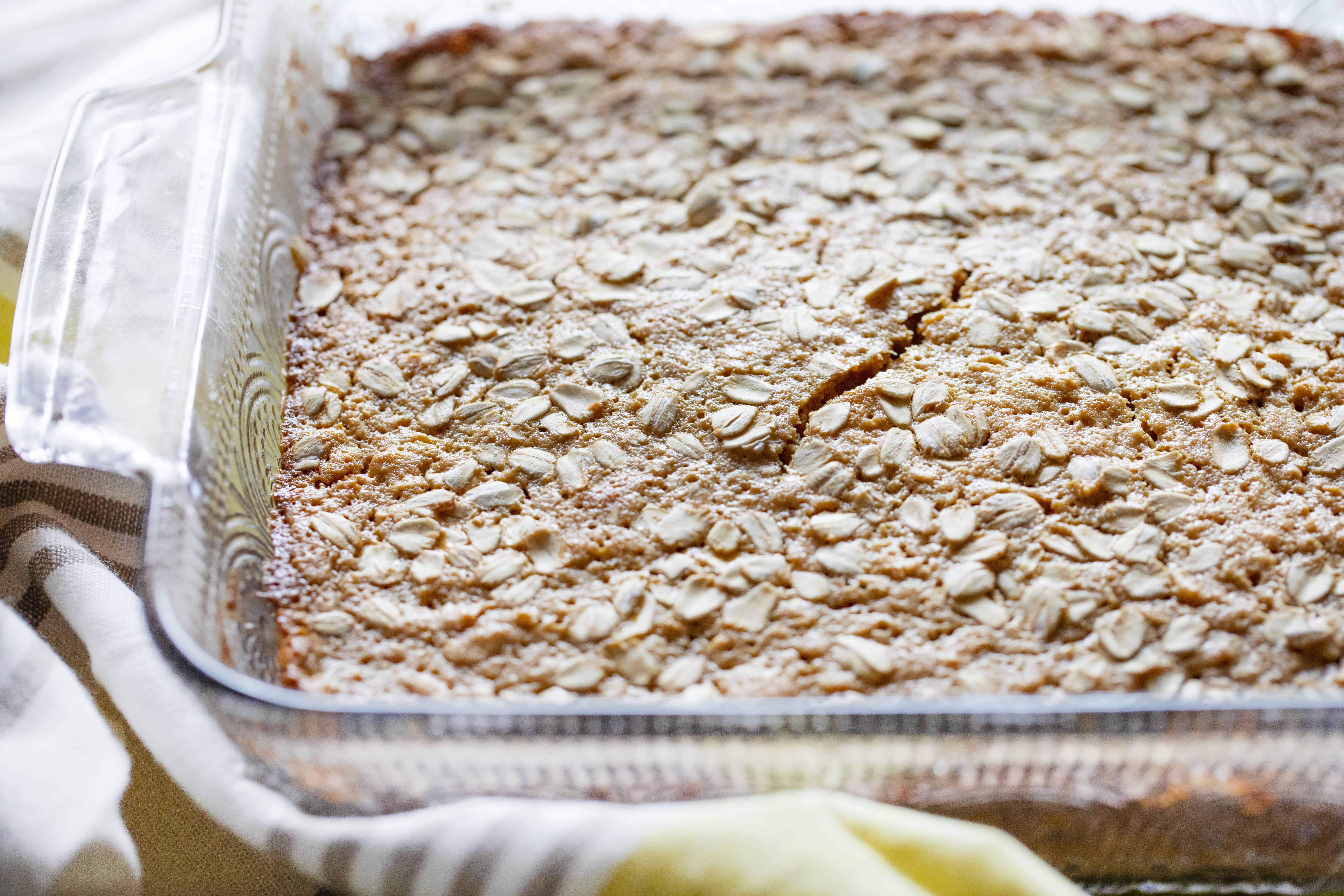 How to Perfectly Bake Oatmeal
I vividly remember the first time I made this 8 years ago and how it would crack on top. I freaked out a bit as I was told that cracking means it's overbaked. While that is true for cakes, it's not the case for baked oatmeal. You are looking at the edges to make sure they are not burnt. Even with that sweet little crack on top, the interior of this baked oatmeal is so moist and delicate and sweet. Perfectly done.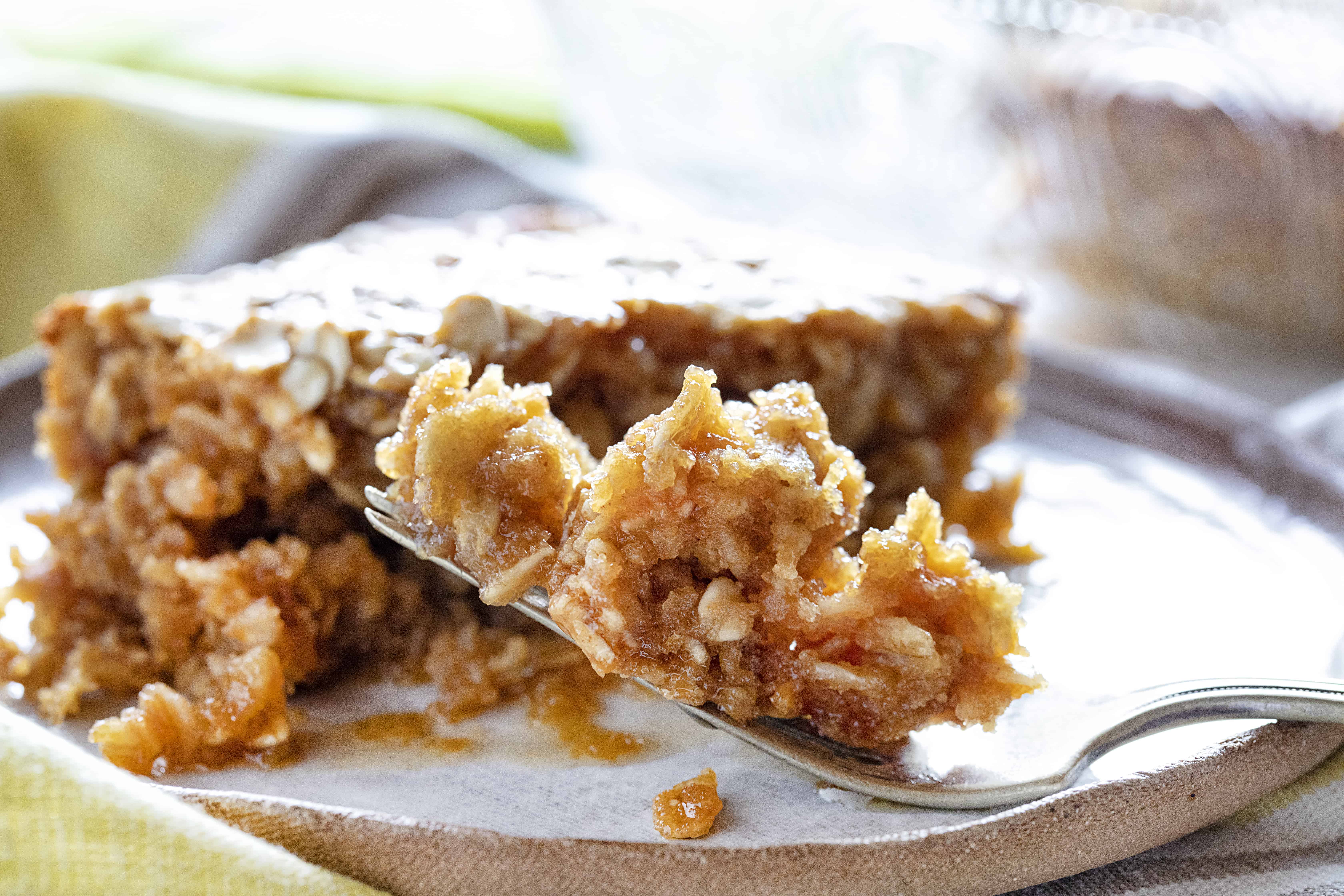 How to Serve Baked Oatmeal
As you can see by the first picture in the blog post, we like a little organic maple syrup drizzled on top. Other fun variations are:
fresh fruit such as banana or strawberry
adding homemade whipped topping with raisins (my boys favorite)
fresh vanilla yogurt
And, of course, we love it warm. Quite honestly, this dish has never made it to the "leftover" stage in our house, so I don't even know if it reheats well! My gut says that yes, it would. Just pop it in the microwave and enjoy. 🙂
Love Oatmeal? Try These Recipes: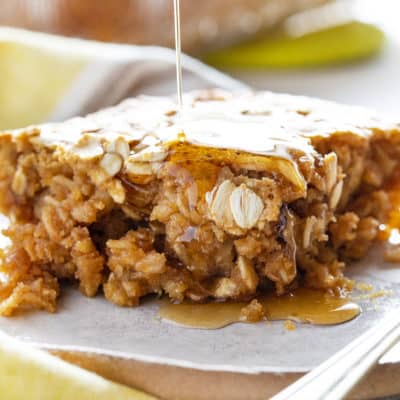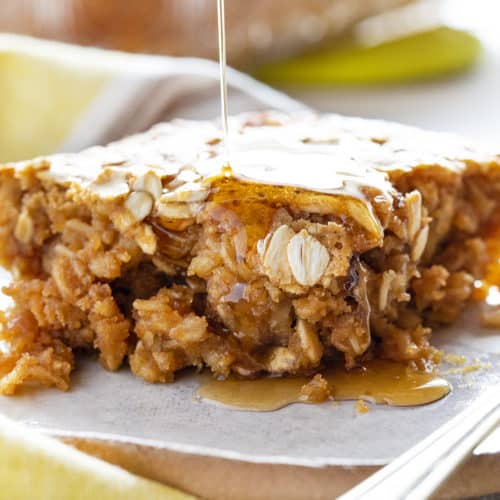 Baked Oatmeal
Baked Oatmeal transforms ordinary oatmeal into something special!
Ingredients
1-1/2

cups

quick cooking oats

1/4

cup

packed brown sugar

1/4

cup

granulated sugar

3/4

cup

milk

1/4

cup

melted butter

1/2

cup

peanut butter

1

tsp

vanilla

1

egg

1

tsp

baking powder

3/4

tsp

salt
Instructions
Preheat oven to 350°F. Put all the ingredients in a bowl and mix until combined. It will appear very wet.

Pour mixture into baking dish. I used an 8x8 glass baking dish because I wanted a soft and gooey texture. If you use a 9x13 pan they will be a little thinner and less gooey, but also more familiar and delicious.

Bake for 20-25 minutes or until the edges are golden brown. If it cracks on top don't worry, it's not overdone. An inserted toothpick should be removed with crumbs clinging to it.
Did you make this recipe?
Thank you for making my recipe! You took pictures, right? Well go ahead and post them on Instagram! Be sure to mention me @iambaker and use the hashtag #YouAreBaker.
Images updated. Originally published in 2011.