This Blueberry Cake is filled with a layer of juicy blueberries and has a cookie-like crumble topping on top! A moist and buttery coffee cake recipe that is easy to make from scratch and tastes even better on the next day.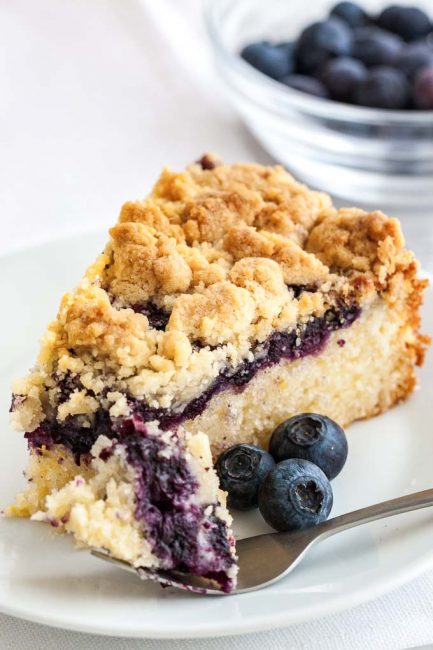 Homemade Blueberry Cake
This homemade blueberry cake recipe with a crumble topping is bursting with flavor and has a buttery and moist texture! It's made with simple ingredients and takes only a few minutes to whip up but the best thing is that it can be made ahead of time. Perfect for busy mornings! This is one of those cakes that taste even better on the next day.
My family is a big fan of sweet breakfasts – cake, pancakes, cinnamon rolls are all a favorite in our house but if I serve something with streusels on top they go extra crazy. An easy crumble topping is by far my favorite thing to put on a cake! It's so easy to make and transforms a simple cake into something special.
This blueberry coffee cake makes a great breakfast but also would be a perfect dessert for Easter. It's always a hit when I make it and gone in seconds. Your guests will be begging you for the recipe!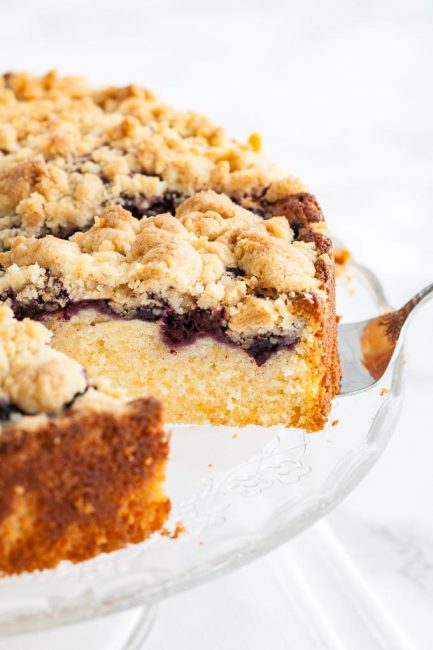 Tips and Tricks for making this Blueberry Coffee Cake
Don't skimp creaming the sugar and butter together until pale and almost doubled in mass! This step aerates the butter and will result in a finer crumb and lighter texture.
Use freshly squeezed lemon juice for the best flavor.
To make your own cake flour at home, take one level cup of all-purpose flour, remove two tablespoons, and then add two tablespoons of cornstarch back in. Sift the flour to distribute the cornstarch well before adding it.
The batter will be thick! It should not be runny.
You can use frozen or fresh blueberries for this recipe. I prefer frozen blueberries because I always have some in the freezer.
Don't skip prepping the springform pan! Spray it with non-stick spray and line it with a parchment paper round. If you don't have a springform pan you can also use a normal 9-inch cake pan combined with parchment paper rounds that have tabs to help lift the cake out. But a springform pan works best!
This cake tastes best on the next day. Store it covered at room temperature. It keeps fresh for 2-3 days.
Always test with a skewer if the cake is done! Every oven is different so baking times can vary. A wooden toothpick works best.
This cake tastes great with homemade whipped cream.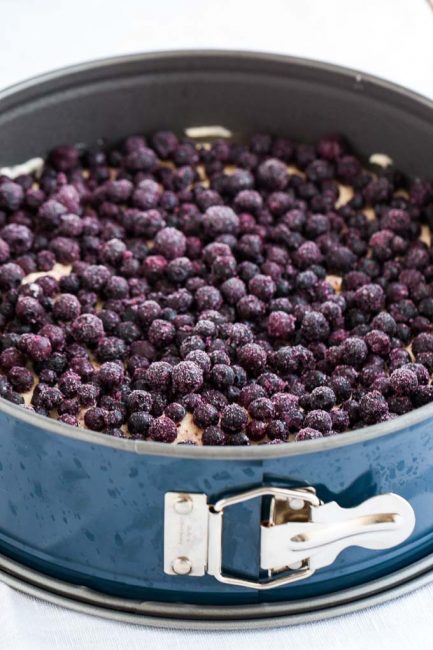 How do you make a crumble topping?
There are many different ways to make a crumble topping, some are made with nuts or oats and some use different sugar, butter, flour ratios. I prefer a German-style crumb topping that bakes up into cookie-like crumbs. It's made with less sugar than a traditional crumb topping that usually bakes up into a sandy-like topping that shakes off easily. To make German streusel combine all the ingredients in a stand mixer and mix until all the flour is incorporated, then use your hands to distribute the streusel evenly.
Can this blueberry coffee cake be made ahead of time?
Yes, you can make this cake ahead of time. It tastes delicious fresh out of the oven but even better on the next day in my opinion. Store it covered at room temperature (or in a cold place if it's a hot day). It will keep fresh for 2-3 days, probably even longer but it's always gone before I could test it.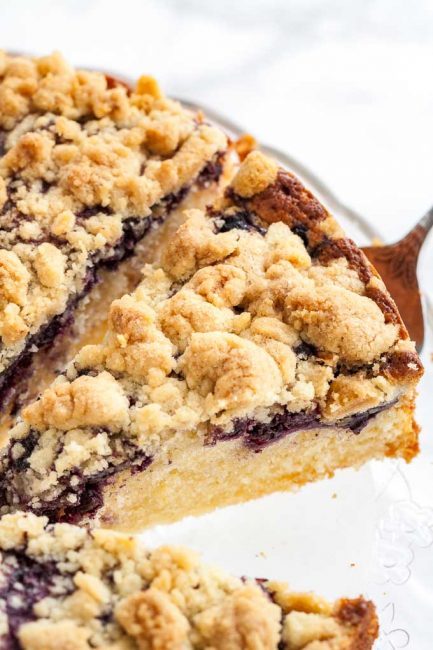 Can I use other berries to make this coffee cake?
Yes, you can also make this cake with other berries. I have also made this cake with raspberries and it was delicious, too. You can also omit the berries altogether and opt for a traditional coffee cake!
What if I don't have sour cream?
If you don't have sour cream on hand you can also use the same amount of whole-milk yogurt. Whole-milk Greek yogurt is closest in texture and flavor. Don't use non-fat yogurt because it will change the texture too much. If at all possible, stick to the sour cream coffee cake recipe.
Looking for more Blueberry recipes?
If you like this easy cake recipe you need to check out my other recipes at platedcravings.com where I share easy comfort food such as desserts, cakes, appetizers, dinners, German food and more. I'm happy to be a contributor on i am baker and add recipes to Amanda's already great collection. If you are a dessert lover just like me, I hope you try this German Apple Streusel Sheet Cake Recipe as well!