This Boozy Chocolate Cake is paired with a Sour Cream Chocolate Frosting and a Hard Sauce that I want to pour over everything!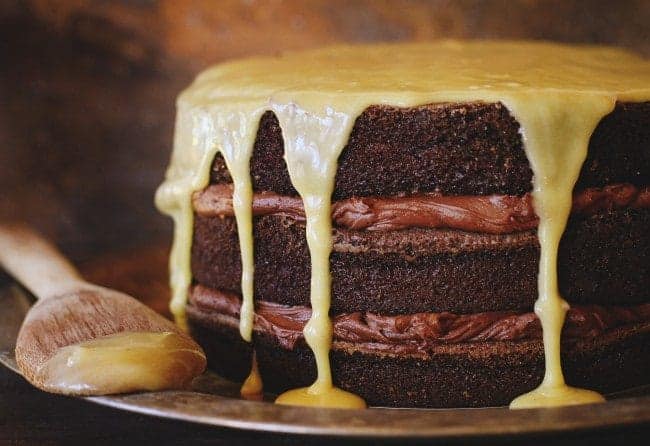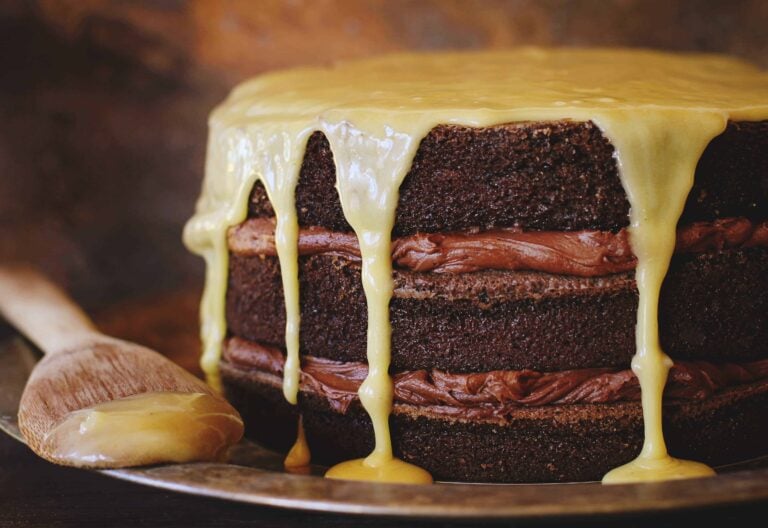 Bourbon Chocolate Tipsy Cake
What is a bourbon chocolate tipsy cake exactly? It is a bourbon-infused chocolate cake with chocolate frosting between the layers and a hard sauce. So, what is a hard sauce?
So actually, hard sauce is not actually sauce or hard. A traditional old-fashioned British recipe calls for creaming softened butter with sugar, creating more of a spreadable consistency, not a pourable one. This sauce is an "Americanized" version, and is in fact poured. Confused yet? 😂No matter how you make it, a hard sauce is often flavored with rum or brandy and I definitely wouldn't change that component! A few readers let me know that this sauce is traditionally used on spice cakes in the US, not a cream cheese frosting. I can't help but think this sauce would be amazing on anything!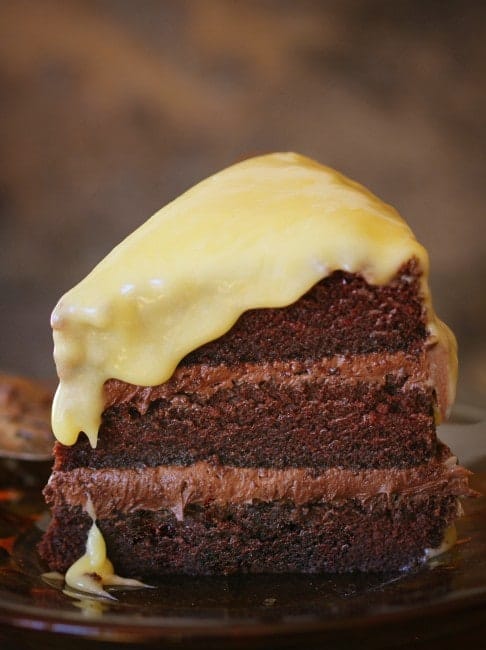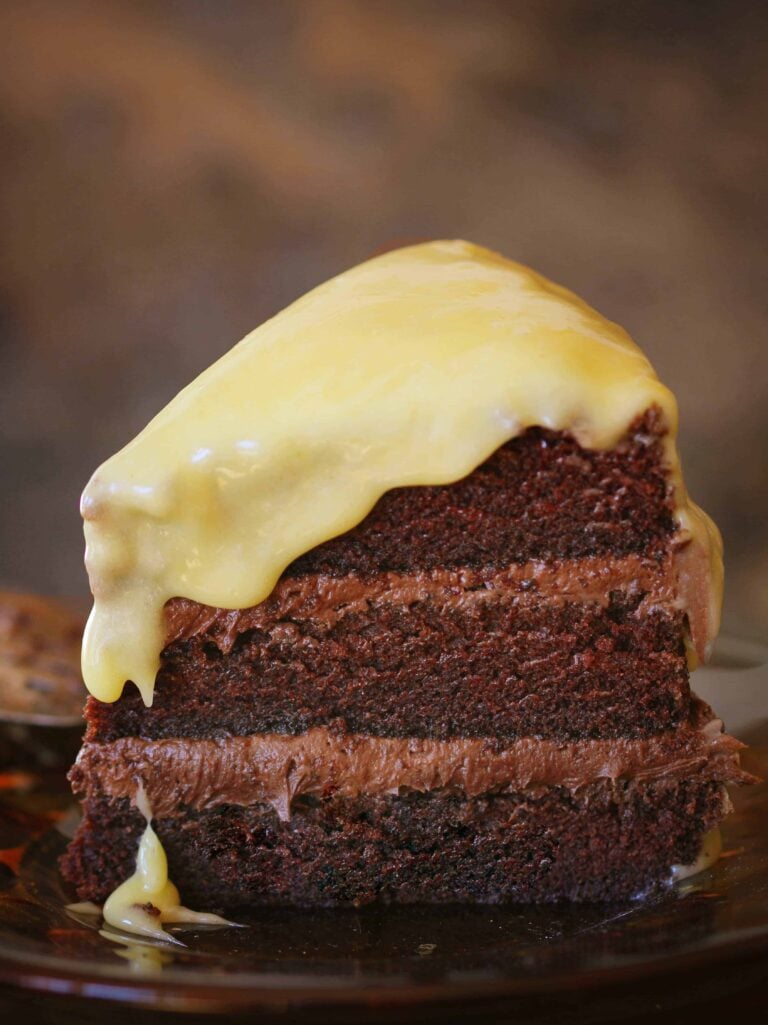 Boozy Chocolate Cake
This is a fantastic chocolate cake that just happens to be infused with bourbon. I tend to not buy high-end bourbon when using it in baking, as the subtle nuances that make up a smooth and clean bourbon tend to get lost in a cake. But you should definitely use something that you like to drink! 🙂
For this recipe specifically, I do not recommend leaving out the coffee. If you are very opposed to coffee, try using your favorite chocolate cake recipe instead.
Chocolate Sour Cream Frosting
I really can't say enough good things about this frosting. It is just sweet enough to be the perfect complement to this flavorful cake. It is simple ingredients: chocolate, butter, sour cream, and confectioners sugar. However, your butter and sour cream should be room temperature to ensure success.
I like to make this as a layer cake, 3 layers to be exact, and a "naked" cake. A naked cake is simply a cake that has exposed sides (edges) where you can see the frosting in between the layers. This style of cake decorating works beautifully with this recipe as you get to really enjoy the glorious hard sauce flowing over the sides.
This is a fantastic cake, and with a little time and love, I know you and your family will enjoy it!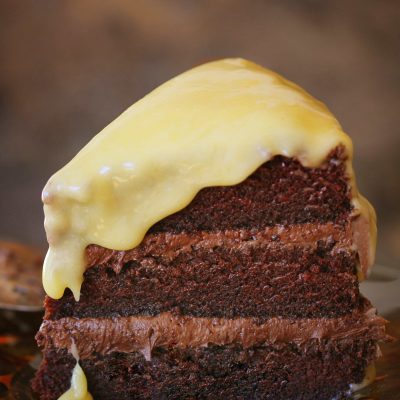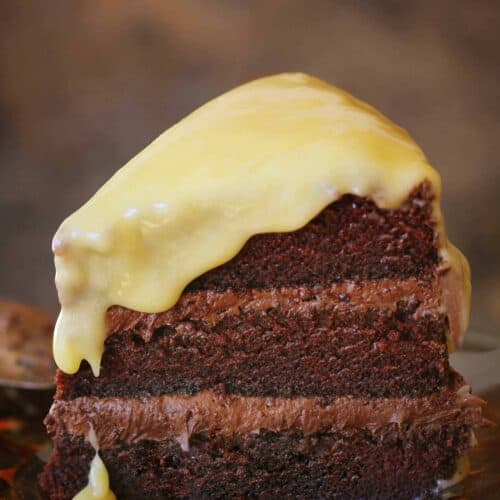 Bourbon Chocolate Tipsy Cake
This Boozy Chocolate Cake is paired with a Sour Cream Chocolate Frosting and a Hard Sauce that I want to pour over everything!
Ingredients
Bourbon Cake
1

tablespoon

unsweetened cocoa powder

2

cups

all-purpose flour

1

teaspoon

baking soda

½

teaspoon

salt

3

ounces

unsweetened chocolate

chopped

2

ounces

sweet baking chocolate

chopped

¼

cup

instant coffee crystals or instant espresso coffee powder

2

tablespoon

boiling water

½

cup

bourbon

1

cup

(226g) unsalted butter,

softened

2

cups

granulated sugar

3

eggs

1½

teaspoons

vanilla

2

tablespoons

bourbon

2

tablespoons

bourbon
Chocolate Sour Cream Frosting
1

cup

semisweet chocolate pieces

¼

cup

butter

½

cup

sour cream

2½

cups

confectioners sugar

sifted
Hard Sauce
4

egg yolks

1

cup

(226g) butter

½

cup

granulated sugar

¼

cup

whiskey or milk

Hot water
Instructions
Cake
Preheat oven to 325 degrees F.

Prepare 3 8-inch round cake pans.

In a medium bowl stir together the cocoa powder, flour, baking soda, and salt; set aside.

In a small microwave-safe bowl combine unsweetened chocolate and sweet chocolate. Microwave, uncovered, on 100-percent power (high) for 1 minute; stir. Microwave, uncovered, for 30 seconds more; stir until smooth. Cool slightly.

In a 2-cup glass measure combine coffee crystals and boiling water, stirring to dissolve coffee crystals.

Add enough cold water to coffee to measure 1-1/2 cups. Stir in the 1/2 cup bourbon.

In a large bowl beat butter with an electric mixer on medium to high speed for 30 seconds. Add sugar.

Beat until combined, scraping side of bowl occasionally.

Add eggs, one at a time, beating well after each addition.

Beat in melted chocolate and vanilla. Alternately add flour mixture and coffee mixture to chocolate mixture, beating on low speed after each addition just until combined.

Pour batter into prepared pan, spreading evenly.

Bake about 20-25 minutes or until a toothpick inserted near center of cake comes out clean. Cool in pan on a wire rack for 15 minutes.

Remove cake from pan; cool completely on rack.

Brush top and side of cake with the 2 tablespoons bourbon.
Frosting
In a saucepan melt semisweet chocolate pieces and butter over low heat, stirring frequently.

Cool about 5 minutes.

Stir in sour cream.

Gradually add powdered sugar, beating until smooth and easy to spread.
Hard Sauce
Place egg yolks in a medium bowl; beat with a fork until combined. Set aside.

In a small heavy saucepan, combine butter and sugar. Cook and stir over medium heat until butter is melted and mixture is bubbly.

Gradually whisk butter mixture into egg yolks.

Return egg yolk mixture to saucepan. Cook and stir over medium-low heat about 15 minutes or until mixture reaches a temperature of 170 degrees F.

Remove from heat. Stir in whiskey. If necessary, stir in hot water, 1 teaspoon at a time, to reach desired consistency.

If desired, cover and let stand at room temperature for up to 1 hour (if sauce becomes too thick, stir in hot water, 1 teaspoon at a time, to thin sauce).
Did you make this recipe?
Thank you for making my recipe! You took pictures, right? Well go ahead and post them on Instagram! Be sure to mention me @iambaker and use the hashtag #YouAreBaker.
This aint your mama's chocolate cake. This is the real deal boozy chocolate deliciousness.