Browned Butter Toffee Cookies are chewy cookies with crispy edges that are made with browned butter and loaded with Heath Milk Chocolate and English Toffee bits. Try my Coffee Toffee Bars for another dessert made with toffee bits.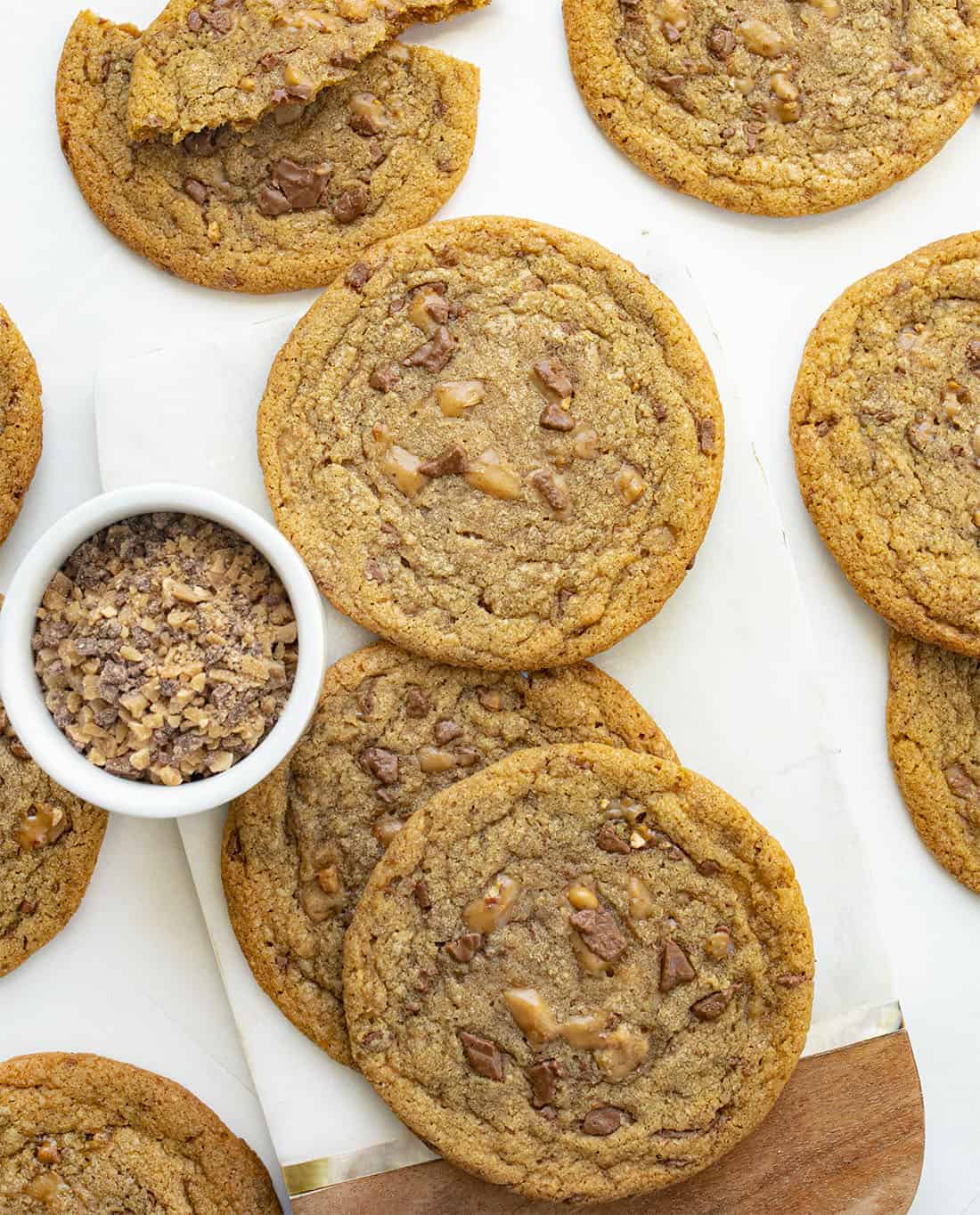 Browned Butter Toffee Cookies
It all starts with the browned butter in this cookie that is based on a Cook's Illustrated recipe. The flavor of the cookies, as well as the texture of each bite, comes down to the science behind the ingredients and the mixing (or lack thereof) of the ingredients.
These cookies are thin, but not crispy! And they are loaded with that glorious brown butter/toffee flavor that will have you craving more than one.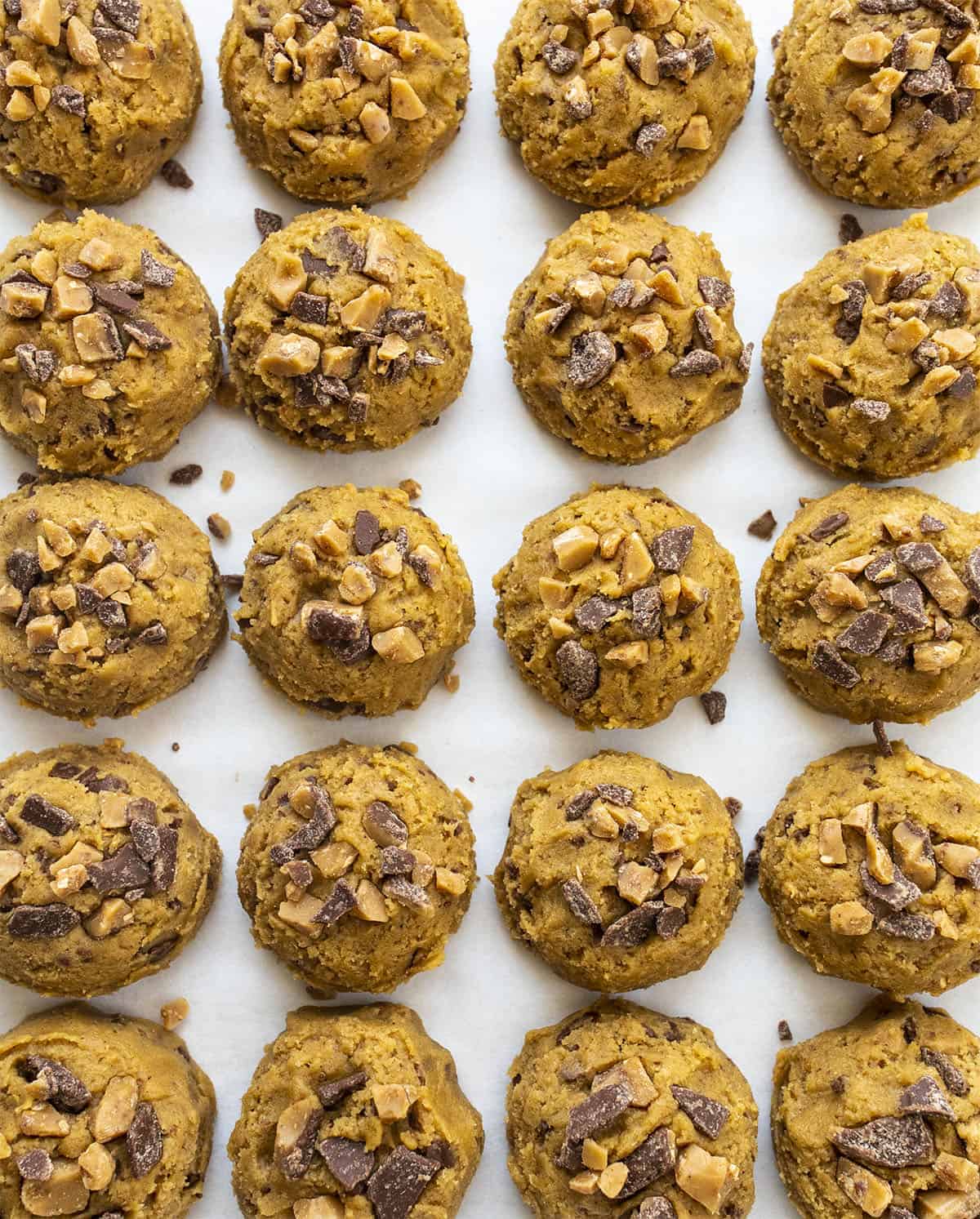 Ingredients
As mentioned, the science behind the cookies is what gives them the crispy edges and chewy center.
Browned Butter: Since you are browning the butter, there is no need to wait for it to get to room temperature. That means you can enjoy the cookies sooner than later!
Sugars: Both dark brown sugar and granulated sugar are used in this recipe, with a little more brown sugar used compared to granulated. Dark brown sugar gives the cookies more flavor and chewiness, while granulated sugar gives them crispiness. Dark brown sugar gives an even deeper flavor, but you could get away with light brown sugar if that is all you have on hand.
Eggs: I used a whole egg and just the yolk of a second egg to get the chewiest cookies.
Chocolate English Toffee Bits: Adding the toffee bits to the cookie gives an even greater toffee flavor!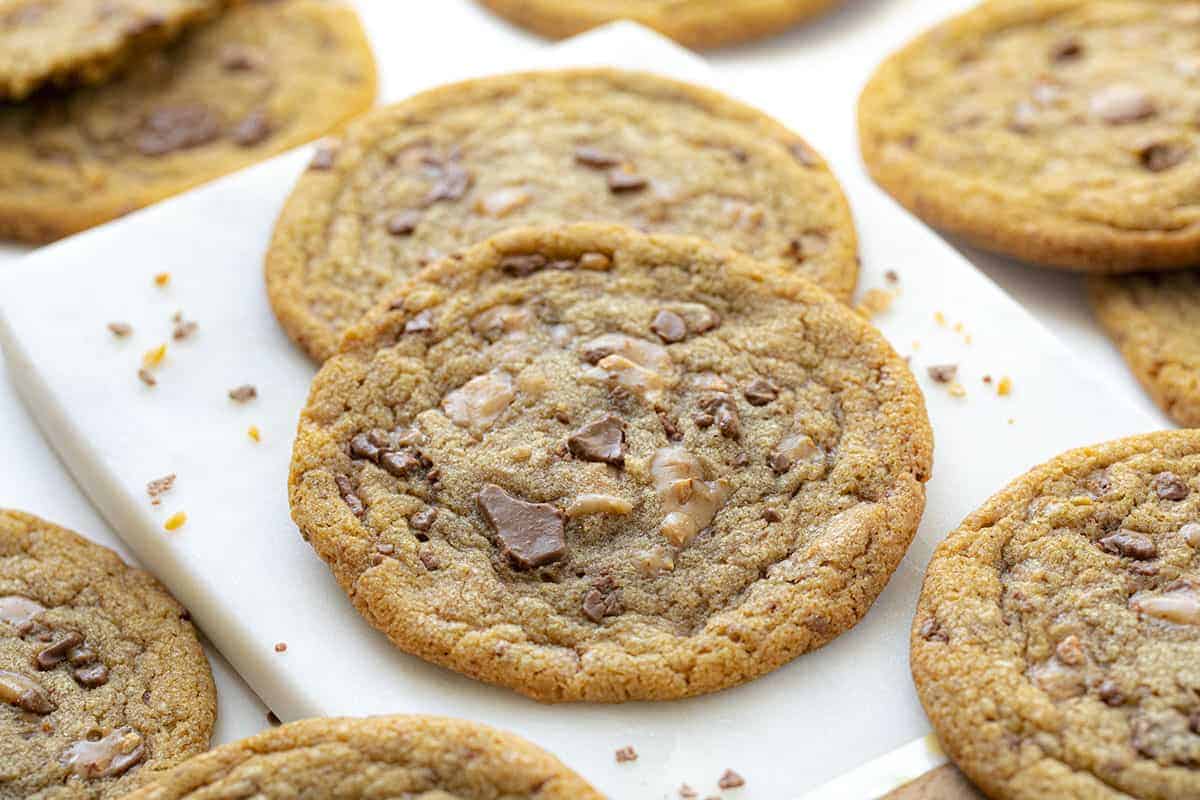 Browned Butter
There is a reason these cookies are called Browned Butter Toffee Cookies. Browning the butter is such a key component of the final outcome of the cookies. Melting butter helps give cookies a chewier texture, but browning the butter gives the cookies even more flavor!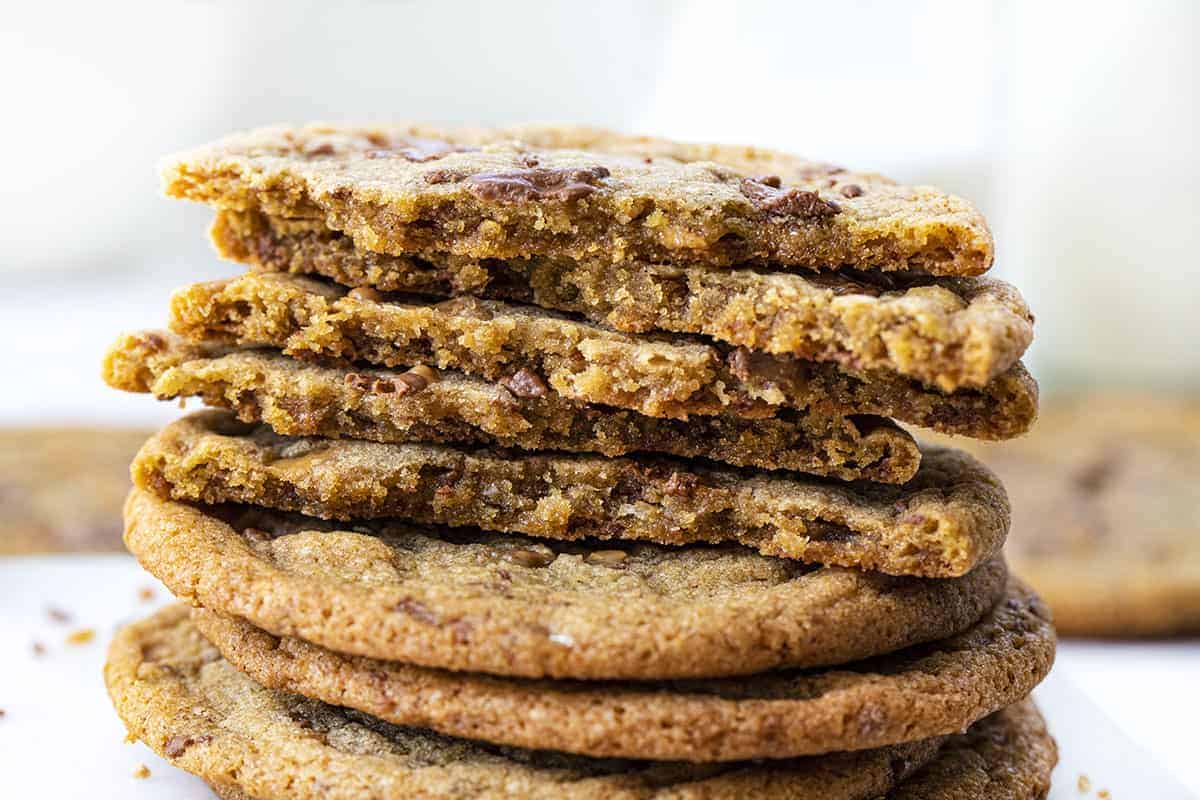 Can I Freeze Browned Butter Toffee Cookies?
Yes! You can freeze the baked cookies OR the cookie dough. To freeze the cookies after they have been baked, let them cool completely. Place the cooled cookies on a parchment paper-lined baking sheet and place them in the freezer for 1-2 hours. Remove from the freezer and store in a freezer-safe container for 3-4 weeks.
To freeze the dough, place the balls of dough onto a baking sheet lined with parchment paper. (Like in the image above) Place the baking sheet in the freezer for 1-2 hours, or until the dough balls are completely frozen. Once frozen, transfer the dough to freezer-safe zipper bags. When ready to bake, simply bake as many of the cookies as you need from frozen. You may need to increase the baking time by 1-2 minutes.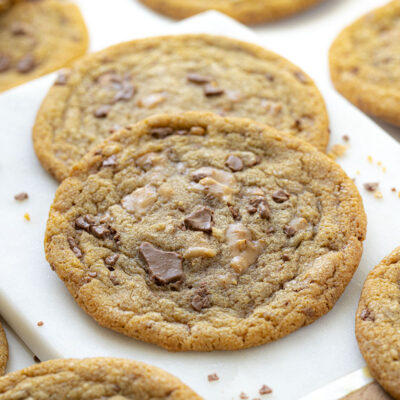 Browned Butter Toffee Cookies
Browned Butter Toffee Cookies are chewy cookies with crispy edges that are made with browned butter and loaded with Heath Milk Chocolate and English Toffee bits.
Ingredients
14

tablespoons

(1¾ sticks / 198 g) unsalted butter,

divided

¾

cup

(150 g) dark brown sugar,

packed

½

cup

(100 g) granulated sugar

1

teaspoon

kosher salt

2

teaspoons

vanilla extract

1

large

egg,

room temperature

1

large

egg yolk,

room temperature

1¾

cups

(219 g) all-purpose flour

½

teaspoon

baking soda

1

bag

(8 ounces) Heath Milk Chocolate English Toffee bits,

approximately 1½ cups
Instructions
Preheat the oven to 375°F. Prepare two baking sheets by lining each with parchment paper. Set aside.

In a stainless steel skillet (or another light-bottomed pan) over medium-high heat, melt 10 tablespoons of butter, swirling the pan occasionally. The butter will begin to foam, which signals the water in the butter is boiling off – watch closely at this stage. Tiny brown specs of milk solids will begin to appear at the bottom of the pan – constantly stir and scrape these off using a spatula so they don't stick. As soon as the butter turns chestnut brown and smells nutty, remove the pan from the heat.

Pour the browned butter into a large, heat-safe bowl, making sure to get all the browned bits. Then, add the remaining 4 tablespoons of butter to the bowl, stirring until the butter is completely melted.

To the browned butter, add dark brown sugar, granulated sugar, salt, and vanilla. Whisk until the ingredients are fully incorporated.

Next, whisk in the egg and egg yolk for 30 seconds, or until there are no lumps. Then, set a timer for 3 minutes before whisking another 30 seconds. Start the 3-minute timer again, whisking for 30 seconds after that. Repeat the 30-seconds on (mixing), 3 minutes off, a total of FOUR times. The dough will be a beautiful dark golden toffee color. (On one of the three minutes 'off', you could mix together the flour and baking soda.)

In a medium bowl, add flour and baking soda. Whisk to combine and add this to the browned butter mixture, mixing until just combined.

Finally, fold in the chocolate and toffee bits, reserving a few for the tops of the cookies, if desired.

Using a 3 tablespoon scoop, portion cookies and place on the parchment-lined baking sheets. Leave about 2 inches between each cookie. Top with a few reserved chocolate and toffee chips, if adding.

Bake each sheet of cookies separately for 10-14 minutes, depending on the size of your cookies. Remove from the oven and let cool completely before serving.
Did you make this recipe?
Thank you for making my recipe! You took pictures, right? Well go ahead and post them on Instagram! Be sure to mention me @iambaker and use the hashtag #YouAreBaker.