Butterflake Rolls start with a dough that is cut into layers and baked in a muffin tin for a fluffy, flaky, pull-apart dinner roll. Try my Easy Dinner Rolls recipe for another delicious homemade roll. Do you want a sweet, breakfast version of these rolls? I made them into Cinnamon Butterflake Rolls! (there are more detailed images in that post should you want to see)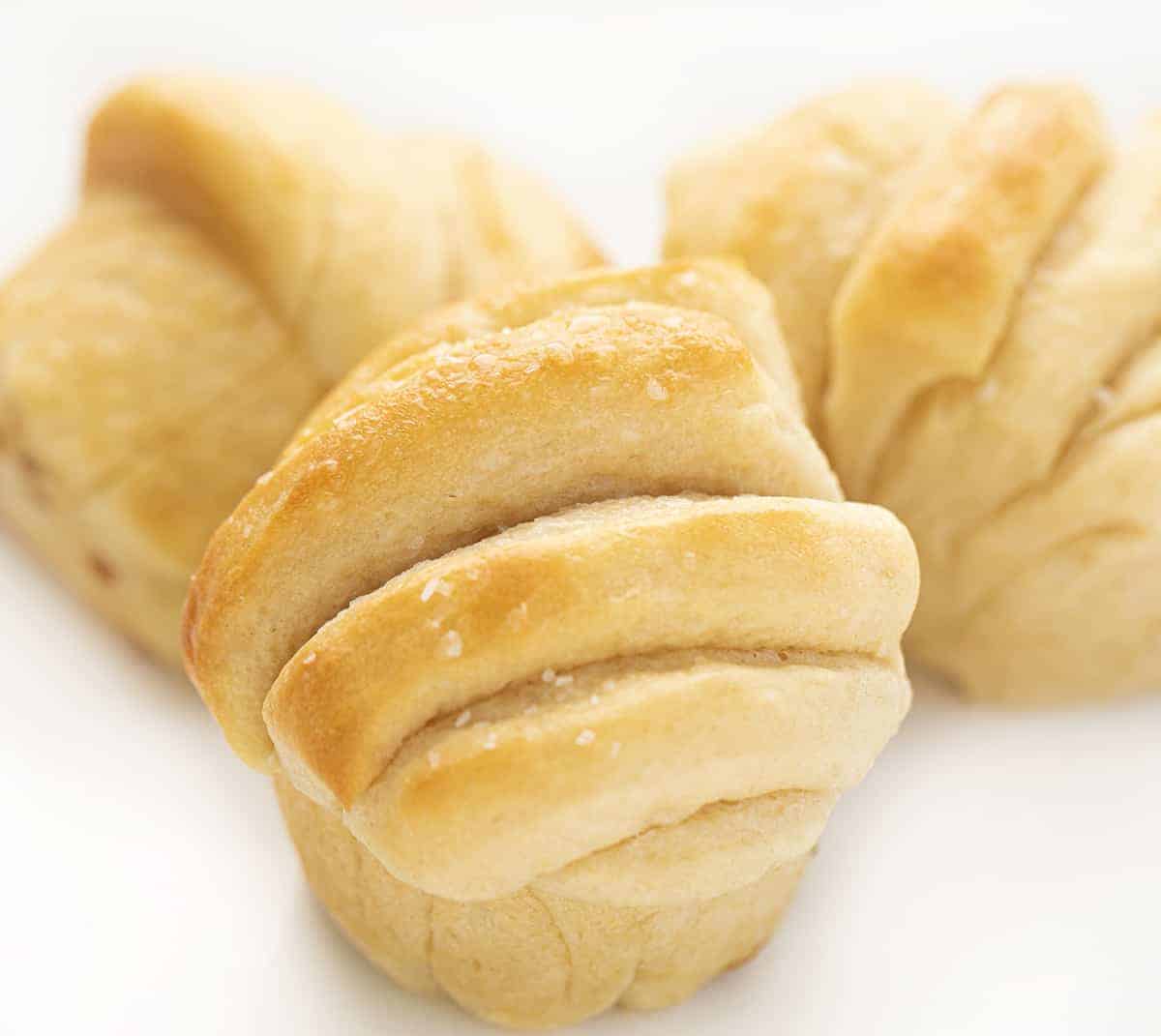 Butterflake Rolls
You can never have too many dinner roll recipes. A basket of rolls is a wonderful and tasty addition to any meal! And these rolls are not only soft and buttery but fun, too! You can pull them apart, layer by layer, to enjoy the roll even longer! I added melted butter and a little bit of salt on top of the baked rolls for even more flavor. And, feel free to add even more butter to each layer!
Rolls Ingredients
There are two parts to the recipe–the dough and the topping.
Flour: All-purpose flour is what we used in this recipe. We have not tested the rolls with other kinds of flour, so I can't speak to their effectiveness.
Yeast: Use instant yeast, which is also called quick rise or fast-rising yeast.
Milk: I tested this recipe using whole milk. You could use 2% milk if that is what you have on hand.
Butter: I used salted butter to brush on the dough. Then, I added unsalted butter on top of the baked rolls.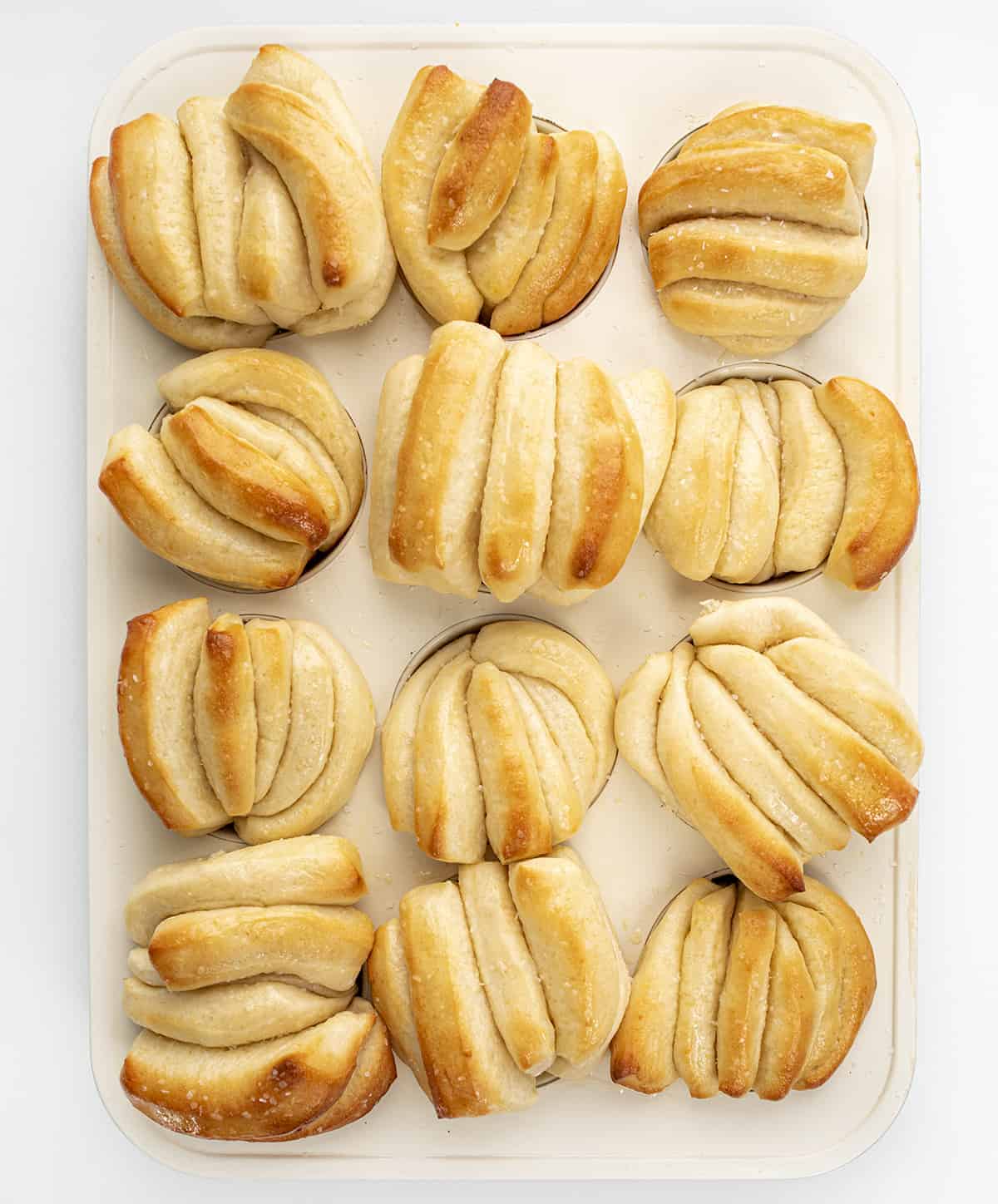 Can I Use Store-Bought Rolls?
Yes! To save some time, you could grab some Rhodes rolls and make 4 to 5 cuts on the tops of the rolls. Then, add some of the melted butter and salt to each slit that you just created. Place the rolls into the muffin tin and bake! These will still be impressive dinner rolls to serve and share!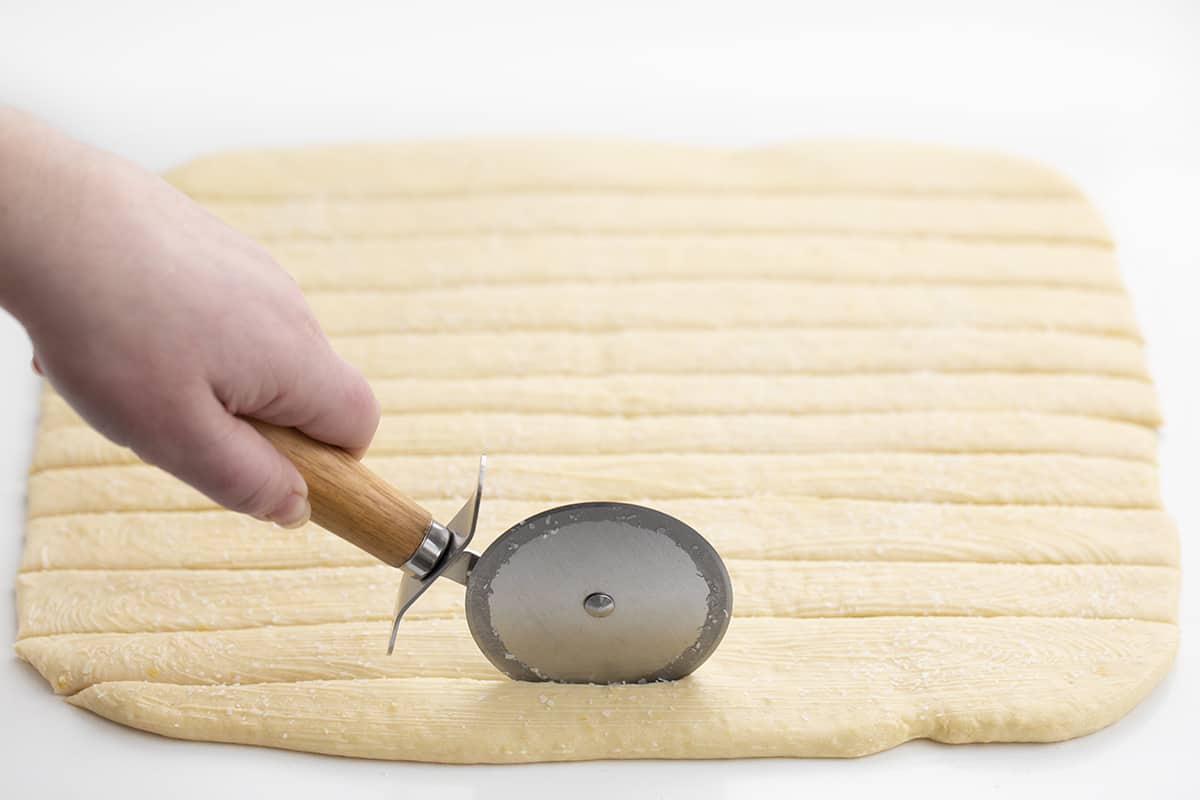 How to Freeze
Bake the rolls according to the recipe below. Let them cool completely in the pan, then wrap them tightly in aluminum foil. (Do not use plastic wrap here; it could trap in condensation and make the rolls soggy.) Place the rolls in a freezer bag or storage container and freeze for 2-3 weeks. Be sure to label and date the packaging.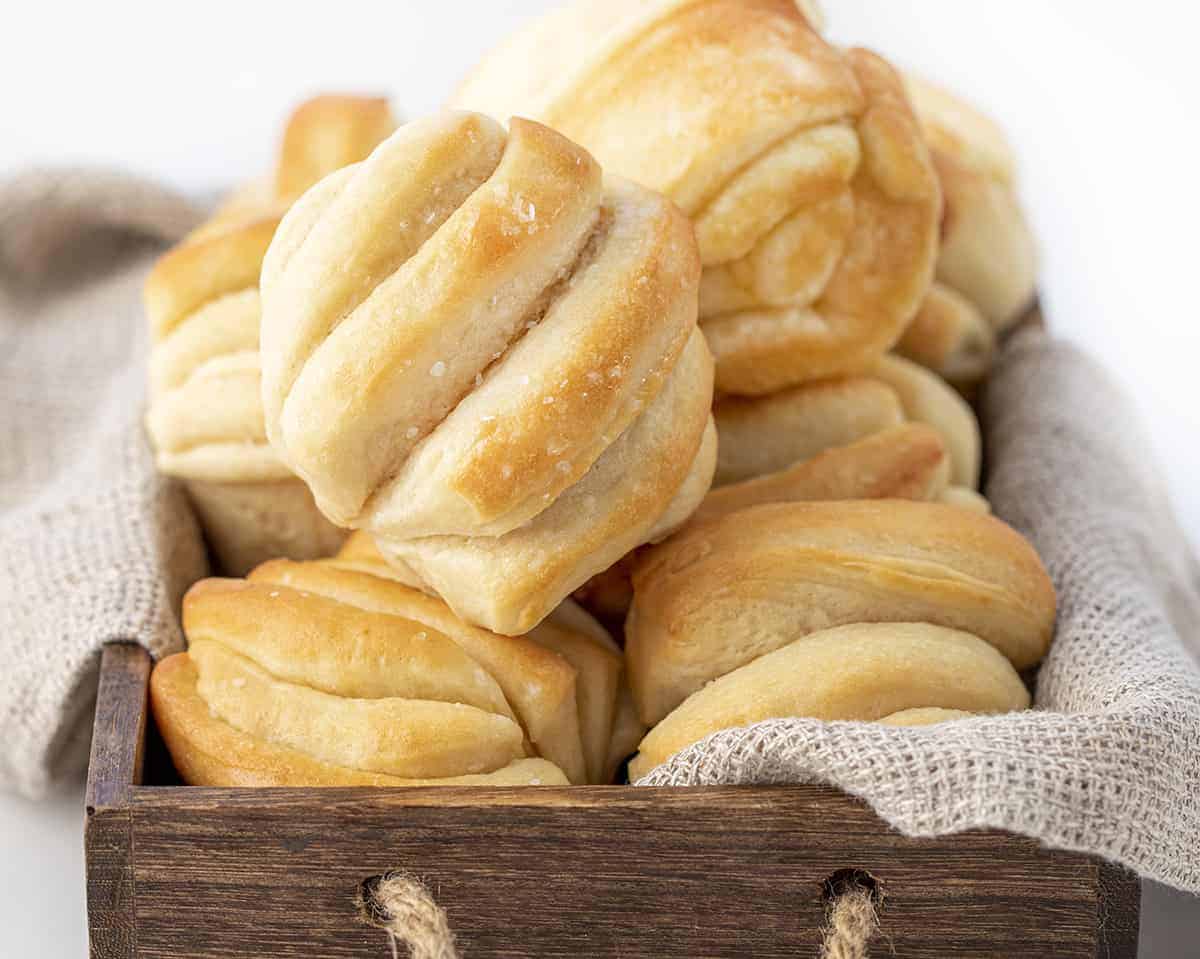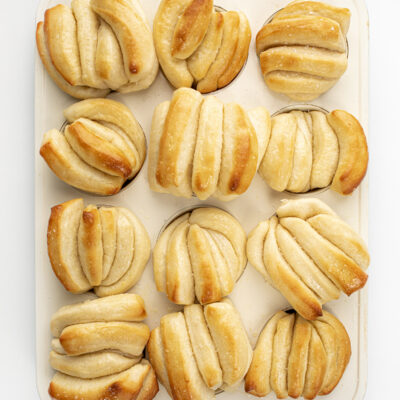 Butterflake Rolls
Butterflake Rolls start with a dough that is cut into layers and baked in a muffin tin for a fluffy, flaky, pull-apart dinner roll.
Ingredients
Dough
4

cups

(512 g) all-purpose flour,

or more if needed, divided

2

envelopes

(about 4½ teaspoons) instant yeast

¼

cup

(50 g) granulated sugar

1

large

egg,

room temperature

1

teaspoon

kosher salt

1½

cups

(367 g) whole milk,

warmed, about 110-120°F

2

tablespoons

salted butter,

melted
Topping
2

tablespoons

unsalted butter,

melted

¼

teaspoon

kosher salt,

optional
Instructions
Dough
Combine 3 cups flour, undissolved yeast, sugar, egg, and salt in a large bowl or in the bowl of your stand mixer fitted with dough hook.

Add warm milk to the flour mixture. Knead 2 minutes at medium speed, scraping bowl occasionally if needed. Add ½ cup flour; knead for 2 more minutes.

Add remaining ½ cup flour. The dough should be pulling away from the sides of the bowl and very soft. (If the dough seems too wet you may need more flour. If needed, add additional flour in ¼ cup increments until the dough has pulled away from the sides of the bowl while kneading.)

Spray a bowl with nonstick cooking spray. Place the dough into the bowl and cover with a clean towel. Let it rest 30 minutes, or until doubled in size.
Assembly
Spray a muffin tin with nonstick cooking spray and set it aside.

Roll dough into a square that is about ½-inch thick. Brush the dough with melted butter and salt.

Using a pizza cutter, cut the dough into 12 strips of equal size, approximately 1½ inches wide.

Group and stack the strips into 2 separate sections (6 strips each stack). Cut each stack into 6 pieces for a total of 12 stacks of dough. Each stack will be a roll.

Place each stack into the prepared muffin tin on their sides, cut-side up.

Cover with greased plastic wrap and let rest 30-40 minutes, or until the dough doubles in size. (Each roll should be about 1 inch higher than the muffin tin.)

Preheat oven to 375°F.

Bake for 12-17 minutes, or until golden brown.

Brush the tops of the rolls with melted butter while warm.

Sprinkle kosher salt on top if desired.
Did you make this recipe?
Thank you for making my recipe! You took pictures, right? Well go ahead and post them on Instagram! Be sure to mention me @iambaker and use the hashtag #YouAreBaker.