Hands down, Thanksgiving meal is my favorite of the year.
Every single part of it is fabulous… the appetizers, the side dishes, the main meal.
But you know me, I cant say no to a delicious dessert!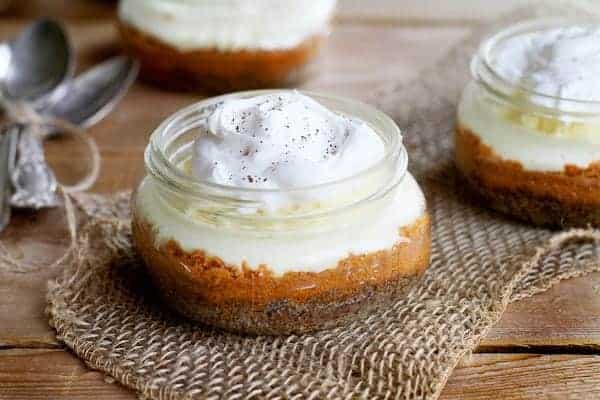 These were inspired by these bars from Krusteaz and my love of cheesecake.  You could certainly just use the box mix bars as well as a box mix of no-bake cheesecake.
The reason I am so in love with these Cheesecake and Pumpkin Gingersnap Bars in a Jar is not only for the delectable flavor… but for their convenience.   I like grabbing a bar and plopping down in front of the TV later on Thanksgiving night.  I like that I can stick them into any nook and cranny in the fridge because its overflowing with turkey and mashed potato leftovers.  I love that its the perfect serving size.  (for me!)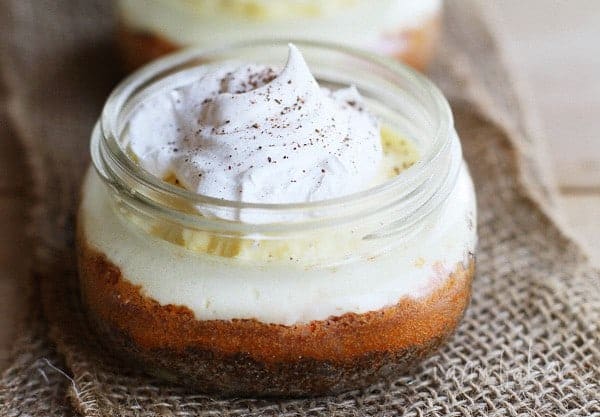 I am teaming up with the Food Network to bring you the most complete and delicious and diverse Thanksgiving Menu you will ever find… all compiled by the country's best bloggers!  If you would like to participate simply use the hashtag #PullUpAChair
Cocktails, Appetizers, Salads and Breads:
Haute Apple Pie: Apple Jack
Cooking With Books: Spiced Couscous and Walnut Salad
Mooshu Jenne: Honey Bacon Potato Pops
Food For My Family: Roasted Beet and Lacinato Kale Salad With Lemon Vinaigrette
Big Girls, Small Kitchen: Super Seeded Cornbread
Main:
FN Dish: Black Pepper-Pomegranate Molasses Glazed Turkey
Sides:
Feed Me Phoebe: Cornbread and Wild Rice Stuffing With Hazelnuts and Cranberries
Napa Farmhouse 1885: Chorizo, Cornbread and Tortilla Dressing
Sweet Life: Apple Chorizo Cornbread Stuffing
And Love It, Too: Paleo Green Bean Casserole
Jeanette's Healthy Living: Sweet Spiced Winter Squash Casserole
Red or Green?: Corn, Peppers and Onion Saute
Simple Bites: Honey Pomegranate Glazed Brussels Sprouts
Virtually Homemade: Fresh Orange and Cranberry Sauce With Toasted Walnuts
What's Gaby Cooking: Sweet Potato Gratin
The Heritage Cook: Cauliflower Gratin
Creative Culinary: Creamy Mushroom Bake With Parmesan and Panko
Bacon and Souffle: Spicy Carnival Squash
Desserts:
Add a Pinch: Caramel Pie
Chez Us: Pumpkin Cheesecake With Chocolate Swirls