Pumpkin Snickerdoodles are soft and fluffy cookies made with both pumpkin puree and pumpkin pie spice for a delightful cookie for Fall. For another pumpkin-flavored cookie, try my Pumpkin Spice Chocolate Chip Cookies.
Pumpkin Snickerdoodles
This recipe starts with my homemade snickerdoodle recipe with added pumpkin puree and pumpkin pie spice for a soft, pumpkin-flavored cookie. These should definitely be added to your Thanksgiving menu, as well as all your Fall-inspired recipes.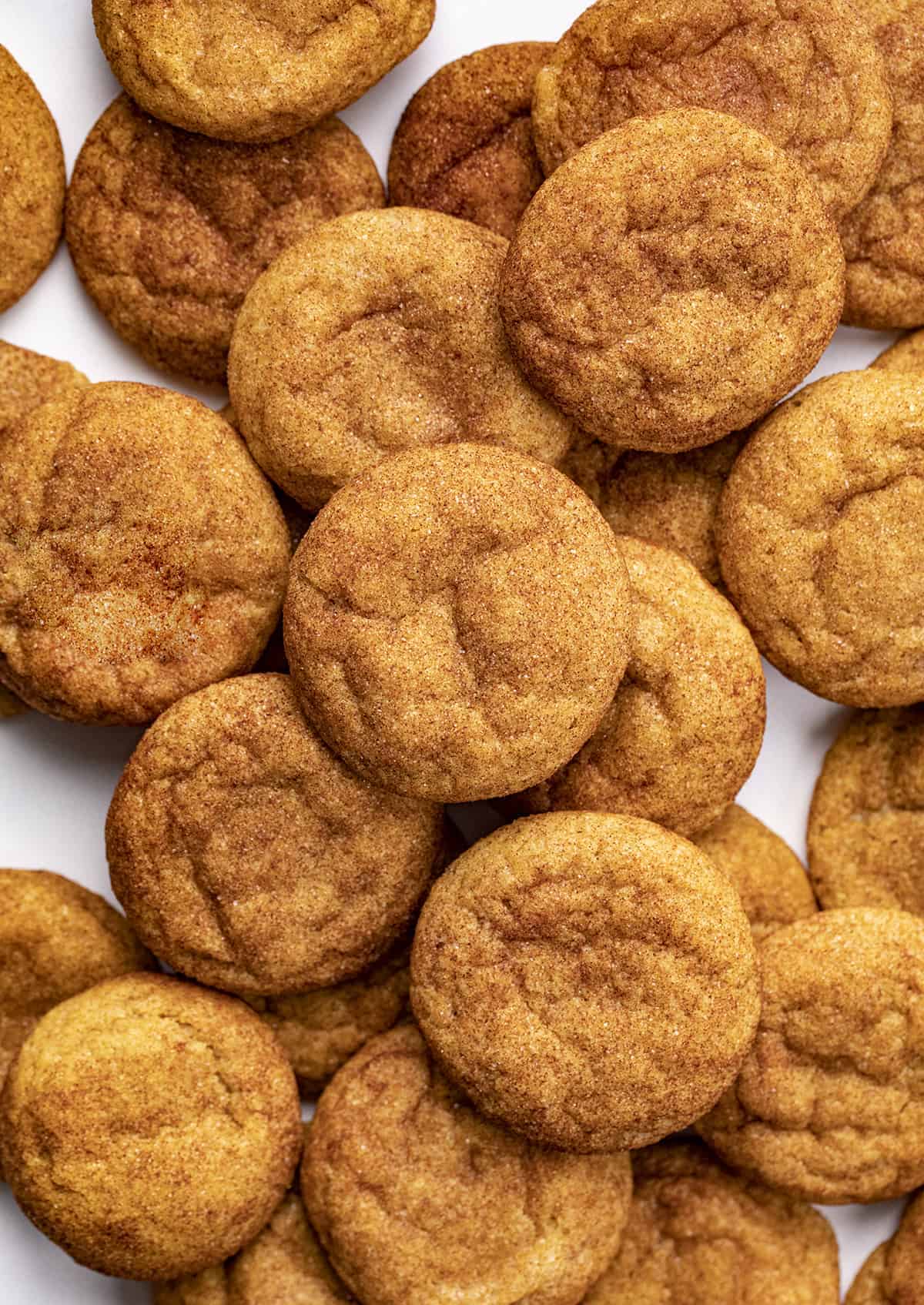 Pumpkin Snickerdoodles Ingredients
There are two parts to this recipe–the cookies and the cinnamon-sugar coating.
Pure Pumpkin: Be sure to look for pure pumpkin (pumpkin puree), not pumpkin pie filling. Pure pumpkin is cooked pumpkin that is blended or mashed into a smooth texture. There should be no seasoning, spice, flavoring, or sugar added. You will also need to squeeze out excess liquid from the puree; I will explain how to do that below.
Pumpkin Pie Spice: Be sure to have pumpkin spice around your house for everything pumpkin. And, if you don't have any on hand, it is super easy to make your own homemade pumpkin pie spice!
Cream of Tartar: Cream of tartar is not a cream at all, but a powdery acid. It can be found in the baking aisle, near the spices, in your local grocery store. It is important in this recipe because it reacts with baking soda as a leavening agent. This reaction causes the cookies to puff up a little bit and be nice and soft. It also adds a bit of tanginess to the cookies.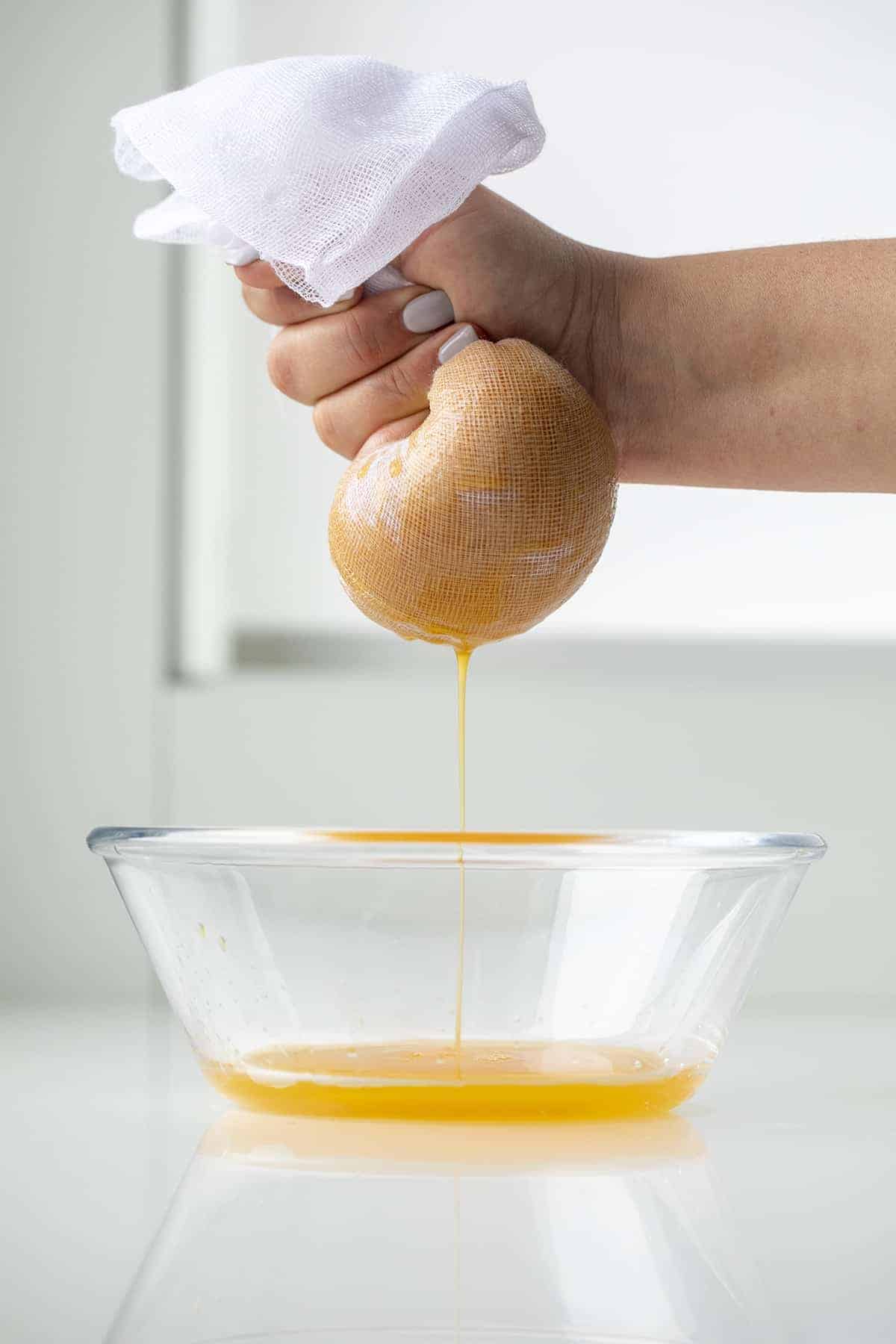 How to Drain Excess Liquid from Pumpkin Puree
Before making the pumpkin snickerdoodles in this recipe, drain the excess liquid from 3/4 cup of pumpkin puree. You will end up with about 1/3 cup to add to the cookie dough. To drain the excess liquid, follow these steps:
Create 4 layers of cheesecloths. Place them over a bowl.
Dump the pumpkin puree into the center of the cheesecloths.
Fold the cloths up and around the puree and gently squeeze to get out as much liquid as you can (into the bowl).
Discard the excess liquid. You will have about 1/3 of pumpkin puree remaining to use in the cookie dough. The reason to remove excess liquid from the pumpkin puree is to get a more concentrated pumpkin flavor in the cookies.
Snickerdoodle Dough
Once the pumpkin puree has been drained, it's easy to get the cookies made. Start by creaming together the butter and sugar. You can use a stand mixer or a hand-held mixer. Next, add in the egg, drained pumpkin puree, and vanilla, mixing until the ingredients are fully incorporated. Then, with the mixer on low add the flour, cream of tartar, baking soda, salt, and pumpkin pie spice and mix until just incorporated.
Once the cookie dough is made, I highly recommend scooping out all the dough balls first. I simply lined a baking sheet with parchment paper and then started scooping. Once all of the dough balls are made, it is much easier to start dropping them into the cinnamon-sugar mixture, rolling smooth, and dropping them onto the parchment-lined baking sheets.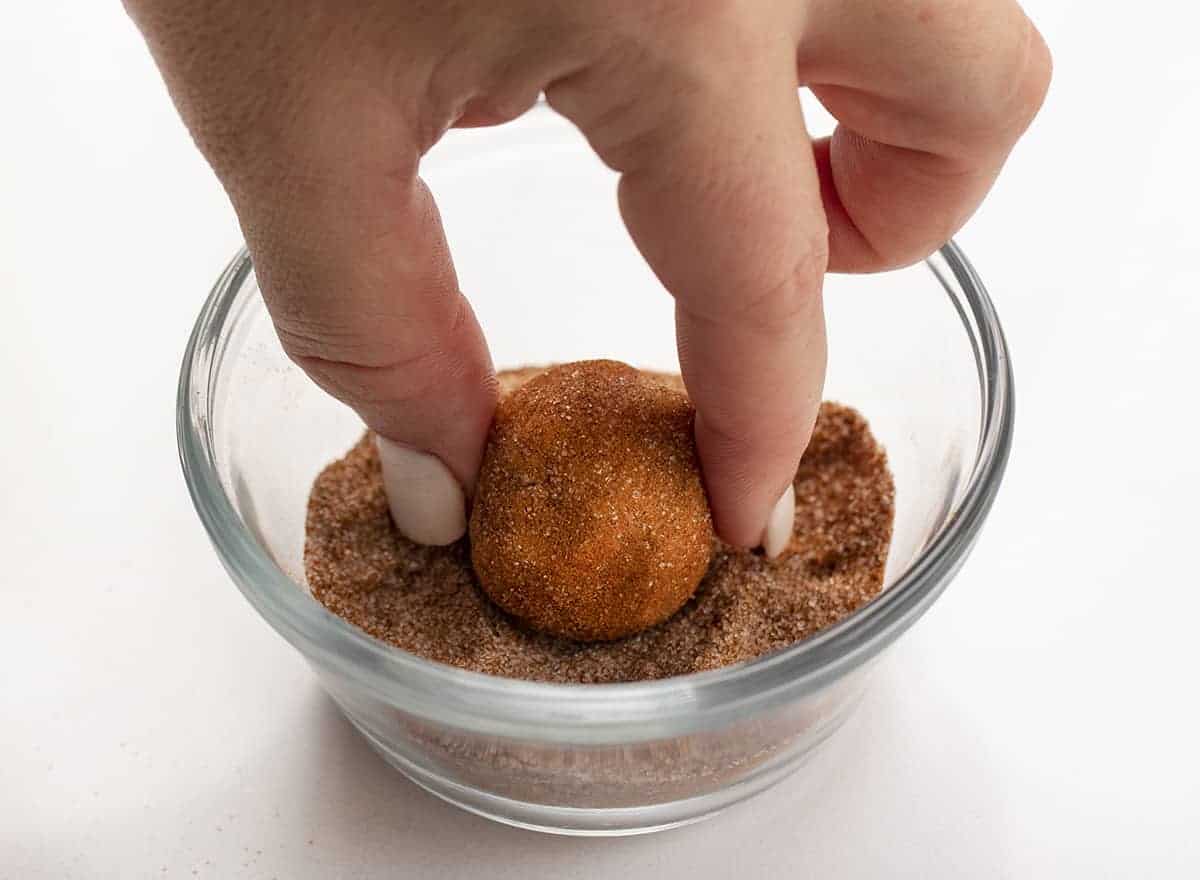 Cinnamon-Sugar Mixture
The recipe calls for 3 tablespoons of sugar and 3 teaspoons of cinnamon to roll the cookie dough balls in. This ended up being the perfect amount for 50 cookies. To make the mixture, simply use a fork or small whisk to combine the two ingredients.
How to Make Pumpkin Snickerdoodles
With the dough balls ready and the cinnamon and sugar mixed together, it's time to get the cookies ready to be baked! Begin dropping the cookie scoops of pumpkin snickerdoodles into the bowl of cinnamon and sugar. Roll the cookies around until they're coated in cinnamon and sugar and place each coated dough ball onto a lined baking sheet about 2 inches apart.
Bake the cookies for 6-8 minutes. When done, remove the cookies from the baking sheets and transfer them to a cooling rack to cool before enjoying.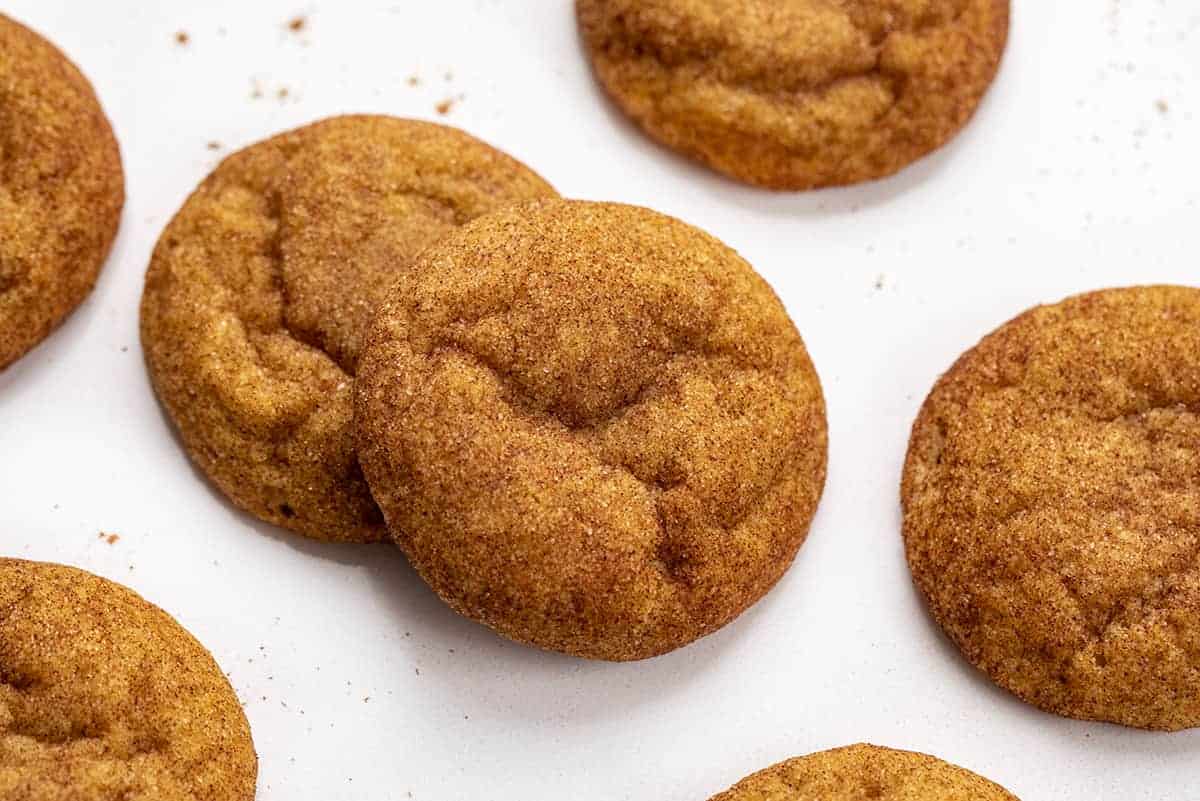 How to Make Pumpkin Puree
For pretty much any recipe you're making that calls for pumpkin, you'll want to make sure you have grabbed the canned pure pumpkin (pumpkin purée) rather than the pumpkin pie filling. Pumpkin pie filling just won't work for this recipe or probably any other recipe out there looking for just pumpkin purée.
You can, however, make your own pumpkin purée with sugar pumpkins. You just have to cut the pumpkins in half, clean the seeds, or as I call it, "the guts" out of it, and roast it cut side down in the oven until it's soft. Afterward, scoop out the pumpkin and puree it in a food processor.
Homemade pumpkin puree can be a little runnier than the canned, so I can't say for certain how the pumpkin snickerdoodles will turn out using it. My guess would be that it will be even stickier in dough form and flatter after they're baked.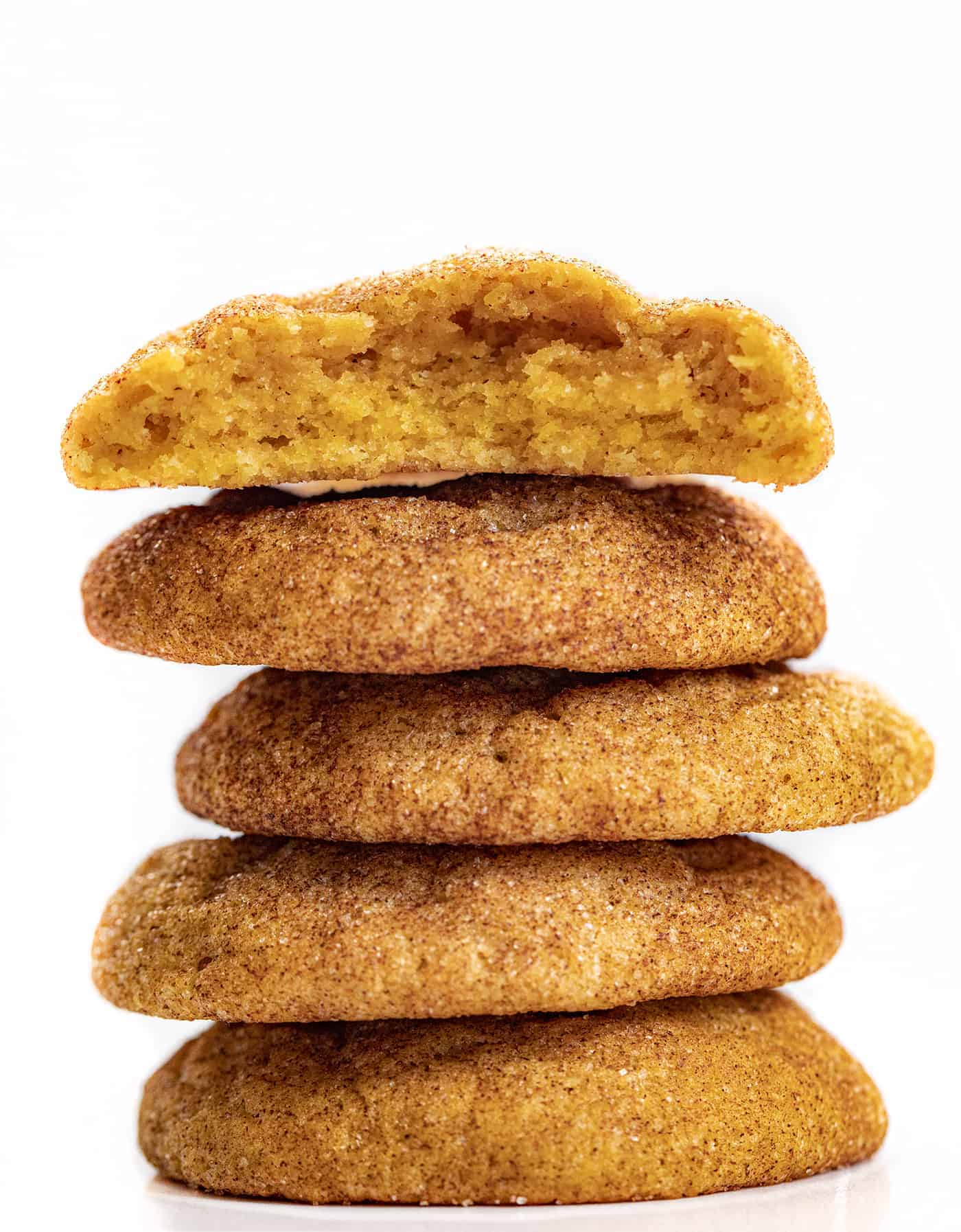 Can I Freeze Snickerdoodles?
Yes! You can freeze the baked cookies or the cookie dough. You can freeze the baked cookies for up to 3 months. Make sure the cookies have cooled completely before storing them in a freezer-safe container. And, remember to label and date the container.
You can also freeze the dough before you bake the cookies. To do this, scoop the cookie dough on a cookie sheet lined with parchment paper. Place into the freezer until they're frozen and then pop them into a freezer bag for up to 3 months. I would recommend baking them frozen otherwise you may have a sticky mess of cookie dough if you thaw them first. For more tips, check out my Guide to Freezing, Baking, and Storing Cookies.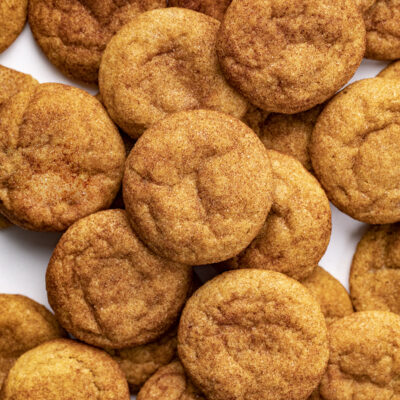 Pumpkin Snickerdoodles
Pumpkin Snickerdoodles are soft and fluffy cookies made with both pumpkin puree and pumpkin pie spice for a delightful cookie for Fall.
Ingredients
Cookies
1

cup

(2 sticks / 227 g) unsalted butter,

room temperature

1 ½

cups

(300 g) granulated sugar

1

large

egg,

room temperature

¾

cup

(180 g) canned pure pumpkin,

excess liquid squeezed out (leaving approximately ⅓ cup puree)

1

tablespoon

vanilla extract

2 ¾

cups

(352 g) all-purpose flour

1

teaspoon

cream of tartar

1

teaspoon

baking soda

¼

teaspoon

kosher salt

2

teaspoons

pumpkin pie spice
Cinnamon Sugar
3

tablespoons

granulated sugar

3

teaspoons

ground cinnamon
Instructions
Snickerdoodle Cookie Dough
Preheat oven to 375°F. Line three cookie sheets with parchment paper or Silpat.

In the bowl of a stand mixer (or using a hand-held mixer on the highest setting) cream together butter and sugar (about 2-3 minutes).

Add in the egg, drained pumpkin puree, and vanilla. Mix until fully incorporated.

With the mixer on low, add the flour, cream of tartar, soda, salt, and pumpkin pie spice.

Using a 1-tablespoon scoop, scoop out rounded balls and place them close together on one of the cookie sheets.
Cinnamon Sugar
Mix the 3 tablespoons sugar and the cinnamon in a wide bowl. I like to use a fork but a small whisk also works.
Assembly
Roll balls of dough in the mixture. Place each ball of dough about 2 inches apart on the parchment-lined baking sheets.

Bake 6 to 8 minutes. Carefully remove immediately from baking sheets and place on a cooling rack.
Did you make this recipe?
Thank you for making my recipe! You took pictures, right? Well go ahead and post them on Instagram! Be sure to mention me @iambaker and use the hashtag #YouAreBaker.