Cherry Brownie Bread is a dessert loaf of bread that merges the irresistible taste of a rich, chocolatey brownie with added cherries, baked, and topped with a cherry glaze. The cherries add a pop of bright flavor and a contrasting texture to the dense, chewy brownie bread. Whether you enjoy it as a sweet snack or as an after-dinner dessert, cherry brownie bread is sure to satisfy your cravings for something sweet and indulgent! For another mouth-watering pairing of chocolate and cherries, try my Chocolate Cherry Brownies!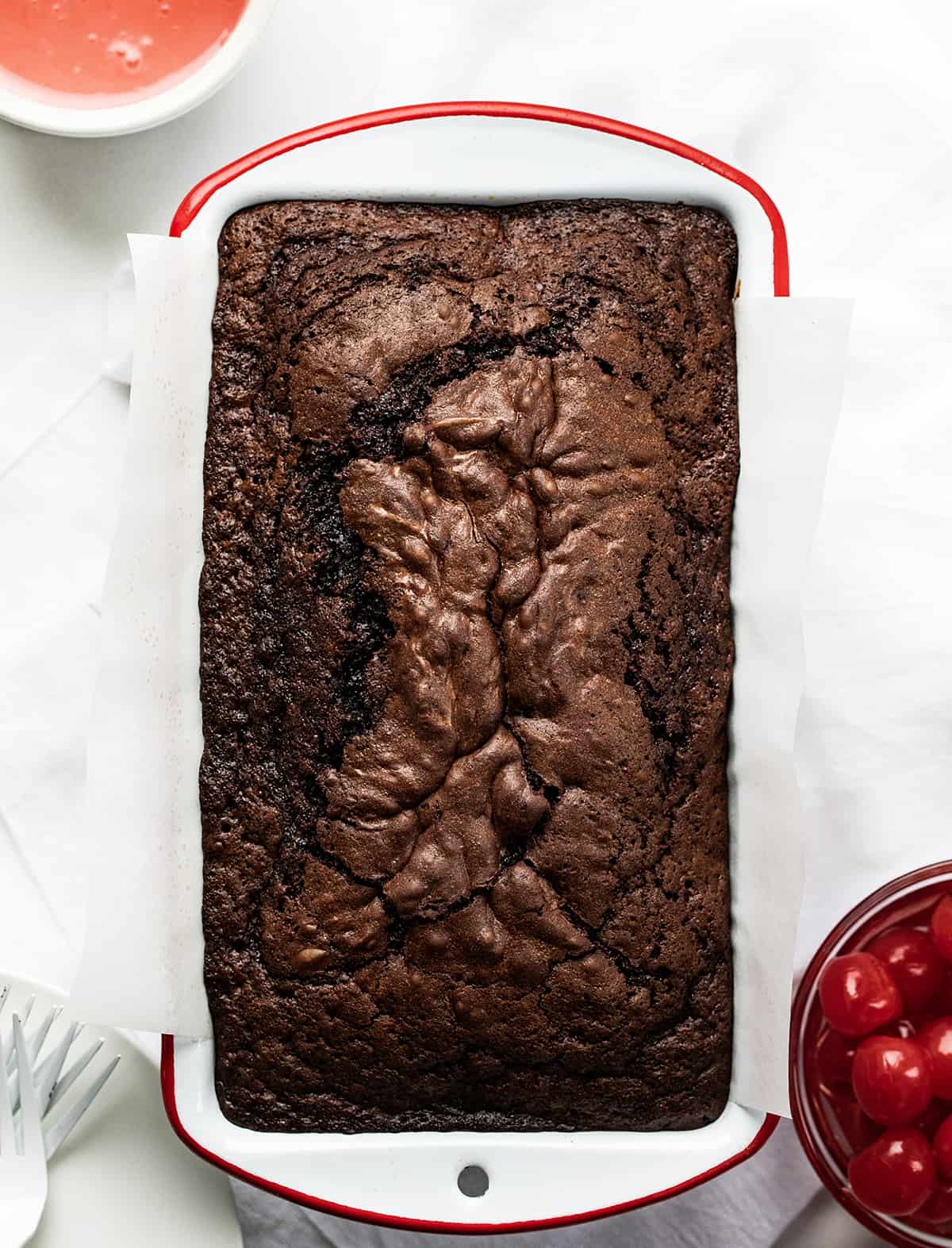 Ingredients & Substitutions
Chocolate Chips: I prefer milk chocolate chips in the bread for a little more sweetness. However, you could certainly substitute semisweet chocolate chips if that is what you have on hand.
Cocoa Powder: I prefer Dutch-processed cocoa powder in this bread because it provides a milder, smoother chocolate flavor when compared to regular unsweetened cocoa powder. In addition, Dutch-processed cocoa gives the bread a darker, richer color. If using regular unsweetened cocoa powder, the flavor may not be as rich.
Baking Soda: Since this is a quick bread, the leavening agent is baking soda (no yeast).
Oil: Vegetable or canola oil is added to the batter to help give the bread a fudgy texture.
Cherries: Look for a 16-ounce jar of maraschino cherries to add to the batter. Reserve the cherry juice to make the glaze! You could also use fresh cherries in the bread.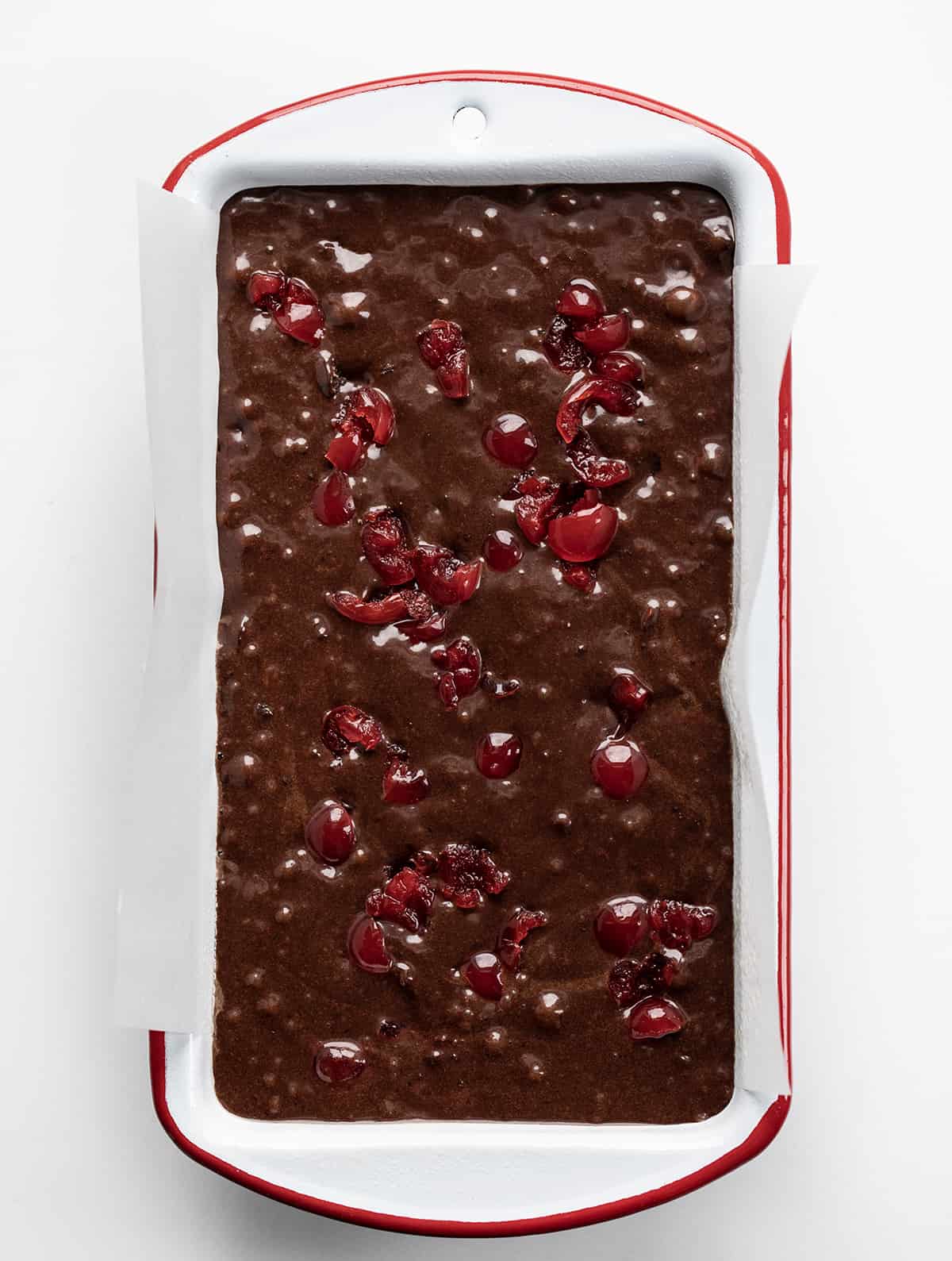 How to Tell if Your Bread is Fully Baked
You can check if your cherry brownie bread is fully baked by using a toothpick or cake tester. Insert the toothpick or tester into the center of the loaf. If it comes out clean or with a few moist crumbs, then the bread is fully baked.
Another way to check for doneness is to gently press the top of the loaf. If it springs back, the bread is done. Overbaking can result in dry bread, so it's important to check it frequently in the last few minutes of baking to avoid this. The baking time can vary based on altitude (check out my High-Altitude Baking Tips), humidity, and oven temperature, so it's best to use the toothpick test to confirm that the bread is fully baked.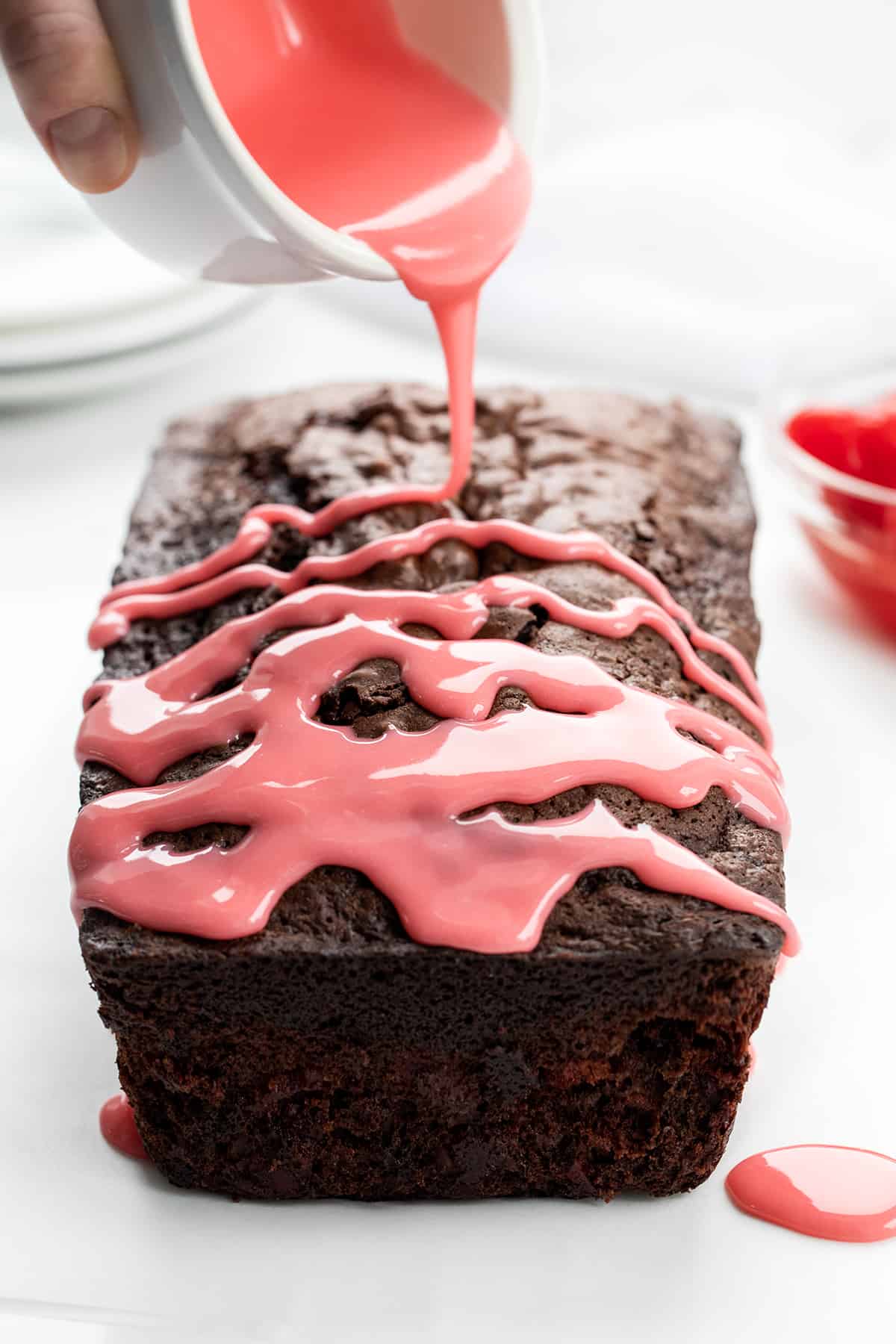 Can I Use a Different Pan?
Yes. If you don't have a loaf pan, you could make this bread in a different pan. You could use an 8-inch or 9-inch square baking dish. Or, make the bread in a 9-inch deep dish pie pan. If using a different-sized pan, the baking time may need to be adjusted.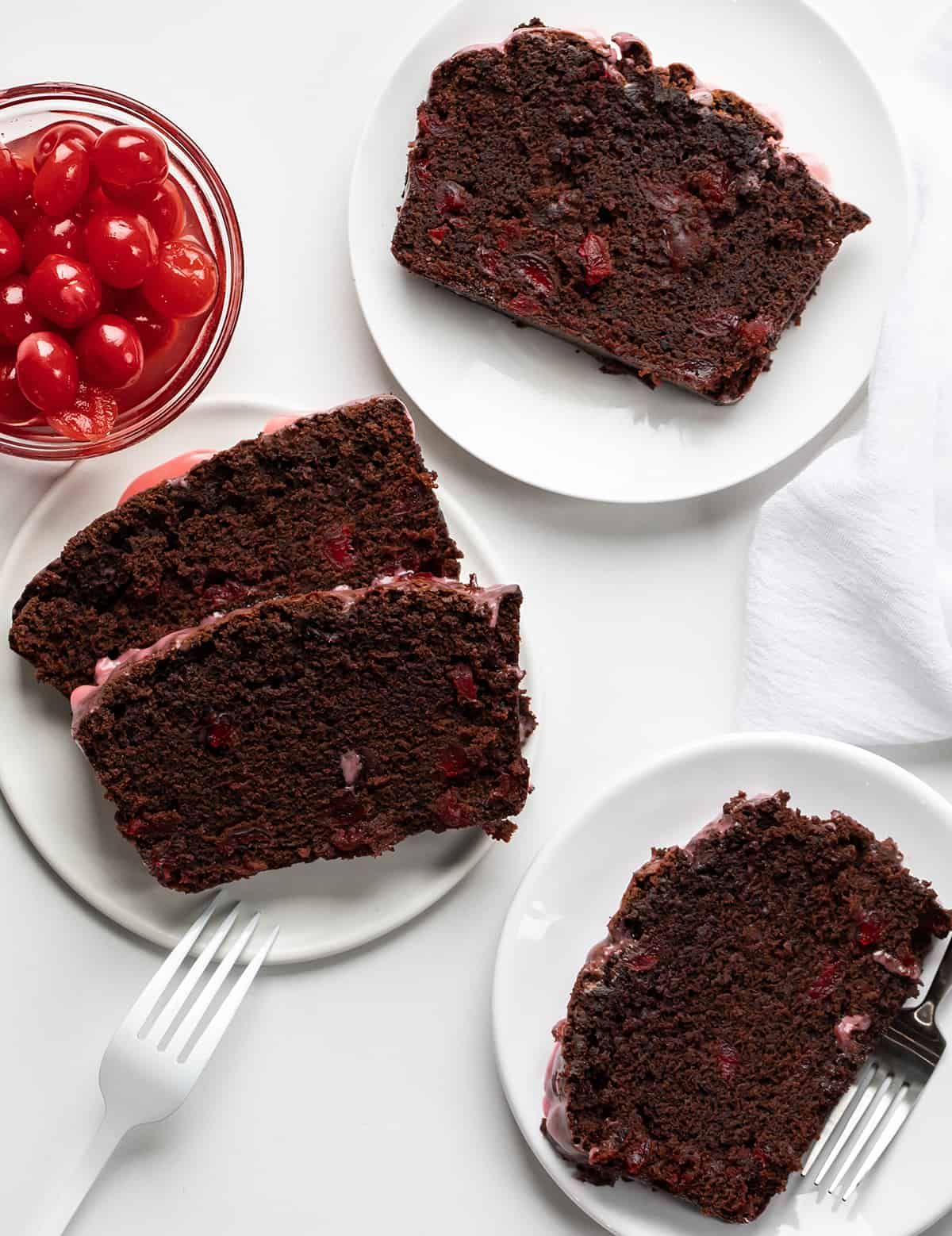 Storing Cherry Brownie Bread
Cherry Brownie Bread can be stored in an airtight container at room temperature or in the refrigerator. It will last 1-2 days at room temperature. To extend the bread's shelf life, store it in the refrigerator for up to 5 days. However, if stored in the refrigerator, the bread may dry out faster.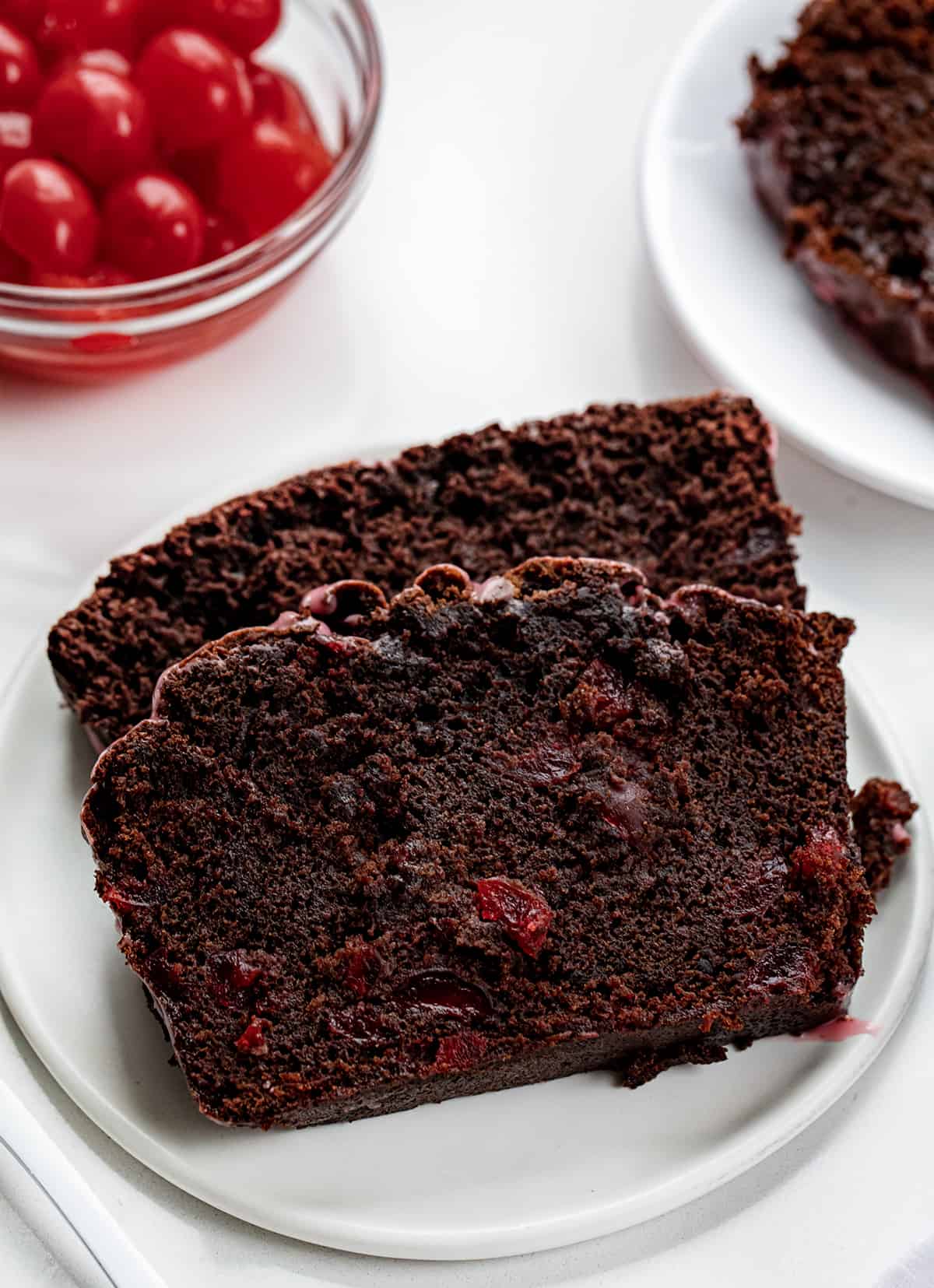 Can I Freeze Cherry Brownie Bread?
Yes! To freeze, wrap the cooled bread tightly in plastic wrap and aluminum foil. This will help to protect it from freezer burn and preserve its flavor and texture. It will last up to 3 months. When ready to eat, simply remove the bread from the freezer and let it thaw in the refrigerator overnight, or at room temperature for several hours.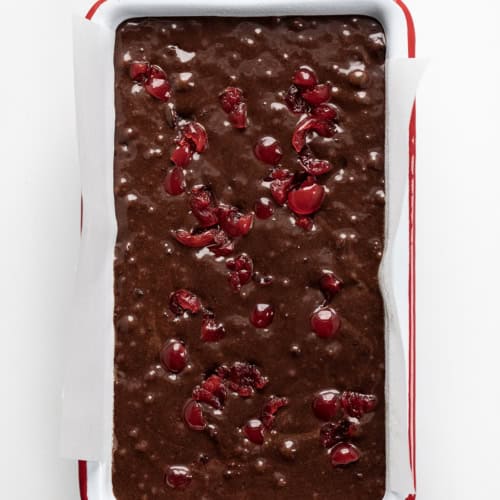 Cherry Brownie Bread
Cherry Brownie Bread is a dessert loaf of bread that merges the irresistible taste of a rich, chocolatey brownie with added cherries, baked, and topped with a cherry glaze.
Ingredients
1

cup

(168 g) milk chocolate chips

1 ¼

cups

(156 g) all-purpose flour

½

cup

(59 g) Dutch-processed cocoa powder

¼

teaspoon

baking soda

1

teaspoon

kosher salt

3

large

eggs,

room temperature

1 ¼

cups

(250 g) granulated sugar

½

cup

(109 g) vegetable oil

¾

cup

water

1

jar

(16 ounces) maraschino cherries,

drained, chopped, juice reserved
Cherry Glaze (Optional)
1

cup

(125 g) confectioners' sugar

2-3

tablespoons

cherry juice
Instructions
Cherry Brownie Bread
Preheat the oven to 325°F. Line a 9×5-inch metal loaf pan with parchment paper and spray with nonstick cooking spray.

To a medium, microwave-safe bowl, add the chocolate chips. Microwave in 30-second intervals, stirring in between, until the chips are melted and smooth. Set aside to cool slightly while you prepare the dry ingredients.

In a medium bowl, whisk together the flour, cocoa powder, baking soda, and salt.

To the bowl of a stand mixer with a paddle attachment, add the eggs and sugar. Beat until light and fluffy, about 5 minutes.

With the mixer on low, add the melted chocolate, vegetable oil, and water. Mix until smooth.

Gradually add the dry ingredients to the wet ingredients, mixing until no lumps remain.

Fold in the chopped cherries.

Pour the batter into the prepared loaf pan and bake for 80-85 minutes, or until a toothpick inserted into the center of the cake comes out with a few crumbs, but no wet batter.

Allow the cake to cool completely in the pan before adding the glaze (if using).
Cherry Glaze
After the bread has cooled, prepare your glaze. In a small mixing bowl combine confectioners' sugar and cherry juice. Whisk together until combined. Add more cherry juice as needed until you reach your desired consistency.

Pour the glaze over the cooled bread and serve.
Did you make this recipe?
Thank you for making my recipe! You took pictures, right? Well go ahead and post them on Instagram! Be sure to mention me @iambaker and use the hashtag #YouAreBaker.
What the Test Kitchen had to say about this recipe: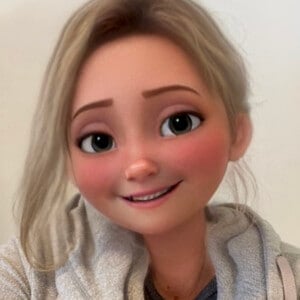 Autumn
I had no clue what I was missing out on until I tried this bread. Im officially a huge fan of the chocolate-cherry combination! The bread has it all, dense and fudgy chocolatey goodness and a burst of delicious cherry flavor in every bite. You have to give it a try!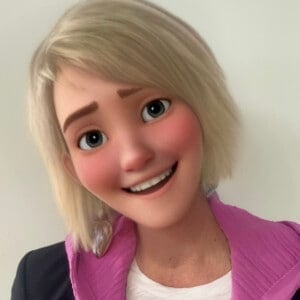 Elizabeth
As someone who is not a fan of chocolate-covered cherries, I really wasn't super excited to try this bread. But, if you love the combination of chocolate and cherries, both flavors stand out in this loaf. And, the cherry glaze on top enhanced the cherry flavor even more. It's perfect for those who love a chocolate cherry dessert!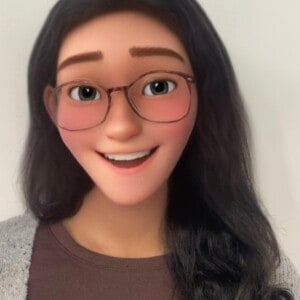 Bella
I'm always a big fan of cherry-flavored foods. I enjoy the chocolate and cherry combination. I think they work well together. I personally like the bread even without the cherry glaze since it all tasted great without it. However, the cherry glaze does add even more cherry flavor!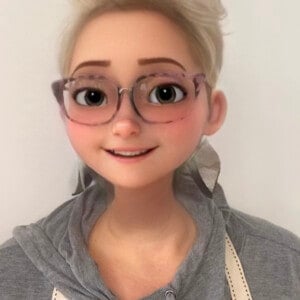 Selena
This bread has a lovely balance of cherry and chocolate. I love the bits of cherry in just about every bite along with the deep moist chocolate flavor in this bread!