This delicate and subtly sweet Chocolate Cinnamon Apple Rose is the perfect way to create a beautiful dessert!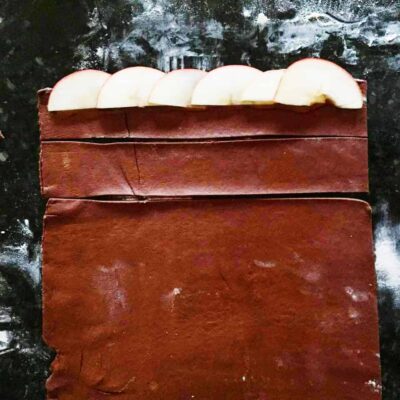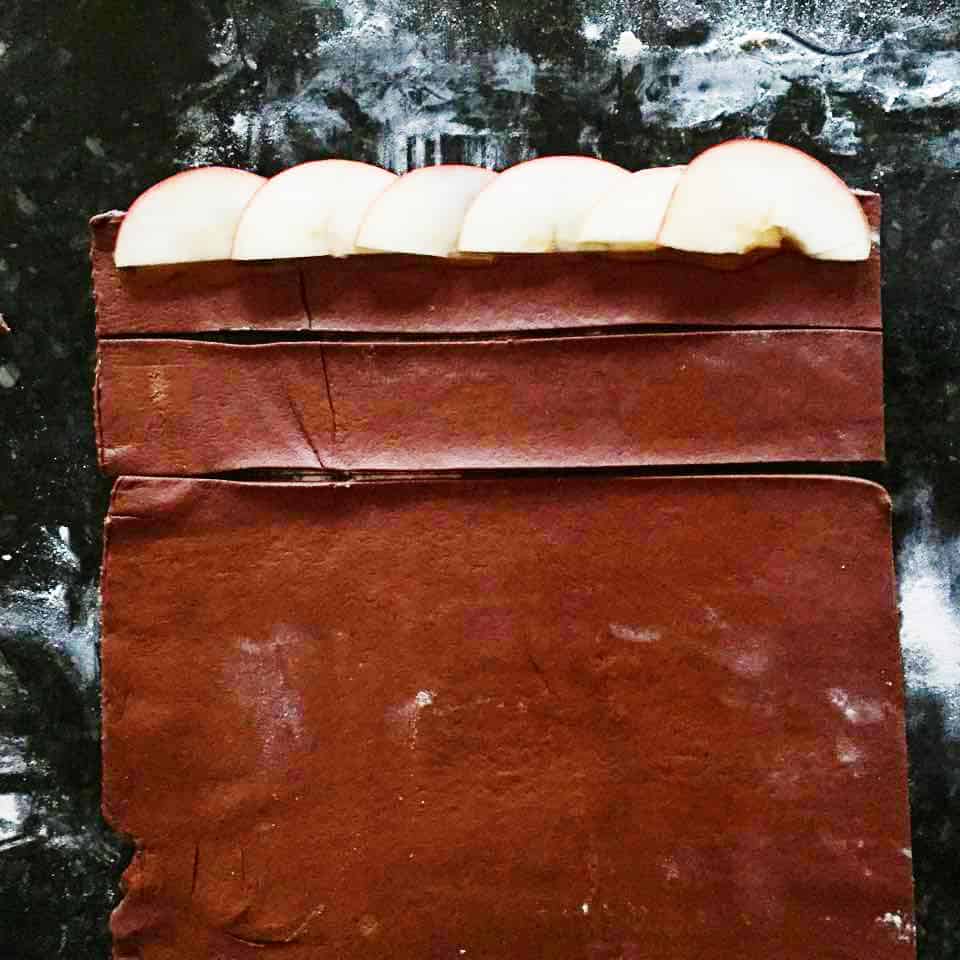 Chocolate Pastry
This delicate and subtly sweet Chocolate Cinnamon Apple Rose is the perfect way to create a beautiful dessert!
Ingredients
2 1/2

sticks

10 ounces cold unsalted butter

1/2

c

cold tap water

1

tsp.

salt

1 1/2

c

all-purpose flour

about 9 ounces

1/2

c

good quality cocoa powder

Dutch processed works well

1

tsp.

McCormick Cinnamon
Instructions
Measure water and add salt; stir to dissolve and set aside.

Put flour, cocoa powder, and cinnamon into stand mixture fitted with paddle attachment. Turn mixer on low for about 30 seconds.

Coarsely dice all butter and place in stand mixer on top of flour. With mixer on low, slowly drizzle in water. Watch closely as dough will start to pull together after about 1 minute. Once the dough forms a ball stop the mixer.

Flour work surface and remove all the dough from mixer bowl.

Roll dough into a rough rectangle, dusting with more flour if the dough gets too sticky.

Fold the dough in half, then in half again, then in half again. Wrap in plastic and chill for about one hour.
Did you make this recipe?
Thank you for making my recipe! You took pictures, right? Well go ahead and post them on Instagram! Be sure to mention me @iambaker and use the hashtag #YouAreBaker.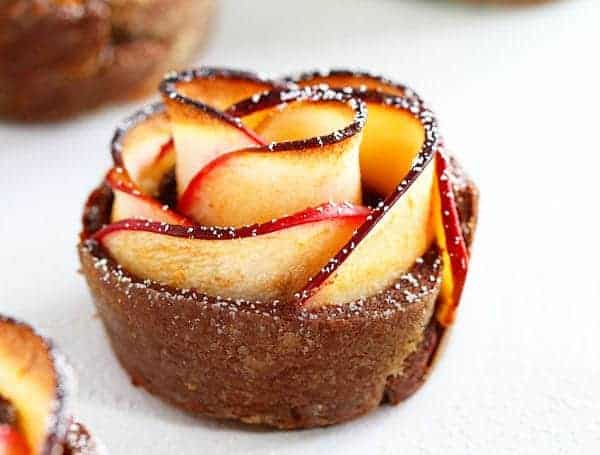 If you have been anywhere near the internet this past year you have probably seen some beautiful Baked Apple Roses. They were originally created by the talented Manuela. I loved her video tutorial and wanted to make some right away!
My version follows her method exactly, but I did change out the puff pastry for a chocolate pastry.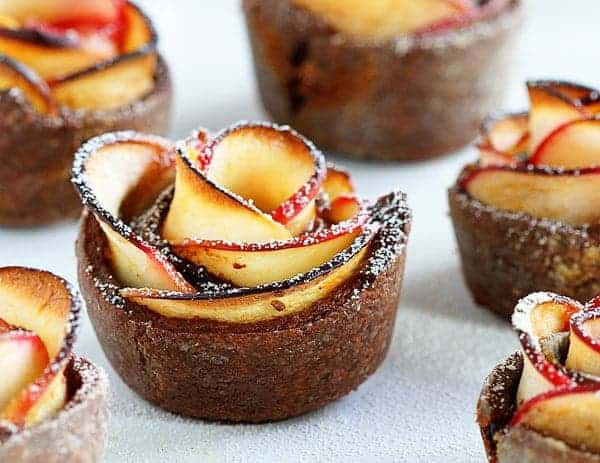 I also added a cinnamon/sugar mix to some in my second batch… this really helped to add some sweetness to this gorgeous treat.
That is simply 1/2 cup sugar + 2 teaspoons cinnamon. It is spread over the puff pastry before you add the apples.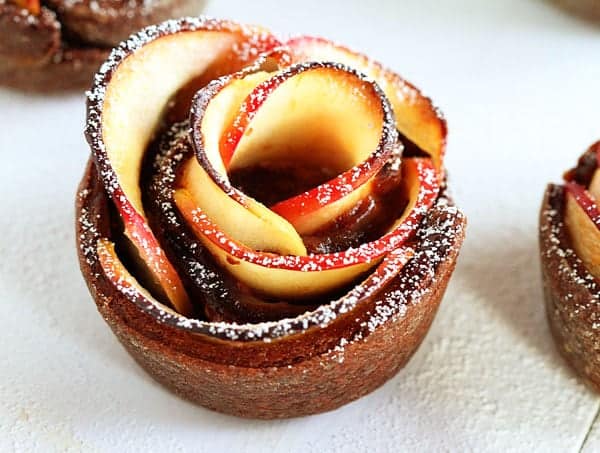 As far as the chocolate pastry… I have to mention that it is not sweet. It is actually slightly bitter when you are using a good quality Dutch Process Cocoa. The sweetness comes from the apples and the caramel (or cinnamon/sugar should you choose to add that).
Adapted from Pumpkin Puff Pastry.
To make Chocolate Cinnamon Roses you will need:
2 Red Apples
1 cup water (and more if necessary)
1 tablespoon Lemon Juice
Chocolate Pastry
Caramel Sauce (store bought is fine)
Muffin Tin
Confectioners Sugar for dusting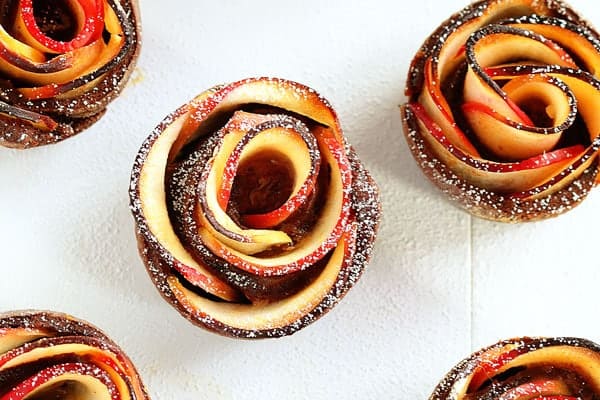 When ready to assemble the roses. (For detailed instruction images please see Cooking with Manuela)
Prepare a medium bowl with 1 cup water and 1 tablespoon lemon juice.
Cut in half and core two large red apples. Cut the apples in paper thin slices or use a mandolin for more consistent pieces. (I used a mandolin) Immediately place apple slices into the water after you have cut them.
Once you have cut both apples into slices and placed in a bowl of water, fill with more water until the water covers the apples (if necessary). Place in microwave for 3 minutes, or until the pieces are soft enough to bend but NOT mushy. Place apples in the strainer to let excess liquid drain.
Roll out chocolate pastry onto a lightly floured surface
PRO TIP: You can also dust with cocoa powder. You will want to roll this very thin, approximately 1/8 inch in thickness. (You may want to trim edges like I did)
Try to make it 12 inches wide and about 24 inches tall.  Cut 2-inch x 12-inch strips, so you have 12 strips that are 12-inches wide.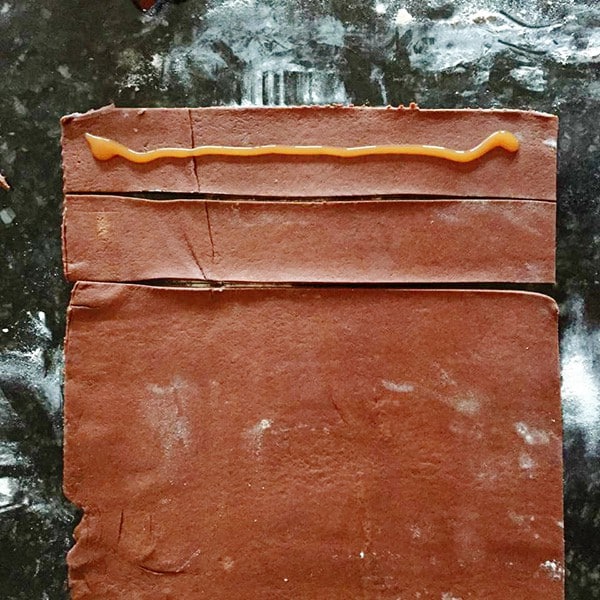 Pipe (or squeeze) a line of caramel.
(If you are using the cinnamon/sugar recipe from above, add it now. You can use this in addition to caramel if you would like.)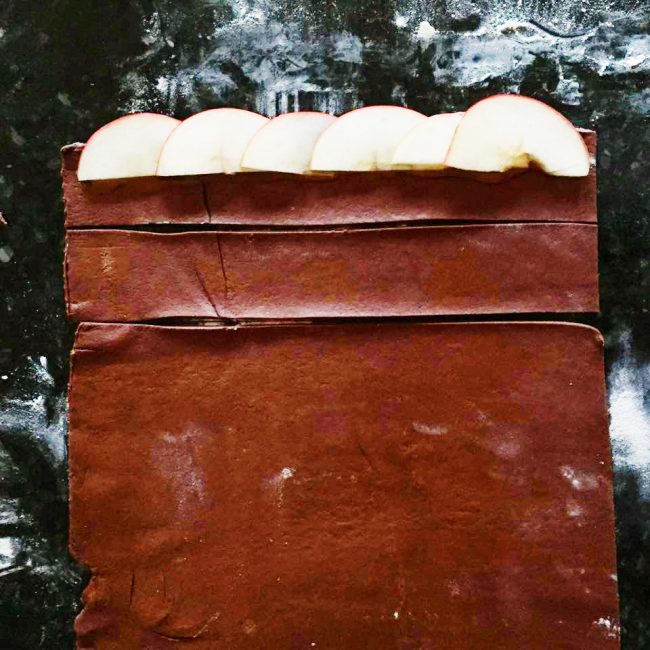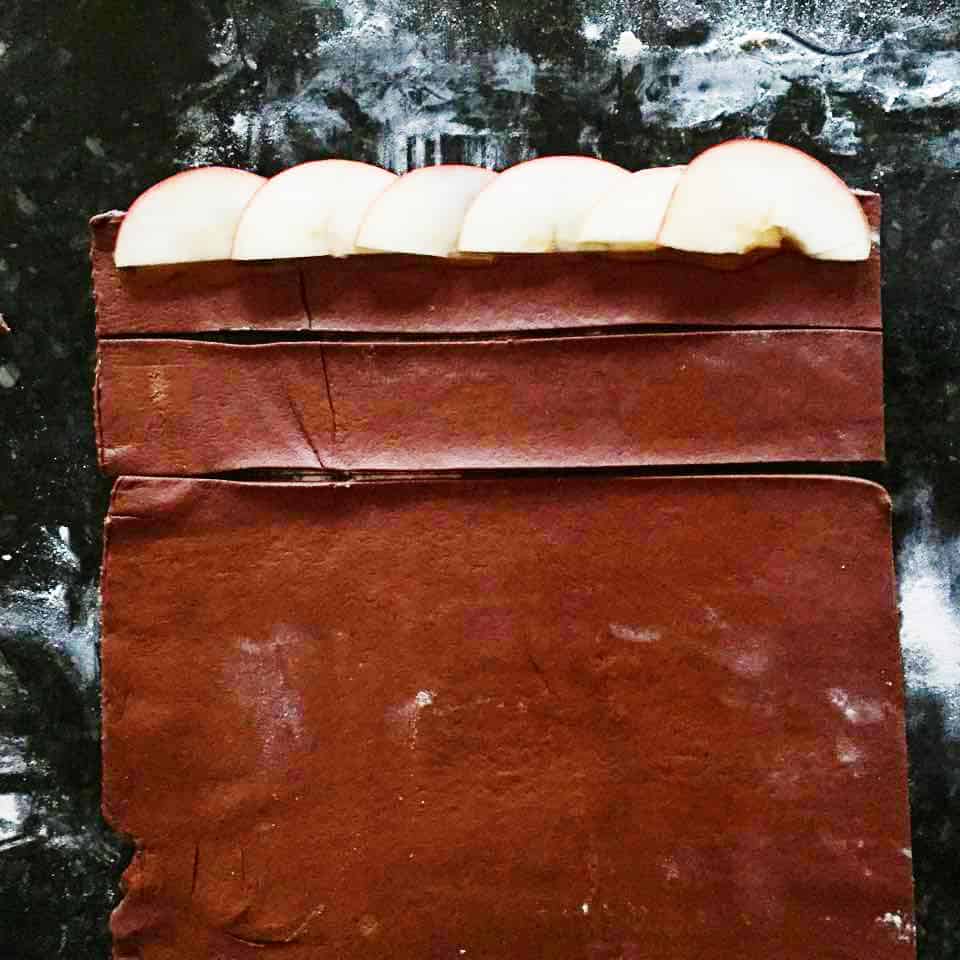 Place a row of the warm and soft (but not too mushy!) apples on top of the caramel and chocolate puff pastry.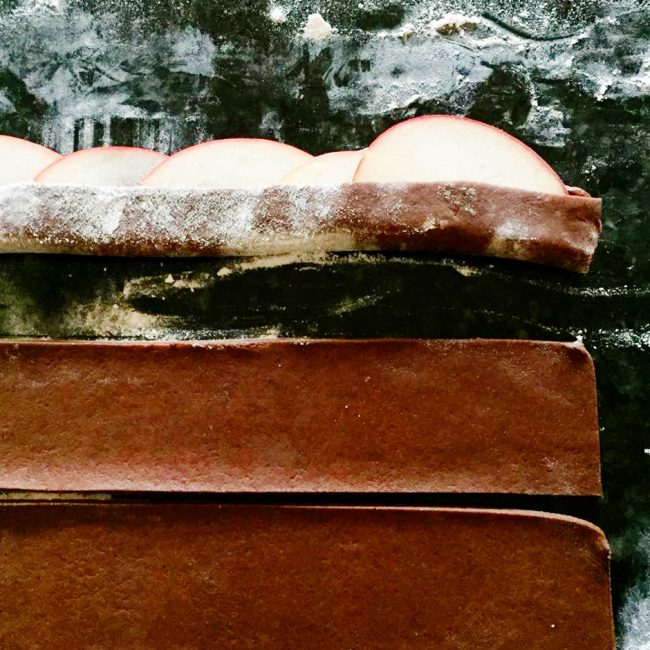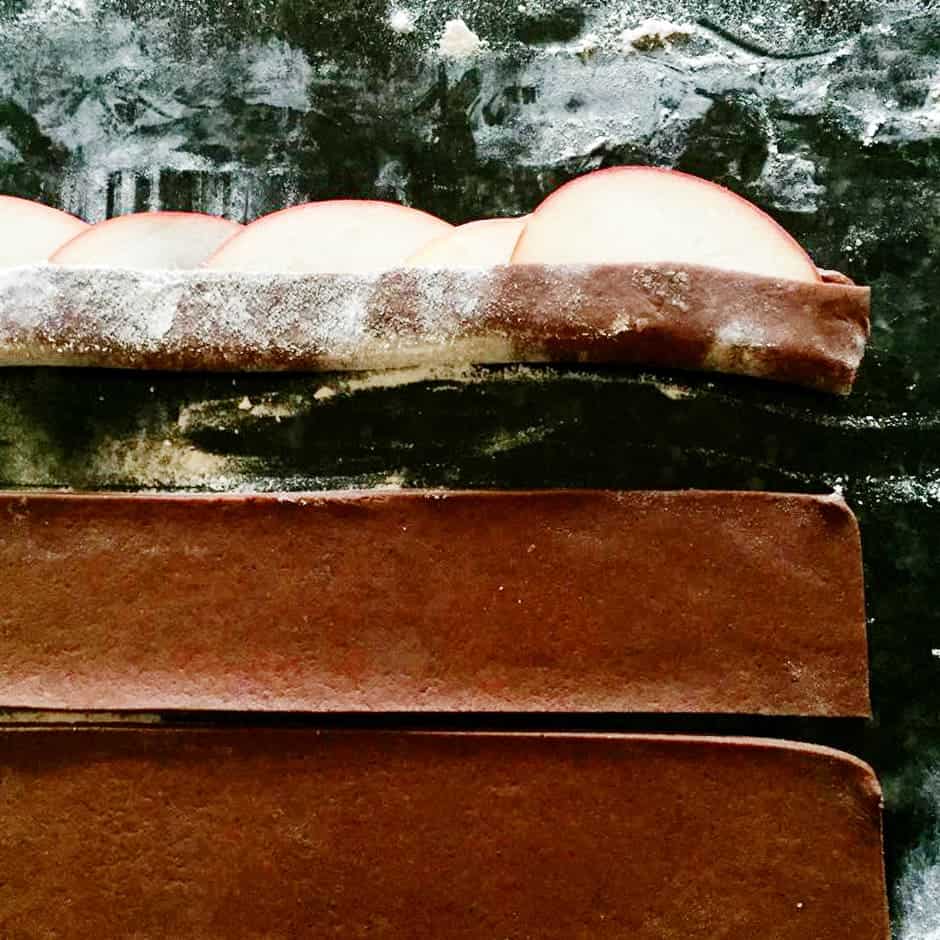 Gently fold up the chocolate puff pastry over the bottom of the apple slices. Pinch the end together then start rolling the apples into the puff pastry. I found it easiest to roll with two hands; the left hand doing the actually rolling and the right hand making sure the apple slices stay snuggly inside the puff pastry, almost using my right hand as a guide. Going slow is important until you find your groove.
Place puff pastry rose into a greased muffin tin.
Repeat this until all of your puff pastry is used. (there may be some apple slices left over depending on how thick you cut them.)
Bake roses for 30-35 minutes at 375 degrees F (350 for convection oven). Make sure the center dough is cooked through before removing! Allow to cool in muffin tin for about 10 minutes then place on a cookie rack to cool completely.
Can be served warm. (and with vanilla or chocolate ice cream!)
Dust with confectioners sugar just before serving.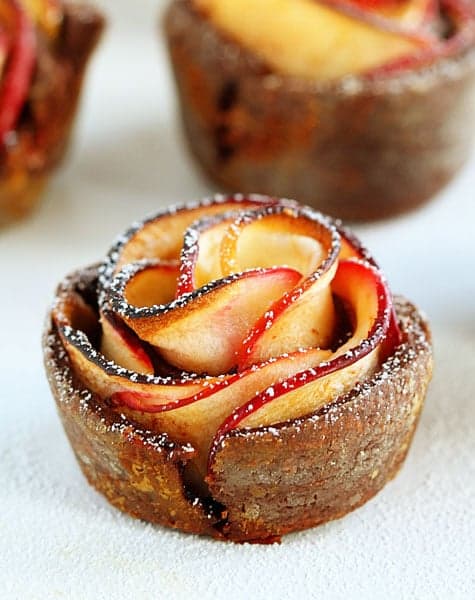 I made this for a very, very special guest and wanted them to be absolutely perfect, so I researched this technique and recipe extensively before making and eventually sharing it. One thing that I found was vitally important was the quality of cinnamon!  Not only did my cinnamon need to stand up to the cocoa, but it needed to enhance the apple flavor.
PRO TIP: Without pure, quality cinnamon, cakes, pies and puddings simply won't taste their best. I discovered that ground cinnamon should be clump-free, have a deep brown, mahogany color and have a warm aroma and taste with a little "red hot" cinnamon heat. Opt for the BEST cinnamon you can find!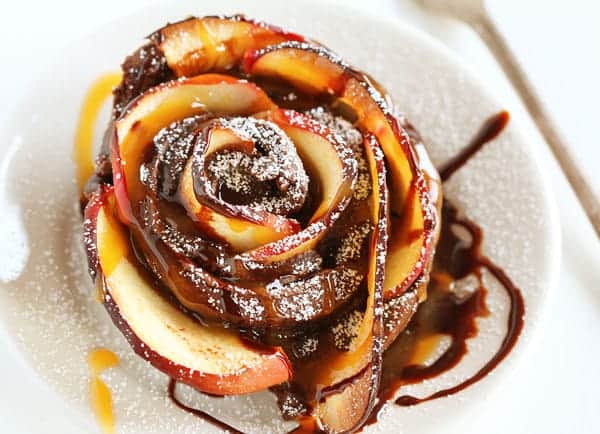 I just have to show you my 10-year-olds version of a Chocolate Cinnamon Apple Rose. He added chocolate sauce and more caramel! He is a smart kid… I tried it and LOVED it!
Here at iambaker I only work with brands that I actually use. McCormick is one of those brands and we partnered to bring you this delicious recipe. Thank you so much for allowing me to share the brands that I use (and adore!) the most and thank you for supporting them!