I have officially jumped on the pumpkin bandwagon and I am so excited about it! This recipe is absolutely amazing, and the perfect way to start any day. You are going to LOVE this Homemade Pumpkin Puff Pastry!
Homemade Puff Pastry
It all started with a homemade puff pastry. I have made it three times in the last couple of days and love it more and more each time. Yes, I know you can buy it from the store, but there is NOTHING like making it from scratch. Try it just once and you will see!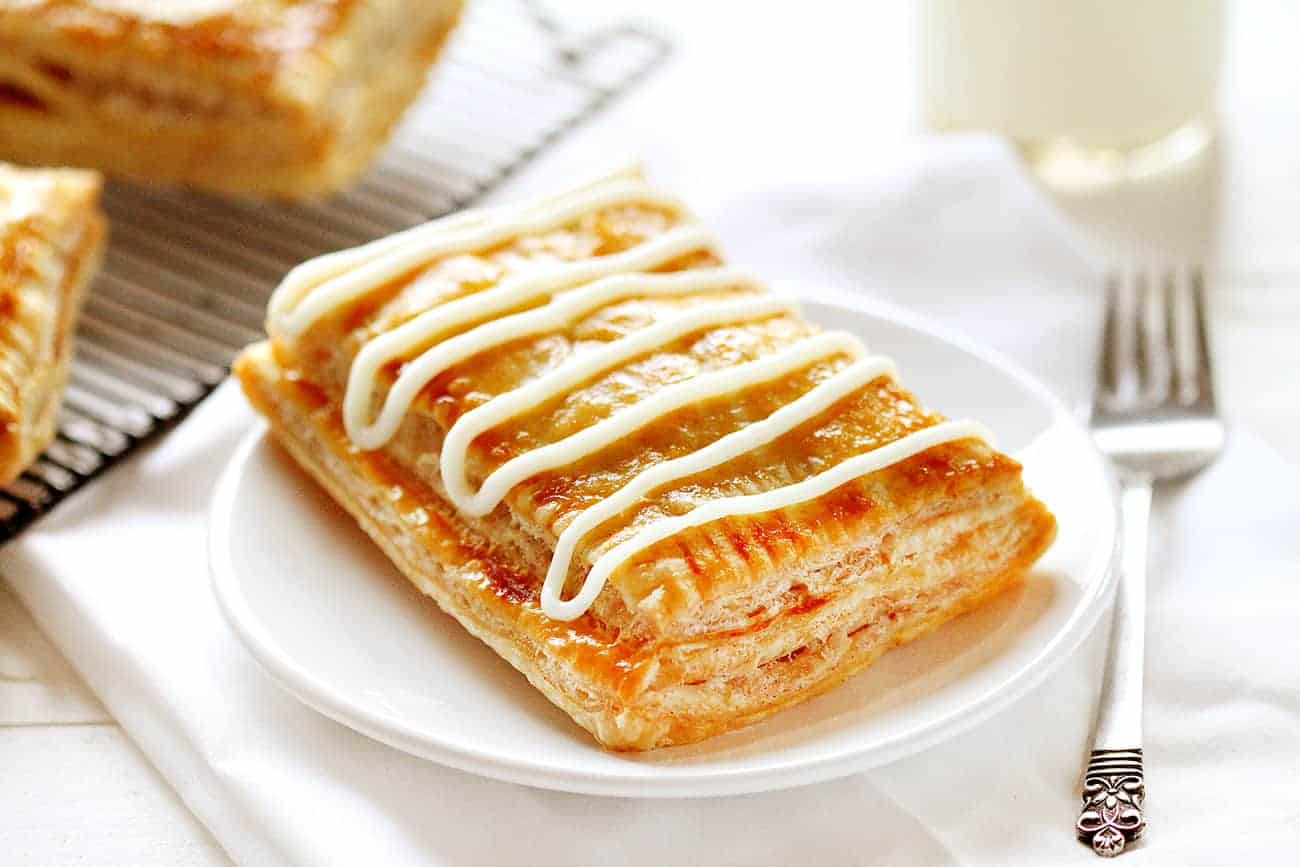 The great thing about this puff pastry is that it takes just minutes to pull together! I was shocked at just how easy and foolproof it is. Every single time I have made it, the dough has been perfect.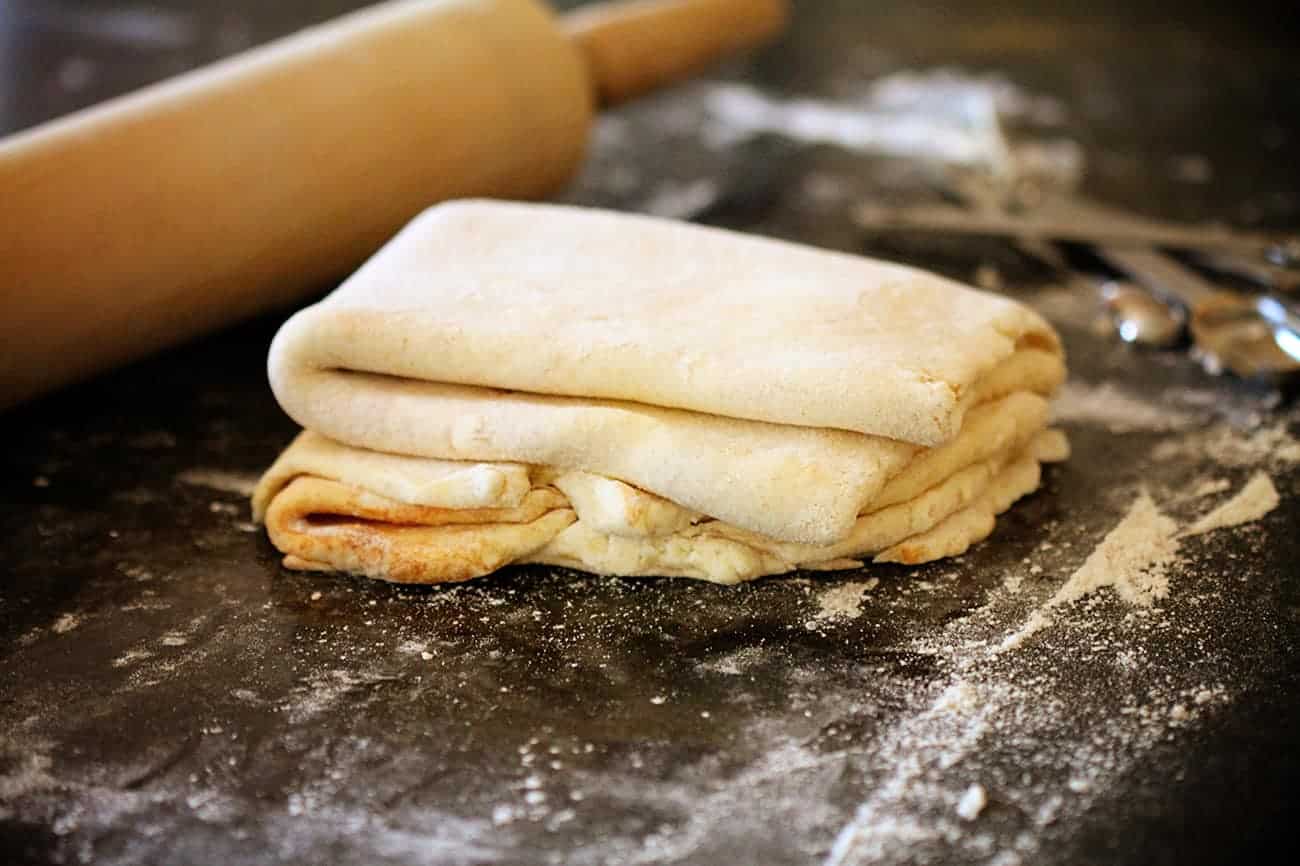 A word of caution: This dough feels like silk. I wanted to keep kneading, to let my hands linger in the velvety soft exquisiteness, but you must resist! Over kneading is a no-no.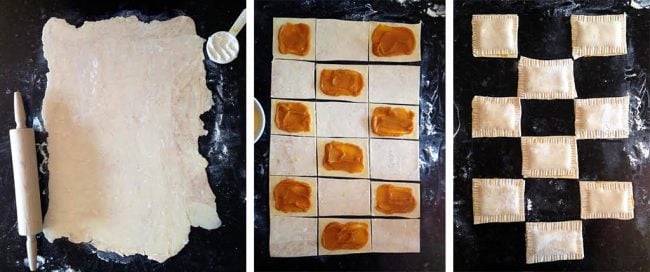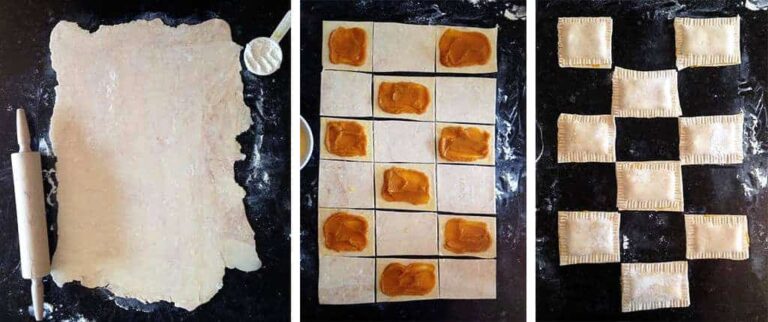 The Secret to Puff Pastry
Water temperature. You want very cold water! The butter can be cold, but because of the chilling process, it does not need to be when assembling the recipe.
I think that I ended up liking the 'rustic' look best. Sure, you can get out your ruler and make a perfect rectangle and measure each perfect little pocket of pumpkin loveliness OR you can eyeball it and enjoy it just the same.
For the delectable frosting drizzle: Place cream cheese in a pastry bag and snip off a very small portion. Apply pressure to bag and drizzle over each pastry while it is still warm.
This recipe makes roughly 10 pumpkin pastries. I had about 1/2 cup of the pumpkin mixture leftover, and that will keep in the fridge for about 2 weeks.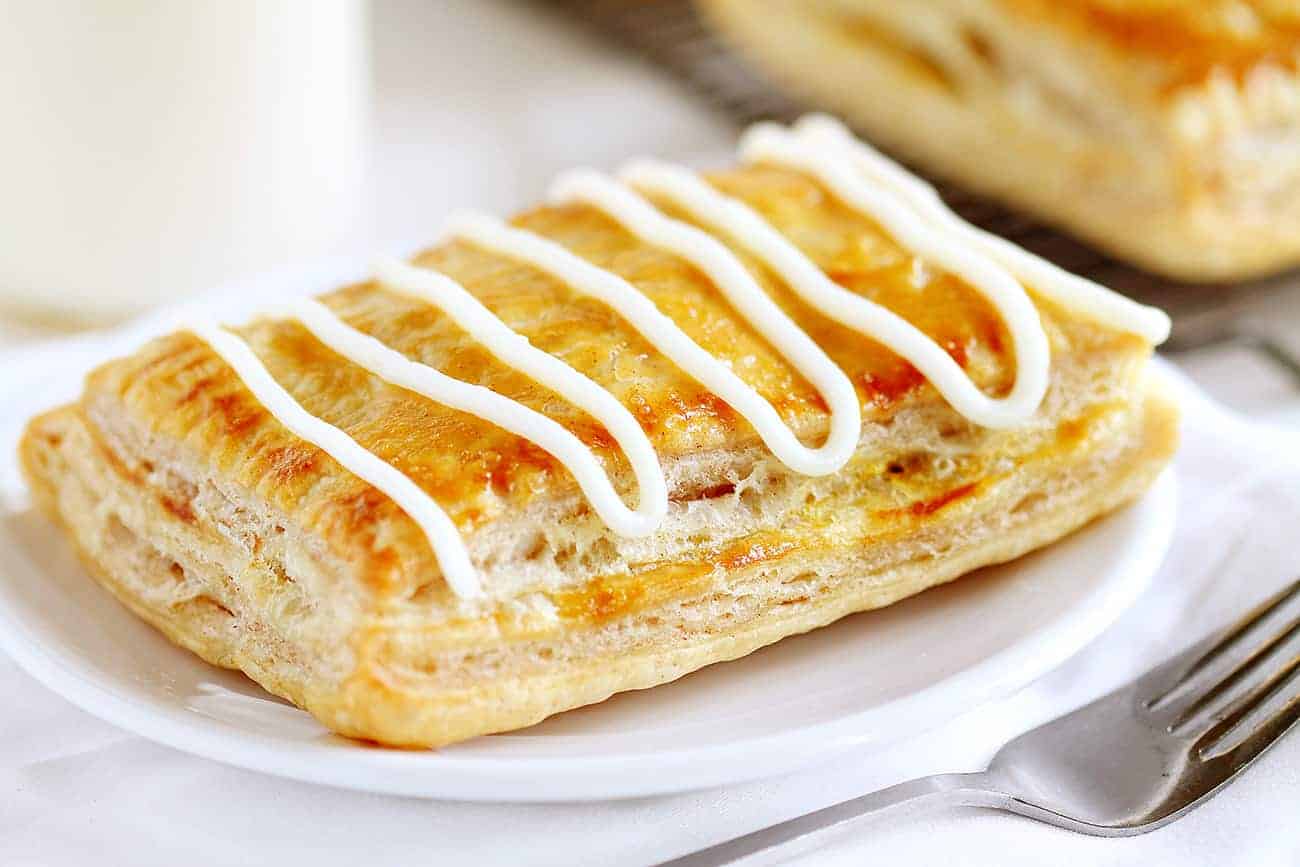 Just look at those flaky layers of buttery deliciousness! My third attempt at these is when I decided to add cinnamon to the dough. I have to tell you… it is incredible.
The slight cinnamon flavor in the buttery pastry paired with the barely sweetened pumpkin filling seriously creates something magical.
Here is another plus, without the frosting these pastries have just 1/3 cup of sugar in the entire recipe! If you use a small amount of frosting you can actually feel good about giving them to your family for breakfast. 🙂 (Note, I was not able to use a sparse amount of frosting. I mean, cream cheese. Obvi.)
If you are a pumpkin fan, a breakfast pastry fan, a butter fan, a fan of food in general, you will want to try these!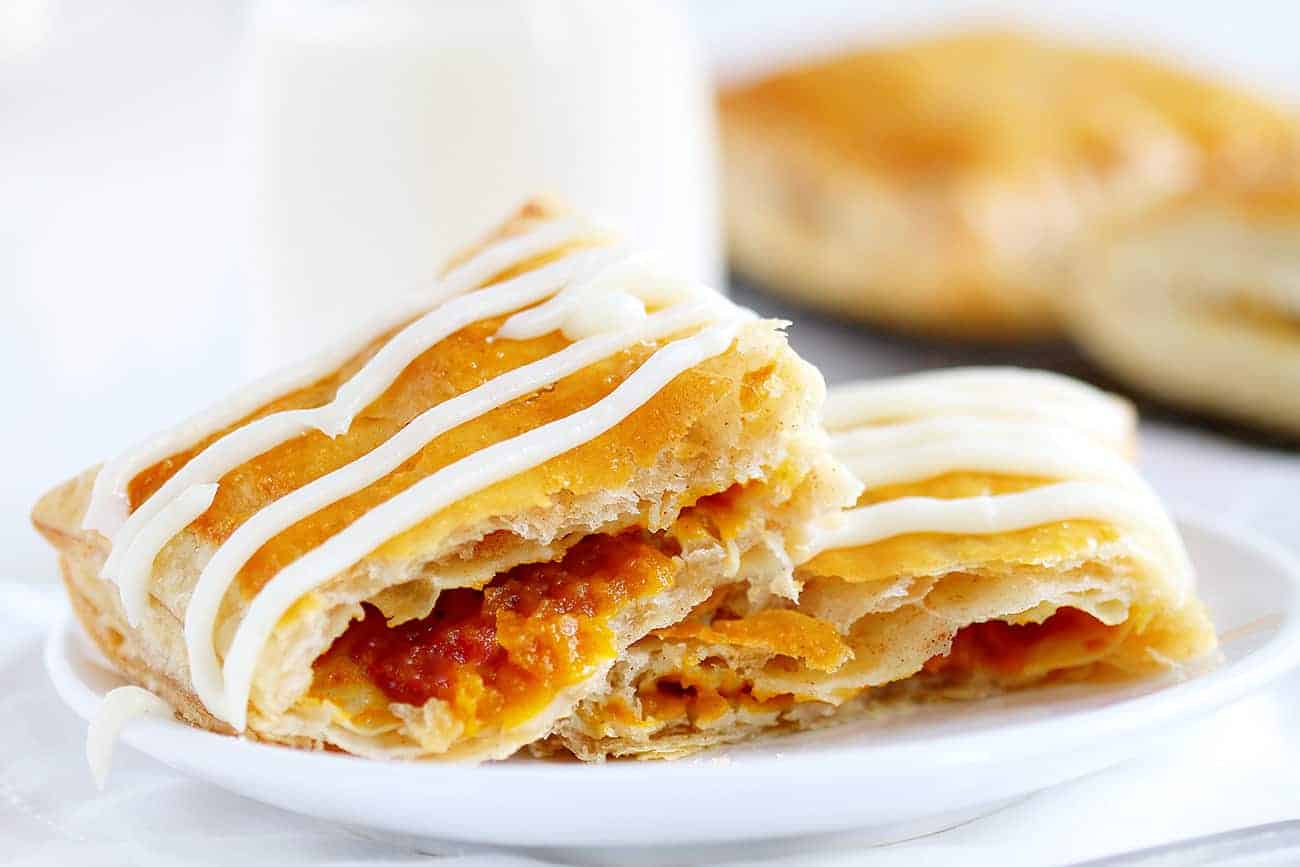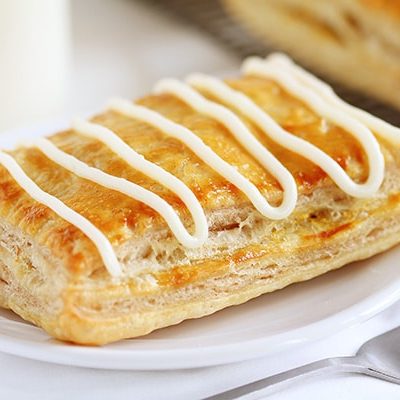 Puff Pastry with Pumpkin Filling
There is something magical about this homemade Pumpkin puff pastry!
Ingredients
Pastry
10

ounces

cold unsalted butter (2 1/2 sticks)

½

cup

cold tap water

1

teaspoon

kosher salt

2

cups

all-purpose flour

about 9 ounces

1

teaspoon

cinnamon,

(could also use pumpkin pie spice)
Pumpkin Filling
1

can

(15 ounces) pumpkin puree

⅓

cup

granulated sugar

1

teaspoon

vanilla
Cream Cheese Frosting
4

ounces

cream cheese,

room temperature

½

cup

confectioners' sugar

1

teaspoon

vanilla extract

¼

cup

milk
Instructions
Pastry
Measure water and add salt; stir to dissolve and set aside.

Put flour and cinnamon into food processor.

Coarsely dice all butter and place in food processor on top of flour. Pulse for about 3 seconds four or five times.

Drizzle water into food processor on low speed. Watch closely as dough will start to pull together very quickly. Once the dough forms a ball stop the processor.

Flour work surface and scrape dough from work bowl.

Roll dough into a rough rectangle, dusting with more flour if the dough gets too sticky.

Fold the dough in half, then in half again, then in half again. If you are able fold it over one more time, then wrap in plastic and chill for one hour.
Filling
Put pumpkin puree in a bowl and mix well with sugar and vanilla. Set aside.
Cream Cheese Glaze
Beat cream cheese with handheld mixer until creamy. Add in remaining ingredients and mix on slow until fully combined. (You may add more or less milk to reach desired consistency.)
When you are ready to assemble to Pumpkin Puff Pastries:
Roll out the dough on a lightly floured surface. You want the dough to be thin, only about 1/8 inch thick.

Using a pizza cutter, trim off the rough edges and then cut into small sections, about 4 inches by 5 inches. I divided the dough into thirds lengthwise, and then halves width wise. You can see that my rectangles are not perfect and that is just fine.

Beat egg in a bowl and grab a pastry brush. Brush the edges of the pieces of dough lightly with the egg.

Add about 2 tablespoons of pumpkin puree to half of the rectangles, spreading to about half an inch from the edges. Top with the remaining pieces of dough.

Use a fork to press the edges together going in about 1/2 inch from the edge. (The first couple times I made this I just barely made marks with the fork and when they baked you could not tell. I prefer the look of a larger fork impression.)

Generously brush the entire top of the pastry with the egg.

Place the pastry on a parchment lined baking sheet and bake for about 20 minutes. When done, pastries should be golden brown and puffed up.

Video
Did you make this recipe?
Thank you for making my recipe! You took pictures, right? Well go ahead and post them on Instagram! Be sure to mention me @iambaker and use the hashtag #YouAreBaker.
Other fillings for Puff Pastry:
Blueberry
Strawberry
Cherry
Cream Cheese
Chocolate (Nutella)
Love Pumpkin? Check out these other highly rated recipes:
Pumpkin Spice Chocolate Chip Cookies