This Chocolate Coated Marshmallow Red Velvet Sugar Cookies are a fun version of a surprise-inside cookie!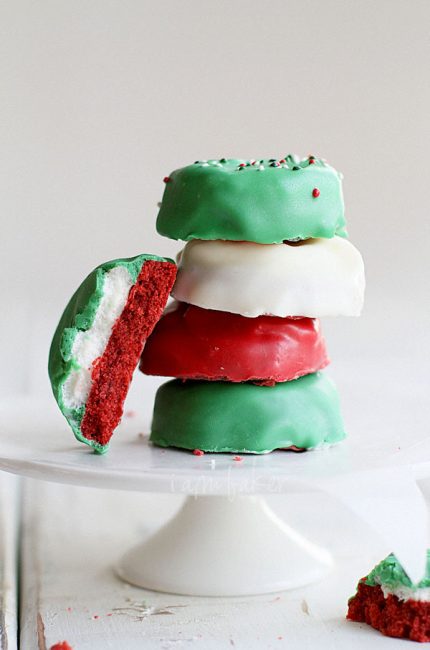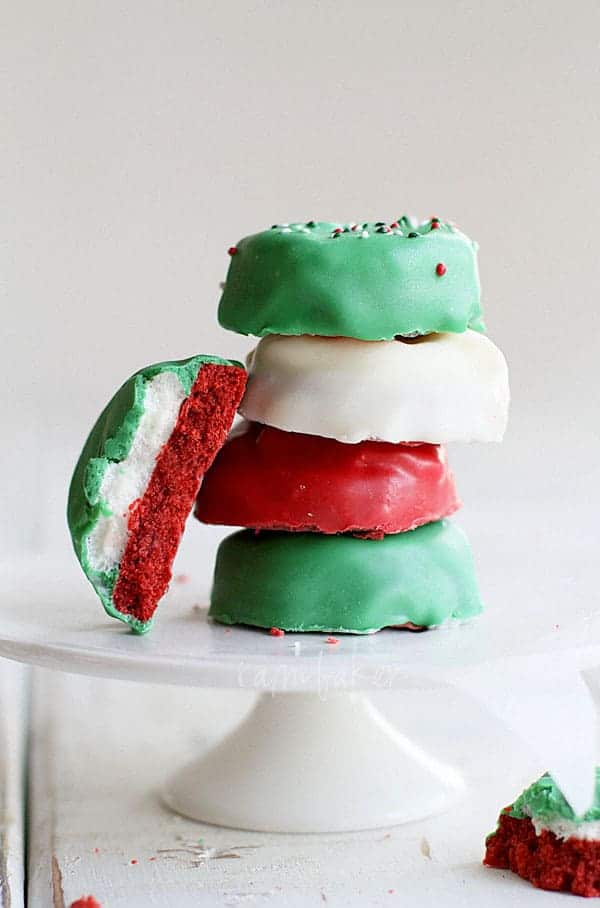 How to Make Marshmallow Red Velvet Sugar Cookies
My original Red Velvet Sugar Cookies are covered in a soft gooey marshmallow coated in creamy dreamy chocolate. Simply delicious!
I whipped up a batch of Red Velvet Sugar Cookies and cut out 2-inch circles with a cookie cutter.
About two minutes before the cookies were done, I took the pan out and dropped a marshmallow on top. The marshmallow had been CUT IN HALF to make the cookie more uniform looking. (Don't skip this step or the cookies will be too tall!)
I put the pan back into the oven for 2 minutes until the marshmallows were soft but not browned, then set them aside to cool. Then I simply coated the cookies in red, white, and green candy melts!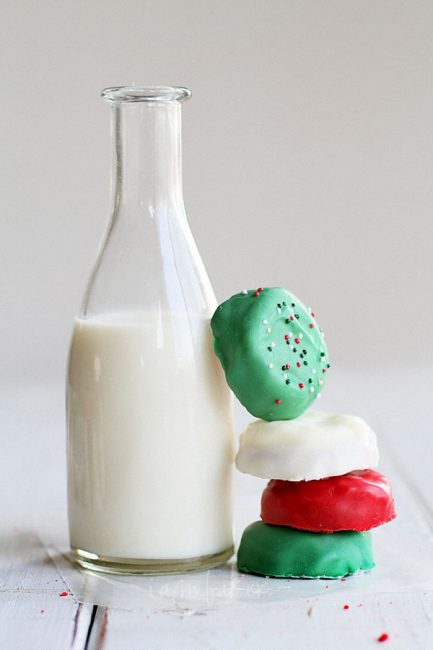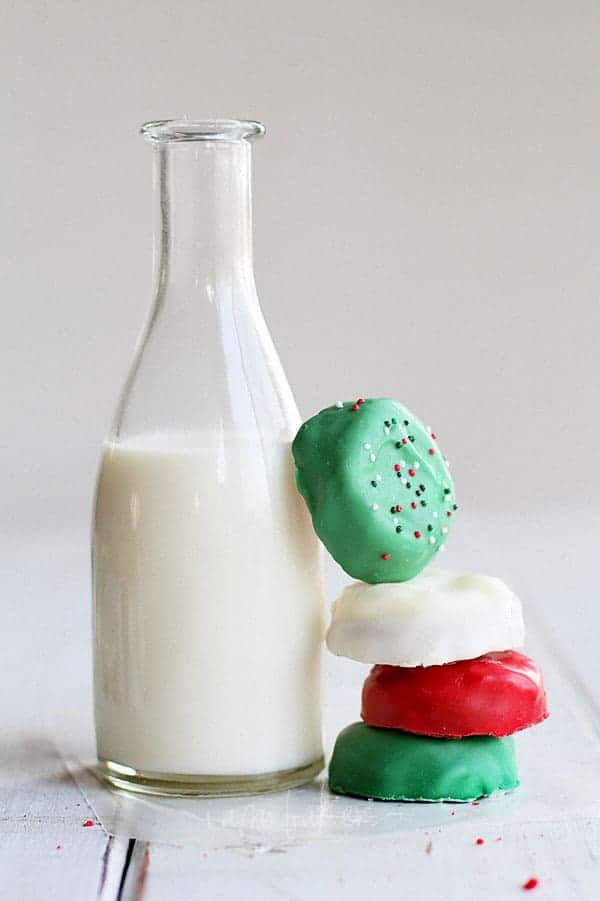 To make the Chocolate Candy Coating:
INGREDIENTS:
1 cup candy melts (I used white, green, and red)
3-4 tablespoons of shortening
microwave-safe container
Sprinkles (optional)
DIRECTIONS:
Place candy and shortening into a microwave-safe container (glass works well) and melt for one minute. Remove and stir, then place back in the microwave for 30-second increments.
Once the chocolates are mostly melted, remove and stir until completely smooth. I wanted the chocolate pretty runny to make covering the cookies easier, so I added a bit more shortening. Just drop it in and stir into the heated chocolate until dissolved.
Because my coating was a little runnier, I ended up covering the cookies twice.
If you want to add sprinkles, do so right after coating cookies with chocolate to ensure the sprinkles stick.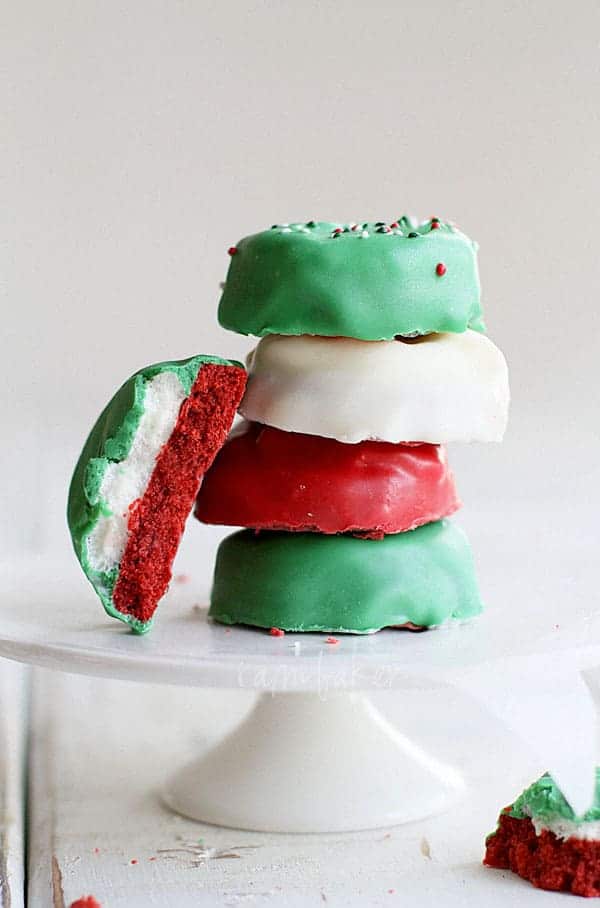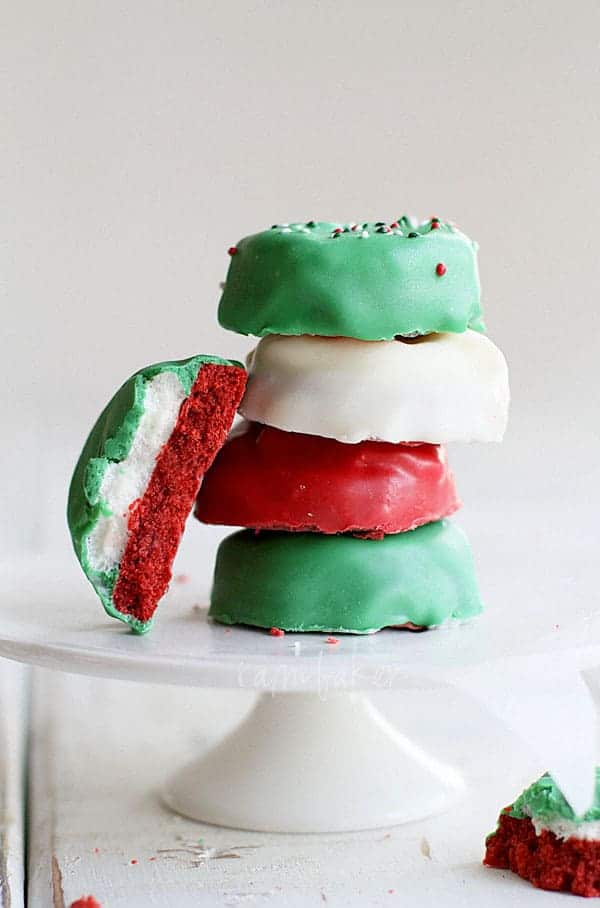 Red Velvet Sugar Cookies
These Chocolate Coated Marshmallow Red Velvet Sugar Cookies are a fun version of a surprise-inside cookie!
Ingredients
1 1/2

c

Butter

I Use Unsalted

1

tsp.

Salt

2

tbsp.

cocoa

4

c

All-purpose Flour

1

tsp.

red gel food coloring

2

tsp.

Almond Extract

4

tsp.

Vanilla Extract

3

eggs

2

c

Sugar

1

tsp.

Baking Powder
Instructions
In a mixer, beat butter and sugar until well combined, about 2 minutes.

Add in 3 eggs and mix until combined.

Add in vanilla extract, almond extract, and red gel food coloring, then mix thoroughly.

In a separate bowl, sift together flour, cocoa, salt, and baking powder. Slowly (about a cup at a time) add flour to butter mixture and combine. You can use a mixer or not, just depends on how strong you are.

I usually just mix ingredients until they are combined, as I have heard that if you over-mix this dough it will get tough.

Put dough in some Saran wrap and refrigerate for at least one hour. When you are ready to bake, heat oven to 350 degrees. Roll dough out, cut out cookies, and bake for 6-8 minutes.
Did you make this recipe?
Thank you for making my recipe! You took pictures, right? Well go ahead and post them on Instagram! Be sure to mention me @iambaker and use the hashtag #YouAreBaker.