Chocolate Peanut Butter Sandwich Cookies are rich, chocolatey cookies filled with a homemade peanut butter frosting filling. The chocolate cookies are decadent enough to stand on their own with their crispy outside and soft, chewy center. (Trust me, I had a few!) But the added peanut butter filling was the perfect complement to the chocolate, making this one of my favorite sandwich cookies of all time. If you prefer all chocolate, I also have Chocolate Sandwich Cookies you will love!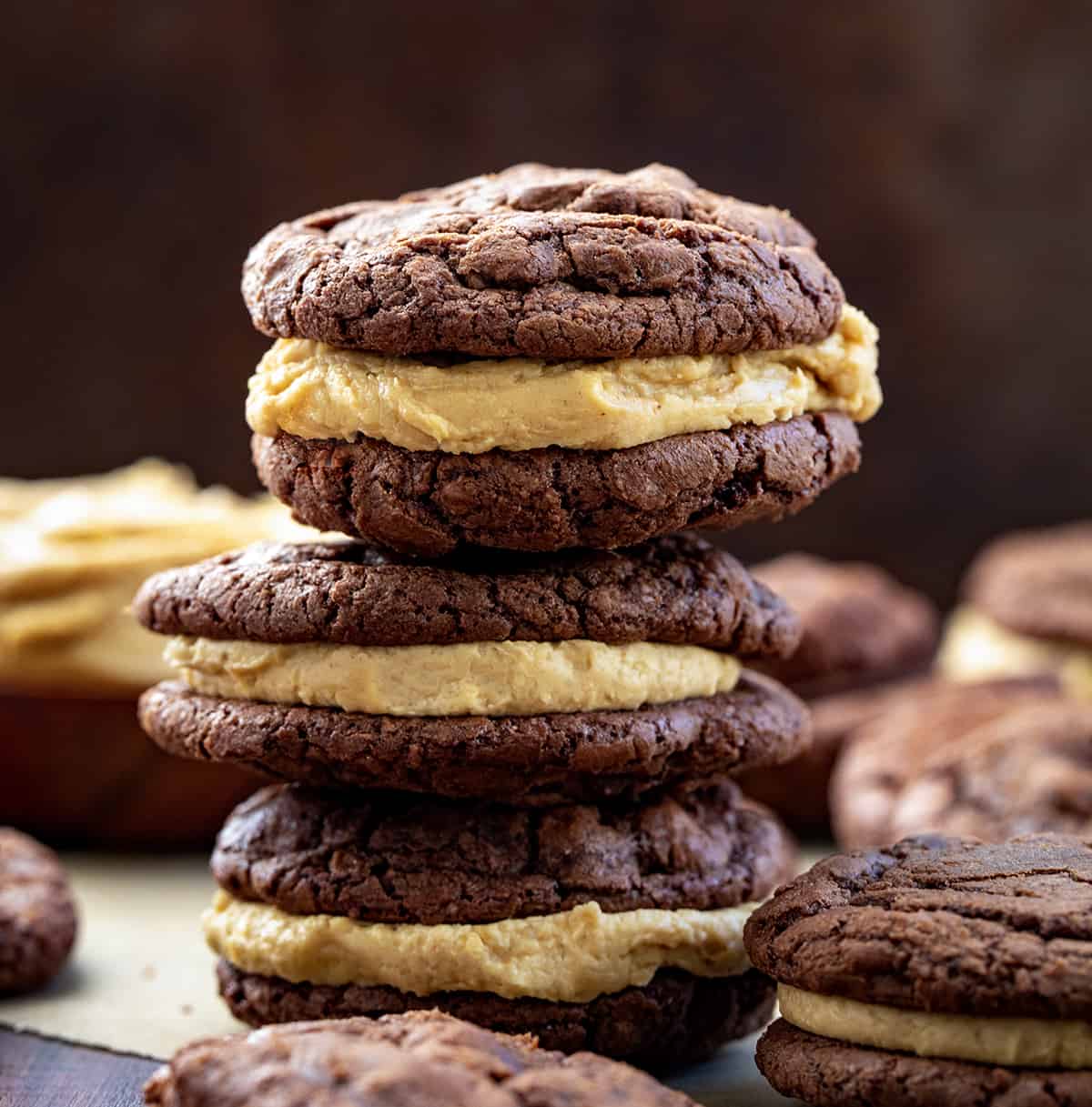 Ingredients & Substitutions
Chocolate: I used both semisweet and milk chocolate chips in this recipe. The semisweet chocolate chips provide a deep, chocolatey flavor while the milk chocolate chips provide a sweet flavor. Together, they create a delicious and indulgent cookie experience.
Bread Flour: After testing the chocolate cookies many times (not complaining), all of the taste testers overwhelmingly preferred the cookies made with bread flour. Bread flour is flour with a protein level higher than 12 percent. (All-purpose flour generally is between 10-12 percent.) This yields a sturdy cookie dough which results in a chewy texture. If you do substitute all-purpose flour in the dough, the cookies will not have the same texture, but they will still be delicious.
Peanut Butter: Use creamy peanut butter for the filling. It is a light and creamy frosting that you will want to eat on its own! It's the frosting I used to top my Peanut Butter Cupcakes.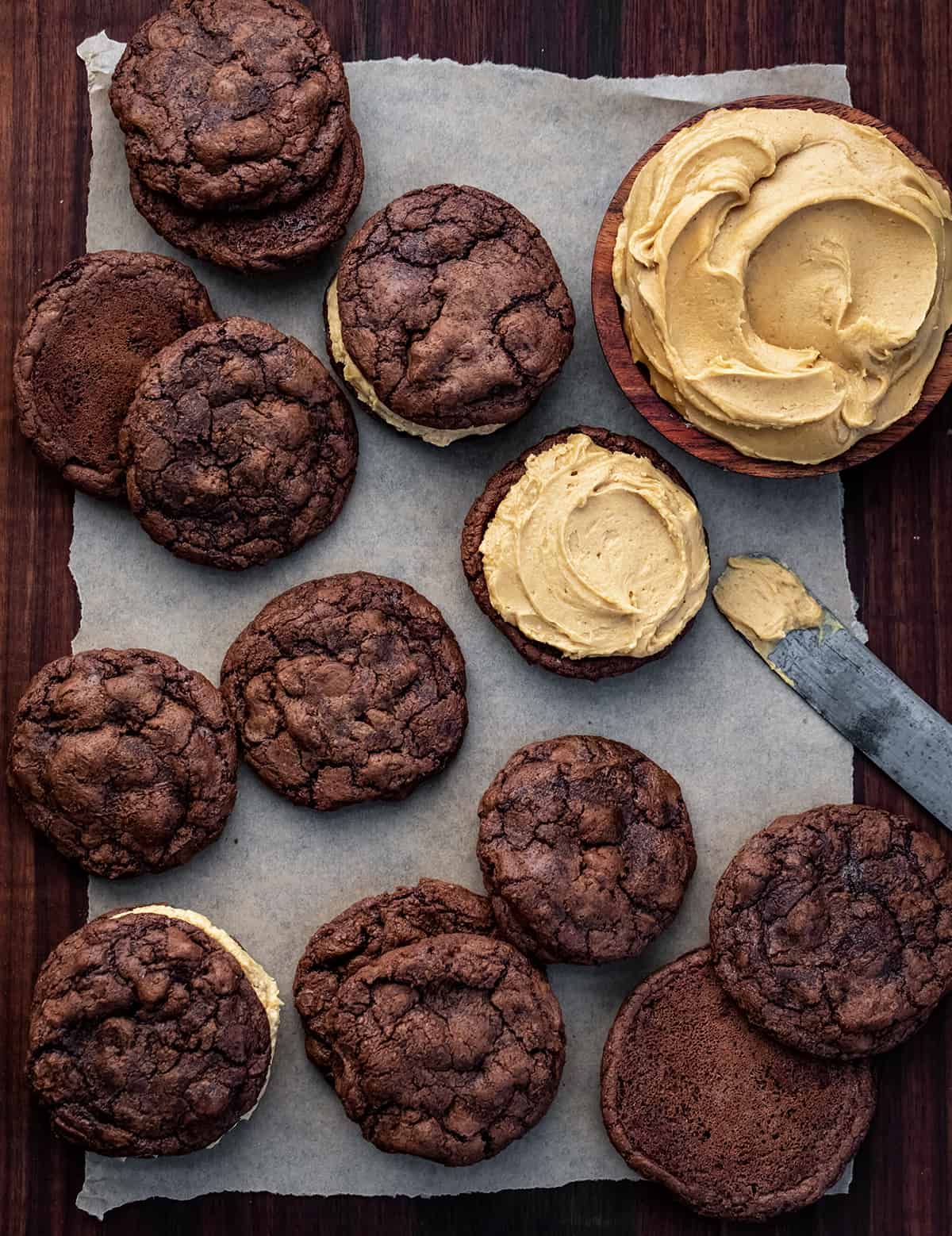 Can I Melt the Chocolate and Butter in the Microwave?
Yes, you could melt the chocolate and butter in the microwave (but it is quite a bit of chocolate). However, melting chocolate using the double-boiler method helps you control the heat more so it doesn't burn. If you do use the microwave, melt the chips and butter in 30-second intervals, stirring between each interval, until melted and smooth.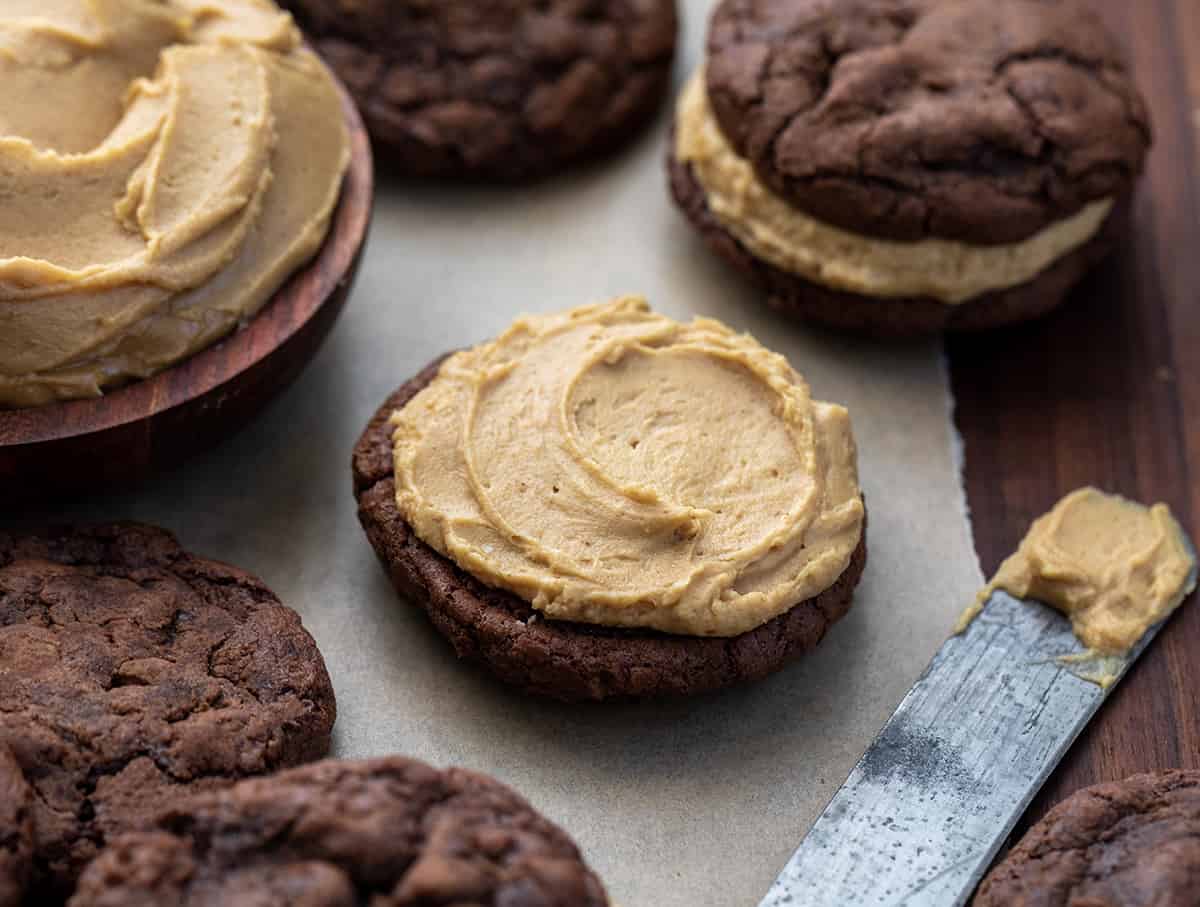 Do I Have to Chill the Dough?
The dough should chill in the refrigerator for an hour, and it does make a difference. When you chill cookie dough, it solidifies the fat. Then, when you are ready to bake the cookies, the chilled dough takes longer to melt and remains solid longer, meaning the cookies spread less. This is especially important for sandwich cookies like these. Chilling the dough also gives you more flavorful cookies. The dry ingredients have time to soak up the wet ingredients, allowing them all to come together. Baking will be more even as well.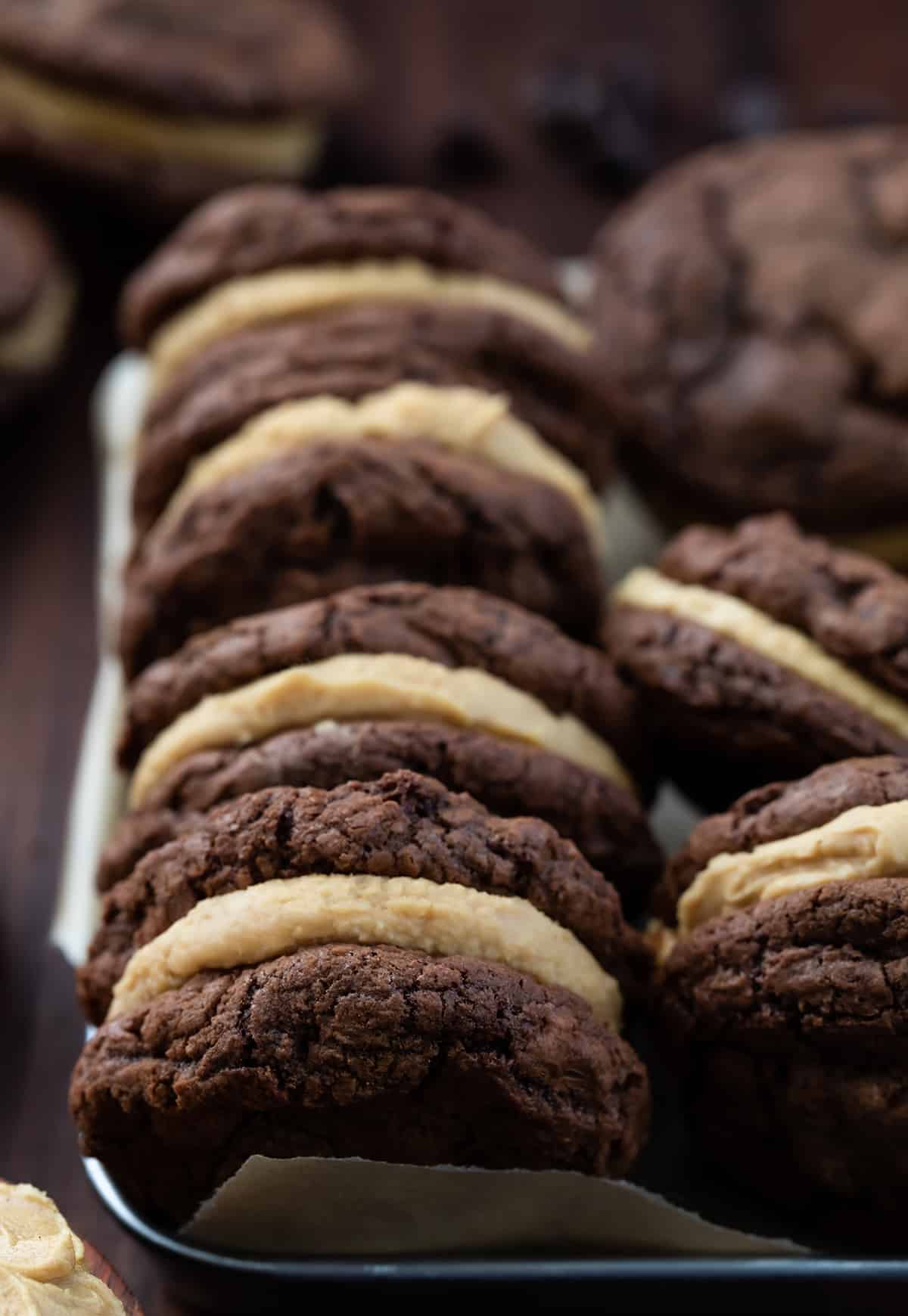 Can I Make Chocolate Peanut Butter Sandwich Cookies Ahead of Time?
Yes! The cookie dough can be made and frozen to bake at a later time. To freeze the dough, place the balls of dough onto a baking sheet lined with parchment paper. Place the baking sheet in the freezer for 1-2 hours, or until the dough balls are completely frozen. Once frozen, transfer the dough to freezer-safe zipper bags. When ready to bake, simply bake as many of the cookies as you need from frozen. You may need to increase the baking time by 1-2 minutes. The peanut butter frosting can be made and stored in the refrigerator for up to a week.
How to Store Chocolate Peanut Butter Sandwich Cookies
Once assembled, chocolate peanut butter sandwich cookies can be stored at room temperature for a couple of days. For longer storage, they can be stored in the refrigerator for up to a week.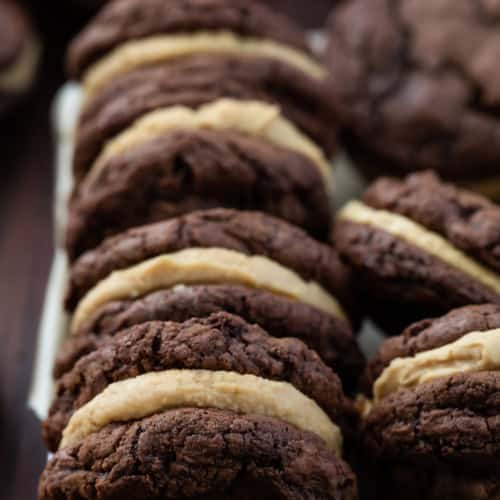 Chocolate Peanut Butter Sandwich Cookies
Chocolate Peanut Butter Sandwich Cookies are rich, chocolatey cookies filled with a homemade peanut butter frosting filling.
Ingredients
Chocolate Cookies
3

cups

(546 g) semisweet chocolate chips,

about 1 ½ 12-ounce bags

4

large

eggs,

room temperature

1 ½

cups

(300 g) granulated sugar

1

teaspoon

vanilla extract

½

cup

(63.5 g) bread flour

1

teaspoon

baking powder

1

bag

(12 ounces) milk chocolate chips
Peanut Butter Filling
1

cup

(125 g) confectioners' sugar

3

tablespoons

unsalted butter,

room temperature

⅔

cup

(172 g) creamy peanut butter

¼

cup

(59.5 g) heavy cream

½

teaspoon

vanilla

1

pinch

kosher salt
Instructions
Chocolate Cookies
Fill a pot about halfway full of water. Bring it to a simmer over low heat. Find a heat-safe bowl (glass or stainless steel) that can be set into the pot of simmering water. Make sure the bottom of the bowl is not touching the water. The steam is what will melt the chocolate.

Add the semi-sweet chocolate chips and butter to the heat-safe bowl. With the heat on low, use a rubber spatula to stir the chocolate until it is melted and smooth. This takes about 5 minutes.

To the bowl of a stand mixer fitted with the paddle attachment, add eggs and sugar. Beat on medium speed until combined. Add in the vanilla and melted chocolate and beat until combined, stopping to scrape the sides of the bowl as needed.

Add in the flour and baking powder and mix until combined.

Gently fold in the milk chocolate chips.

Cover the bowl of cookie dough and store it in the refrigerator for one hour.

When ready, preheat the oven to 350°F and line baking sheets with parchment paper.

Using a 1 ½ tablespoon scoop, drop the cookie dough onto the lined baking sheets. Roll each into a ball, spacing each about an inch apart.

Bake for 10-12 minutes, or until the edges appear dry.

Let the cookies cool while you prepare the filling.
Peanut Butter Filling
To a large bowl, add confectioners' sugar, butter, peanut butter, heavy cream, vanilla, and salt. Using a hand mixer on low speed, beat the ingredients until combined.

Increase the speed to high and beat until light and fluffy.

Spread about one tablespoon of the filling on the bottoms of half of the cooled chocolate cookies and top with the remaining cookies. Enjoy!
Did you make this recipe?
Thank you for making my recipe! You took pictures, right? Well go ahead and post them on Instagram! Be sure to mention me @iambaker and use the hashtag #YouAreBaker.
What the Test Kitchen had to say about this recipe: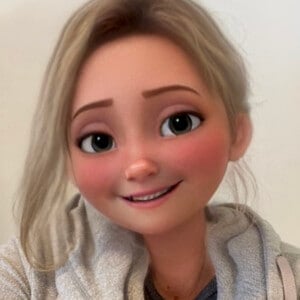 Autumn
Oh my goodness this cookie HAS to be on your baking rotation! If this cookie proves anything it is that chocolate and peanut butter really belong together.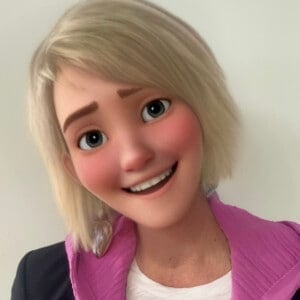 Elizabeth
This has to be the best sandwich cookie on the planet! Yes, they are THAT good. To begin with, the cookies are chocolate cookie perfection, and I questioned if any filling should be added. But, once we added the peanut butter filling, I was sold. If you are a fan of the flavor combination of chocolate and peanut butter, you really have to try these sandwich cookies!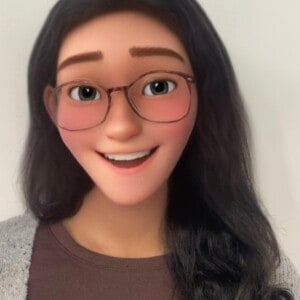 Bella
These are too good! Especially in this sandwich cookie, the flavor combination of chocolate and peanut butter works so well. When you add the creamy, fluffy filling to the already fantastic cookie, it gets even better. A must-try for sure.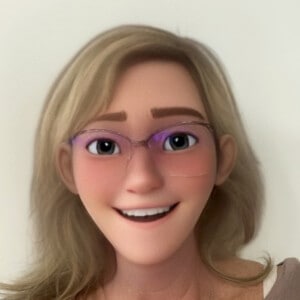 Christine
If you're a fan of chocolate and peanut butter, then you're gonna love these cookies! It's a match made in heaven that's sure to satisfy your sweet tooth. So if you're looking for a delicious and satisfying treat, give these cookies a try. You won't be disappointed!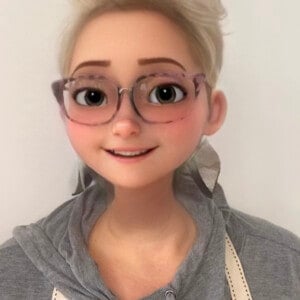 Selena
This recipe is stellar! The cookies are rich and fudgy and when paired with the super creamy and a little salty peanut butter, it is a match made in heaven.