Matching up the perfect sugar cookie recipe with the perfect buttercream recipe gets you an AMAZING Christmas Tree Cookie's recipe!

I saw these Christmas Cookies over on Delish and knew I had to make them! I made a couple small changes to ensure they would be perfect for everyone.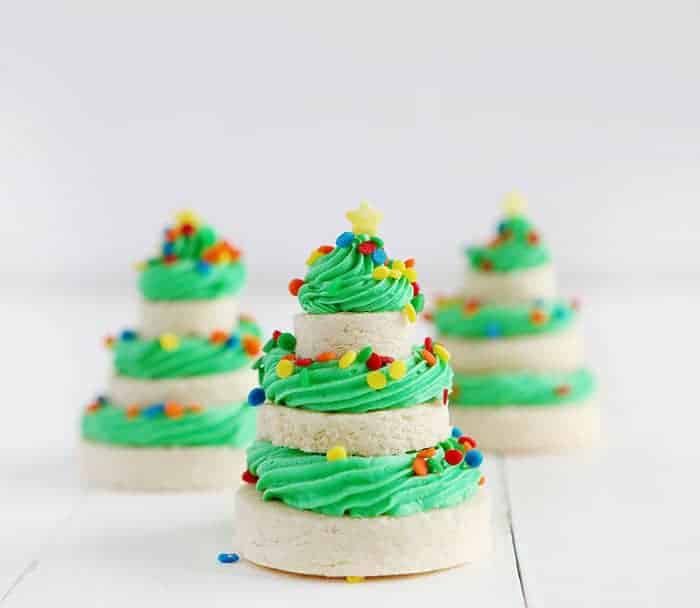 The first change was the size. When I originally made the cookies according to the instructions they were far too big to handle, much less eat! I made the largest cookie layer of the cookie tree only 3-inches big.
The other change was the recipe. I used an easy, no chilling, delicious sugar cookie dough that made the process much quicker. I love how these turned out and thank you to Delish for the fun idea!
To make these cookies you will need:
sugar cookie recipe (below)
2-inch, 1 1/2-inch, and 1-inch round cookie cutters
cookie sheets
parchment paper
vanilla buttercream (recipe below)
green food color
#32 decorating tip and pastry bag
decorative sprinkles or jimmies and mini stars
PRO TIP: If you can't find mini stars, you can pipe out stars with yellow buttercream and freeze before adding to cookies!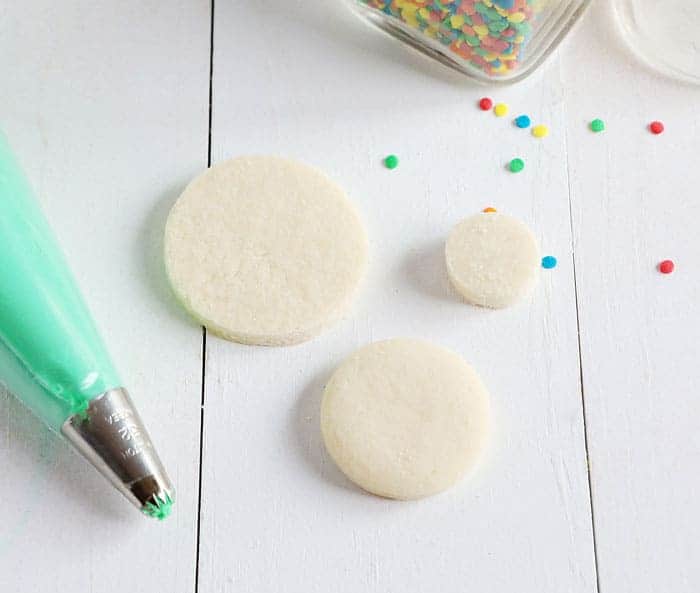 Begin by rolling out cookie dough.
Prepare three cookie sheets each lined with parchment paper. Start cutting out cookies with the 2-inch cookie cutter and set on the pan at least an inch apart. (these cookies should not spread too much) Fill the pan. Now, using the 1 1/2 inch cookie cutter, cut out the same amount of cookies you did with the 2-inch. (So if you made fifteen 2-inch cookies you will want fifteen 1 1/2-inch cookies and fifteen 1-inch cookies) Repeat with the 1-inch cookie cutter.
Repeat this process with any remaining sugar cookie dough.
Bake at 350°F for 6-9 minutes or until the center of the cookie does not appear wet and the edges are JUST barely starting to brown. (I usually remove mine at 7 minutes to avoid browning)
Prepare buttercream and tint with green food coloring. You can make the color as light or as deep as you prefer.
Fill a pastry bag fitted with a #32 decorating tip and green buttercream.
When cookies are cooled you can begin piping. Take the largest shape and set on a solid surface. Pipe a ring around the outside with the #32 tip and then fill in the center. Set the next smallest size (1 1/2-inch cookie) on top and pipe around, then fill in the center. Place the final 1-inch cookie on top and pipe out a small dollop on top.
Drop the sprinkles over top. You can use as many or as few as you wish. (I have also placed each individual sprinkle by hand to try and make it look more uniform, but this was a massive amount of time and the final result was not as spectacular as I had envisioned. 😂)
Finally, place the star on top. Repeat for remaining cookies.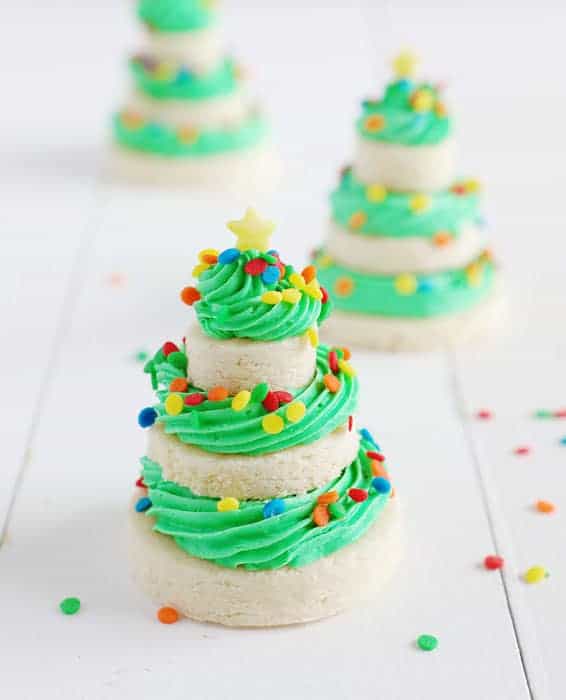 Tips, Tricks, Variations
For a couple of the cookies that spread (the ones that I baked after I had re-rolled the dough a couple times!), I used the cookie cutter on the cookies right out of the oven. Meaning, I set the hot cookies on the counter, pressed the cookie cutter onto any cookie that had slightly spread, then carefully removed the excess. This helped ensure that all my cookies were the same size and shape.
In the original recipe found on Delish, they created the different sizes by rolling out cookie dough into different size balls. While this *seemed* easier, I ended up with really different sizes. I wanted my Christmas Tree Cookies to be uniform and symmetrical, so found using cookie cutters to be the best option. I also tried piping a garland around the cookie for a prettier effect and while it was pleasing to the eye, it was tough to eat! The kids ended up with frosting all over their hands and face! (and when I say kids, I mean me.)
Do these cookies work well for a cookie exchange? YES! Speaking from experience, not only do they work well but people LOVE them. They are small enough that you can fit 12 on a platter and because I used a traditional American buttercream that crusts, they are quite sturdy.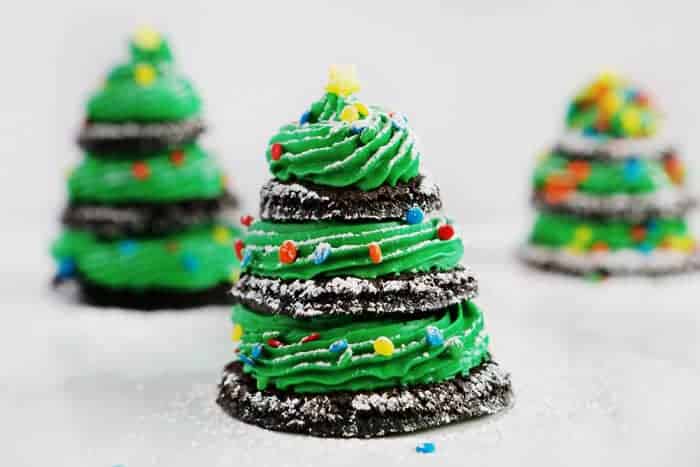 Variations could be using a chocolate sugar cookie recipe and a darker tint of buttercream, then sprinkle with powdered sugar. For the chocolate sugar cookies, I used this Triple Chocolate Sugar Cookies recipe but omitted the white chocolate.
Check out these other fun Christmas Cookie recipes!