I have never made (nor even heard of) angel food cupcakes, but I figured they would be easy to make.  And guess what?  It was.  Super duper easy! (said in my best three year old voice)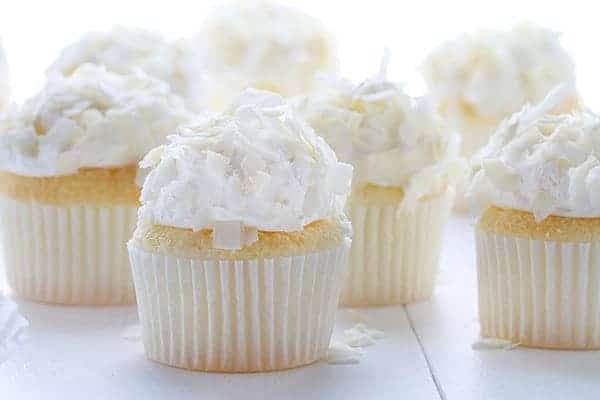 Because I used a box mix.  Then I topped it with Cool Whip.  Then I added super awesome and special unsweetened coconut flakes. Which I kinda weird that I would add the most expensive and gourmet ingredient as a garnish, but hey, they are pretty.
If you want to make the cupcakes from scratch I think this recipe from Food Network looks good, just be sure to use the coconut extract.
Me?  I love that for a box angel food cake you ADD WATER and bake.  It really doesn't get an easier.  (Well, I did actually add some coconut extract, but that was really easy to do.)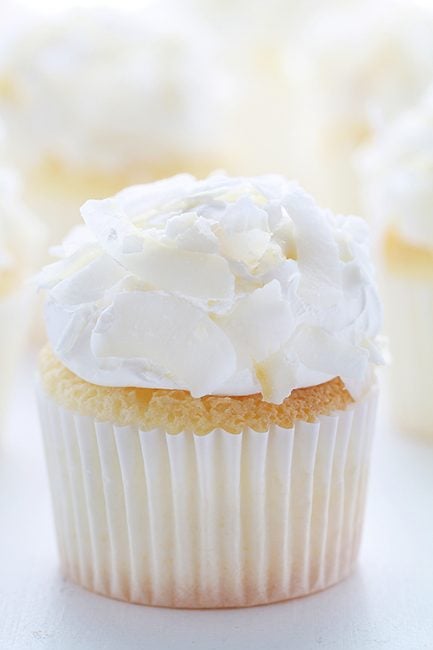 It feels a bit weird typing out a recipe that starts with, "Open a box" but it is just easier to lay out that way.
When "developing" this recipe I want back and forth on every little detail:
Do I want to brush on a coconut simple syrup to infuse more flavor.  Should the whipped cream be from-scratch.  Should I use a 7-minute frosting recipe. (Ultimately I decided not to do that for aesthetics, but for flavor I think it would be lovely!) Should the frosting be piped on.  Would a homemade whipped cream be as stable as store bought.  Should I use the sweetened or unsweetened coconut flakes.  It's amazing how much detail went into these little suckers!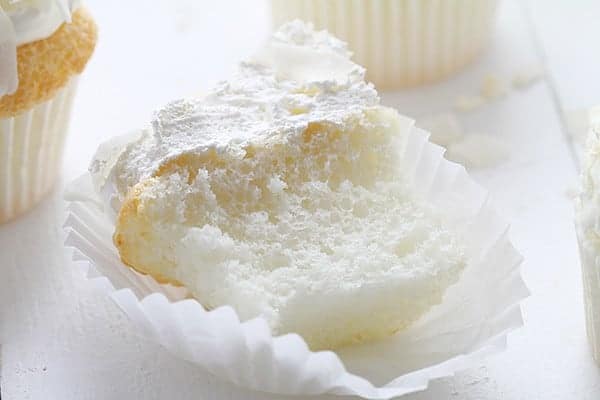 Ultimately, I am happy with how these have turned out, but I do plan on making the entire recipe from scratch to determine if it is worth the time, money, and energy.
These are so delicious as is, it's definitely a project that I am going to enjoy tackling!!