Creating a mouth-watering Easter Basket Puff Pastry is an easy and fun treat for any Easter celebration!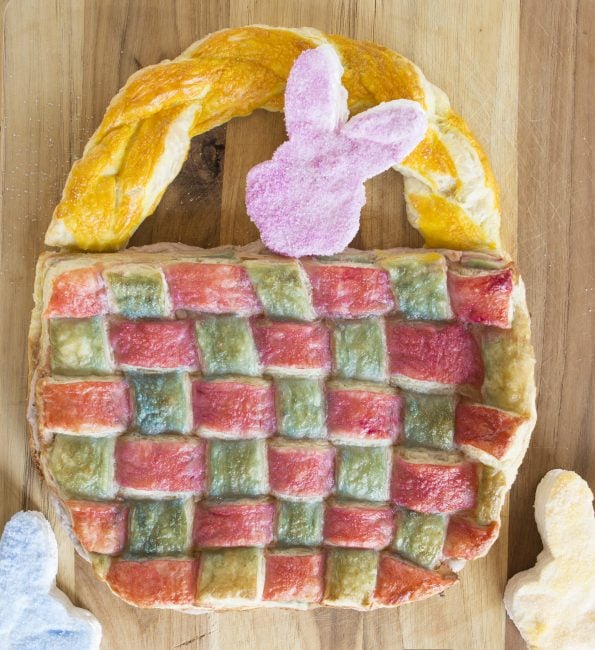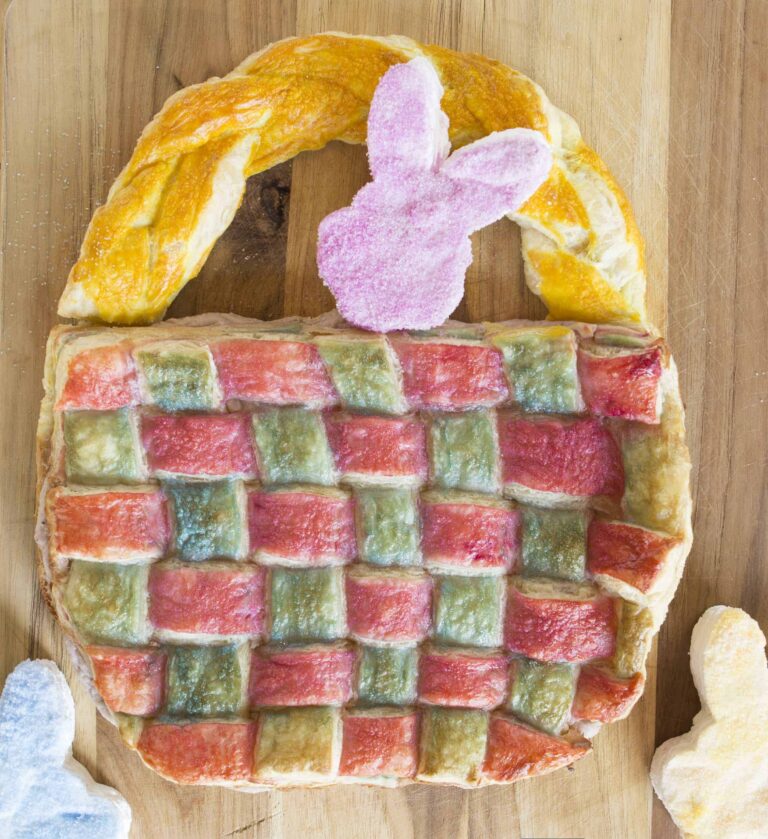 Bread is a love language is this family, and I was beyond thrilled to find out that I could add color and theme to a traditional puff pastry! By using McCormick's® Color from Nature I can add such fun detail to any design! We opted for an Easter theme with this puff pastry treat, and the whole family was thrilled!
To make this treat you will need:
2 packages puff pastry
Color From Nature food color
3 eggs, separated
1 package cream cheese
1/4 cup blueberry jam (or whatever flavor you prefer)
cookie sheets
pastry brush
pizza cutter
small offset spatula
aluminum foil
Directions: (There is a full video below on how to make this!)
Prepare filling. In a medium bowl mix room-temperature cream cheese with blueberry jam. Mix until smooth and creamy. Set aside.
Thaw your puff pastry according to package directions. Be sure to SAVE the white paper between the folds of pastry, we will use these when creating the lattice design.
Unfold one layer of pastry on a cookie sheet and cut into 9 strips. Repeat this with another layer of puff pastry. Set aside 1 strip from one pan and 2 strips from the other pan. You will use these 3 strips of puff pastry to create the braided handle.
In a small bowl use the whites from one egg. For the blue coloring use 1/4 teaspoon of the Sky Blue with 1 egg white and whisk thoroughly with a fork. For pink use 1/4 teaspoon of the Berry color. For yellow use 1/2 teaspoon of Sunflower.
Using a pastry brush, cover one of the puff pastries with the blue egg wash.
Cover another with the pink.
Now to make the lattice: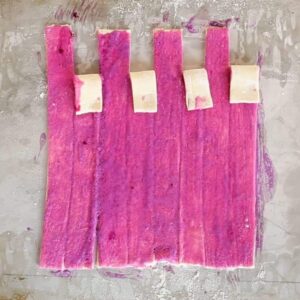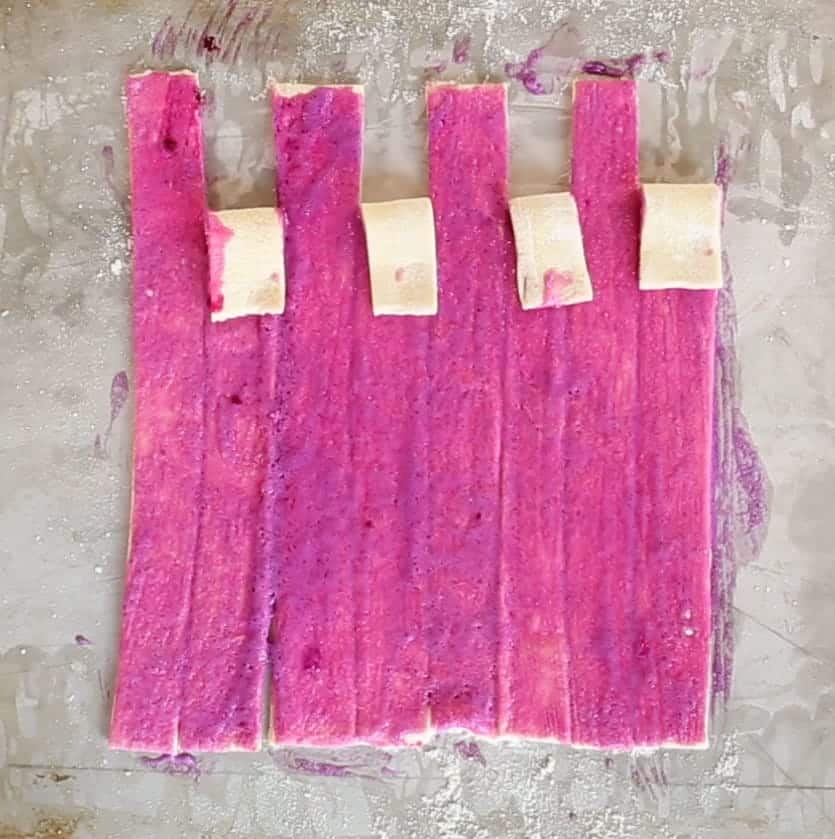 Start with the pink layer. Lift up about 2 inches at the bottom of one strip then lay it on itself.
Repeat this on every other strip.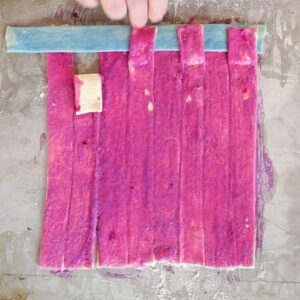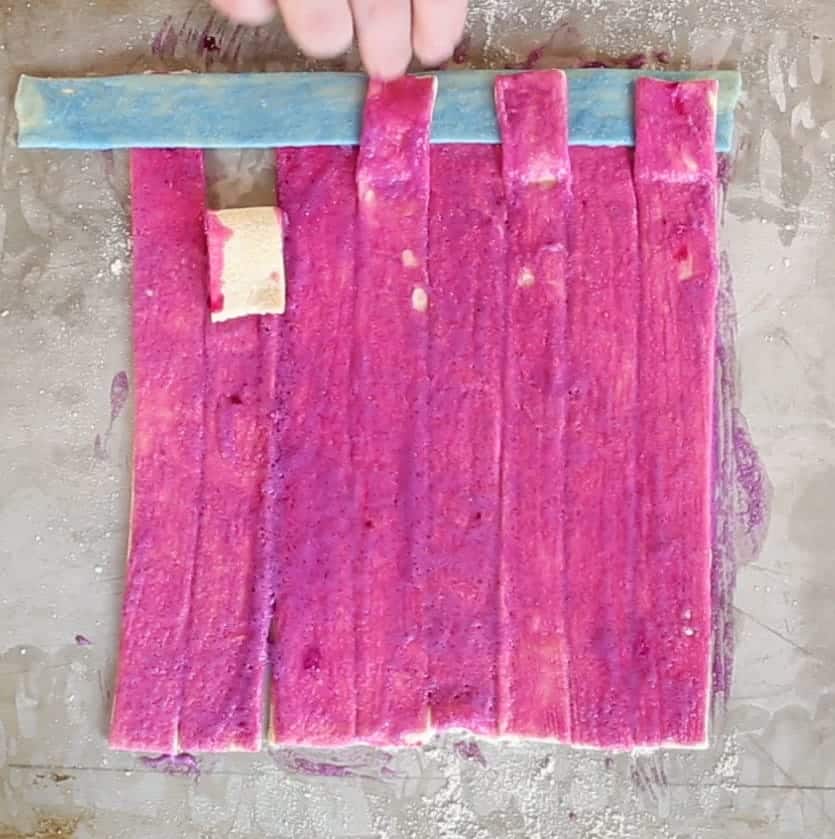 Now grab one of the blue strips. Lay it across the bottom row. (we will be trimming the final design so it can stick out one edge a bit) Now, with a clean hand, pull the pink strips down over top of the blue.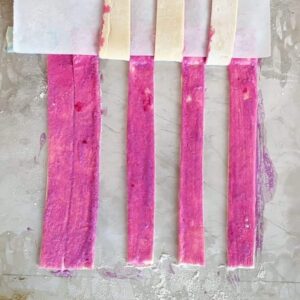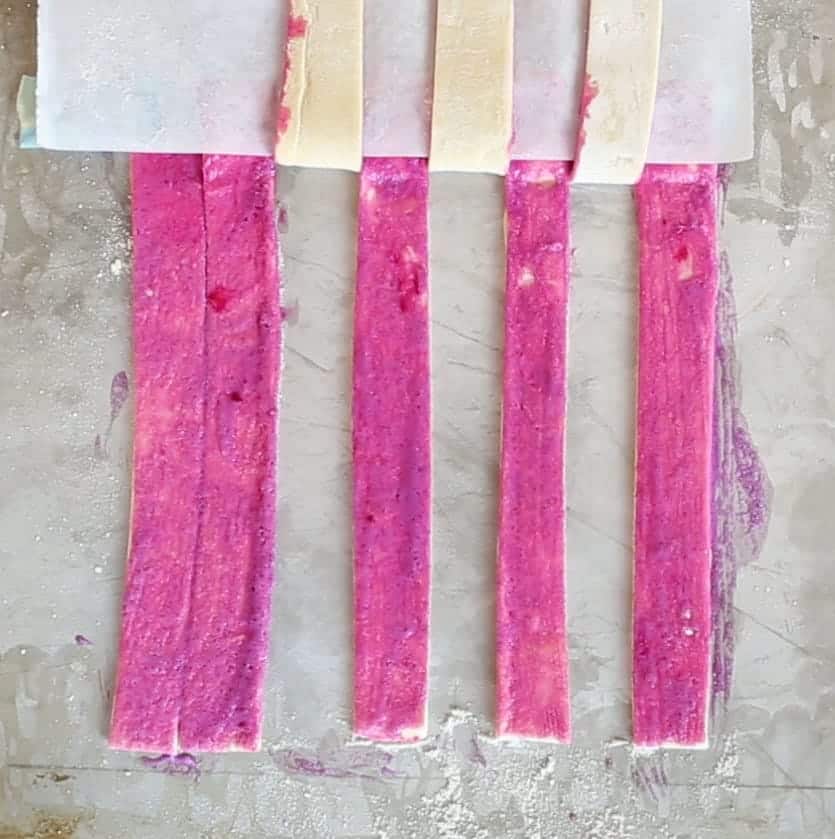 Take one of the dividing sheets you saved from the puff pastry package and lay it over the row you have just created.
Now pull down (instead of up) the pink strip that you did not touch last time.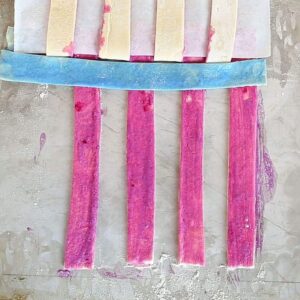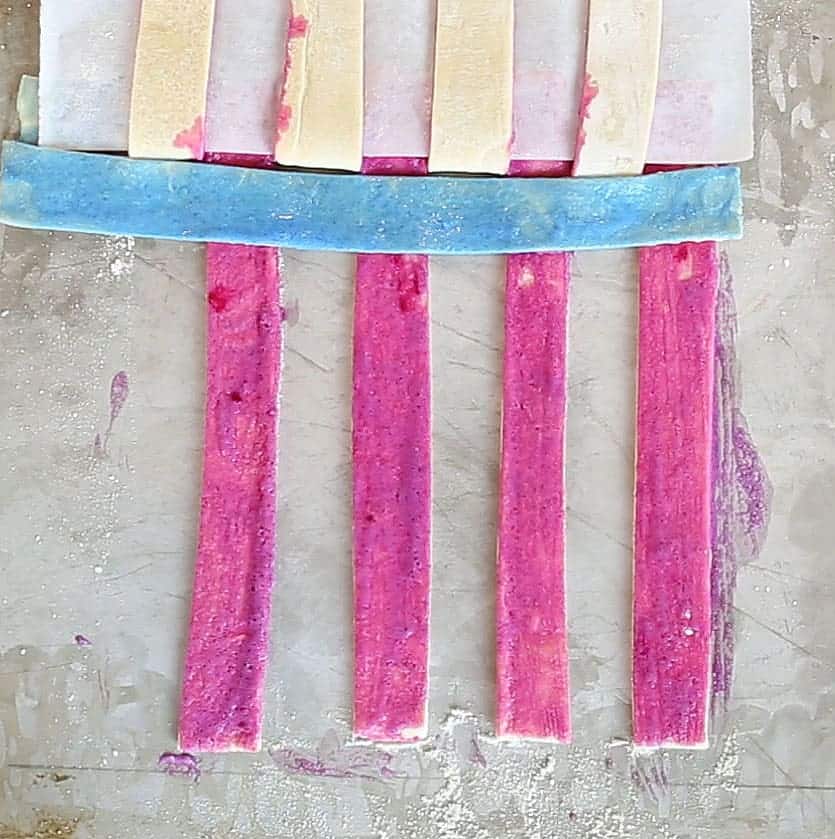 Lay another blue strip across, then carefully lay the pink strip down that you moved.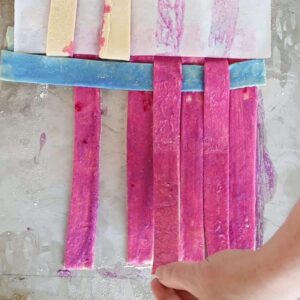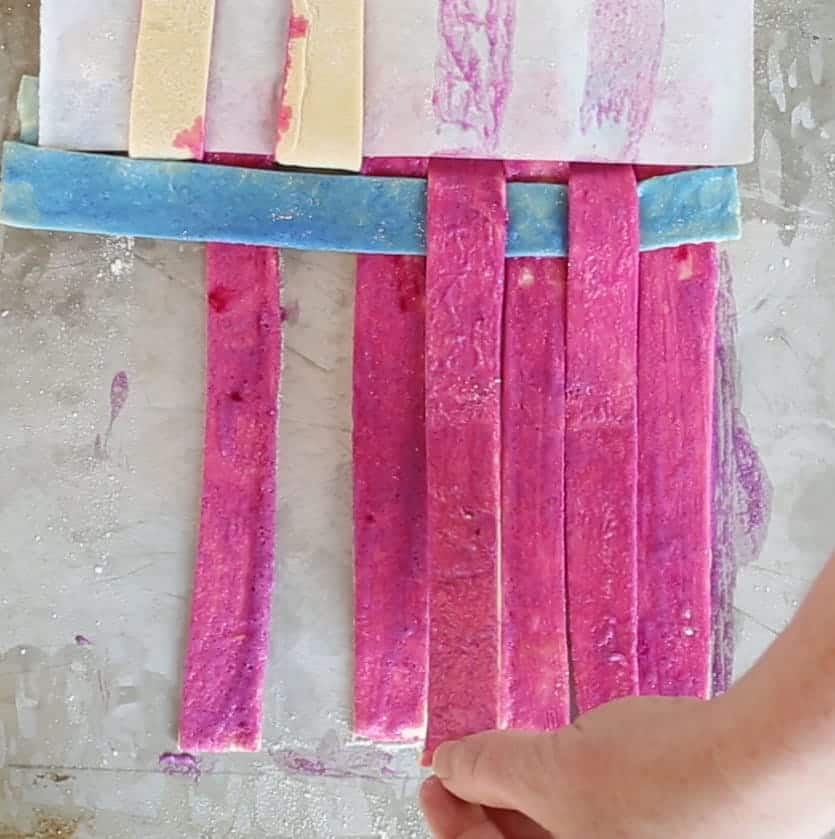 Place another piece of paper over your completed row and repeat until you have created a full lattice design.
Set aside.
On a clean cookie sheet (or clean solid surface) place the 3 strips that you set aside from earlier.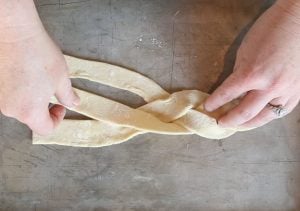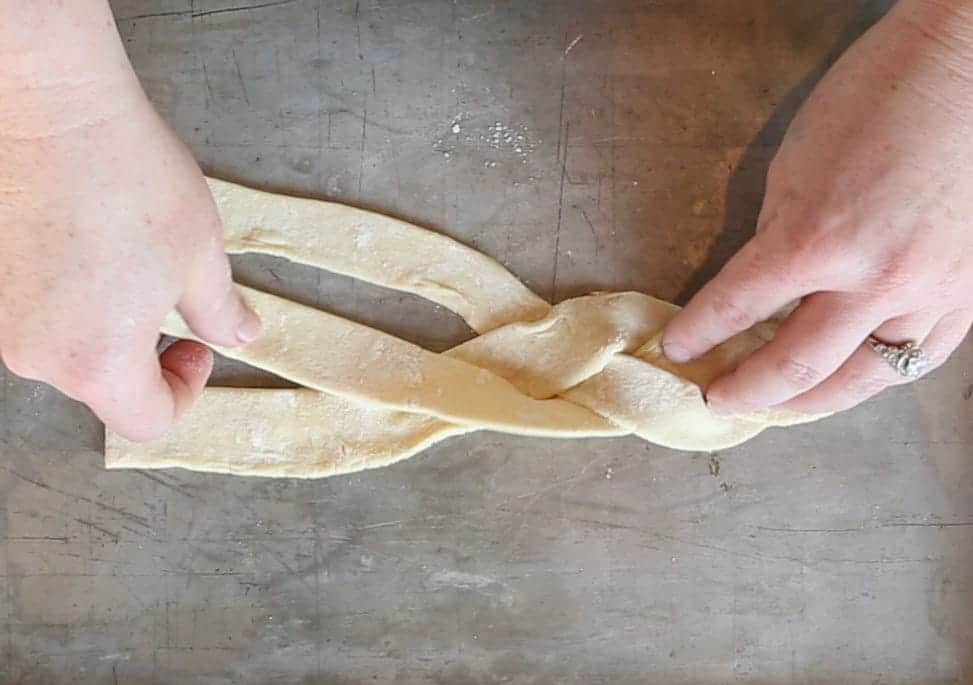 Place them next to each other and then pinch the together. Start braiding the strips. Pinch the bottom and set aside.
Unfold another layer of puff pastry. Spread filling over layer evenly. CAREFULLY move the lattice to the filling covered puff pastry. I used a pizza spatula.
Once the lattice puff pastry has been placed on top of the filling layer, trim into a basket shape with a pizza cutter. (You can keep any scraps and bake for snacks!)
Grab the braided handle and curve at the top of the basket. Brush with yellow egg whites and then bake the puff pastry for 15 minutes at 350°F. Open oven and cover the puff pastry with aluminum foil so that the color does not fade and the top does not burn. Continue baking for 15-20 more minutes. Keep a CLOSE EYE on the puff pastry, you do not want it to burn. (This takes a bit longer to bake because of the double layers and filling.)
Check out this FUN video on how to make an Easter Basket Puff Pastry!
I made homemade marshmallows and then cut them out with bunny cookie cutters and followed this recipe exactly!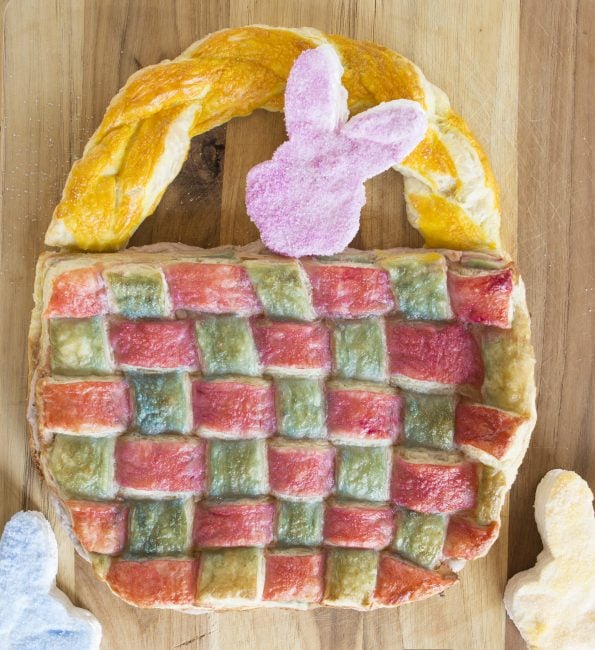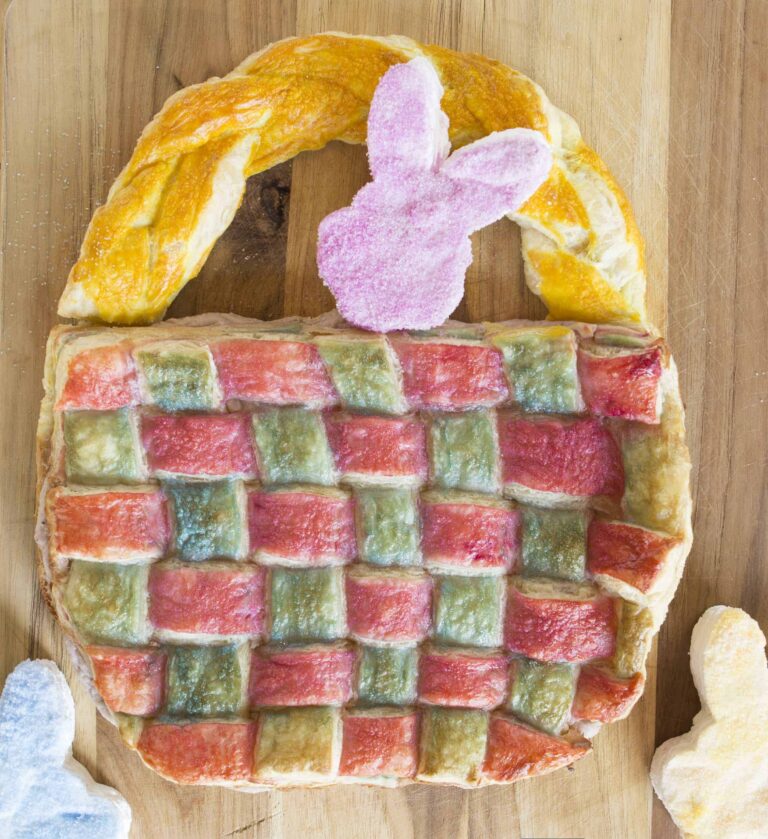 Thank you so much for supporting the brands that support iambaker. I am so lucky to work with McCormick as they are a brand I love to use and that I trust!! You can find them at McCormick.com.