This Easy Cheesy Scalloped Zucchini is a delicious side dish loaded with zucchini and summer squash, all robed in a creamy cheesy sauce that will have you licking your plate clean! If you love zucchini (and happen to have 100 in your garden!) this recipe is what you need!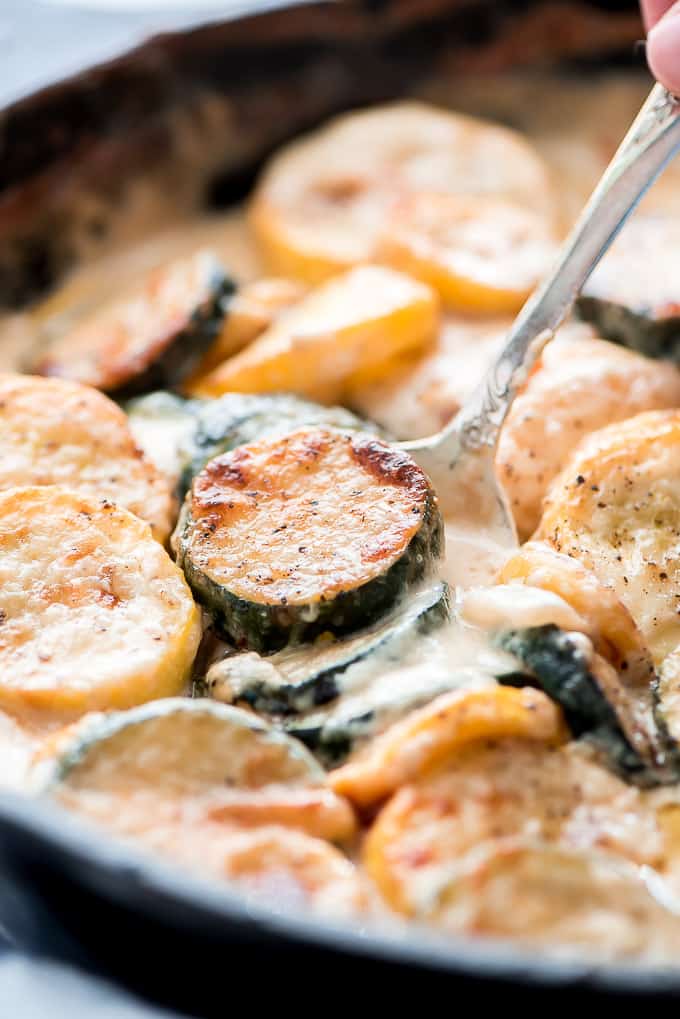 Zucchini
Zucchini is the vegetable of the summer and this Cheesy Scalloped Zucchini is the best way to enjoy it! Thankfully we live in a day where despite zucchini not always being in season, you can always get it at the store because I definitely want to have this side dish on my menu every week. How can one not?! Guys, I want to bathe in that cheese sauce it's so good. I've brainstormed a whole list of other foods I can eat it on because it's just all I can think about at the moment.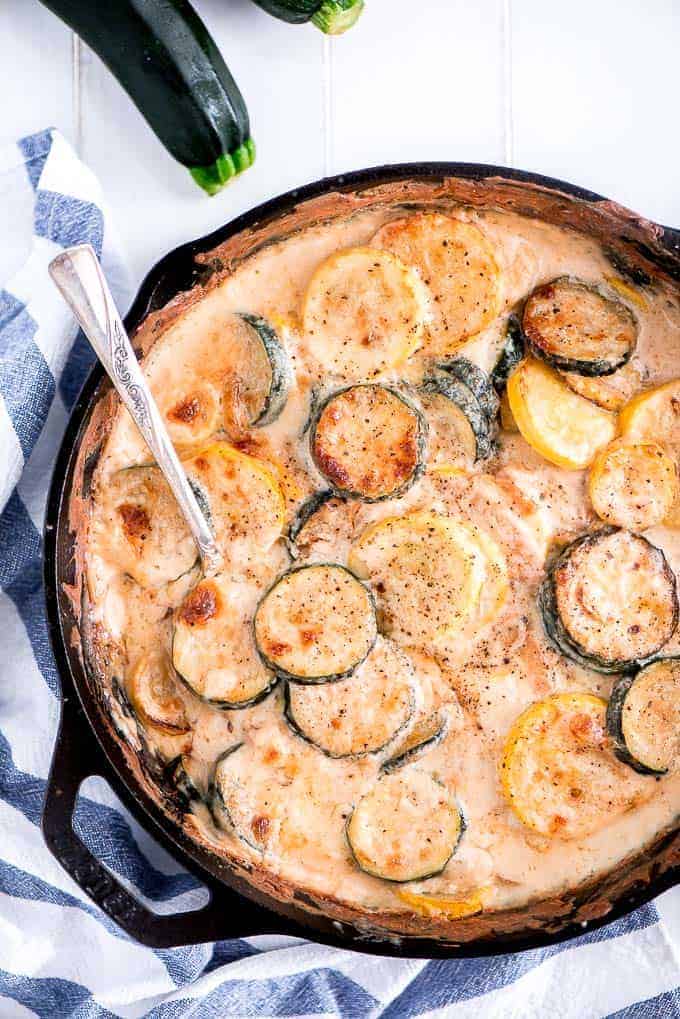 How to Make Cheesy Scalloped Zucchini
The first step is to chop up all the veggies to about 1/4 inch thick. You can use all zucchini or a combo of zucchini and summer squash. I like that it adds another color and they're usually the same price at the store so why not have some variety? You need a little onion just to add to the flavor of the dish and I usually have half an onion floating around in my vegetable crisper so just use up what you have. While baking is a science, cooking has a lot more leeway to make things work for you.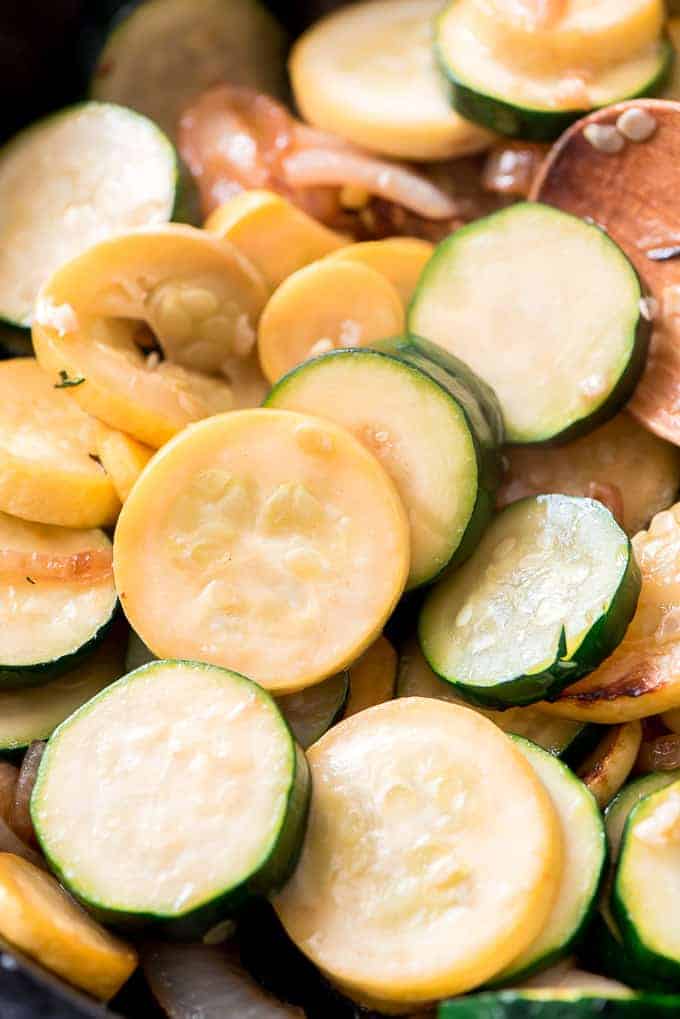 You'll then cook the onion in a little butter so that they soften and then you can add in the zucchini and squash and cook them until they just start to become tender. Remove them from the pan so you can make the cheese sauce. If your pan isn't ovenproof, you can just put them in a greased 9×9 inch pan.
After making the cheese sauce you can either pour the sauce over the veggies in the 9×9 inch pan or if you use an oven safe pan, you can mix the veggies into the sauce. Then you only have to wash one pan! Yay!
Of course, the best way to finish a casserole is by sprinkling on more cheese and baking it until bubbly and golden brown.
How to Make White Cheese Sauce
White sauce can easily curdle so it's important to have all your ingredients ready to go so you can stay at the stove stirring. So, you'll first want to shred the cheese. I'm actually not even sure you can buy shredded Monterey Jack cheese, but for making sauces it's always best to use freshly shredded cheese as it melts easier and creates a smoother creamier texture.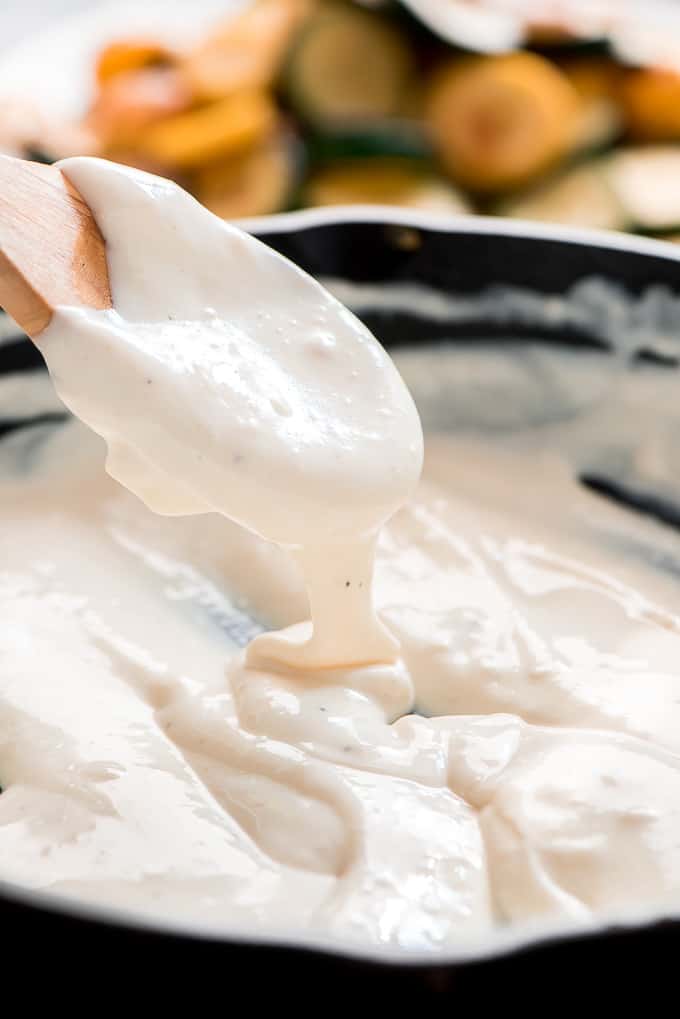 I also highly recommend using freshly grated Parmesan cheese. My favorite variety is Parmigiano-Reggiano. You can find it near all the specialty cheeses at your local grocery store. It's usually cut into randomly shaped wedges, wrapped in plastic wrap, and labeled by the store. It lasts for a couple months in the fridge and the rinds are great for tossing into soups for flavor like in my Minestrone Soup.
The cheese sauce begins by melting butter and mixing in equal amounts of flour. This is called a roux and it is what helps thicken the sauce. After cooking the butter and flour for about 30 seconds, you then add in the milk/cream a little at a time while quickly stirring it into the roux. If you add the liquid all at once it's difficult to get all the lumps from the roux out so just remember to add a little at a time. You'll then bring the sauce to a boil, reduce to a simmer and let it cook for 2 minutes. Keep stirring the whole time. You don't need to go crazy. Just stir enough to scrape the bottom of the pan to prevent curdling. The last step is to add your seasonings and the cheese. The cheese needs to be added just a little at a time over low heat and you must stir constantly. Once you've added all the cheese, turn off the heat and continue to stir until it is smooth and the cheese is all melted.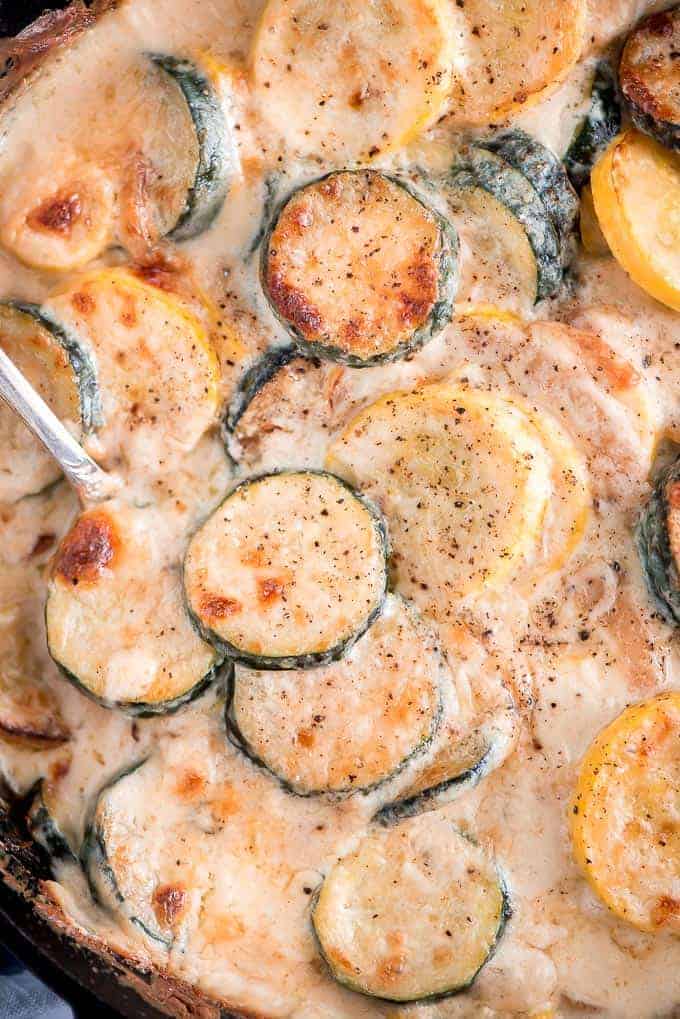 What Should I Serve Scalloped Zucchini With?
This is a great side dish to all your grilled and baked meats as well as fish. Everyone is sure to eat a second serving of veggies with this zucchini dish!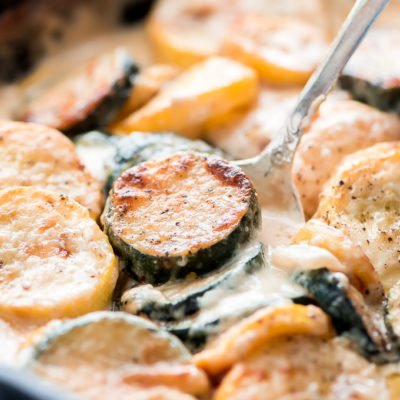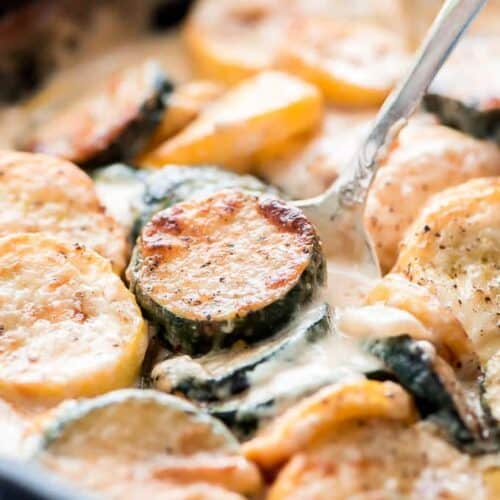 Cheesy Scalloped Zucchini
This Easy Cheesy Scalloped Zucchini is a delicious side dish loaded with zucchini and summer squash, all robed in a creamy cheesy sauce that will have you licking your plate clean!
Ingredients
1/2

sweet onion

sliced

4

zucchini

or summer squash

2

cloves

garlic

minced

3

tablespoons

butter

divided

1

tablespoon

flour

1

cup

half & half cream

1

cup

monterey jack cheese

shredded

1/2

cup

Parmesan Cheese

grated, divided

1/4

teaspoon

salt

Fresh cracked pepper
Instructions
Preheat oven to 450 degrees F.

Melt 2 tablespoons butter in an oven proof skillet. Add onions and cook for 2 minutes until translucent. Add zucchini and garlic and cook for about 6 minutes, stirring occasionally, until almost tender. Season with salt and pepper and remove from pan onto a plate (or a 9x9 casserole dish if your pan isn't oven safe).

Melt remaining 1 tablespoon butter in pan over medium heat and mix in the flour. Cook for 30 seconds and then add in the cream a little at a time while stirring. Bring to a boil, reduce heat and simmer for 2 minutes while stirring or until it begins to thicken. Add Monterey cheese and 1/4 cup Parmesan a little at a time, continually stirring until melted and smooth. Turn off heat and mix in salt.

Add the veggies back, mixing until evenly coated (or pour sauce over veggies in the 9x9 pan). Sprinkle top with remaining Parmesan cheese and sprinkle with black pepper. Bake for 15 minutes or until it starts to brown on top. Let cool 10 minutes and then serve.
Video
Did you make this recipe?
Thank you for making my recipe! You took pictures, right? Well go ahead and post them on Instagram! Be sure to mention me @iambaker and use the hashtag #YouAreBaker.