The Best Zucchini Bread is not an exaggerated name. This bread is moist, dense, and delightful to taste! It is also a quick bread, which means it is easy to prepare and will be quickly eaten😀. Try my Chocolate Chip Banana Bread for another easy-to-make, yet delicious, bread!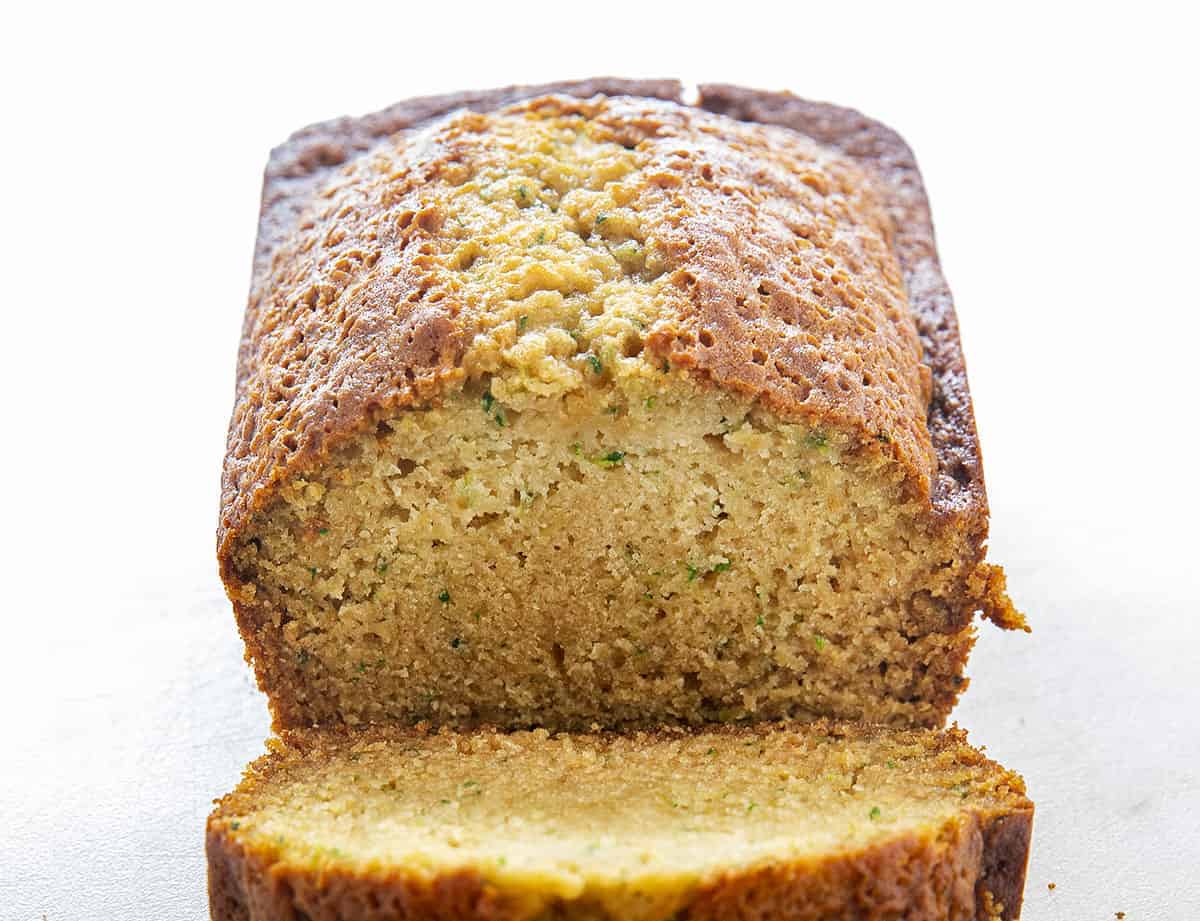 The Best Zucchini Bread
I have been on the hunt for the PERFECT zucchini bread. I had criteria that were non-negotiable. It must have the perfect, moist crumb. It must bake up beautifully, without a puddle of raw dough in the middle and the outsides being burnt, and it must be flavorful. And, most importantly, it must be easy. This final recipe is all of that, and more. Simple ingredients come together and bake up in a beautiful loaf of quick-bread perfection.
One ingredient that is noticeably missing from this recipe is cinnamon. I know this is controversial but I am sticking to my guns here. Please try it once without that precious cinnamon. The pure flavor of the ingredients really shines through!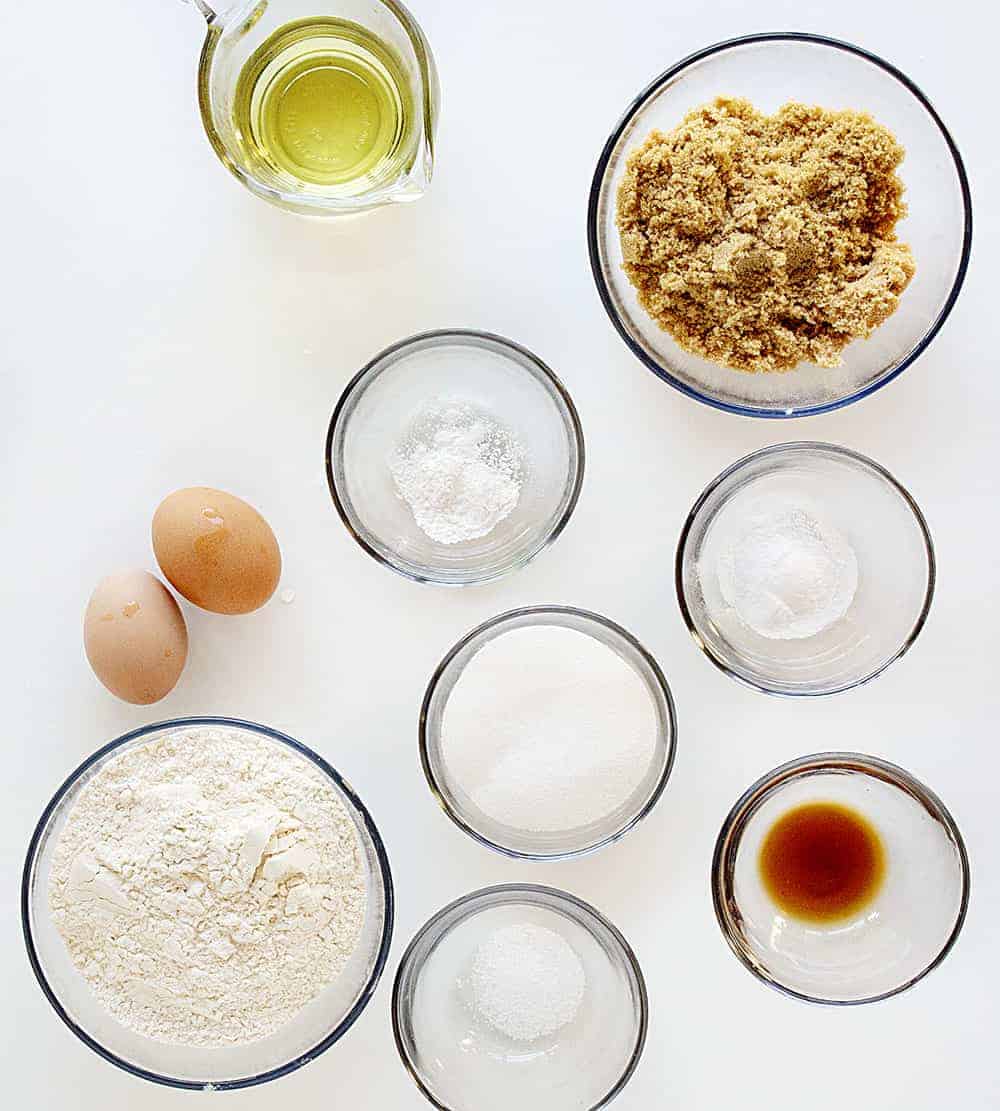 The Best Zucchini Bread Recipe
The Best Zucchini Bread is a quick bread, which by definition means that it is bread made with a leavening agent like baking soda or baking powder. The baking soda and baking powder allow you to bake the bread without waiting for the dough to rise. With a few ingredients mixed together, you will be ready to bake and serve.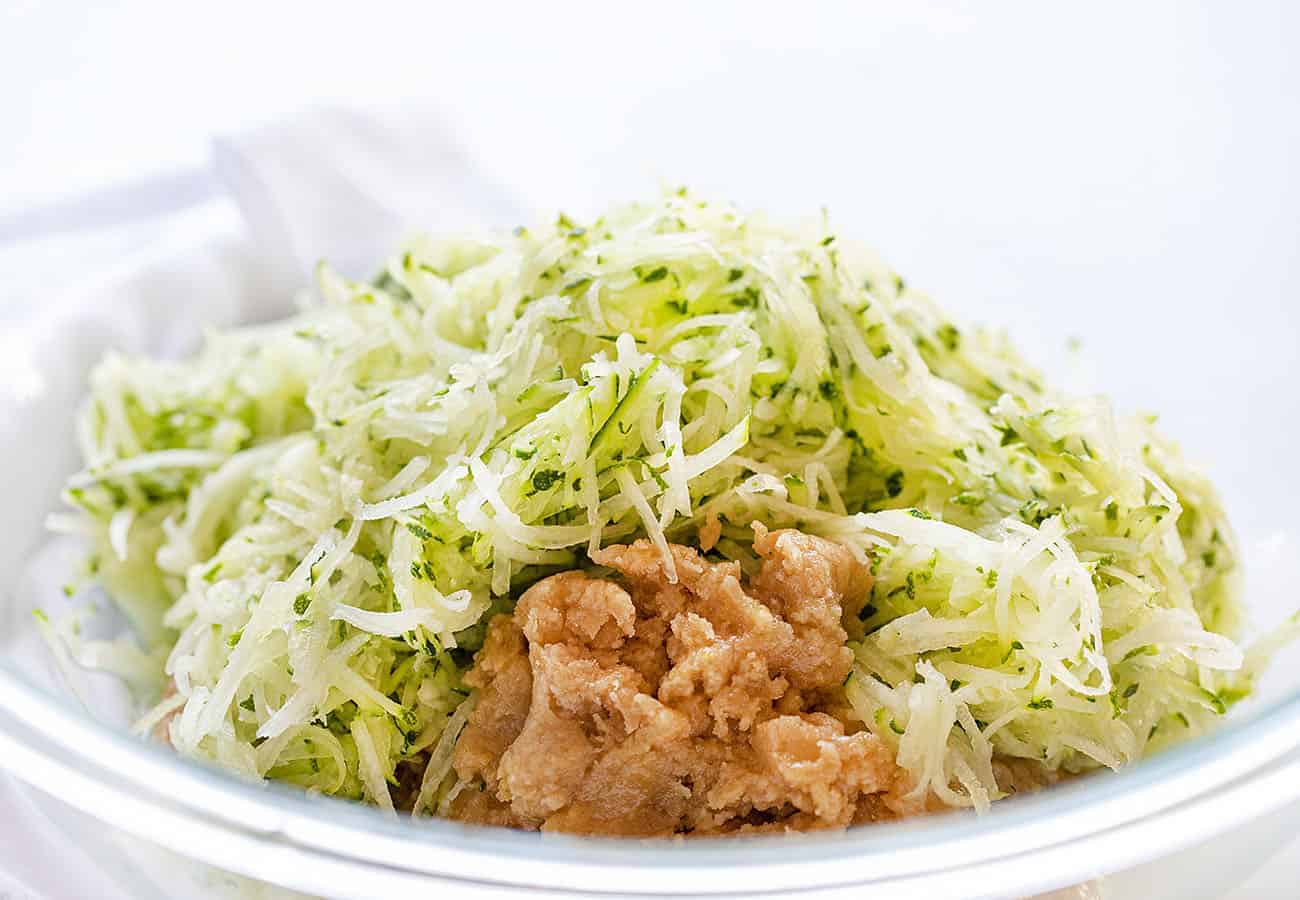 The Secret to Baking with Zucchini
Size matters. A large zucchini will be drier. A small zucchini with have more moisture. Certain recipes work best with different sizes. For instance, I tend to use a medium to small with this recipe because I want the moisture the zucchini brings, but I use a large zucchini for my Double Chocolate Zucchini Cupcakes.
Use the fine side of your grater for smaller shredded zucchini. (as you can see in the pictures) If you use the larger side, the coarser pieces will have a slightly more noticeable flavor and texture in a finished cake or bread recipe.
Some recipes ask that the zucchini is pressed well with a clean towel to soak up excess moisture or to prevent whatever you baking from getting too soggy. Generally speaking, pay close attention to the recipe that you are making with zucchini as the level of moisture they provide is important.
In this recipe, the zucchini is lightly squeezed so that it is not soaking wet.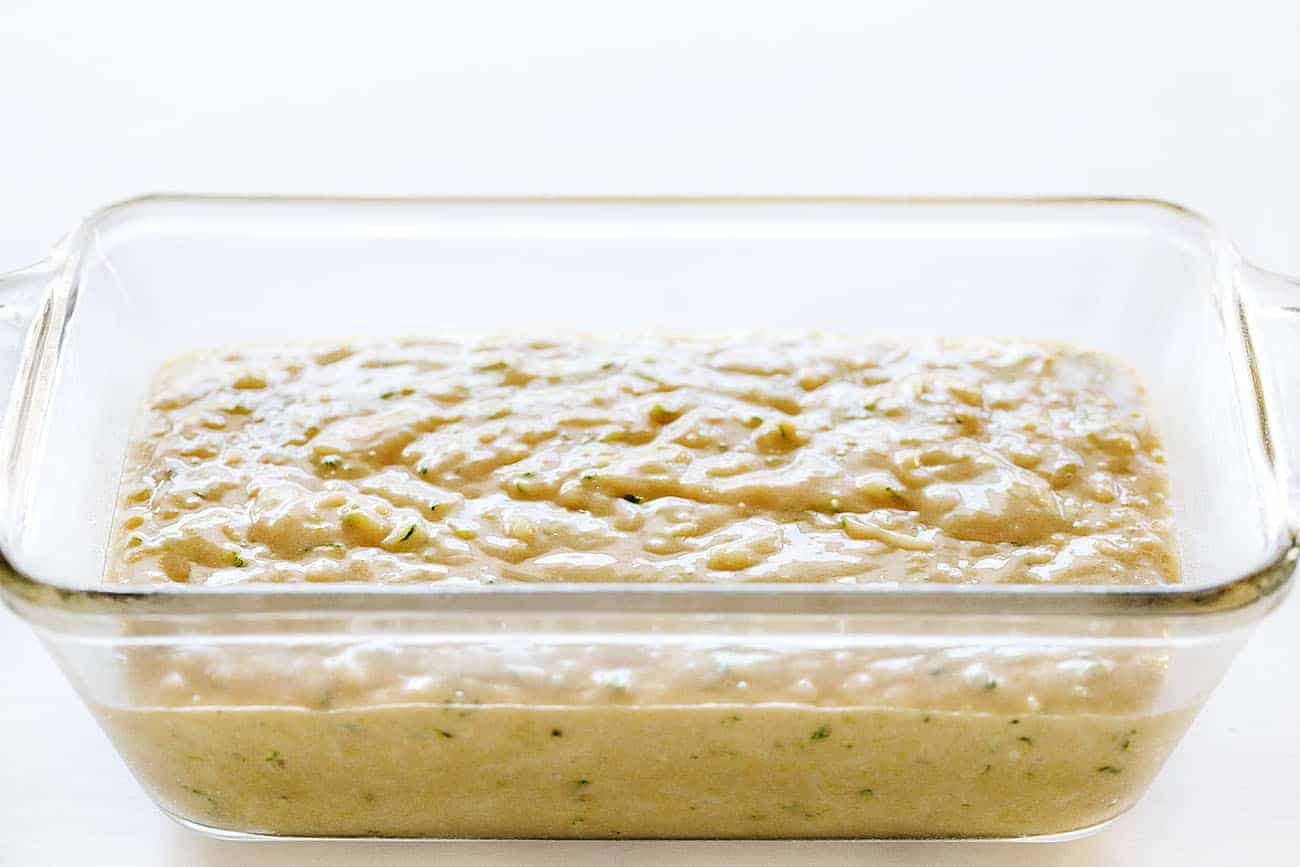 Does the Baking Dish Matter?
Yes, it really does. This is a 9×5 (or 8 1/2 by 4 1/2, they can both be used with success in this recipe) glass baking dish and is my go-to for quick bread loaves because of how it heats. Glass bakeware heats more evenly, which helps quick bread bake at an even rate. Because glass is an insulator it does take a while to heat up but will stay warm long after it's removed from the oven. Metal pans tend to lose heat immediately after being removed from the oven, and I want the bread to be warm when served.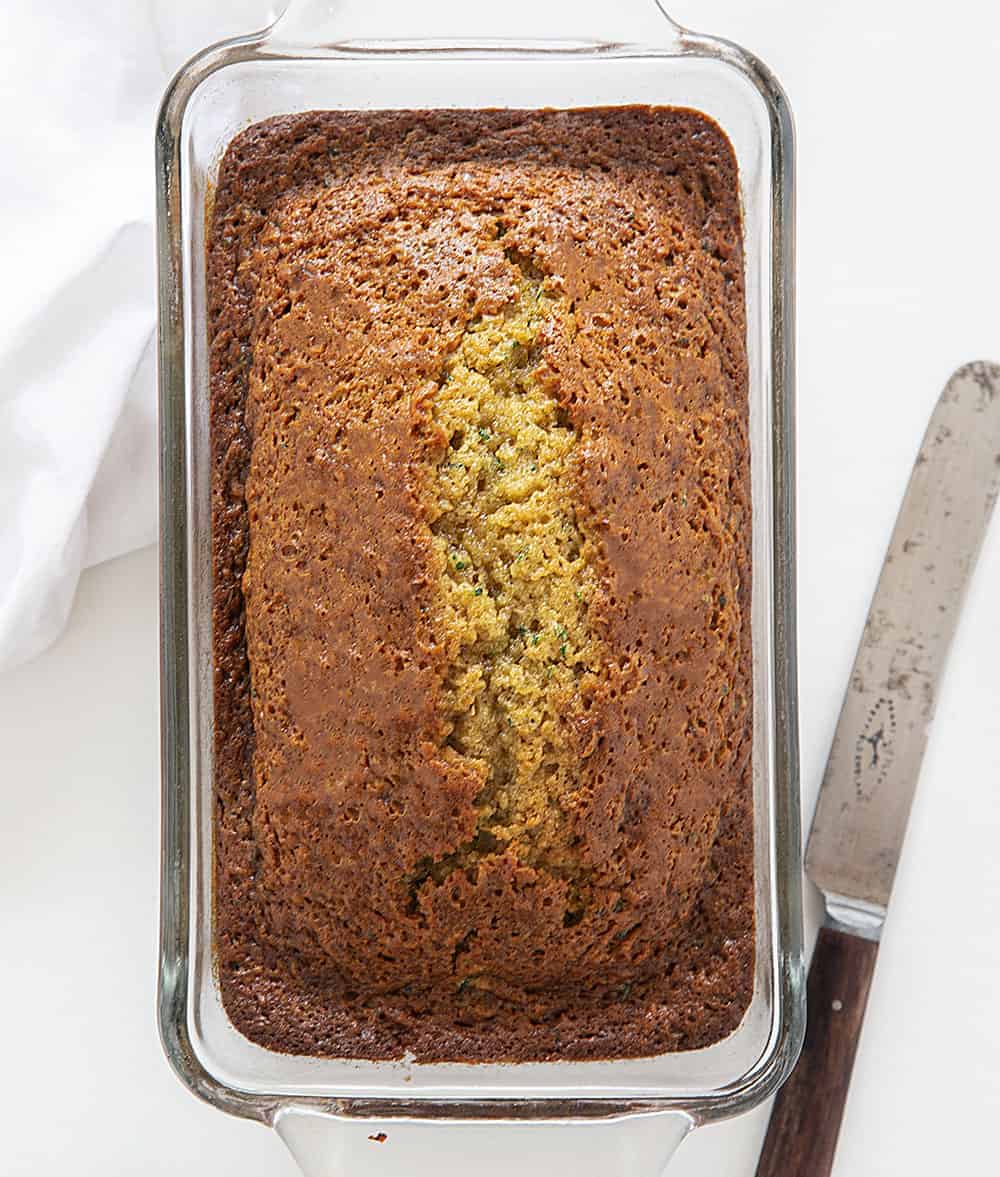 How to Serve and Store Zucchini Bread
The Best Zucchini Bread is served best when warm. If you insist on that cinnamon flavor, try it with cinnamon butter!
It will usually last 1-2 days when left out at room temperature, but make sure you wrap it in foil or put it into a plastic bag. Wrapping the bread and storing it in the refrigerator will make it last for about a week.
How to Freeze Zucchini Bread
You will want to make sure you allow it to cool completely. Just wrap the zucchini bread tightly with parchment paper and place it in a heavy-duty sealable freezer plastic bag. It will be good for about 3 months. To thaw bread, take it out of the freezer and set it on the counter. Allow it to reach room temperature before you take it out of its packaging. It will re-absorb some of its moisture this way.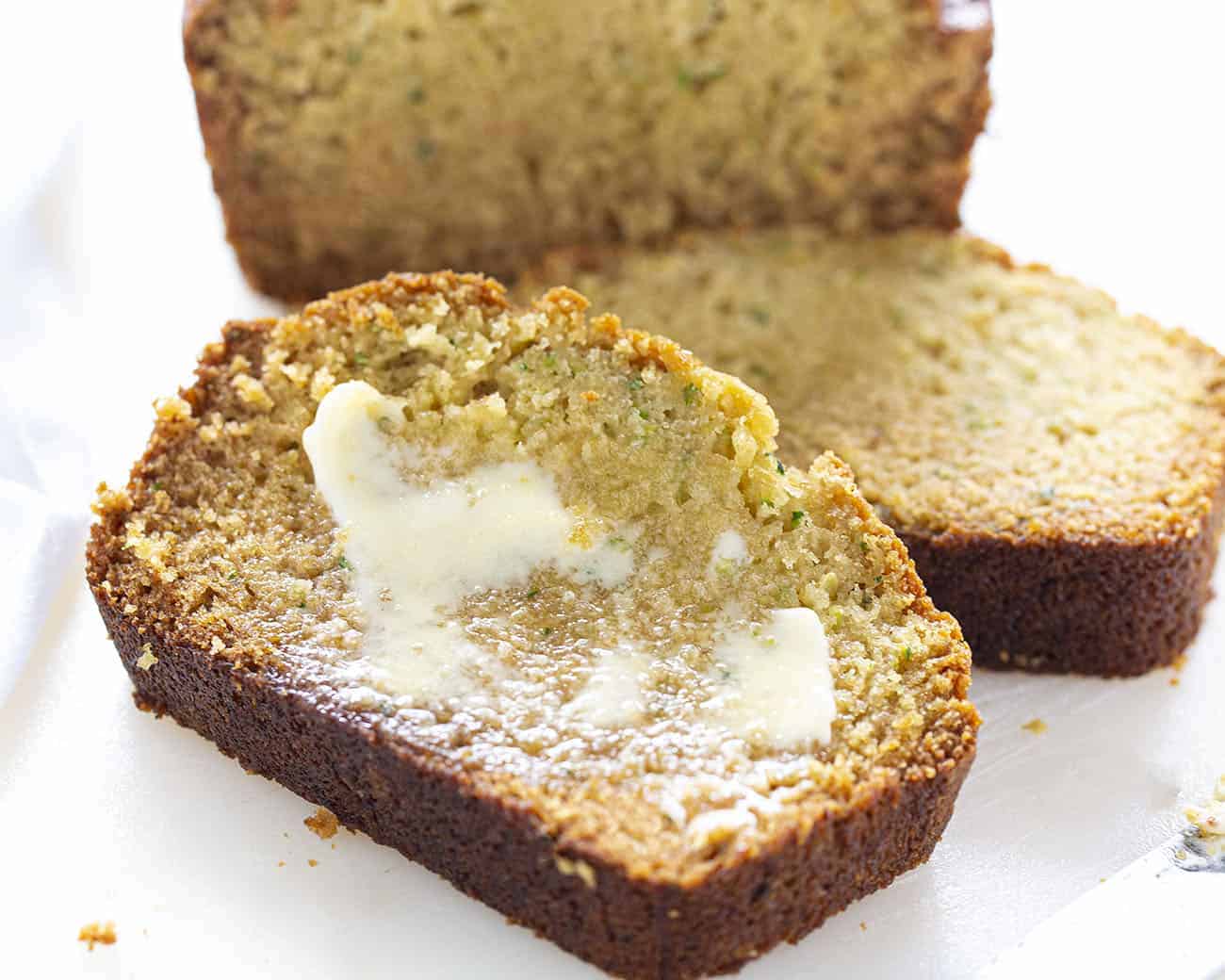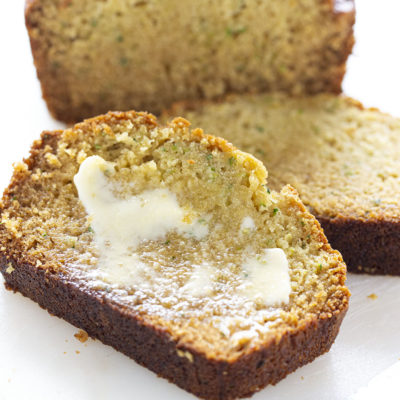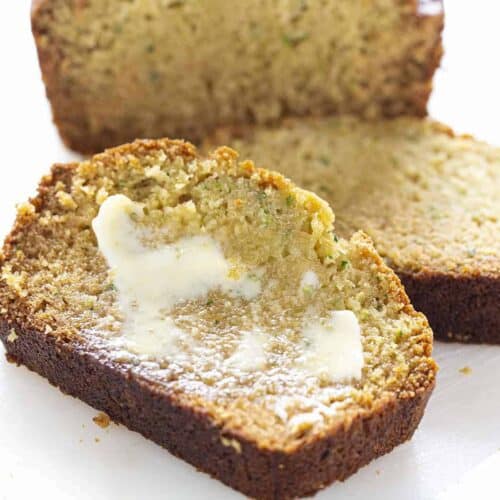 The Best Zucchini Bread
The Best Zucchini Bread is a quick bread that will be quickly eaten! It is perfectly moist and delicious!
Ingredients
2

cups

(250 g) all-purpose flour

¾

teaspoon

baking powder

¾

teaspoon

baking soda

1

teaspoon

kosher salt

1

cup

(200 g) light brown sugar

½

cup

(100 g) granulated sugar

¾

cup

(164 g) vegetable oil,

I use canola

1

teaspoon

vanilla extract

2

large

eggs,

room temperature

2 ½

cups

grated zucchini,

gently press out excess moisture with hands, but don't aggressively squeeze
Instructions
Instructions:
Preheat the oven to 350°F. Prepare a 9×5 (or 8 1/2 x 4 1/2-inch) loaf pan with non-stick spray or the butter & flour method.

Add all the ingredients to a bowl, except for the zucchini. Stir to incorporate. It should be thick.

Add the shredded zucchini to the mixture to the bowl, and stir until combined. It will become thinner and easier to pour.

Pour into the prepared pan.

Bake until a toothpick comes out clean, about 65-75 minutes. The outside will be dark brown and an inserted toothpick should be removed with crumbs, but not wet batter. If the loaf is getting too dark, you can add a foil tent for the last 10-15 minutes.

Let the bread cool slightly before cutting and serving.
Did you make this recipe?
Thank you for making my recipe! You took pictures, right? Well go ahead and post them on Instagram! Be sure to mention me @iambaker and use the hashtag #YouAreBaker.