Creating these adorable little Speckled Easter Egg Cakes is easy to do and beyond fun! If you want to make sure your holiday celebration is packed with wonderfully bright color, be sure to check out my Bunny Cake!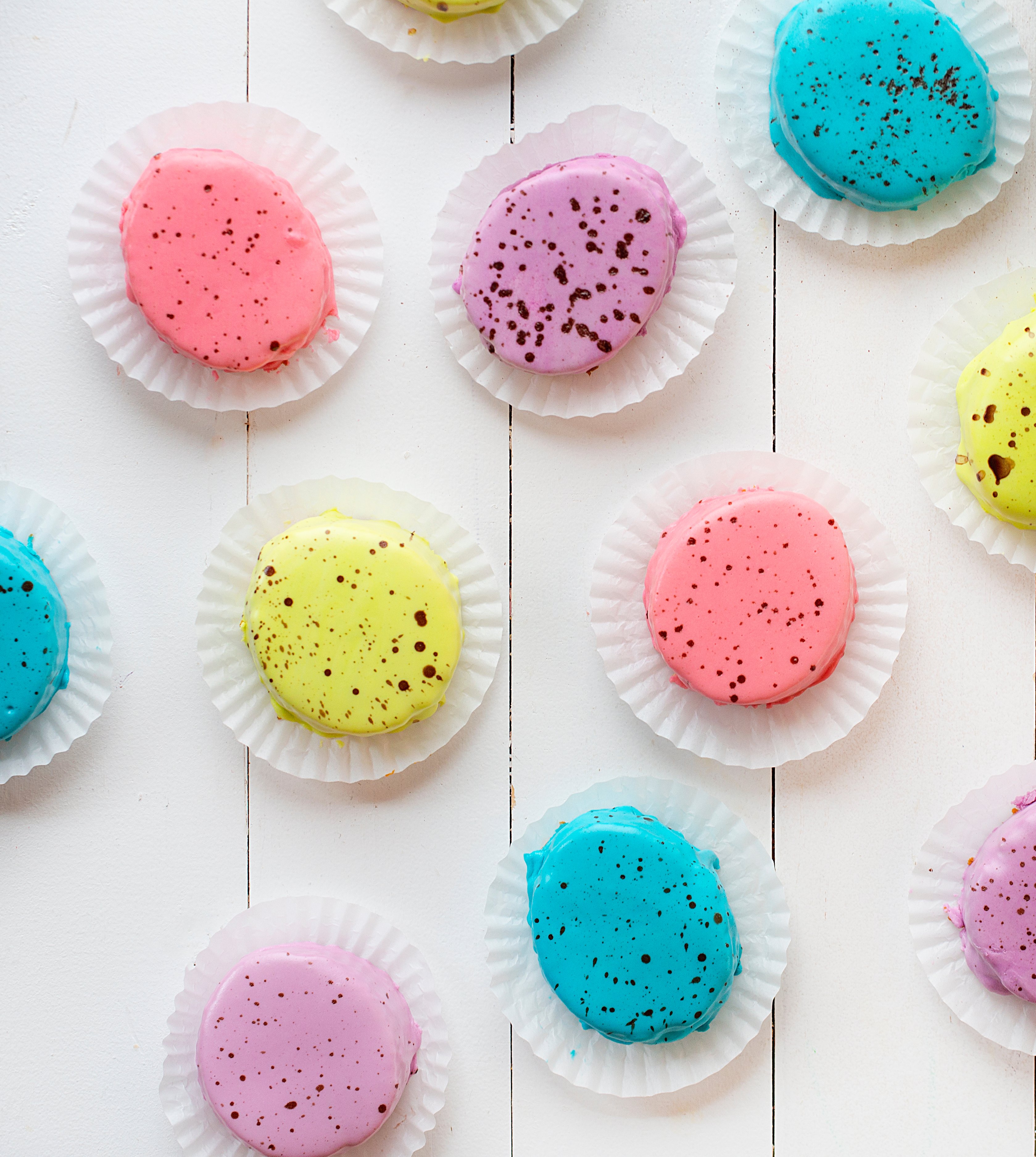 Egg Cakes
This Easter, the eggs in your basket won't be the only star of your holiday. These Mini Egg Cakes are the perfect (not to mention colorful!) project to make with your kids this Easter. The perfect portions come in
a variety of eye-popping colors thanks to McCormick® Food Color and Egg Dye (or McCormick®Assorted Neon! Food Colors & Egg Dye) and complement the whimsy of Easter classics like pastels and
robins egg speckling.
The design is simple enough and the technique, once you see it done in the video below, can be replicated with any shape you want!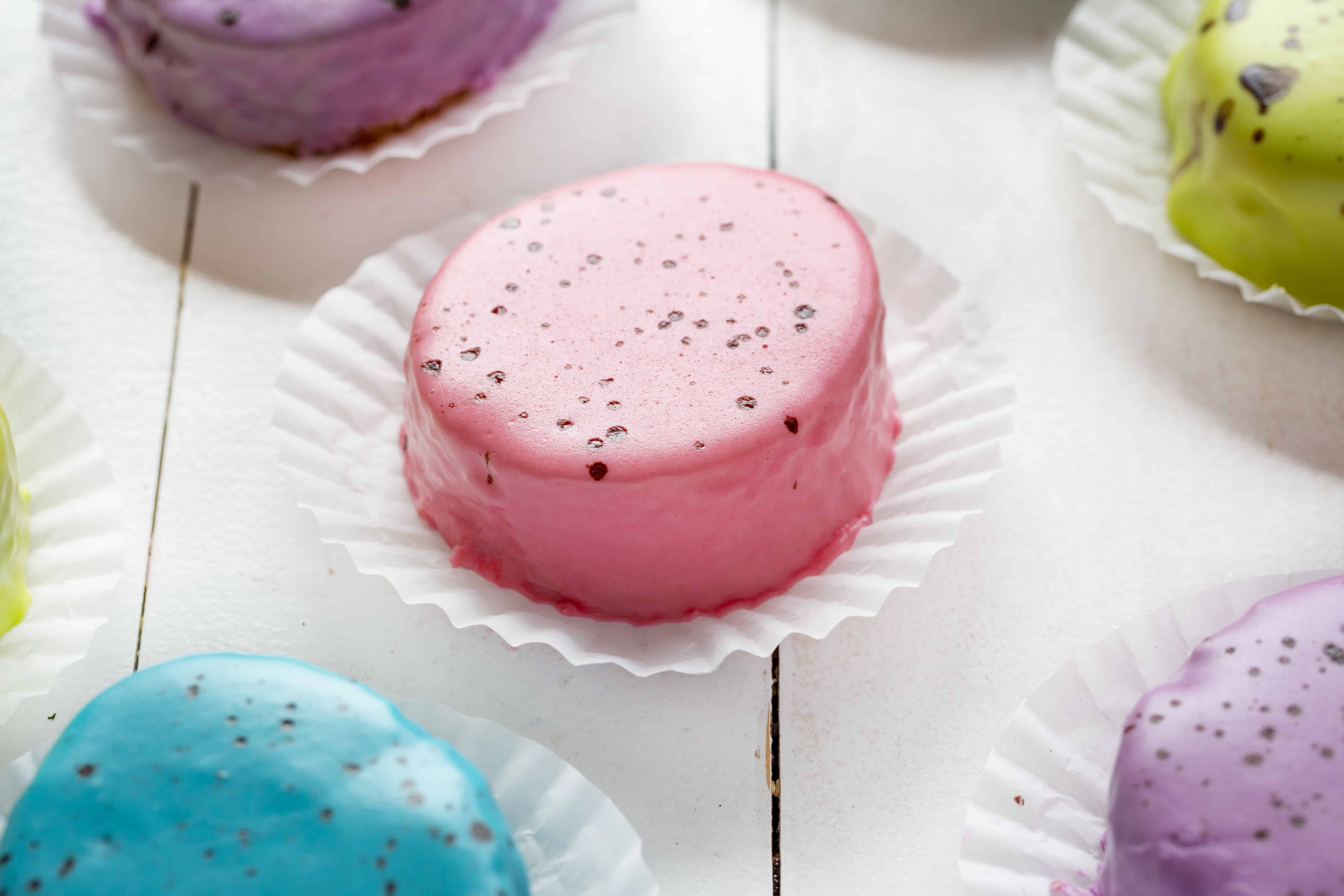 How to Make Egg Cakes
To make these egg cakes you only need a few easy ingredients:
Pound Cake – I share my favorite recipe below but I also love using store-bought in a pinch!
Frosting – I used store-bought frosting because of the convenience, but you could also you a homemade buttercream. The final result will not be as shiny as the store-bought, but you could add a little corn syrup to your buttercream to achieve the same look.
Cocoa Powder + Water – this is how we will achieve the fun speckled effect!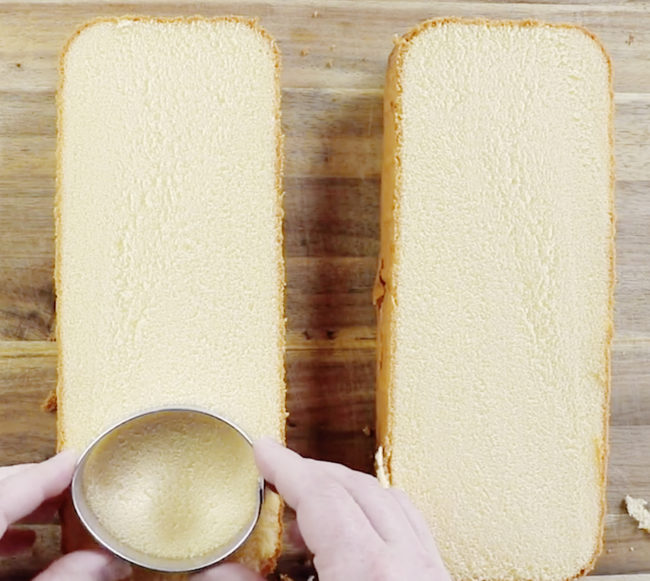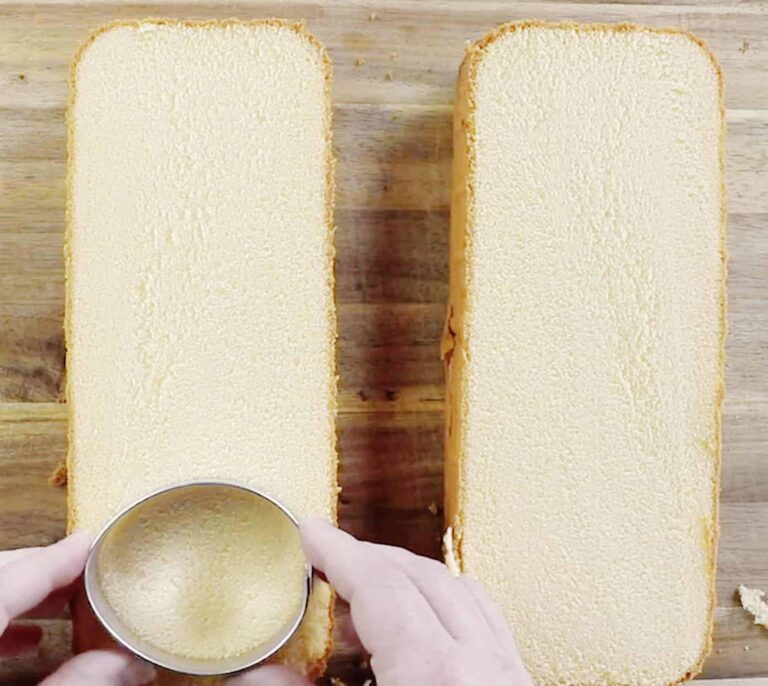 Starting with a chilled pound cake, turn the pound cake on its side. Depending on the height it will either be 3 layers or 2 layers, but you want each layer to be at least 1 inch thick. Using a long serrated knife, cut the first layer about 1 inch thick, then the second if applicable.
Set the layers flat on a cutting board and then use an egg cookie cutter to cut out the egg shapes. You should get six eggs from 2 layers or 9 eggs from 3 layers.
Set the cut-out egg cakes on a cooling rack that is on top of a cookie sheet that is fitted with a cooling rack.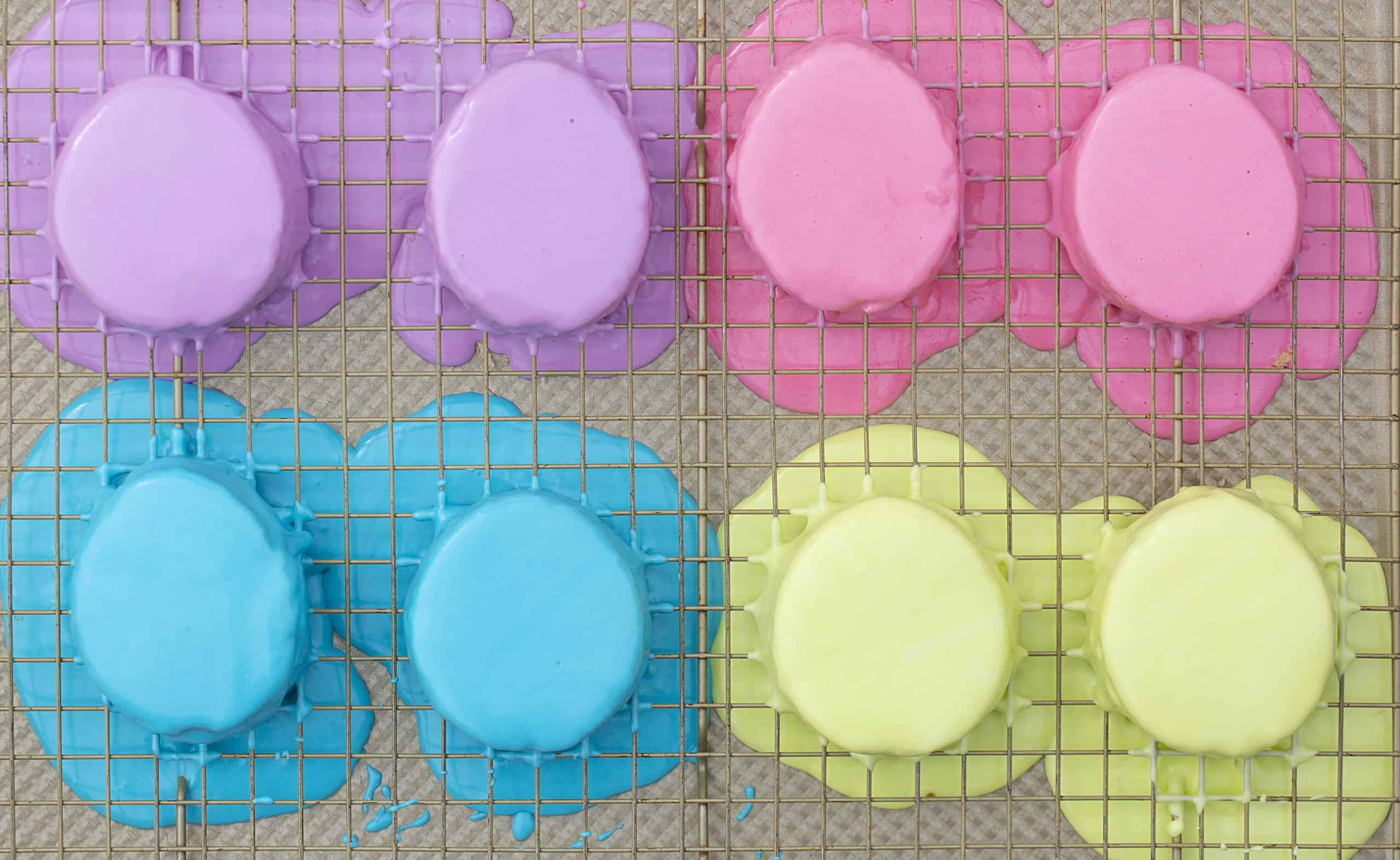 Prepare the frosting. Remove lid and foil wrapper on store-bought vanilla frosting (make sure all of the foil is removed) and then heat for 30-45 seconds. Frosting should stir easily and be warm.
Add in 5-10 drops of McCormick® Neon food color to one frosting container and stir well.
Slowly pour some frosting over 1 egg, starting at the edges and then moving towards the center. Make sure the frosting spills over and covers all of the egg, down to the bottom edge. Continue with the remaining eggs. One container of frosting should be enough for 9 eggs. If you are making a few different colors of frosting, prepare each color as you go, not all at once. The frosting could harden a bit and not be as pourable if you let it sit for a while.
Prepare the cocoa + water for speckling. Take 1 tablespoon dark cocoa powder and 1/4 cup water and stir until combined.
Place cake on a table outside or on a table lined with newspaper. (The cocoa water can splatter, so this will help with clean up.) Dip brush into cocoa water and then hold it in your hand near the cake. With your pointer finger, run your finger along the bristles of the paintbrush. The first time you do this, try to be a little farther away just so you are able to gauge how much pressure you can use, how much liquid you need on your brush, and how close you need to be.
Another option is to hold the brush in one hand and then tap it against your other hand over the cake. This is the method I did in the video below.
Do this all over the top and sides of the egg cakes.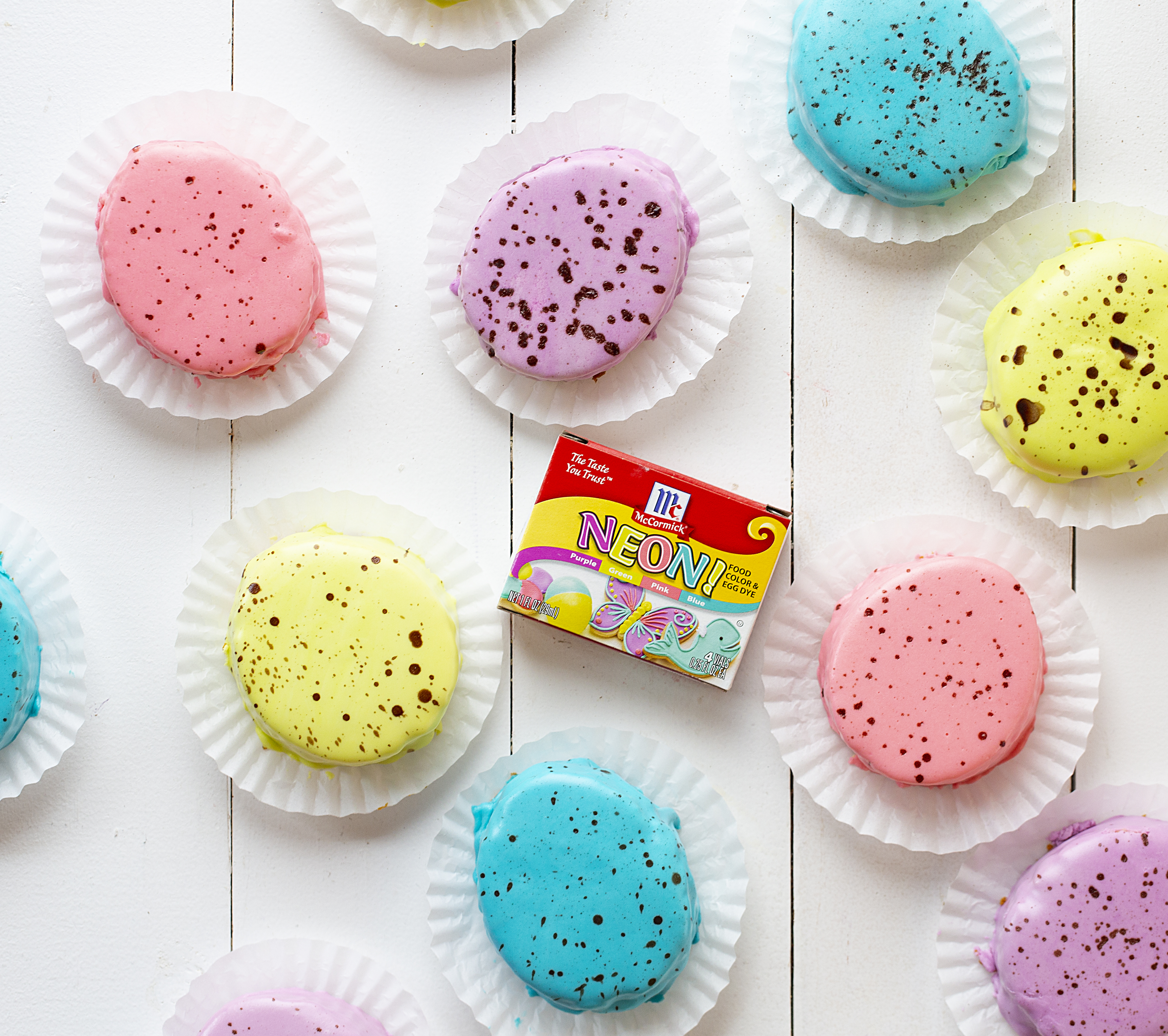 How to Serve Egg Cakes
After the egg cakes have set, they can be moved. I simply took a cupcake liner, flattened it out with my hand, and then placed the liner on a serving platter. Using a small offset spatula, carefully lift the egg and then set the egg cake on top of the cupcake liner. You can also serve them individually on a small side plate. I preferred to eat them with a fork, but my kids really enjoyed just picking one up and taking a big bite!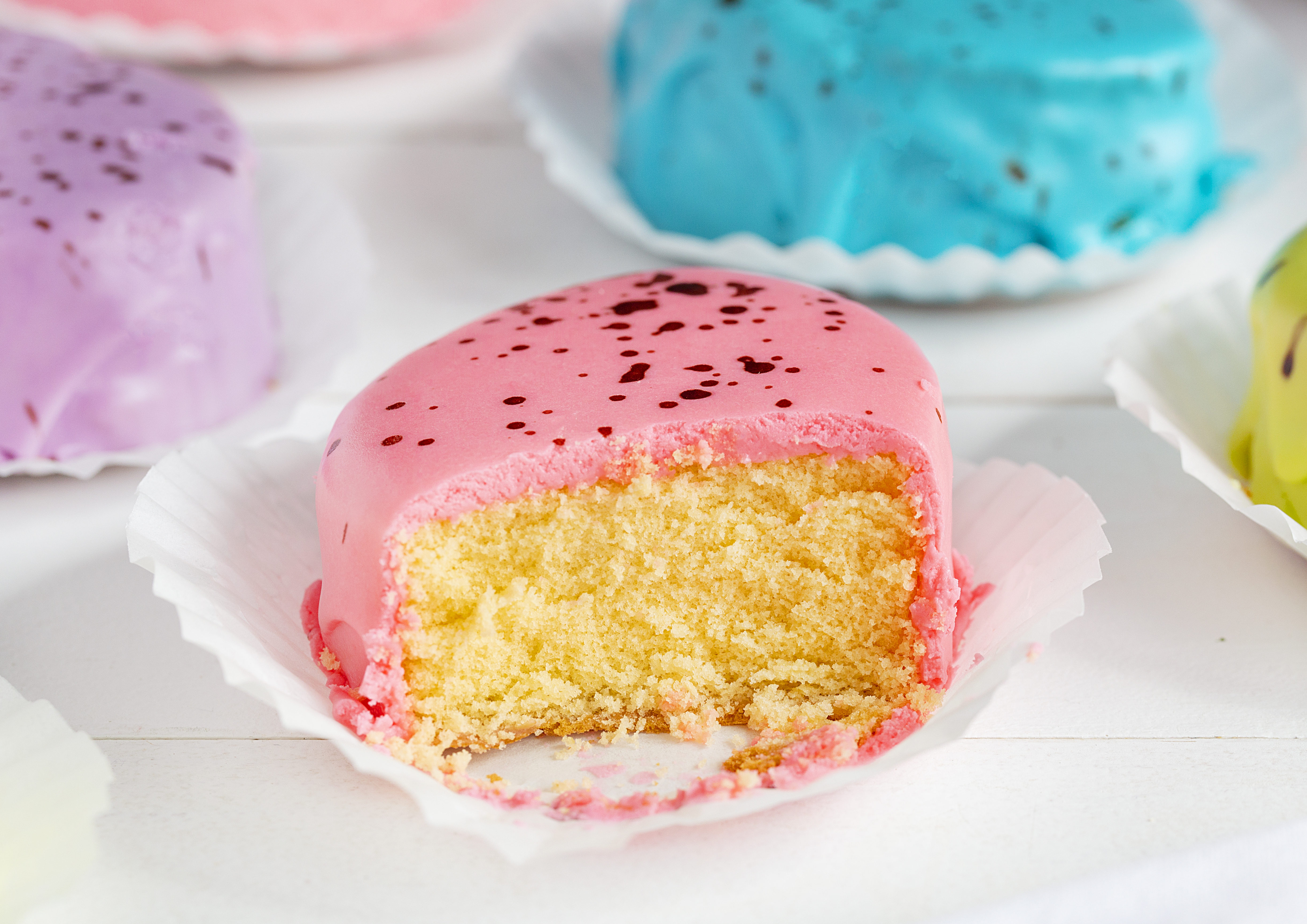 From-Scratch Egg Cakes
I will share a recipe for delicious pound cake below. I do recommend working with a chilled homemade pound cake as it will help maintain the perfect egg shapes. If you would like to use homemade buttercream, just prepare your favorite recipe as you normally would then heat it for a few seconds so it becomes pourable. Follow the instructions above for how to assemble the cakes.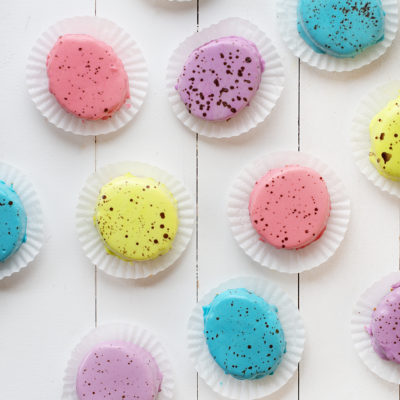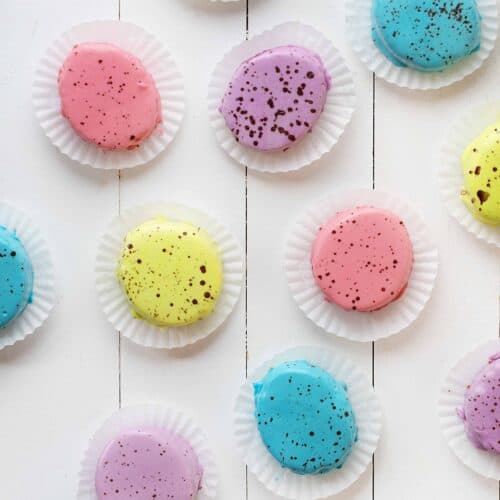 Pound Cake
This recipe for an easy and delicious pound cake is perfect for making mini Easter Egg Cakes!
Ingredients
1

cup

(2 sticks or 226g) butter,

room temperature

6

eggs,

room temperature

3

cups

(600g) granulated sugar

3

cups

(384g) all-purpose flour

2

cups

(1 pint or 476g) heavy whipping cream

1

tablespoon

McCormick Vanilla Extract
Instructions
Preheat oven to 325°F. Grease and flour two loaf pans. (rectangle pans)

Cream butter and sugar in a stand mixer or with a hand-held mixer until light, about 3 minutes.

Add eggs, one at a time and mix well.

Pour heavy cream into a large measuring cup and add the vanilla extract to it. Stir to combine.

Add flour, one cup at a time. After you have added 1 cup flour, add in 1/3 the whipping cream. Repeat with another cup of flour and then remaining whipping cream. Add the last cup of flour and mix until combined.

Pour batter into prepared pan.

Bake at 325°F for 1-1/2 hours or an inserted skewer or knife is removed with some crumbs. (No wet batter.) Let cool in the pan for about 5 minutes then invert onto a cooling rack.
Video
Did you make this recipe?
Thank you for making my recipe! You took pictures, right? Well go ahead and post them on Instagram! Be sure to mention me @iambaker and use the hashtag #YouAreBaker.
I loved creating this cake with my friends at McCormick! Thank you for supporting the brands that support me here. I adore McCormick products and am so grateful for the ability to share them with the world. Creating these Speckled Egg Cakes was absolutely so fun!