Dear Sweet Reader,
I feel like we need to have a heart-to-heart.
A few of you have expressed concern, dismay, and general dislike for the advertisements on my blog.
I get it, I really do. As someone who likes to read blogs, they can get in the way. They can be intrusive. They can be annoying. Aggressive even. They can be hard to get rid of.
So I am assuming they are for you too.
I want to tell you why they are there, and why they are all over the place and address a very real and very personal issue.
It's about money. (but not in a greedy way like you may be thinking)
The first time I ever went to a blog that was covered in ads it was unsettling. I kept trying to click out or click away and couldn't. I was just trying to see a recipe but there was some crazy pop-up every 2 seconds and then an ad popped up in every image and I felt icky. I looked at the website differently moving forward. The blog author seemed greedy in my eyes. I mean, did she really need that many ads?!?
So if I was offended by ads, why would I put them on my blog?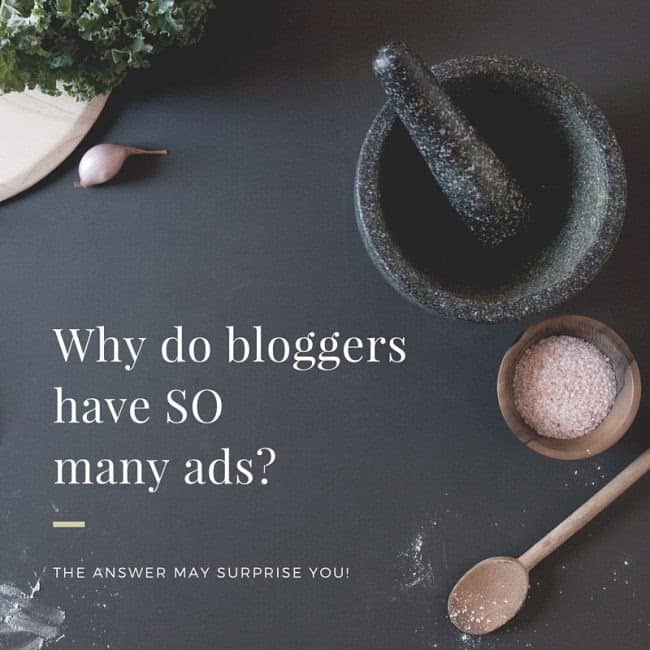 Why you may not have known is that it costs a great deal of money to run a food blog.
For me to run this free website of thousands of free recipes, I need to pay a webhost ($700/month), buy equipment to photograph food ($40k) as well as props to style the food, pay for technical support ($1200/month), website design and support ($30k), advertising campaigns, not to mention the grocery bill for the recipes I share (anywhere from $500-$1k a WEEK)! Miscellaneous expenses run anywhere from $15/month to $3,000. I also have 5 amazing employees that work for me full-time.
It can cost (at the low end) $15,500 a month just to run my recipe website.
Blogging is not cheap, or easy.
But still.
Why do you need SO MANY ads???
According to Smart Blogger:
"The average "click-through rate" (CTR, or times that a reader clicks on an ad) varies by industry; however, the average is around 0.1%. Let's say the average cost-per-click (how much you earn when somebody clicks an ad) is $0.50. That means you would need around 1,000 unique visitors each day to get even one ad click and earn $0.50 for the day.
If you enjoy 1,000 unique visitors each day to your blog, you can do a lot better than $0.50 per day in income. The bottom line is that advertising requires a ton of traffic to be worthwhile."
Basically, the more ads, the more chances you give a reader to engage with your advertising.
And certain ads pay more than others. For instance, that really annoying video ad that starts playing when your mouse hovers over it, that ad pays more than the one just sitting casually over on my sidebar.
Or the ad that immediately follows every single paragraph. (or before) Those tend to have higher engagement because they fit "seamlessly" into the blog post.
The point is… I don't run ads to be greedy. Are one of the most unreliable ways I have of earning an income for the work I do, but when they work, it can be a blessing. Just a few days ago my husband quit his job and at this point, I am the sole income earner for my family. This is a great responsibility and one that I do not take lightly, always considering the future of my 5 kids and home. It's my job.
To everyone who hates all these ads and never wants to visit this blog again and who thinks I should be jailed (yes, one angry woman thought I should be prosecuted and jailed for excessive advertising), I am sorry.
I hope and pray that you will forgive the intrusion and still opt to hang out here. It wouldn't be the same without you!