Thank you, Amanda, for letting me guest post today! I'm Carla of Chocolate Moosey where I blog mainly about dessert with some quick and easy dinner ideas (if only cupcakes were acceptable for dinner).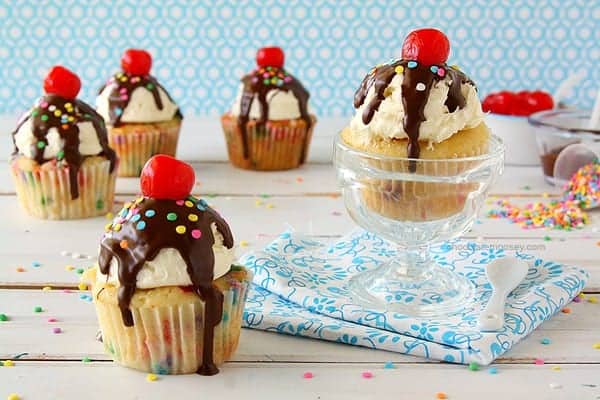 Since Amanda is going through some life changes with beautiful Baby Olivia and moving into a new home, let's take a moment and celebrate life. When I think of a celebration, I think of cake and sprinkles. And when I think of cake and sprinkles, I think of Funfetti. And since it's the middle of summer, I thought of Funfetti Ice Cream Sundae Cupcakes.
There's something magical about these cupcakes. It's almost impossible to look at these and not smile.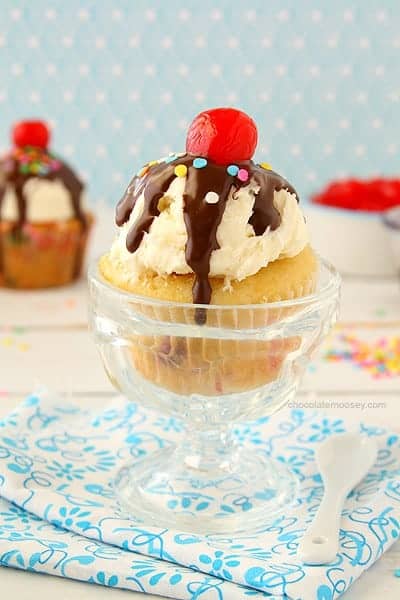 I wanted these cupcakes to look like actual sundaes. I literally scooped the frosting with an ice cream scoop and plopped it right on top of each cupcake. Coworkers actually thought I had real ice cream on top! Nope, just regular vanilla buttercream. For the hot fudge sauce, I melted chocolate chips with a little bit of vegetable oil, just like you would for magic shell. I didn't use real sauce because I didn't want it to be messy (unless it's a hot day where the chocolate is soft). If you really want to take these sundae cupcakes one step further, bake the cake batter in ice cream cones.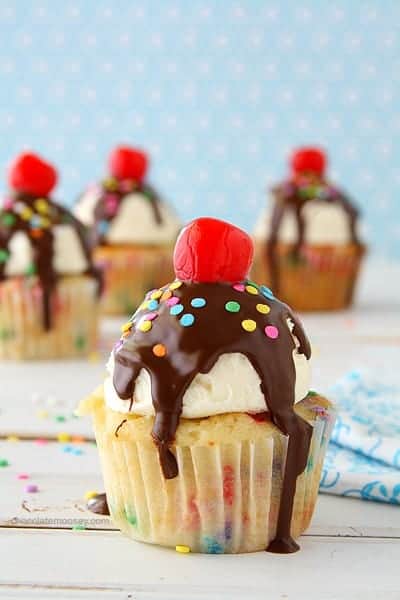 Whether you are celebrating a birthday, a new beginning, or a big accomplishment, it's important to celebrate life's moments. Even if you aren't celebrating, Funfetti Ice Cream Sundae Cupcakes are perfect to brighten anyone's day or to simply say thank you for being my friend. So I think we can all agree when I say thank you, Amanda, for being a huge inspiration with your gorgeous cakes and for being a wonderful friend in the blogging world. I hope my cupcakes are as half as good as your rose cakes.
Thank you for being here today Carla!  These cupcakes are just beautiful, and I am dying to have one!
If you like sweet treats, Carla's site is full of gorgeous and delicious desserts.  You are sure to find something amazing!