These Giant Monster Cookies are full of chocolate peanut buttery deliciousness! They're one of the easiest cookies you'll ever make.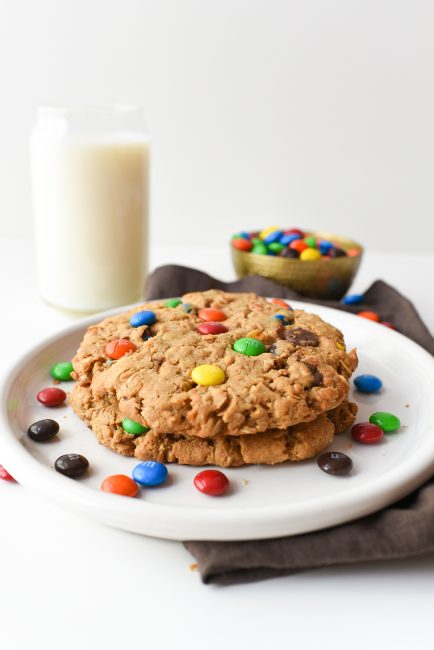 What Are Giant Monster Cookies?
Why do we call these monster cookies? Well, I have a few ideas.
1. At least as far as this recipe goes, these giant monster cookies are monstrous in size! Each cookie uses 1/2 cup of monster cookie batter, and bakes into a cookie that is bigger than your palm.
2. Since monster cookies are essentially a cross between two of America's favorite cookies – the oatmeal cookie and the peanut butter cookie – if you spot someone eating one, your green-eyed jealousy monster is likely to say hi!
3. This cookie recipe is so easy that even a monster could make them! And, while it does make it a little bit easier to make them in a stand mixer, you definitely don't need to own one to make this monster cookie recipe!
4. The M&Ms make them look a little bit like monsters. If monsters looked like cookies, that is.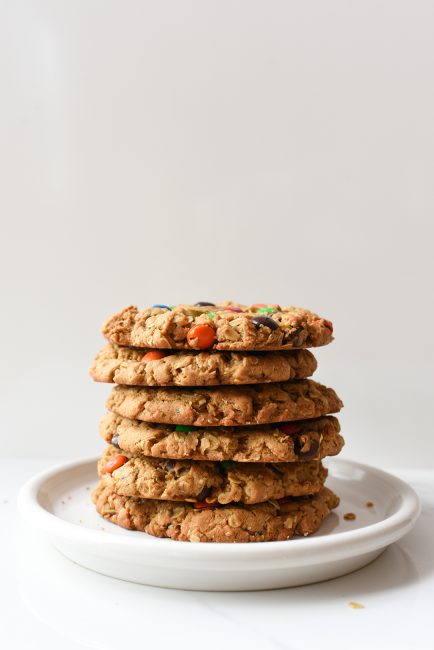 Giant Monster Cookie Tips & Trick
When making these giant monster cookies, here a few tips you may find:
Toast the oats! Toasting the oats brings out their flavor a little bit more against the peanut butter. If you don't like the flavor of oats, but just prefer their texture, don't toast them.
Let the batter sit for an hour at room temperature. You don't have to do this, but letting the batter sit, you hydrate the oats, which I found resulted in a better texture when baked.
When you remove these from the oven, you may notice the giant monster cookies won't look totally baked. They'll continue baking a little on the cookie sheet. It is important not to overbake these cookies!
This one is optional but add a little spice. I added 1/2 teaspoon of cinnamon to add a bit more complexity to the flavor of the final cookie.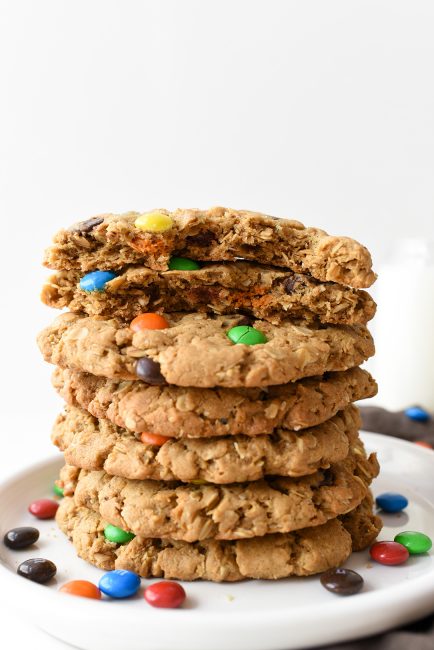 How long do you cook Giant Monster Cookies?
The monster cookies bake for 16-20 minutes at 350°F. Remove them when they are light golden brown on the edges.
Can I make smaller Monster Cookies?
You can! The giant monster cookies use a 1/2 cup of batter per cookie, but you can size them down to 1/4 cup or 2 Tablespoons for smaller monsters. You will have to reduce the cooking time.
Can I customize my Giant Monster Cookies?
Absolutely. Swap the chocolate chips for peanut butter chips for even more peanut butter flavor or customize the M&Ms for the holiday! Red and Green for Christmas; pink, red, and white for Valentine's Day; or pastels for Easter. I like to add more M&Ms on top to make them even super decorative.
Can Giant Monster Cookies be gluten-free?
I believe they can, but I haven't yet tested it. If you use gluten-free oats and substitute the flour for 1:1 flour, the recipe should work. This will change the texture slightly.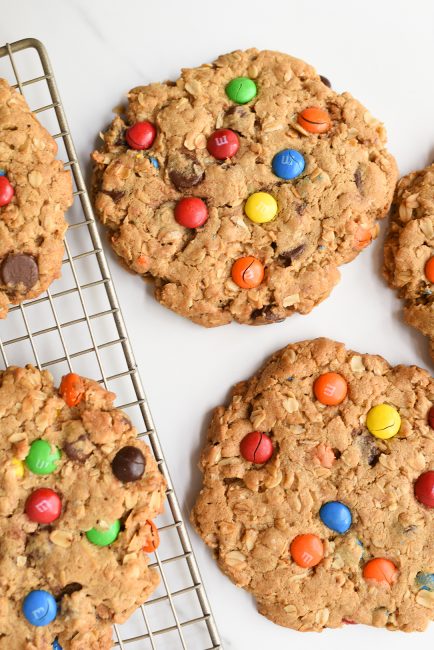 This recipe was developed and written by Rebecca Swanner of Let's Eat Cake. Check out her site for more fun and easy baking recipes!