Homemade Ginger Caramels are the treat you didn't know you needed! If you have ever tasted raw ginger you know that the pairing of a buttery rich caramel is a match made in heaven.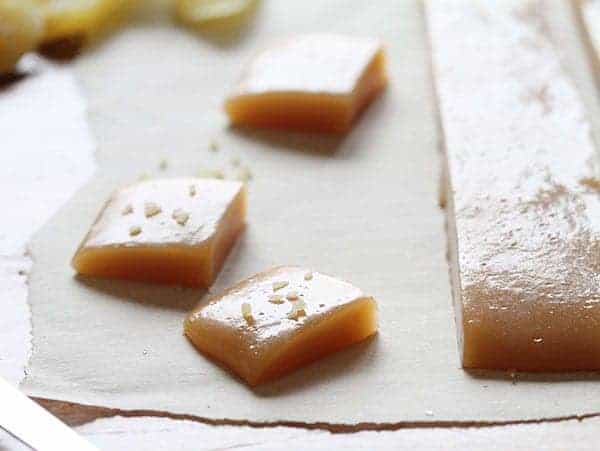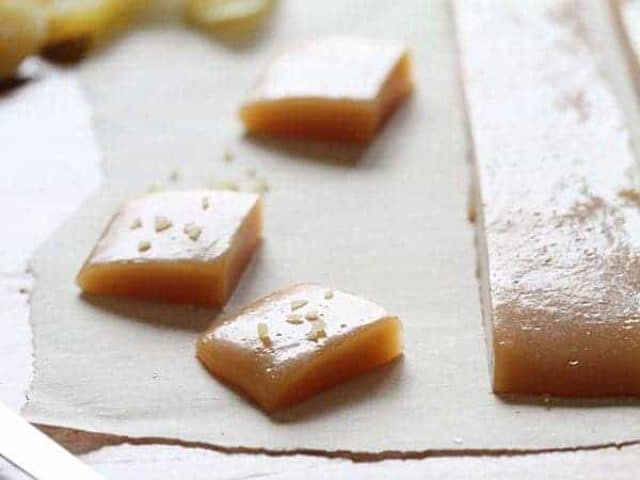 Ginger Caramels
Who doesn't love caramels? Even the simplest of caramel recipes yield the most amazing results. This one is pretty simple, but I make it extraordinary by adding ginger.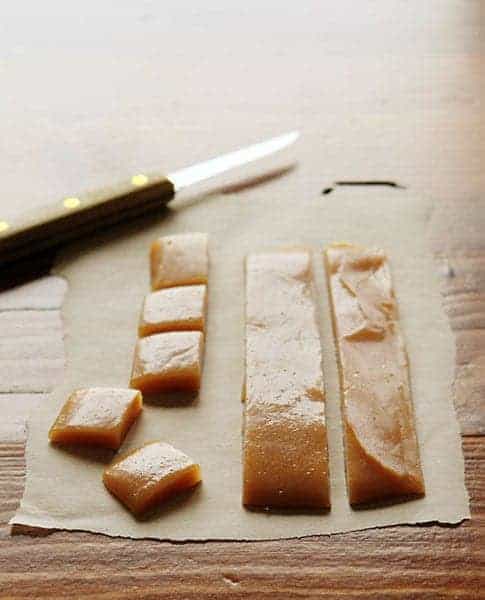 The process for making caramels can seem intimidating, but it doesn't have to be. I recommend reading through the recipe and have all of the tools you may need on hand for ease of use.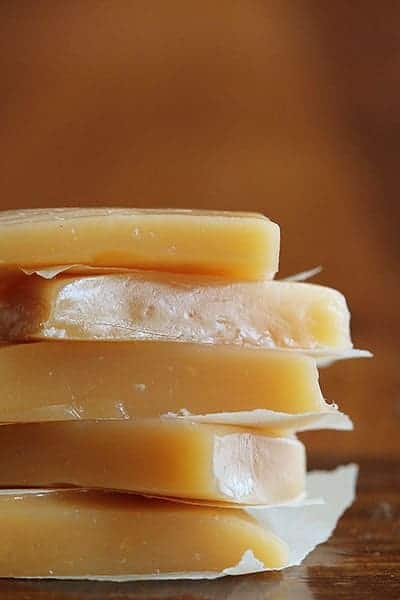 Tips & Tricks for Making Caramel
I highly recommend having an accurate candy thermometer.
Have all your ingredients and supplies at your fingertips. Speaking of fingertips, try to avoid sticking them into the hot caramel. If you accidentally touch the hot caramel, it's good to have some ice water in a bowl nearby.
There is something so very satisfying about making caramels from scratch. But the ginger-infused caramels are definitely taking it to a whole new level!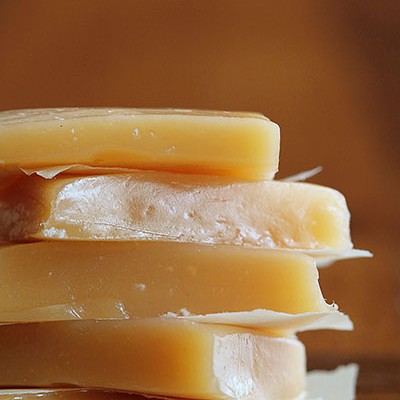 Ginger Caramels
Homemade soft Ginger Caramels are a treat you didn't know you needed!
Ingredients
¾

cup

plus 1 tbsp. heavy cream,

room temperature

4

oz

piece of ginger,

peeled and sliced into thin rounds

4

tbsp.

unsalted butter,

divided 2 tbsp./2 tbsp.

generous 1/2 tsp. flaky sea salt

1

cup

granulated sugar

½

cup

light corn syrup

1

tbsp.

crystallized ginger

optional
Instructions
In a medium saucepan, heat the heavy cream until it just comes to a boil. Remove the saucepan from the heat, add the chopped ginger and stir.

Cover with a lid and allow to infuse for 30 minutes.

While the ginger is infusing in the cream, line a 9-inch loaf pan with parchment paper or foil.

After a half-hour has passed, strain the cream mixture through a cheesecloth and return infused cream to the cooled saucepan. Add 2 tablespoons butter and the sea salt, then return pan to the stove and keep warm on a low heat while you prepare the caramel.

Place a candy thermometer in a large heavy duty saucepan.

Add the corn syrup and sugar and heat, stirring gently, until all the sugar granules have dissolved. After you've reached a uniform, clear syrup, continue cooking it until it reaches 310 degrees F, stirring/swirling the pan ONLY as necessary (as infrequently and gently as possible) if the mixture begins to color unevenly.

When the sugar mixture has reached 310°F, remove from the heat and stir in the warm, ginger-infused cream mixture.

Be careful, as it will bubble up vigorously.

Stir until smooth (at least one minute) and then return the mixture to the heat, and cook to 248°F (firm ball). (Once when making these the temperature did not go below 250°F when I incorporated the ginger cream. I never returned it to the heat and simply stirred in the butter as instructed in the next step.)

Turn off the heat, remove the thermometer, and stir in the remaining 2 tablespoons butter.

Once incorporated, pour the mixture into your prepared pan. Cool on a wire rack.

Once caramels are cooled you can cut into desired shape. Wrapping in individual wrappers is recommended so that they do not stick together.

If you want to embellish caramels with crystallized ginger, cut into very small, very fine pieces and sprinkle 5-7 across top of caramel. Make sure they are spread out evenly over the top; if they clump together it can be overpowering.

Once wrapped and stored in a air-tight container the caramels should last 1-2 months.
Did you make this recipe?
Thank you for making my recipe! You took pictures, right? Well go ahead and post them on Instagram! Be sure to mention me @iambaker and use the hashtag #YouAreBaker.