Did you know that September 16th is the most popular birthday??  In honor of everyone who is lucky enough to celebrate this awesome day as well as all the September birthdays, I am sharing a fun "naked" cake!
Calm down now, this is a G-rated post.  A naked cake simply refers to the fact that the sides of the cake are left bare, or free from frosting.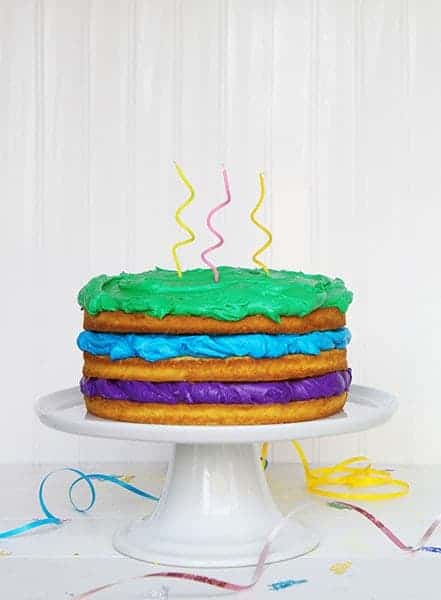 How to create the perfect Naked Cake:
Make sure your layers are level prior to assembly. (more info on how to bake a level cake here)
Chill the cake layers in freezer for at least 1 hour prior to assembly.
Make sure your frosting is quite creamy and spreadable.  A stiff frosting will pull at your cake and potentially break it. (The perfect spreading buttercream? Whipped Buttercream!)
Be very intentional on how you spread your icing onto each layer.  A piping bag works great here! (See: How to Build a Layer Cake)
Have fun!  Mix up the cake colors and flavors as well as the frostings.  Add fruit or a decorative pastry tip to add texture.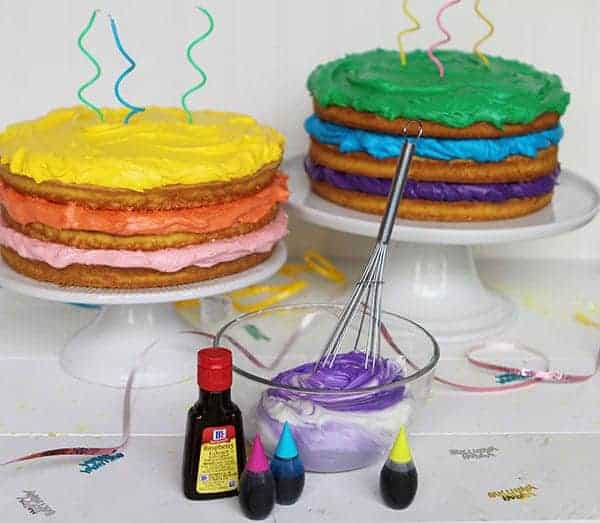 Achieving the "perfect" colors in icing is often complicated and difficult to replicate.
With the help of charts, the recipe is specific down to the very last drop.  If you decide to try this cake, you are destined to get the exact same results that I did!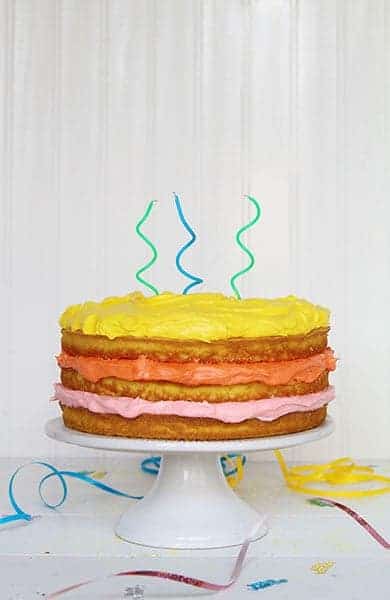 Another reason to celebrate!  What do you think of the fun design?  Two cakes, one with pink, orange and yellow and the other with green, blue and purple.  A Rainbow!
Recipe shared from McCormick with permission.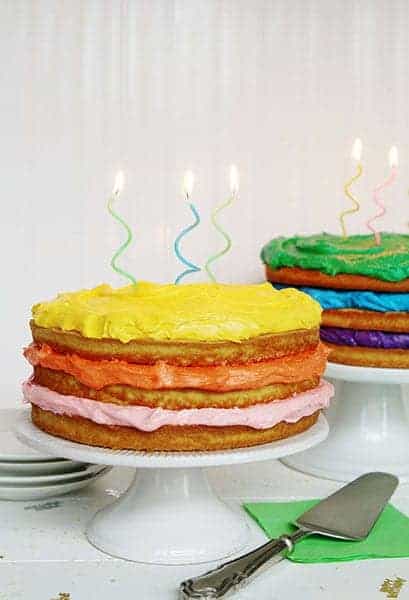 There is a complete chart with all the frostings as well as a very detailed recipe you can download for both cakes!  I can't help but be impressed with the level of detail they have provided.
It really takes all the stress out of baking and leave you with all the FUN!
HAPPY BIRTHDAY to all the September Birthdays!!
It was an absolute delight to create these Naked Cakes with McCormick. Thank you so, so much for supporting the brands that support this blog. I only work with the best, and am thankful that McCormick is willing to partner with me! <3