This Coconut Cake recipe is a family favorite. Check out all the ways I infuse coconut flavor into this delicious cake!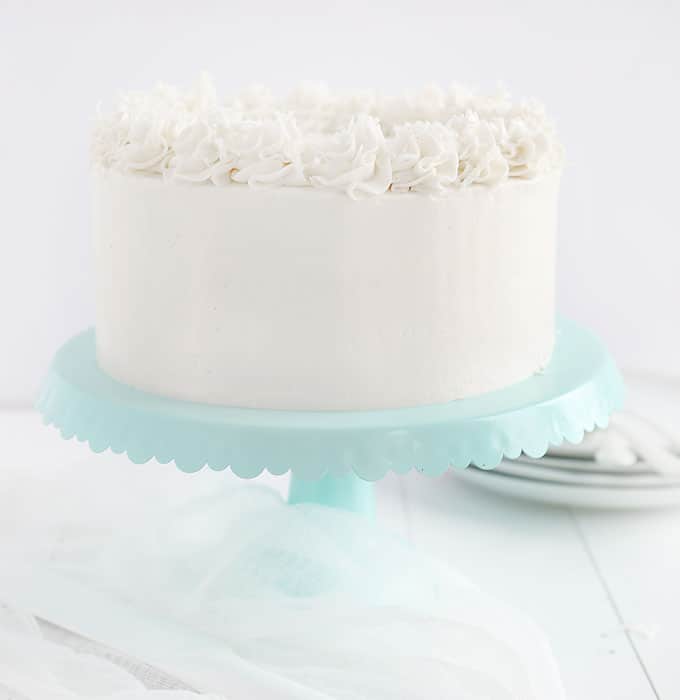 Coconut Cake
Finding a delicious coconut cake recipe was not as easy as I thought. So many of the recipes I came across used cake mix (not that there is anything wrong with that!) but I wanted something totally from scratch. So when I found Mrs. Billett's White Cake I decided to modify it to make the perfect coconut cake!
When developing this recipe I really took into consideration the technique and ingredients so that I would be able to confidently answer the common question of 'how to make coconut cake'. If you follow the recipe as written, you WILL have a delicious cake!
In addition to making a really good coconut cake, I paired this cake with an amazing easy coconut frosting! This cheater swiss meringue frosting is quickly becoming a new favorite and one that I am able to use in so many ways!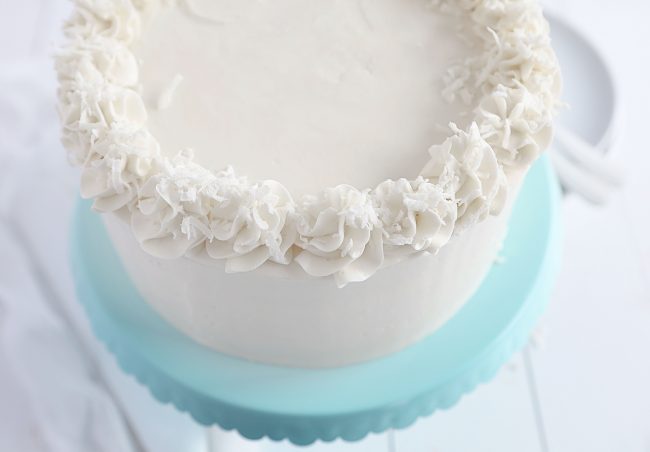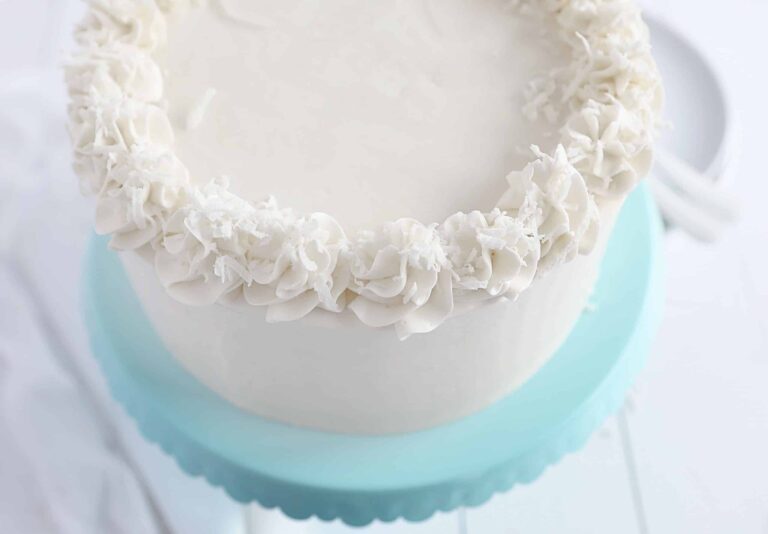 Tips, Tricks, Variations
Did you catch all the different ways I infuse coconut into this recipe? Coconut oil (arguably this adds very little flavor), coconut milk, coconut extract, and even coconut flakes. I did a poll in my baking group and asked "when eating a coconut cake do you prefer a strong coconut flavor or subtle? Also, do you like coconut flakes on your cake?" The answers were interesting!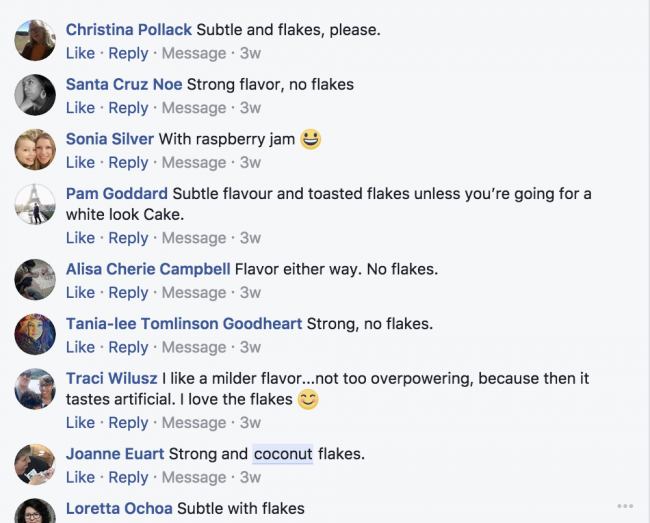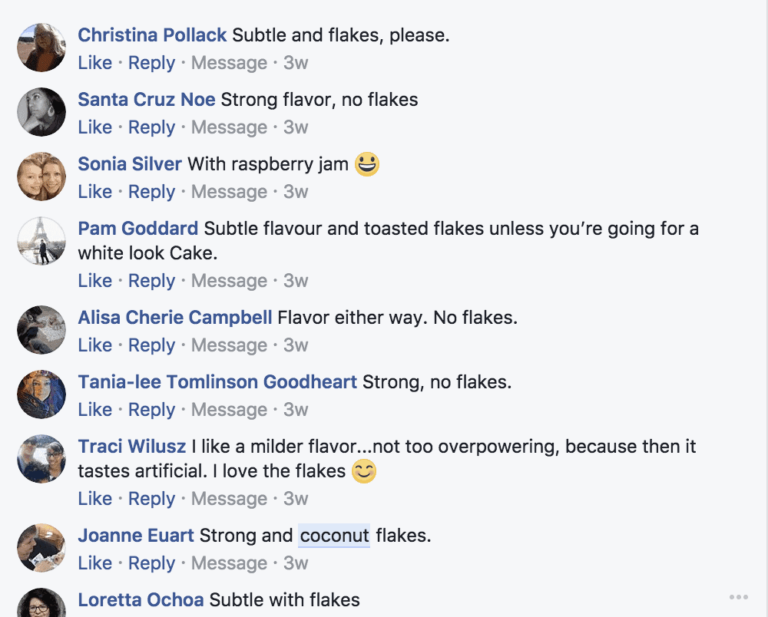 After over 100 responses it became clear… there was no definitive answer. 😂 One thing I did know, my coconut cake recipe had to be adaptable and delicious.
If you happen to love strong flavors, this recipe and frosting are perfect for you. If you like subtle then I would make a 7-minute frosting with this cake so only the cake flavor shines through. If you dislike coconut flakes you can follow my video, if you love them then I would suggest covering the entire cake with them!
Why simple syrup? It does magical things to this cake. After extensive testing (thanks, friends!) there was a unanimous reply, YES to the simple syrup! It adds moisture, sweetness, and life expectancy. Once thing I noticed with coconut cake is that while they loved the flavor, my taste testers didn't "binge" on it like they might with chocolate cake or vanilla cake. One piece a day was plenty. Simple syrup also adds longevity to this recipe, meaning it will last for several days on the counter and still taste delicious. Here is my simple syrup recipe. I recommend making it the day before you make this cake.
You may notice that I use the coconut oil in its solid form in the recipe. In many recipes, you are required to melt it first! But because I was using it as a butter substitute (from the original white cake recipe), I wanted to make sure my oil was solid. If I was replacing oil in a recipe I would use it in it's melted form.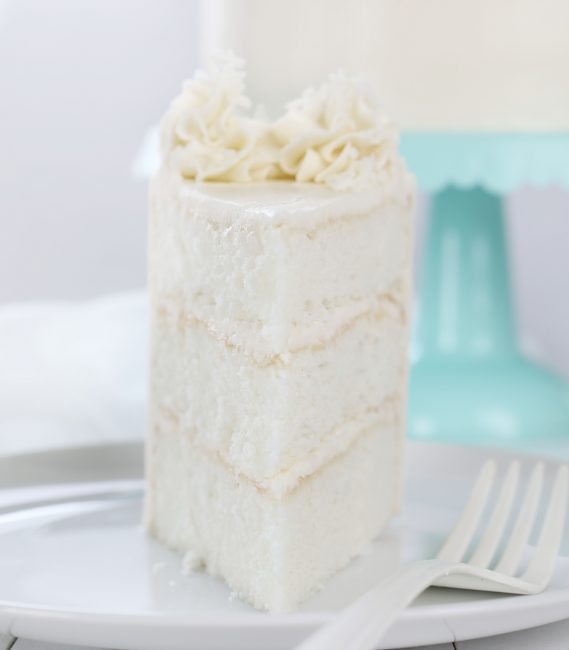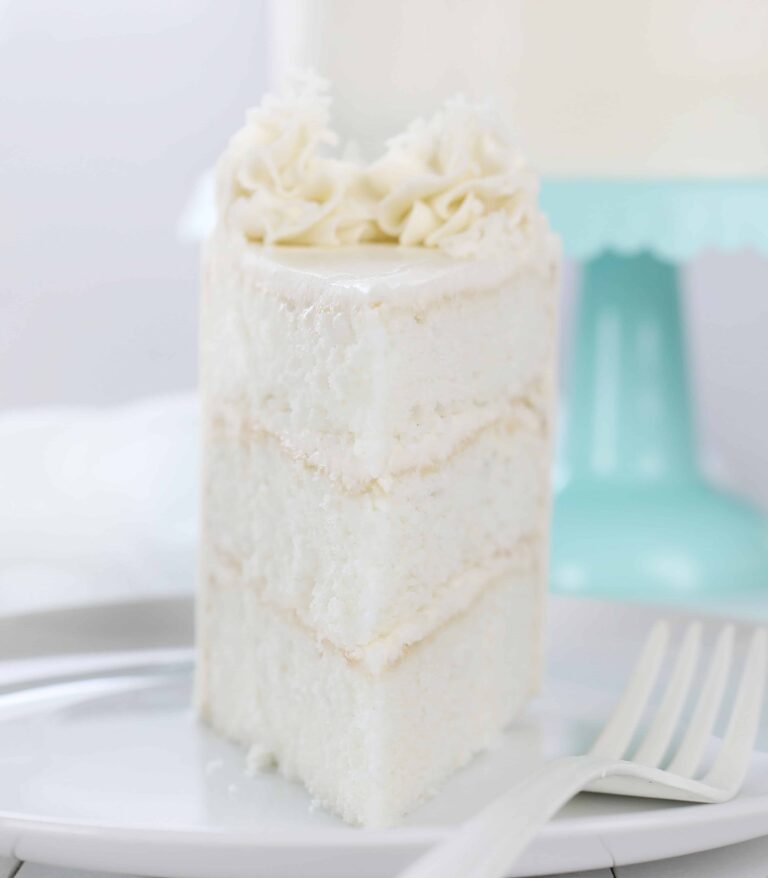 Easy Coconut Frosting recipe here and here is a video of how I made it!
Please do let me know if you try this homemade coconut cake and what you think! You can tag me @iambaker on Instagram and Facebook.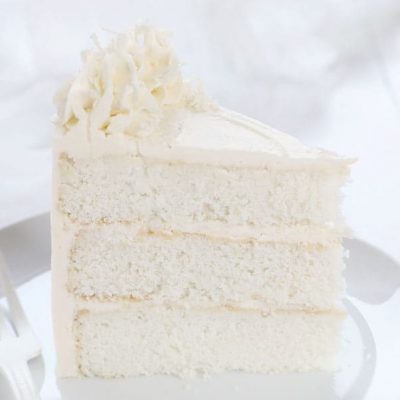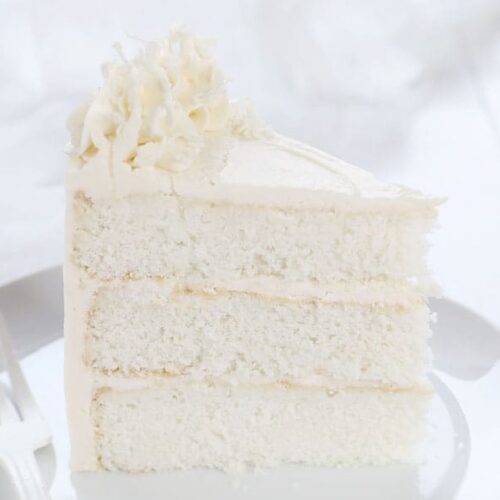 Coconut Cake
This Coconut Cake recipe is a family favorite. Check out all the ways I infuse coconut flavor into this delicious cake!
Ingredients
1

c

(200g) solid coconut oil

2

c

(400g) granulated sugar

1

tbsp.

Pure Coconut Extract

1

c

(240g) coconut milk

3

c

(375g) sifted cake flour

1

tbsp.

baking powder

5

(200g) egg whites

6 -9

tablespoons

simple syrup
Instructions
Preheat oven to 350°F. Prepare three 8-inch round cake pans.

Add coconut oil and sugar to stand mixer and beat on medium-high until incorporated about 1-2 minutes.

Add coconut extract to the coconut milk. Now, with the mixer on low, add that milk mixture to the sugar mixture in the stand mixer.

Sift together flour and baking powder; add to ingredients in stand mixer slowly.

Beat at low speed just until incorporated. Turn mixer off.

In a separate bowl, beat egg whites at medium speed until stiff peaks form.

Remove mixer bowl from stand mixer and gently fold egg whites into batter.

Pour batter into prepared pans.

Bake at 350°F for 18-25 minutes or until the center does not appear wet and the cake has pulled slightly away from the sides of the pan. Do not overbake!!!

Remove cakes from oven and let rest in pan for about 5 minutes.

Turn out cakes onto baking rack and level if necessary. Now drizzle each layer with 2-3 tablespoons of simple syrup.

You can decorate immediately or chill cakes until ready to assemble.
Did you make this recipe?
Thank you for making my recipe! You took pictures, right? Well go ahead and post them on Instagram! Be sure to mention me @iambaker and use the hashtag #YouAreBaker.